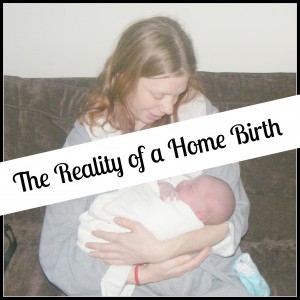 First up, apologies for the length, completely understand if you don't get all the way through!!
After the quick birth of my first son (2 hours start to finish!) we decided on a planned home birth for A.  My pregnancy was all normal and there were no worries about baby, after a short health and safety talk with a midwife at my house I was good to go.  Although, warning for those who also plan a home birth, the health and safety talk almost seems like they're trying to scare you out of having a home birth, telling you every possible thing that could ever go wrong.  I guess they're just covering their backs, but you don't get the same talk with a hospital birth!
I wrote my birth plan, fairly detailed, including points such as no pain relief unless requested, don't cut the umbilical cord until it stopped pulsating and oral vitamin K.  Of course I also had a caveat about how things may not go to plan and that if we ended up in hospital I still wanted certain things, such as skin-to-skin and baby to be handed to daddy to look after if I wasn't able to hold him.
Anyway, my second labour was completely different to the first.  I had no Braxton Hicks the first time, but second time around there were quite a lot!  So when I was 4 days over 40 weeks and I started to feel some light Braxton Hicks I tried not to get my hopes up and didn't tell my husband and went to bed that night with my fingers crossed (my Braxton Hicks were never that painful!) that it may turn into actual labour.  The following morning they were still going and by 9 am they started getting stronger.  I told my husband and we thought that we had better get started with our home birth prep in the hope that this was it!
First things first I phoned a close friend and told her that I thought today was going to be the day and was she still ok to take O for the day?  Of course she said yes, as we had talked about this a lot beforehand! I had several people able to look after O if I went into labour during the day and if it was during the night we were hoping that he would stay asleep through it.
With O out the way my husband blew up the birth pool and filled it up with warm water, checking the temp with a thermometer.  I didn't want to get in the water until I was in full blown contractions as I know that water can slow the contractions down again.  So I bounced up and down on my birthing ball through the contractions.
I called the midwife team at lunchtime to let them know I was in labour and they sent someone out to check how I was getting on.  The midwife was nice enough and asked to check my dilation, I kind of wanted to know so said yes, but it b*?!*y hurt, so decided I wasn't having that again! I was only 4 cm dilated, but at least it was definitely labour!  The midwife stayed for a little while to see how strong the contractions were, which I found amusing.  I was sat on my birthing ball while she felt my bump and commented that it was a strong contraction (I hadn't even noticed it!) and then when I felt like it was a strong contraction she seemed to think it wasn't much at all!! After a short while she left and told me to phone back when my contractions were closer together and of consistent strength.
At around 4pm the contractions were getting to the extremely intense stage and I knew it wouldn't be long before baby was making an appearance.  I phoned the midwife team again and told them what was happening, they didn't seem to concerned as I sounded ok on the phone despite having contractions, but after my insistence that baby was coming soon they sent out 2 midwives.  They arrived at around 4.45pm, by which point I was in the pool and more or less ignored them as I was too busy in my own little labour bubble; holding onto the pools handles tightly whilst contracting and then resting my head on the edge of the pool between the contractions.  My husband was great, he was there for me whenever I wanted him, but not in my face and bothering me when all I wanted to do was hold on to the pool and make some noise!
My waters went sometime after 5pm and the midwife reminded me that if I wanted a controlled birth of the head then I would have to get out of the pool.  This was an attempt to stop me tearing as badly as the first labour, I had 3rd degree tears with O and if that happened again I would have to go to hospital to get stitched up (usually undertaken with a spinal anaesthetic) and I really didn't want to have to leave home after birthing my baby there!
Of course, just after the midwife reminded me I could feel A's head coming further down and I decided it was time to get out the pool.  The older midwife asked if I was sure, she didn't want me to get out the pool if I wasn't ready, but I did my best to tell her that his head was coming (it felt exactly the same as just before I birthed O in hospital and no-one believed me that I was that far along!).  Anyway, I sat down with my hips forward and the midwife could see the head, I did my best not too push (but I find it so blooming hard not to!!) and baby A was born at 5.35pm!  I felt this overwhelming love flood over me (soppy, I know) and everything felt so perfect, the music still playing in the background and at home where I was so happy and comfortable.  His umbilical cord was quite short, so it was hard to get him to the breast until it was cut (after the pulsating stopped) by my husband and then I sat up on the sofa (on a maternity pad of course!!) and A latched on straight away.  It took O a lot longer to latch on properly, but maybe it was easier with A as I actually knew what I was doing this time!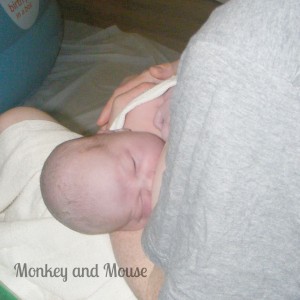 Unfortunately I had 2nd degree tears, so the midwives stitched me up upstairs on the bed, which wasn't easy as I still had a lot of adrenalin pumping through me and my legs were prone to random shaking spasms! But I much preferred that than going into a cold theatre and having a spinal.
My friend brought O back around 8pm, he seemed with his first day without either of us and wasn't particularly interested in the new baby, but perfectly happy with the new Percy train that his little brother had as a present for him!  Interestingly when my friend came in she said that the atmosphere was so strange, she felt like there was this amazing oxytocin wall as she entered into our house with O.  I have to say I was completely feeling it too, but had no idea others were could sense it as well.
The midwives were great and cleared everything away and packed the boxes (you have huge boxes of everything they could possibly need including drugs and gas and air if you want them (I didn't bother as my labour's have been fine).  Someone came to pick up all the stuff a couple of days later.
I absolutely loved my home birth, so much nicer and more comfortable than my first labour.  If I were to do it again (my husband tells me it's not happening again, 2's enough!) I would definitely have another home birth!
So, the second labour was longer, I had contractions from the previous night but the actual proper intense contractions were approximately an hour and a half.  At least 40 minutes of that weren't even noise worthy contractions as I remember being on the phone to my mum in the pool to tell her what was happening whilst having the strong contractions and she remarked that I seemed quite calm!  I don't think I'm great with pain, but I had read a lot about hypnobirthing and reading books around why labour is natural and the more calm you are the less painful labour is (makes sense, being stressed tightens your muscles and your body is then working against the contractions).  I listened to a hypnobirthing CD, but didn't really use any of it during labour, just had the calming music on throughout, which I loved.
A never left the house the day he was born, the following day our parents all came to visit and then the next day was a Monday and was his first day out, although just to hospital to get his paediatric check and hearing tested.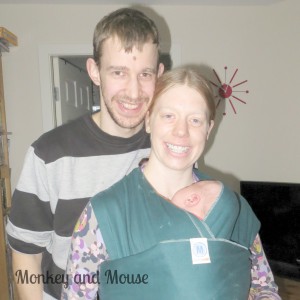 This photo, below, was when A was 3 days old and we took O to the park to entertain him (A is that little blue fleece hood sticking out!).  He loved being wrapped and is still carried everywhere today (although now he gets to go and play at the park too!).
Another great bit of a home birth is being able to point to exactly where A was born, just there where your feet are is a fun thing to tell friends!
Well done if you got all the way through that essay! Now would you have a home birth?
J x