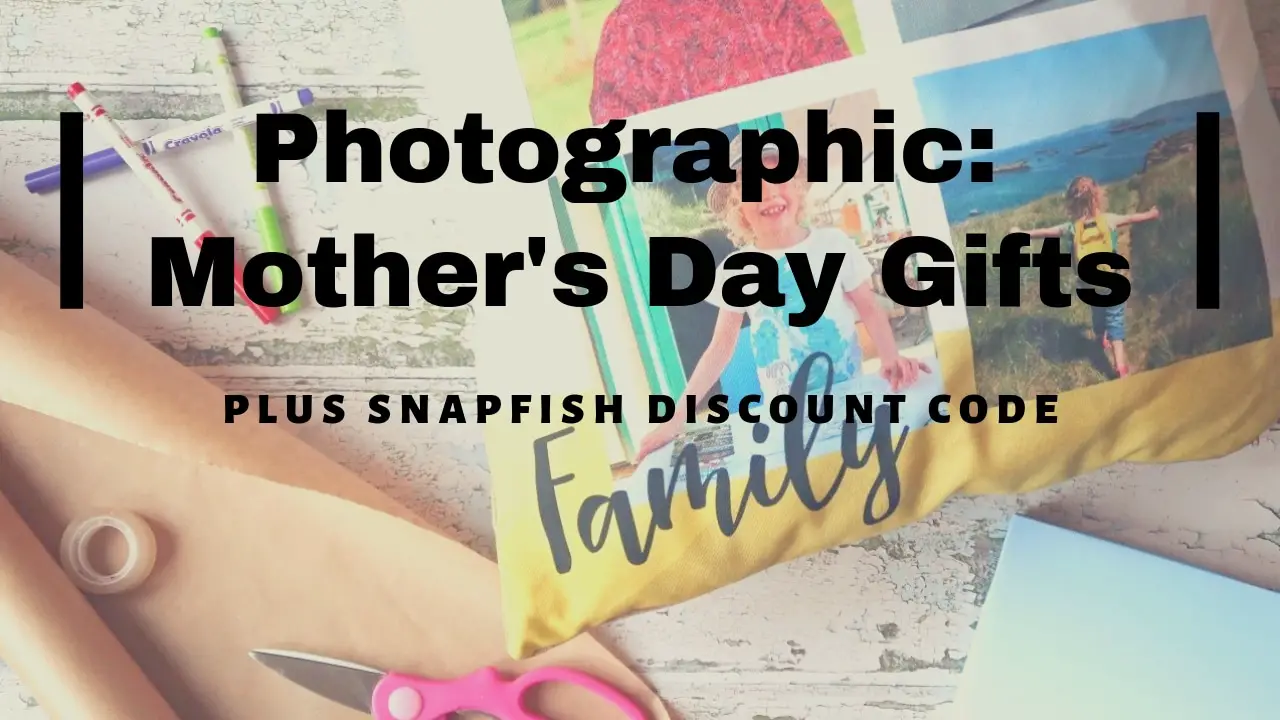 *AD – Paid post in collaboration with Snapfish.
After a few Mother's Day's have passed it's hard to come up with thoughtful new gifts.  We don't tend to look for the same types of presents as birthday's or Christmas, it's a much more personal day.  A day to celebrate mums young and old!
So on that note I am pleased to have created a few items using the photo printing website, Snapfish.  Personalising items are what Mother's day is all about, from turning children's pictures into practical everyday items or photos into beautiful pieces of art.  The more unique and personal it is to your mum the more likely she'll love it!
As much as I would love to use my boys artwork for this project, they aren't really interested in drawing at the moment.  So I chose to use photographs instead!
The Snapfish Process
Before you receive your products you first have to choose and design them!  I love the creative aspect of this and had great fun looking through the different items and designing them just how I wanted.  I chose to create 3 different items that I would love my kids to give me as a Mother's Day gift.
The process of ordering items is very simple.  You choose the product you would like and how the photographs should be arranged, then upload the photos that you would like, test them in different positions until you get it right.
There is also the possibility to add embellishments to the items.  I love that there is such a wide range of personalisation available.  For the photo cushion I used a watercolour palette to add yellow to the bottom of the cushion (we're getting a new sofa and the cushions are going to be yellow themed!) and the phrase 'family' in the bottom right corner.
There are lots of different background styles to choose from and just about any colourway you could think of.  You can change wording to whatever suits you, perhaps a well known family phrase or joke?
I created a different background for the stainless steel water bottle, although when it was printed it wasn't as bright as I had hoped, so perhaps choosing brighter colours would be more striking on the bottle?  The pictures and writing all stand out perfectly well and it's great being able to take the water bottle wherever we go and having photos of the boys on there.
You could create a collage or embellishments on the canvas too, but I chose just to have a plain image featured.  We had a fab time at the beach in Portobello the other week and I loved this photo of my two jumping off the wooden posts on the beach.  A pretty typical example of my active little monkeys!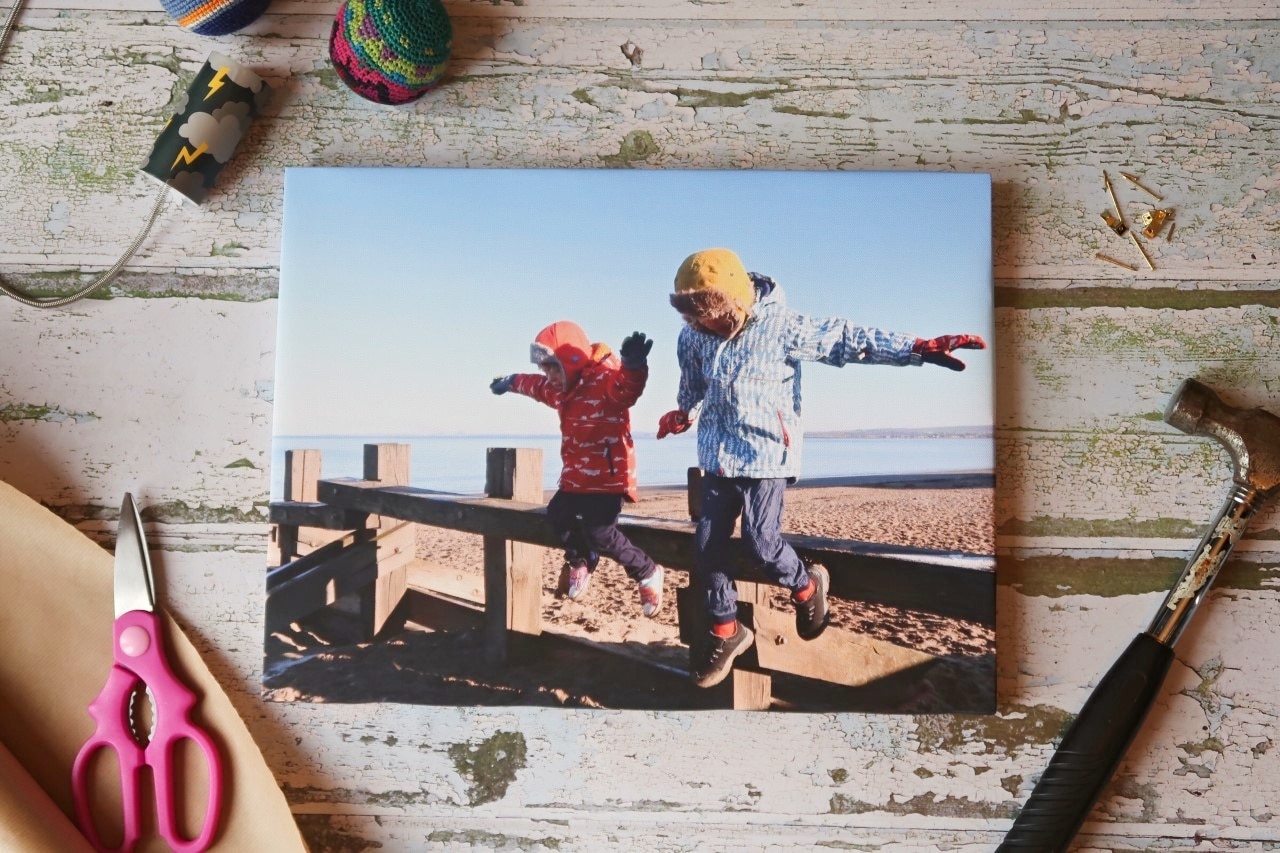 The Products
We're a very adventurous outdoor family, however my old plastic water bottle is past it's best and leaks in my bag.  So the idea of a personalised stainless steel water bottle sounded perfect.  Eco-friendly and a little reminder of my beautiful family, this is a fantastic practical gift for an outdoor mum.
So if we're off out on an adventure or playing on scooters near the home, I can keep hydrated.  Definitely something that will come in handy for summer and our travels!
I've taken quite a few pictures of my children recently that I loved.  But I especially loved this one of them both jumping off a wooden post at Portobello.  It shows their true energetic selves and reminds me off how much fun my children are, perfect for a Mother's day gift.
My eldest kindly placed the canvas on top of my desk so I can see it when I'm working on the blog.  It may eventually join the gallery on our stairway wall, but for now I quite like where he put it.
The final Mothers Day gift that I chose was a beautiful cushion that I designed using the backgrounds and embellishments on Snapfish.  It's going to look great on our new sofa when it arrives!
You can choose from a variety of layouts and I had originally considered using a couple of pictures of all of us together.  However, they weren't the best of photos so I finally chose two photos of each of the children.  Littlest is pointing at himself walking across the Isle of Lunga, where we met many puffins on our trip to Mull last summer.  It was a beautiful day and certainly one the kids won't forget anytime soon!  This will sit pride of place on the sofa reminding them of lots of fun that we've had over the last year.
Discount Code
You can also get a 40% discount across the Snapfish site using the discount code HEARTMUM40, which expires on 30/4/19.  Pop over to Snapfish to decide what gift you're going to make for your mum this Mother's Day!