I have written before about why I don't use bought shampoo or conditioner on my own hair, being allergic to parabens being a rather important factor.  I have mostly washed the boys hair with just water, but this doesn't always work with O who has a mass of curly hair and needs something to de-tangle occasionally and Mr A who often has that matted bed head look with his wild hair.
However, I dislike the idea of using shampoo's full of chemicals on their hair as children's skin is sensitive and I want to know what I am putting onto them, I also have to be careful as it will be me washing their hair and I need to avoid certain allergenic chemicals on my hands too.
When I found The Little Bathtime Company I was very pleased to see that not only do they make their shampoo without parabens, sulfates or artificial colours, but they also have a bubble bath free of these chemicals too!  With more than 98% naturally derived ingredients, this is definitely something that can be used on sensitive skin without a worry.
The shampoo and bubble bath gift sets come in a variety of scents including sweet organic orange oil (ocean), green apple (dinosaurs) and cherry berry (fairies).  We tested out the dinosaur and ocean varieties and the boys loved them!
The bubble bath made a good amount of bubbles, although after 10 minutes most had gone, which isn't unusual with other bubble baths I've seen either.  The shampoo was great and gave the boys beautifully soft and shiny hair, I could even get a brush easily through Mr A's!
Both boys loved the prints on the bottles and they would make a great gift set as a stocking filler for kids (I used to love getting bubble bath in my stocking as a child!), perhaps alongside an appropriately shaped sponge to match the gift set?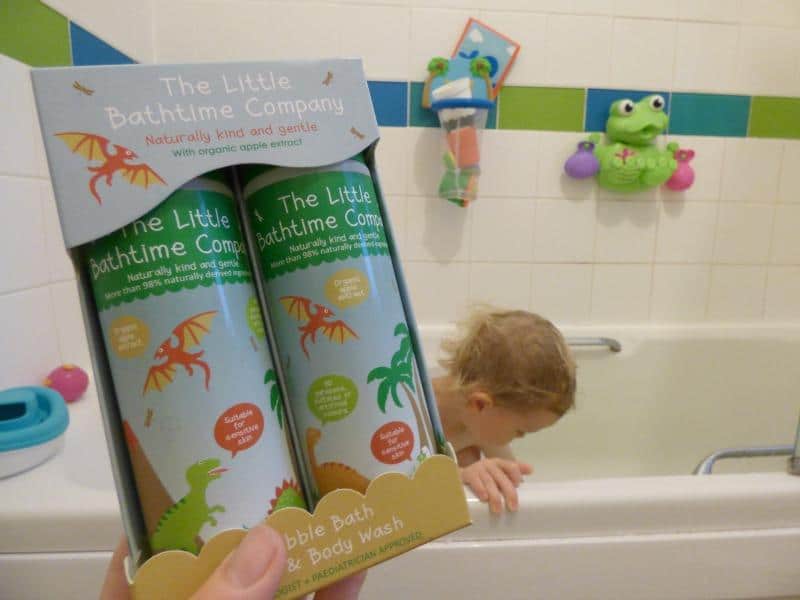 So, if you're looking for a good, almost, natural kids shampoo and bath bubbles, I would highly recommend The Little Bathtime Company.
J x
* I received the children's gift sets for the purpose of this post, however all opinons are my own.