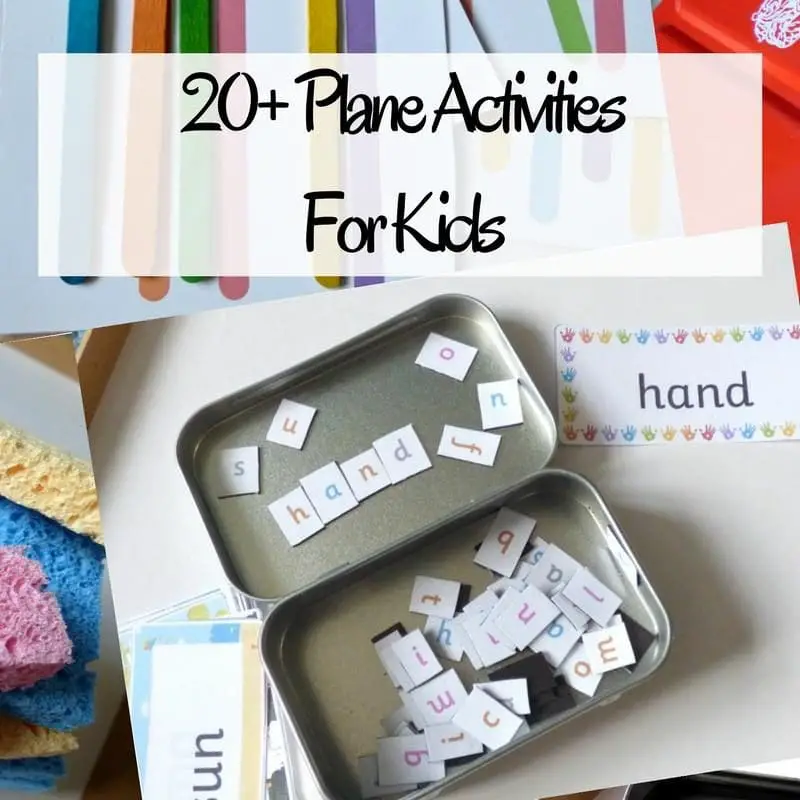 We are preparing activities for the kids when we are on holiday this year.  Plane journeys where we are confined are often difficult with young kids, so we always bring lots of activities.  These can also be used when we are in the car or in the evenings whilst we are camping.
Why Do You Need Activities?
On shorter flights you may not need many activities at all, particular if your child is happy watching a film on the inflight television.  However, on flights that don't include in-flight entertainment (such as budget airlines) or on longer flights it's great to have other sources of entertainment than simply screens.
I have listed some of our favourite plane activities for both toddlers and older children to give you an idea of what we would pack for the kids activities.  With these lists we can easily keep the kids occupied for 4-5 hours, plus snacks too, never forget the snacks!
Toddlers and Preschooler Activities
Window Clings
Buy some cheap window clings from Amazon or Ebay and use them to on the airplane window.  Kids can have great fun making up their own scenes using them.
Simple Sticker Books
Sticker books that have easy peel stickers are the best for small children.  We quite like the Usborne sticker books as the stickers don't tend to rip as much as the cheaper books.
Magic Painting Book and Brush
Bring a small container and buy a bottle of water before you board the plane and you are all set for some magic painting with the little ones.  It's a great project for kids who love to paint, but when you don't want mess.
Simple Jigsaws
Jigsaws can easily be made by printing photos onto strong card and cutting out easy shapes.  Or from glueing printed photos onto a line of lollipop sticks and cutting along the long edge of each lollipop stick. These type of jigsaws are easy enough for children to help make.
Small Books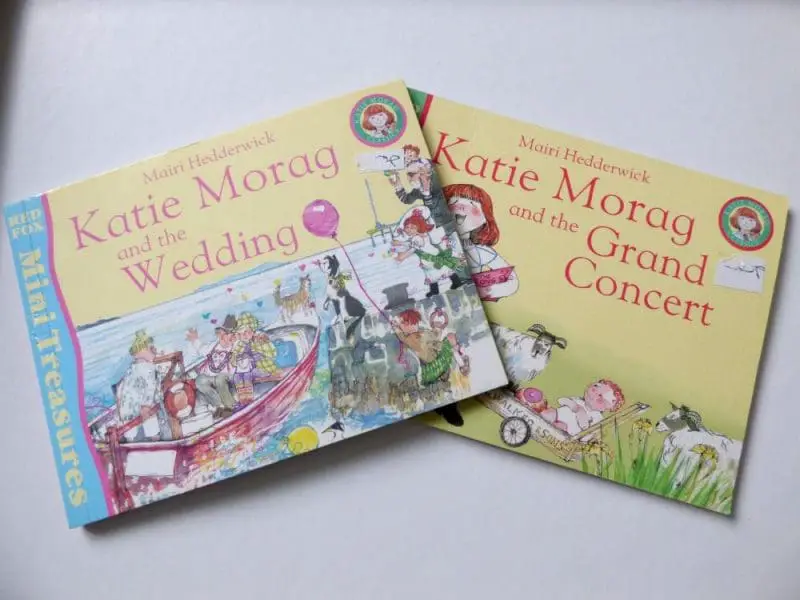 Have a look in the local charity shops for small books.  I picked up some A6 Katie Morag books and tiny board books last year, which were great for our then 2 year old.
Mini magnet tin with shapes or animals
Create a special tin full of magnets for your toddler to play and rearrange.  If you buy magnet sheets and tin boxes.  You can then print off your own magnet designs, cut them out and stick onto the tin for the kids to play.
Small Cars or Trains and Play Mats
Small cars with printable mats such as this one or we like to take the mini Thomas & Friends trains and use this printable train mat for them.  They are also great busy bag activities for when you are at a restaurant, trying to keep kids happy whilst waiting for their food.
Pom Pom Slots
Use a small tub (a mini Pringles tub works well) with holes cut in to push pom poms through.  Empty them all out and do it again.  This can also be done with pipecleaners, cutting smaller holes and the child can push them into the slot with half the pipe cleaner sticking out.
Small People or Animals
Fairly self explanatory!  For those children who love little people and animals for imaginary play.  My youngest loves his little animals or his Frozen Anna and Elsa.
Foldable Post Box and Envelopes
Use a cereal box to make a mini foldable post box and tiny envelopes like these will be perfect for the letters.
Foam Blocks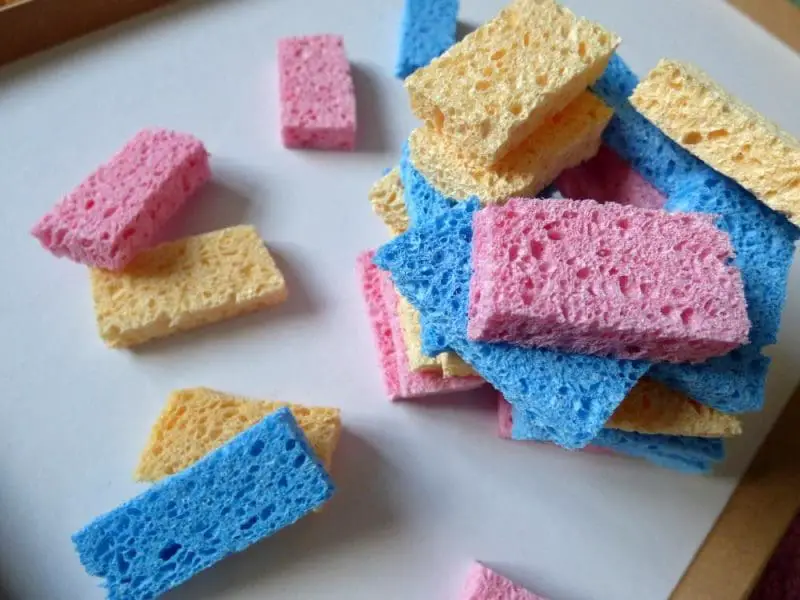 Cut up some colourful sponges to make small blocks that can easily be packed away for play on the plane.  Bonus that they are squashable and can fit in small spaces.
Velcro Lollipop Stick Shapes
This idea came from here.  I bought some velcro from a haberdashery and cut out little pieces to stick onto the lollipop sticks.  Then I grouped them into sets for each shape.
Lolly Stick Match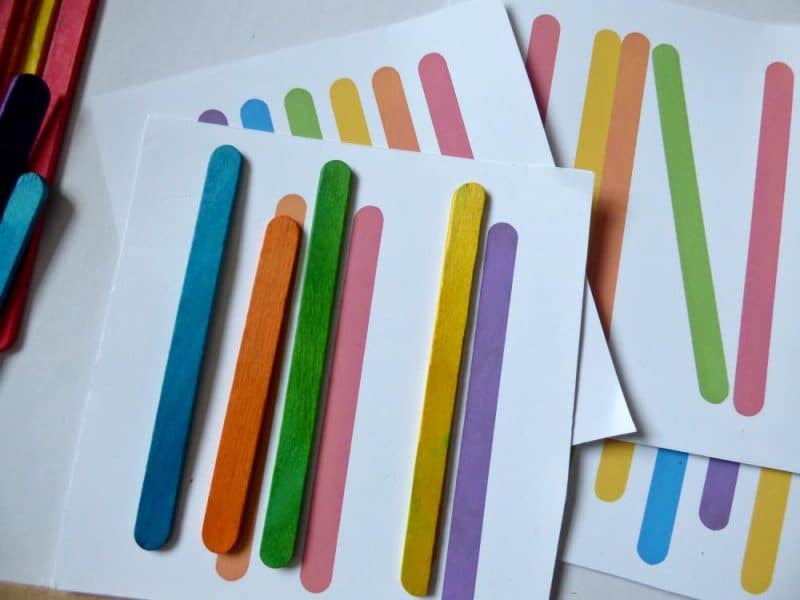 There are so many sites online that you can find printable sheets.  I used this printable and bought coloured lolly sticks from here.  Really simple to put together and kids can have fun matching the patterns on the cards.
Mini Chalkboard and Chalks
Use a small tin, we bought these ones, and paint the inside of the lid with chalkboard paint.  Place a few small chalks inside and a cloth to clean it.  Hey Presto! A mini chalkboard tin.
School Aged Children Activities
Small Teddy Bear and Plasters
A little teddy other animal and a box of fun plasters (such as these cute unicorn bandages) make a great animal hospital pretend play game.  Print off these doctor pretend play sheets from Kids Activities Blog, add a pen and you are sorted.
Sticker Books
We love these Lonely Planet sticker books for our travels. They come in a variety of different world travel themes and introduce kids to many different areas in the world.  The perfect travel sticker book.
Wipeable Activity Books
Wipeable activity books are great for continued play.  Our 5 year old had this maze book last year and I love the look of this activity book for our travels this year.  Being wipeable means it lasts more than just the one trip!
Mini chalkboard and chalks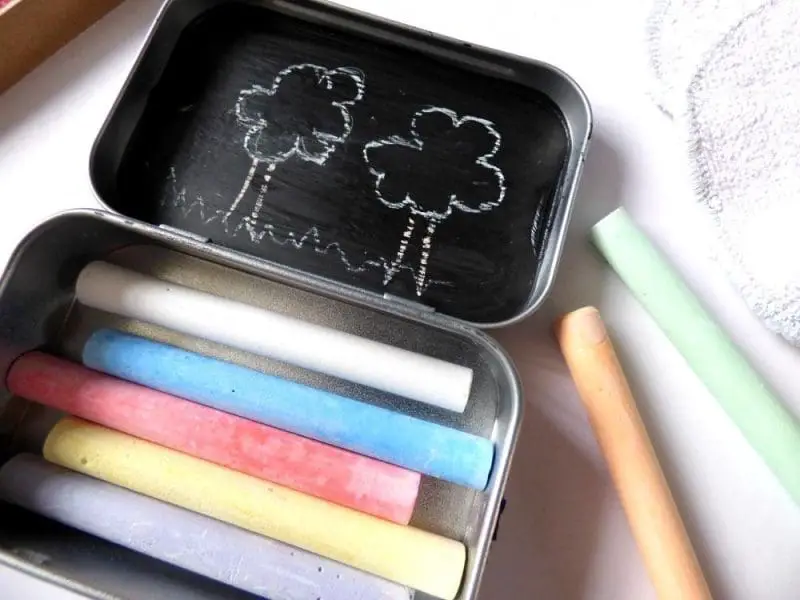 Exactly the same as the toddler mini chalk tin in the list above.
Small Watercolour Set and Pad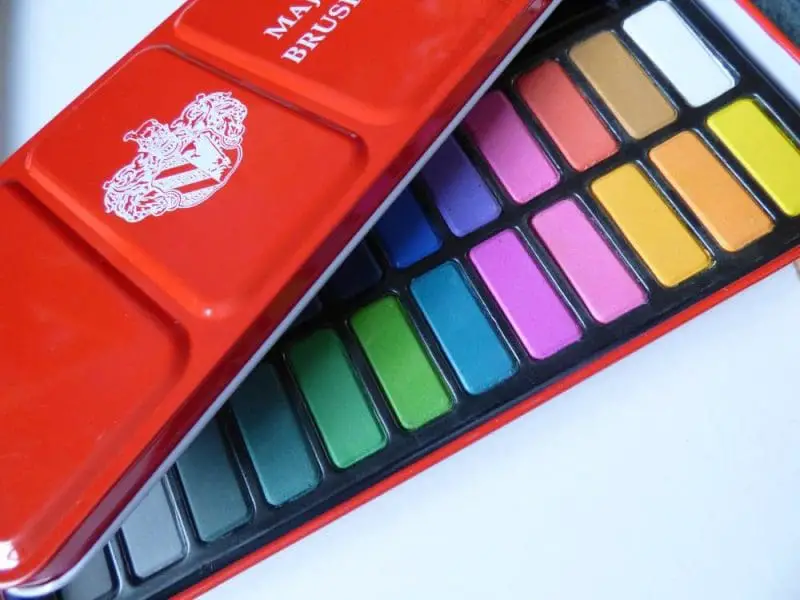 You can easily buy a small child's watercolour set.  Add in a small pad of paper and a bottle of water from duty free.  Keep in a small plastic bag so that any wet brushes or paint doesn't leak.
Cheap Printed Jigsaw
You can usually find somewhere fairly cheap to print of a photo as a jigsaw.  Printerpix has one for £5.97 at the moment.  Simply choose a favourite family photo of your child or perhaps a place they love to visit and get it sent out.
Books
A couple of reading books are always good for a few minutes peace and quiet.
Lego tin and instructions
Using a small tin, such as these, glue a small lego plate onto the lid of the tin.  Then fill with blocks to make a small house or other items.  This is perfect for my Lego obsessed boy!
Card Games
We all love card games and often play memory games together.  However, space is limited on a plane and so card games need to be a bit more compact.  Snap is a nice and easy game and Happy Families is also good (if your child can hold all the cards!) or Top Trumps.
Travel Games
With so many travel games to choose from you can always find something to interest the kids whilst travelling.  There are Battleships, Connect 4, Chess, Ludo, Snakes and Ladders and lots more.  The magnetic games are perfect for children who can knock things off the board whilst in a restricted space.
Mini Word Tin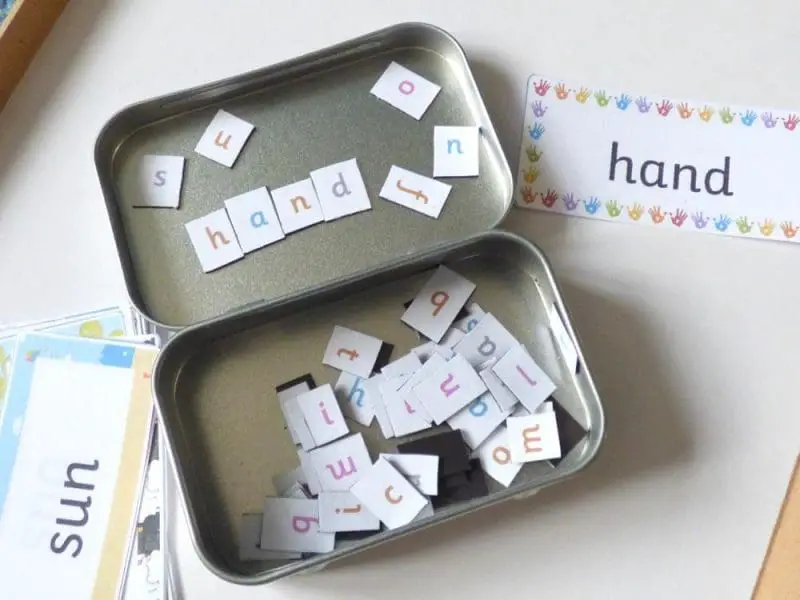 A small tin filled with magnetic letters and words to spell.  I used some magnetic sheets from here, printed off words using the Create function on Twinkl and letters from here too.  These were cut out and stuck onto the magnetic sheets, then cut out again.  The word cards can be laminated and changed depending on what words interest the child.  A great DIY word tin.
Small Cars or Trains
I created this printable train sheet, which can be used with small trains.  The boys love to add their mini Thomas trains to play on the track.  You can also find plenty of printable roads that can be used with small toy cars.
Notebook and Pen
You can't get simpler than a plain notebook and pen.  Plenty of games can be played with just a pen and paper, including family favourites such a Noughts and Crosses or Hangman.  The Squiggle game where you draw a random squiggle and then hand it to another person to let them turn it into a 'something'.
Pre Cut Shape Scenes
You can buy pre cut shapes, such as these, and use them to create different scenes and pictures by being creative with the shapes and designs.
What do you include for your children on the plane?
Pin Plane Activities For Kids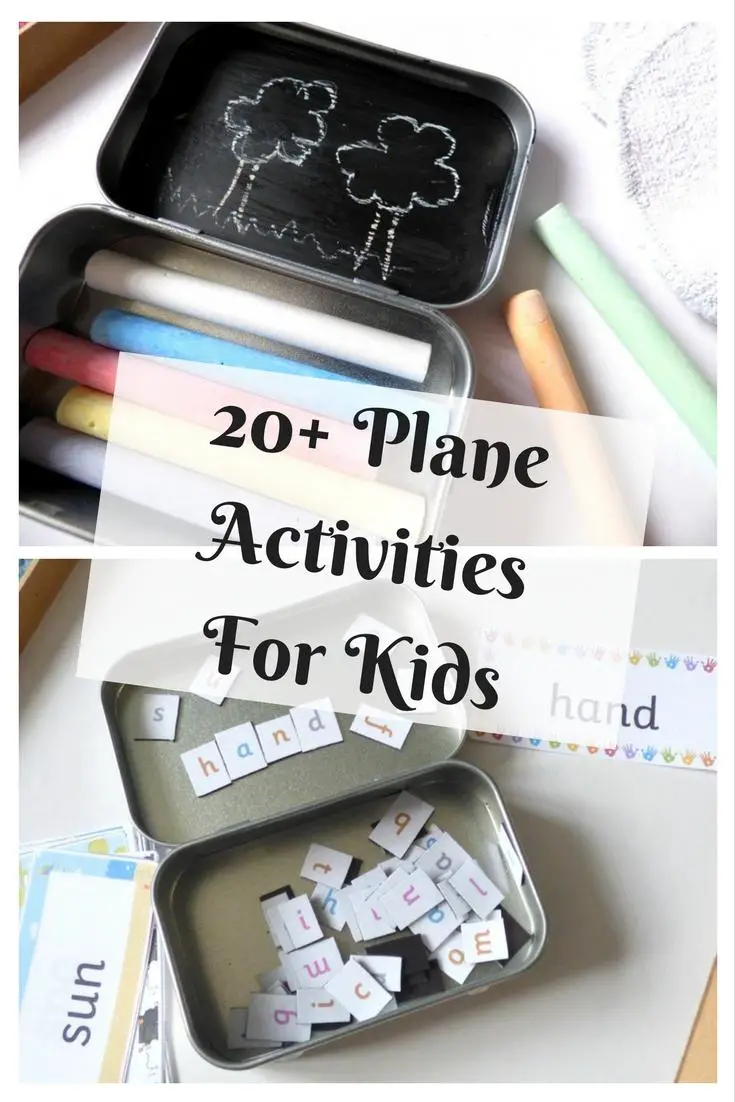 * Some of the links are affiliate links, if you choose to buy through these links then I may make a few pennies.