* These items were gifted for the purpose of this post
Smiggle Frozen 2 Collection
Smiggle's first ever Disney collaboration is with the limited edition Frozen 2 collection.  This is a huge selection of bags, pencil cases, lunch bags, water bottles and lots more.  The collection is split into two halves, half the collection is designed with Anna in mind, beautiful gold and pink sparkly designs in a woodland theme with autumnal leaves.  The Elsa side of the collection is predictably light blue and sparkly silver in colour, with plenty of snowflakes decorating the items.
Anna Frozen 2 Junior Backpack
Youngest's first choice of item from the new collection was the Anna backpack, it's a gorgeous golden colour with plenty of sparkles and a picture of Anna on the front.
He's only worn it outside a handful of times, but the number of compliments he's had for the sparkly bag is unsurprising!  Everyone seems to like something sparkly, especially when it's being worn by a happy little child bouncing along the path.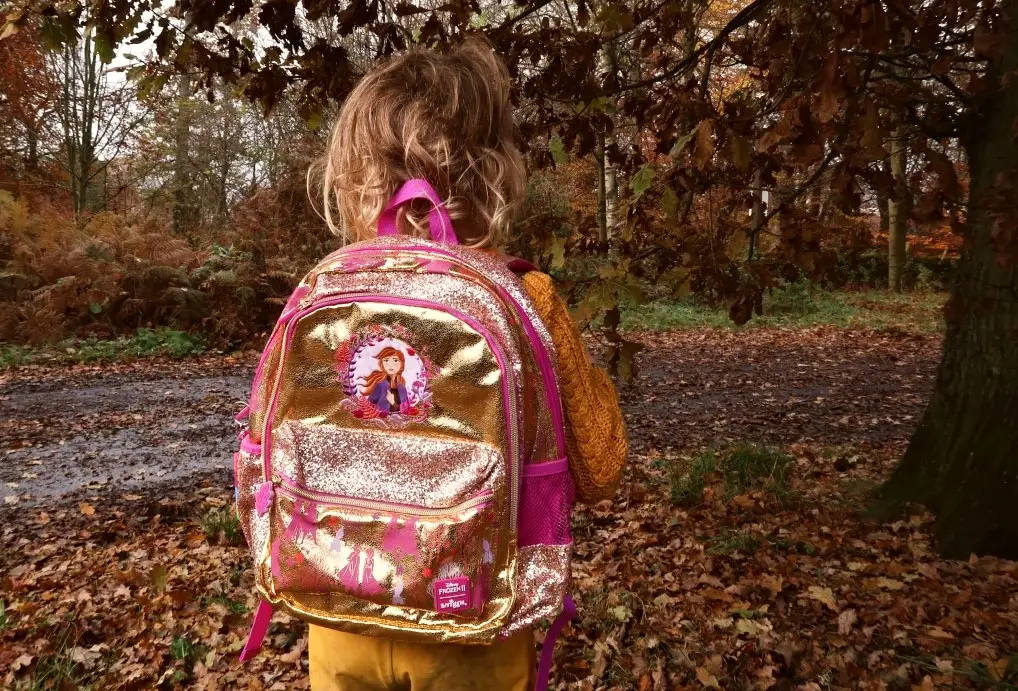 The front pocket is a good size for a small notebook or pencil case.  Or more likely for my children, filled with snacks!  Two side pockets, one with a pink netted section, are handy for water bottles or your current collection of pine cones and acorns.  The first zip pocket is slightly smaller than the main section but has plenty of space for books and a pencil case.  The back zip pocket is larger and a good size for A4 books to fit, a good size for school books and lunch box.
The whole bag measure 26.5cm wide, 36cm in height and 11cm depth, seen here on my 112cm tall 5 year old.  As a junior backpack it's a little smaller than full size, but for shorter children it's a good size.  Taller kids or those who need more space in for school books might prefer the Elsa backpack which is slightly bigger at 30cm wide, 42cm in height and 13cm depth.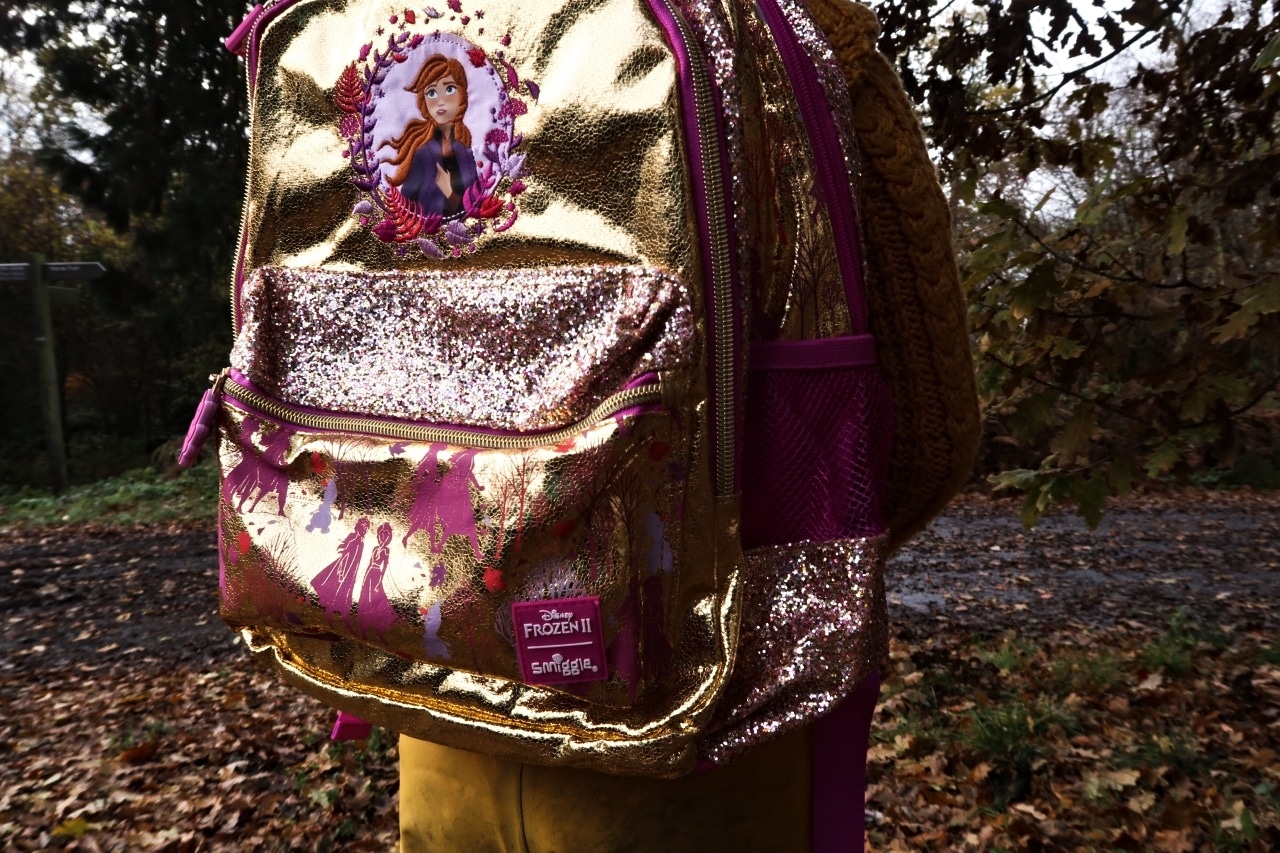 The materials all feel like good quality, but I worry that continuous daily use of the bag may mean a lot of the glitter will become scraped off.  But only time will tell in that aspect.
All the little details work so well together and the backpack really looks like a luxury kids item, who wouldn't want a beautifully sparkly bag like this?!  The cute embroidered picture of Anna surrounded by leaves, the pattern of Anna and Elsa silhouettes and the crackled effect of gold, everything screams of quality.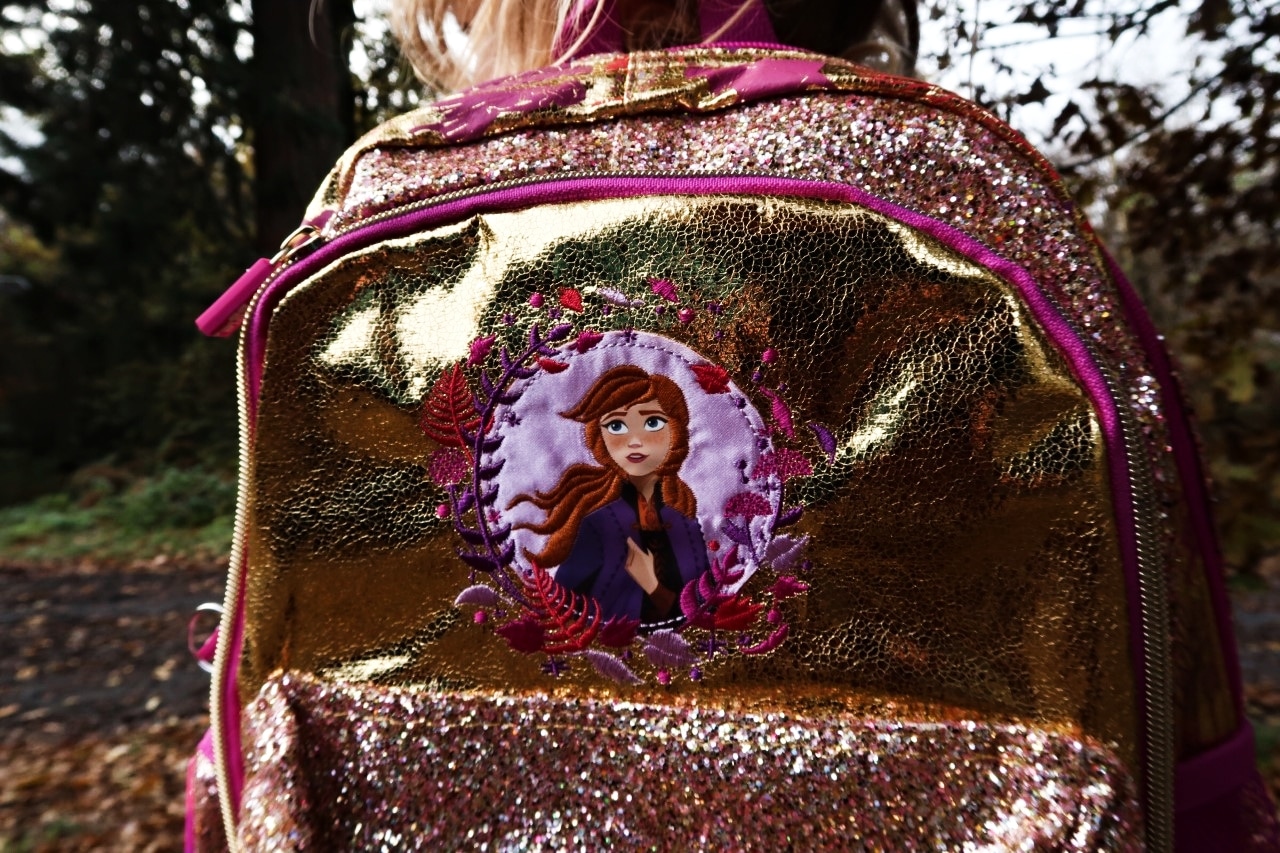 Frozen 2 Pencil Case
The hardtop pencil case is double sided, with one side featuring Anna in her Frozen 2 film outfit, surrounded by autumnal leaves, the other featuring Elsa in pale blue, surrounded by snowflakes.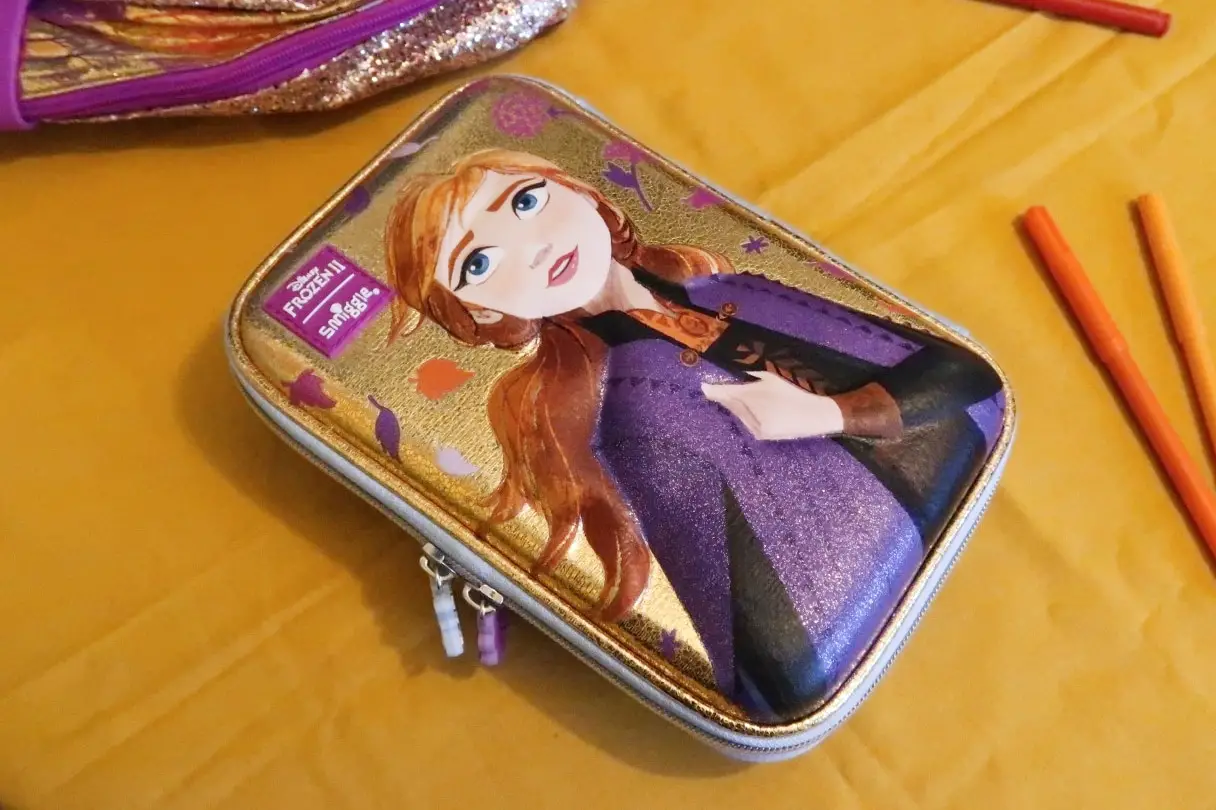 If your child is a fan of both sisters in Frozen 2 then they will certainly appreciate this item, where they can have both sisters on the one product.  Inside the pencil case is plenty of space fro pencils, pens and other stationery items.  The hard top case makes sure that anything inside is kept safe.
I like the little detail on the zip of an Oak leaf and snowflake representing both of the sisters lives.  It's great quality and will easily last a few years of use!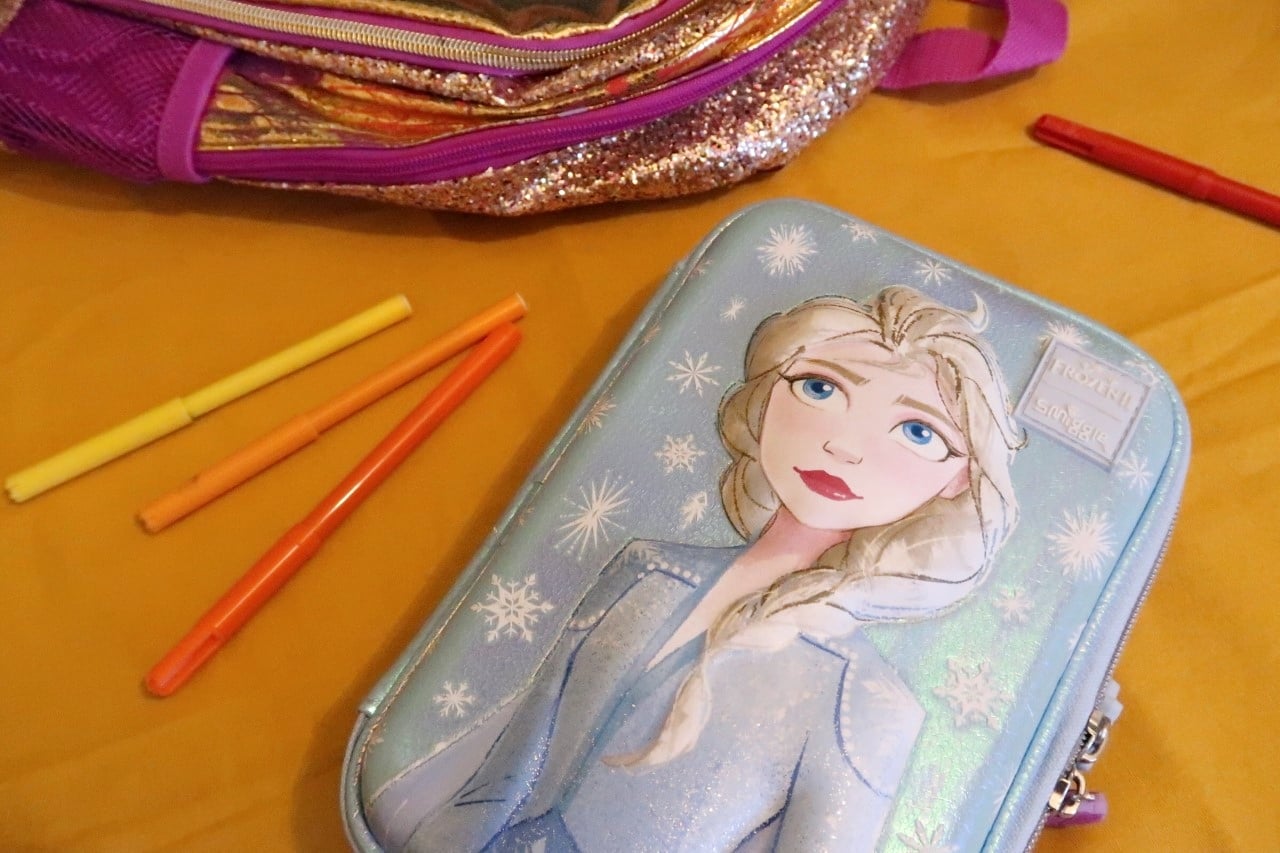 Elsa Keyring
Our youngest's best friend is also a huge Frozen fan so he bought her a letter keyring with her initial, featuring Elsa and a lot of sparkly snowflakes.  It's a good size, chunky and I imagine it will last quite a while on her school bag.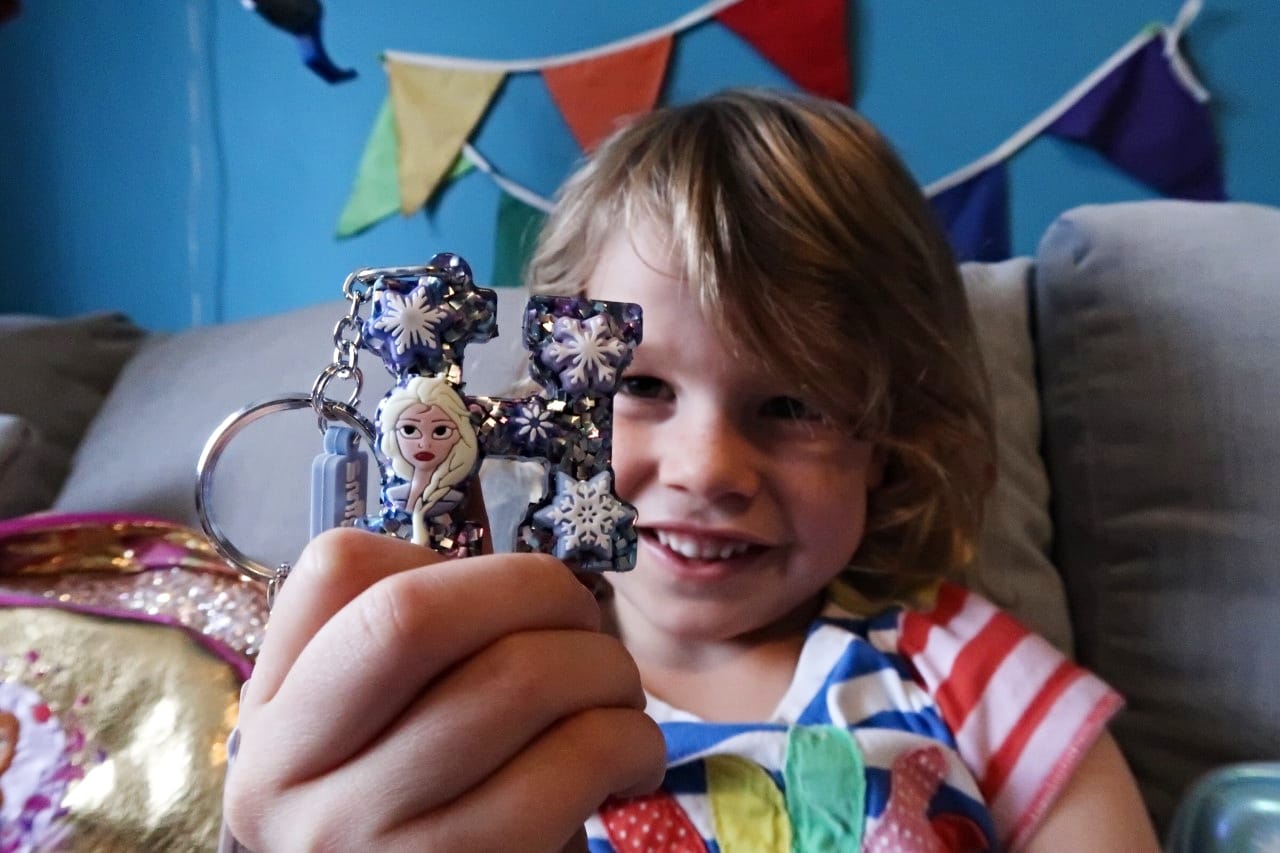 Pin For Later