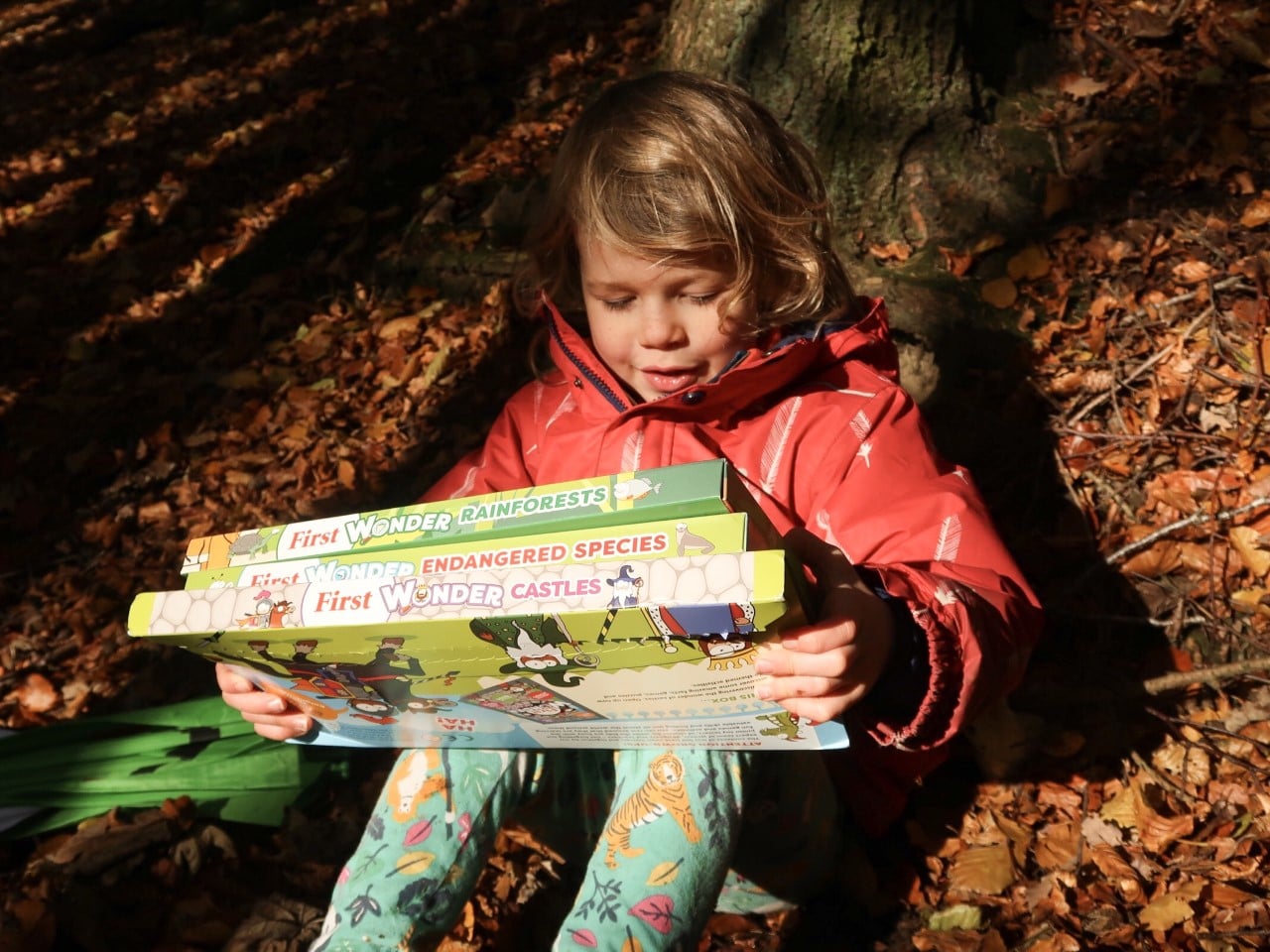 *Disclosure: I have been compensated for this post
First Wonder Boxes
My eldest looked amazed as he saw everything fall out his Castles themed First Wonder Box, he certainly wasn't expecting quite so much to be stowed inside!  The slim box is the perfect shape to easily fit through the letter box.  There will certainly be no cards through the door telling you to pick the package up the next day, yet the box includes more than enough to keep the kids occupied for an hour.
First Wonder Boxes are the brain child of the team at the children's newspaper First News, designed to engage children aged between 4-8 years old, teaching them about the world in a fun and exciting way.  The castle themed box is only one of many themes delivered every fortnight, giving your child a chance to learn about each theme through several fun activities.
An Educational Subscription?
We were sent a selection of boxes to test out for this review, my eldest predictably choosing castles and youngest endangered animals.  The rainforest one was chosen by both as we are heading off to the Amazon rainforest next year on a very exciting trip!
When you sign up to a subscription with First Wonder Boxes you will be sent the boxes in issue order (the rainforest box in the picture below is no. 17).  However, if you are home educator like myself you can choose to start from one of several boxes and if you get in touch with First Wonder Boxes they can send you through a discount code.  Everyone can also get 50% off their first box, just sign up to claim the discount!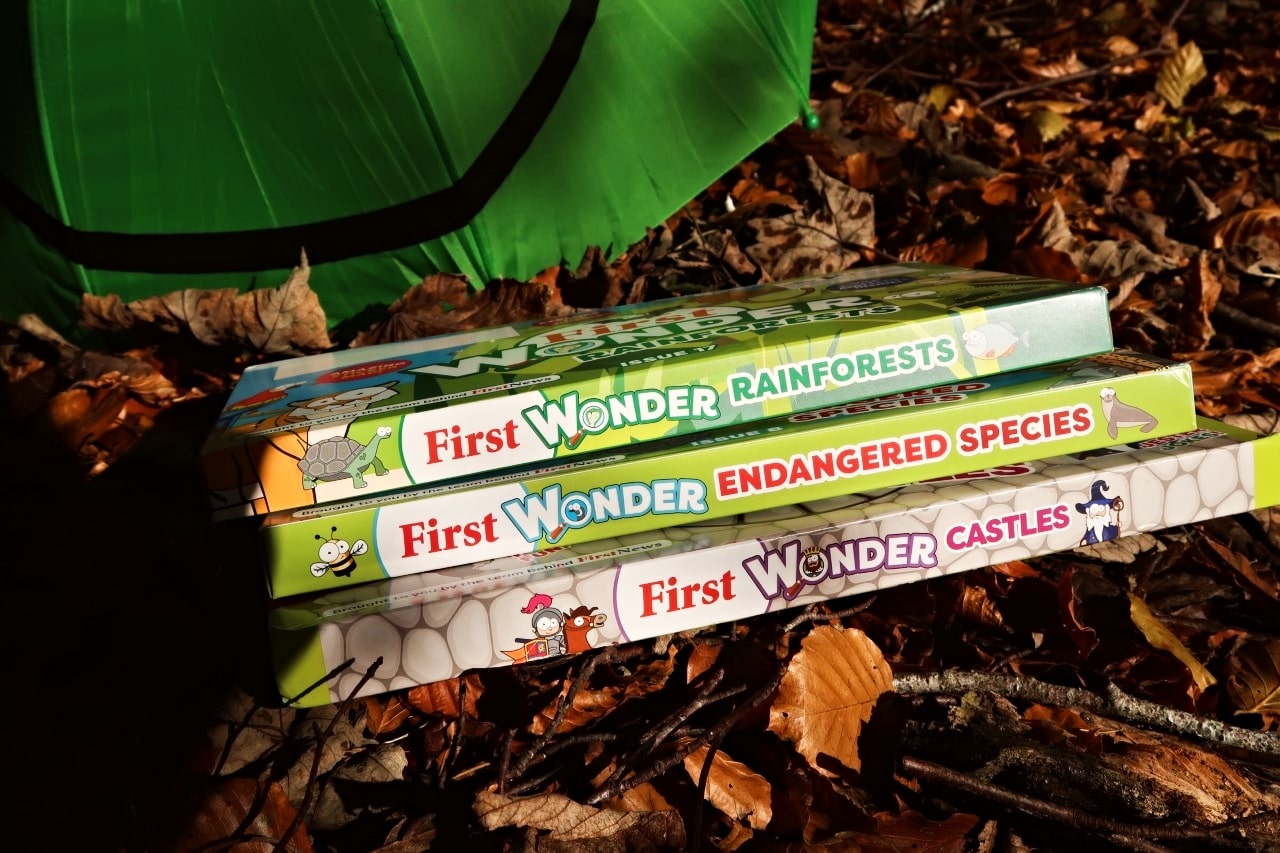 Most of the topics are typical child orientated interests such as dinosaurs, pirates and bugs.  But there are lots of other interesting themes that can really get children thinking when presented in such a fun way.  These include topics such as jobs, inventions and things that grow.  I can see how these will all appeal to young minds when the contents are rather exciting and unique to each theme.
Fun Activities
Each box is filled with activities, the castle box below had a whole host of castle themed goodies to keep young minds interested.  There was a pencil with dragon rubber, dragon design flannel, foam castle model to build and stickers to decorate, plus a jester's mask to create and the activity book to fill in!
The first activity for our eldest was to build his castle, he is the child that's drawn to anything involving construction!  So it was no surprise that he ignored the 'goodies' type of elements of the shiny new pencil or flannel and went straight to the castle building.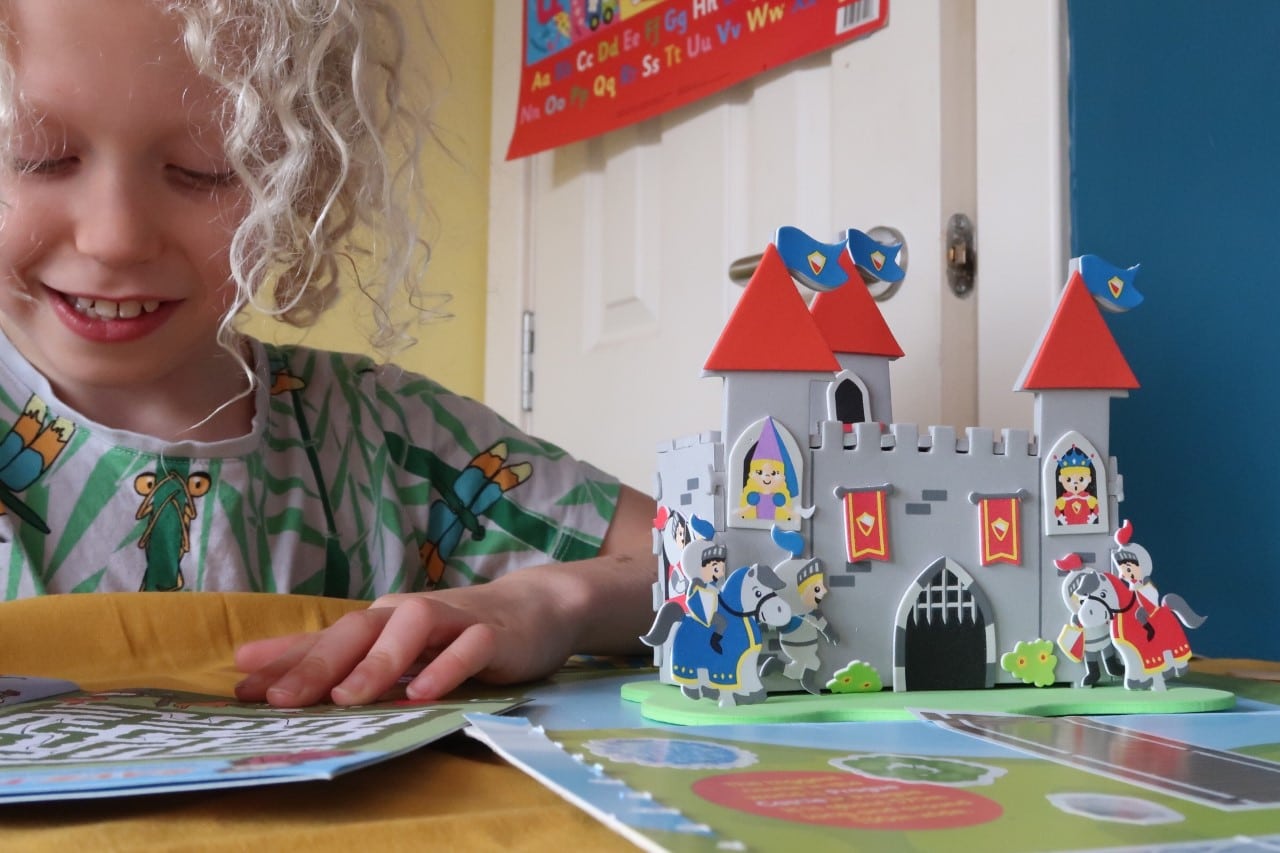 In contrast our youngest went straight to the colour changing crayon/pencil when he opened the endangered species box.  He spent quite some time changing the order of the crayons before he actually begun doing anything in the box!  His box turned into a game board, with a packet of tiny animals for game pieces, there were items to create a paper totem pole, his crayon pencil and of course the activity book with stickers.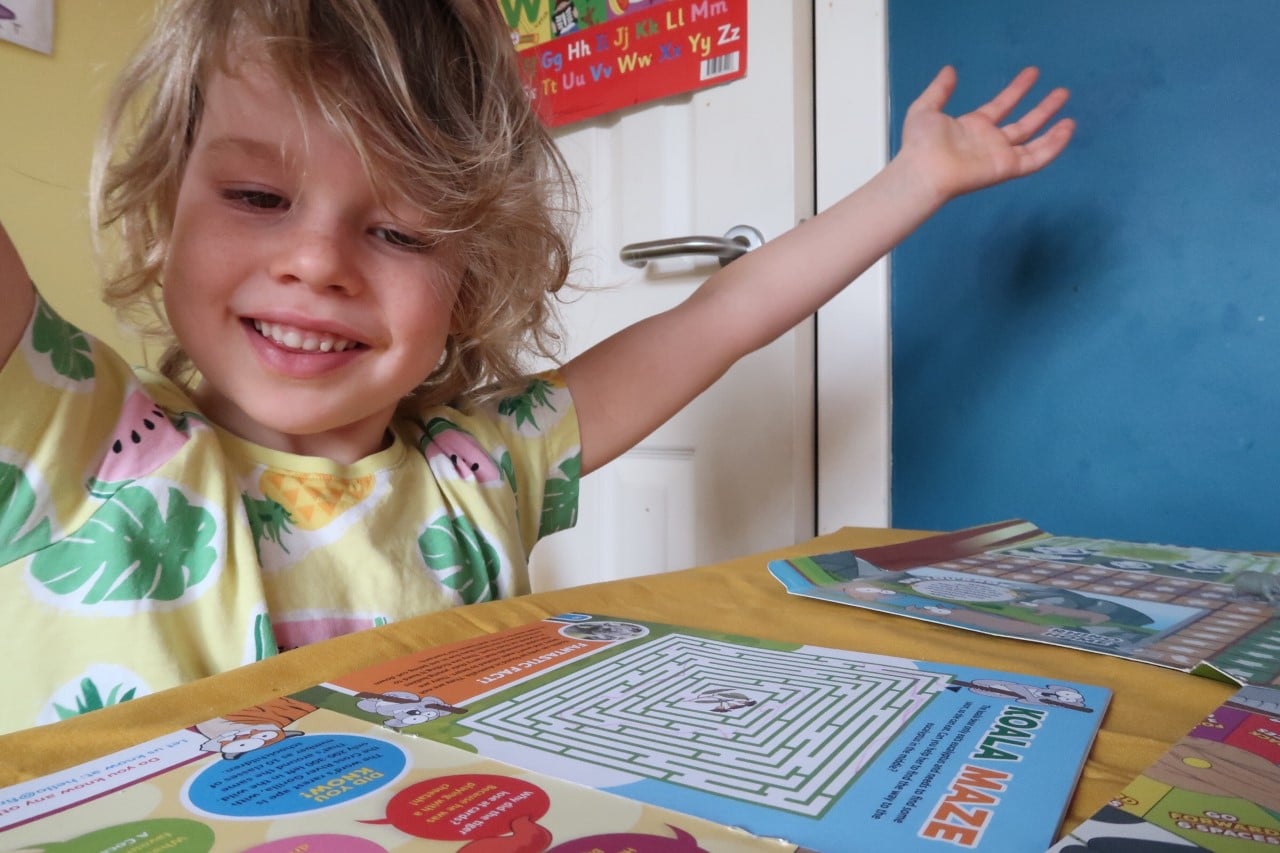 He coloured in and stuck down the animals on the totem pole, before choosing to play the board game with me.  It's not the easiest board game to play as we kept going backwards a lot!  But our 5 year old still rather enjoyed it.
The rainforest box was completed by both children together, which makes for a good bonding activity.  Or a bit of a fight if you have siblings in that sort of mood!!  I would recommend having a subscription for each child in the family as although they may be ok sharing some boxes, the ones that they love they're going to want all to themselves!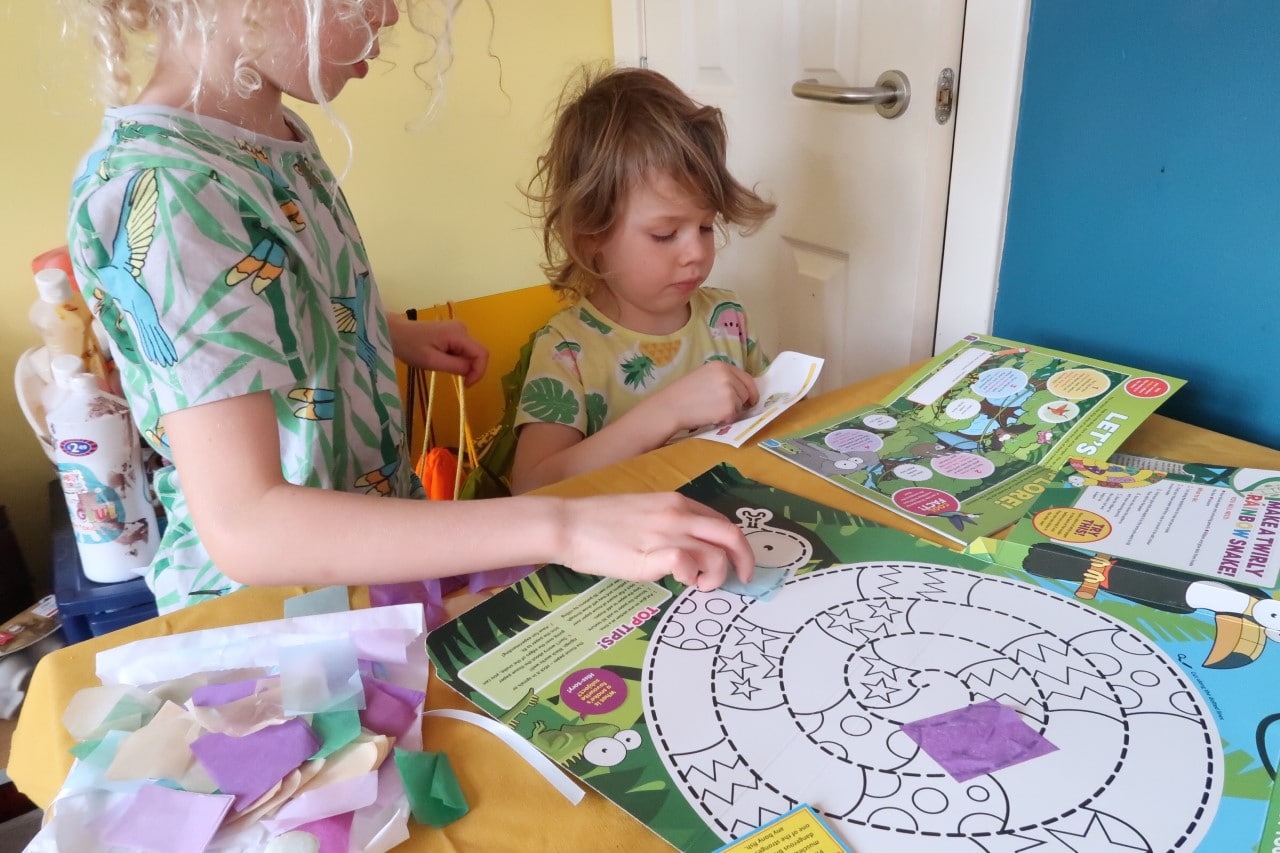 As we're heading off to the rainforest next year we've been discussing the Amazon rainforest and what we might find there.  So this is the perfect box for them to learn more about next years adventure.  The box contains 23 page activity booklet, stretchy frog toy, snake craft, mini colouring pencils and stickers for the activity booklet.
Affordable
With the first box half price at £4.49 and each further box only £8.99 every fortnight, it's a rather affordable subscription.  Home educators get a discounted price at £7.99 per box, just get in touch with First Wonder Box to request your home educators code.
For those taking part in Black Friday on 29th November there will be an offer of the first box at only £2, with no P+P, so keep an eye out on their website!
Verdict
The boxes were a huge hit with the kids, there's no doubt that they enjoyed the surprise of what was inside.  The contents are at the correct age range with different facts and activities to keep children entertained, crafts and games, which easily kept them busy for an hour.  Along with the educational aspect and low price, the subscription is a no-brainer for home educators like myself!
The boxes are a good size, easy to fit through the letterbox without compromising on contents.  I can see how they would be great to take on trips with the children, fitting inside a backpack with ease.  We will definitely be looking into ordering a subscription next year, it would be a great Christmas gift!  You can pop over here to check out the Christmas gift subscriptions, where you can buy a 4, 6 or 10 box subscription.
Pin For Later