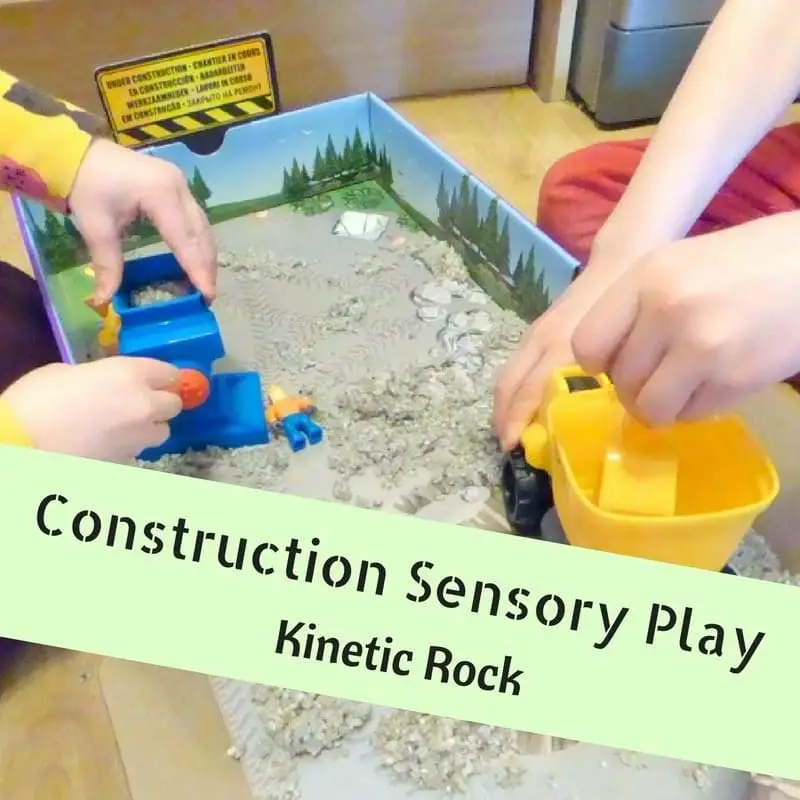 My two really enjoy sensory play activities and during the spring and summer we often have sensory play activities in the garden.  We use a tuff spot and unfortunately we have nowhere to store it indoors.  This results in a soaking wet, slug-ridden tuff spot which I don't want in the house.  So yes, we haven't had much fun with sensory activities recently.
Kinetic Rock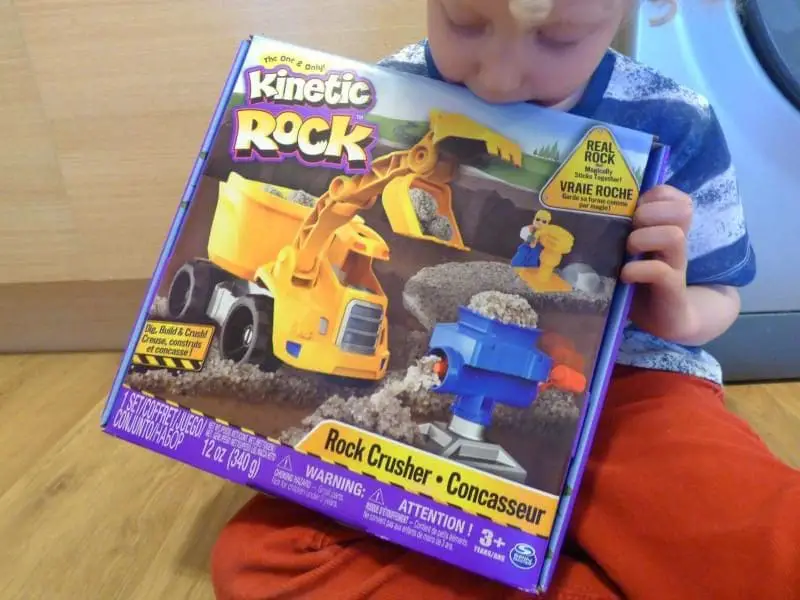 When we were asked to review the Kinetic Rock construction site I was quite pleased.  Kinetic rock is very similar to kinetic sand, except that it is made of lots of tiny real rocks.  You can mould the rocks together into different shapes and they hold this structure if packed together tightly enough.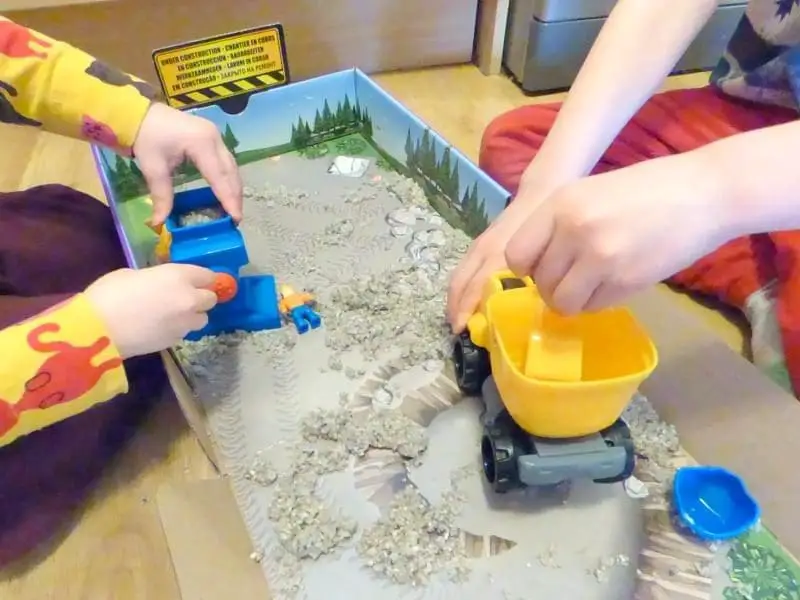 The box itself turns into the play construction site and mostly retains loose kinetic rock in the play area.  You also receive a dumper vehicle with grab, rock crusher, rock mould, tamper and poseable figure.  Both my boys had great fun using the vehicle to pick up rocks and moulding the rock into different shapes before crushing into smaller pieces.
Mess Free?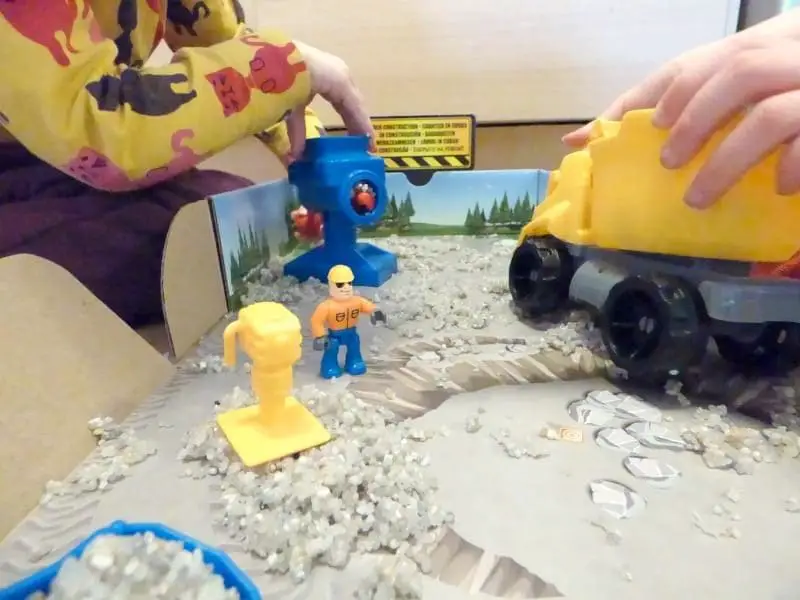 One of the plus sides of Kinetic Rock is that it sticks together and not to your skin.  However, this doesn't mean it is completely mess free.  We first played with the set on the kitchen floor, this was a mistake.  Although it won't stick to hands the rock definitely sticks to clothing, most annoyingly to socks!  Since this first mistake we have now realised that it's best to play on the table and keep knees and socks away from any escapee pieces of rock.
So in short, yes it can be fairly mess free, just use it on a table!
The Verdict
Both my boys, aged 5 and 3, had a brilliant time playing with the set and it has been out many times since we first opened it.  It's definitely something that I would consider buying as a gift for other children.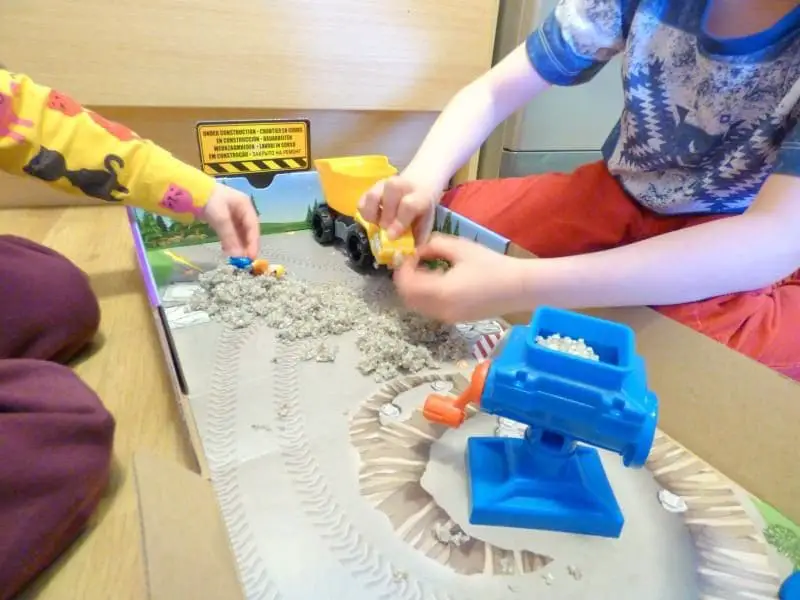 With two children there isn't a huge amount of kinetic rock each.  So I would definitely consider buying some extra kinetic rock from here to bulk it out and make sure both boys had plenty of rock (and a lot less arguing!).
* We received the Kinetic Rock set for the purpose of this post, however all opinions are my own.  There are also a few affiliate links within this post, these do not affect you, however if you do buy through the links I receive a few pennies.