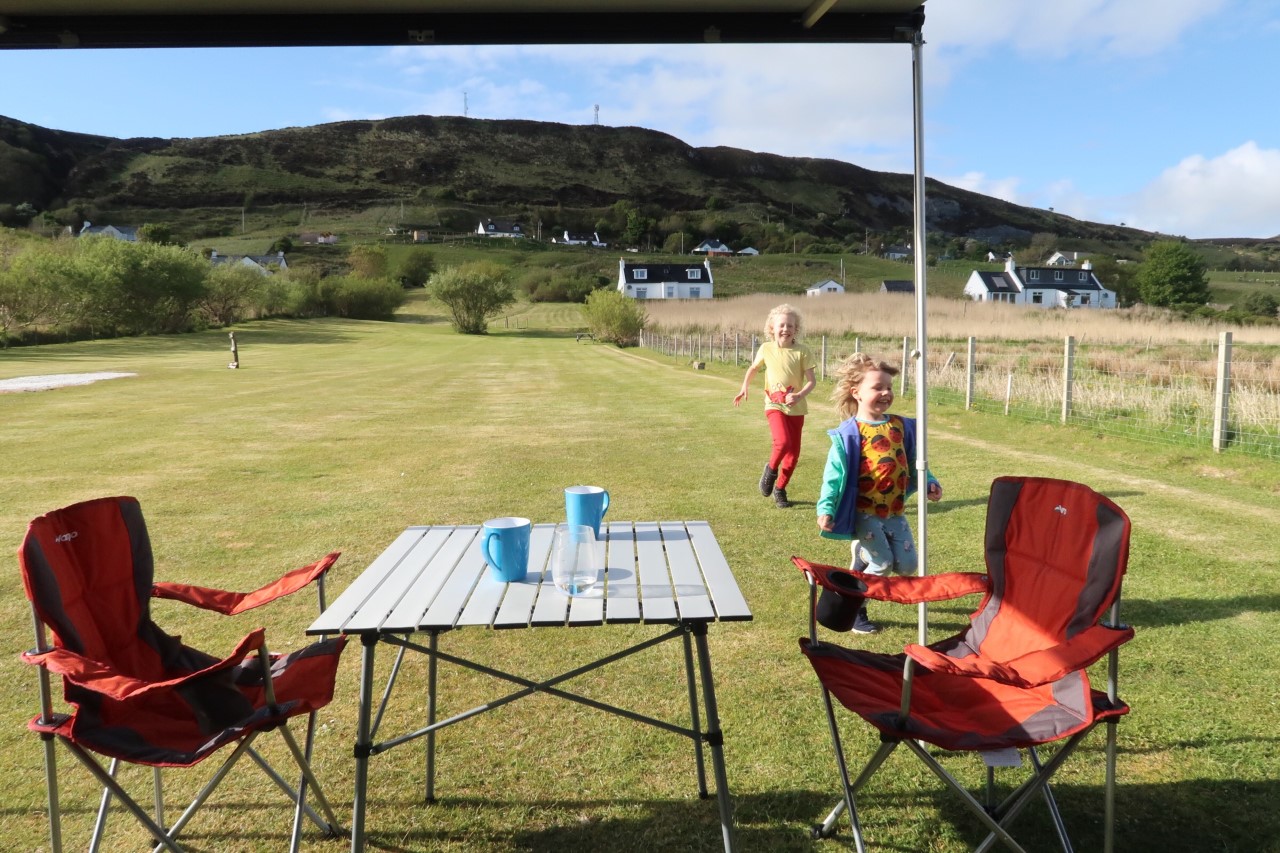 AD – Campervan Hire Gifted by Coast 2 Country Campers
 We've been camping with our children for years, mostly at a variety of campsites around Scotland.  But, whenever we're camping we notice those in campervans looking very snug and comfortable inside their warm vehicles.  So we wanted to see what it was like on the other side and test out a campervan ourselves.  We were kindly gifted campervan hire from the lovely Gordon at Coast 2 Country Campers for the week.  After much indecision of where to take the camper, we finally chose to head to North Uist, then travel South into Benbecula, South Uist, crossing from Eriskay to Barra and Vatersay.
Collecting The Camper
Before we could set off we first had to pick up the campervan.  Pick-up is very easy and is from one of the park and ride car parks at Edinburgh airport.  This is particularly handy for those flying into Edinburgh setting off on a camping holiday, but also great for those of us already in Scotland as it's such an easy place to get to from the M9.
It took around 45 minutes to go through the paperwork and for Gordon to show us how everything worked.  I'm glad my husband paid more attention than me, as I realised later on that I couldn't remember where a few things were!  Even if we had forgotten anything, we knew we could always message Gordon to ask any questions.
Once that was all complete we could head off with the campervan to start our journey.  For us it involved a trip home to pack up the van with our belongings and then heading North to Skye.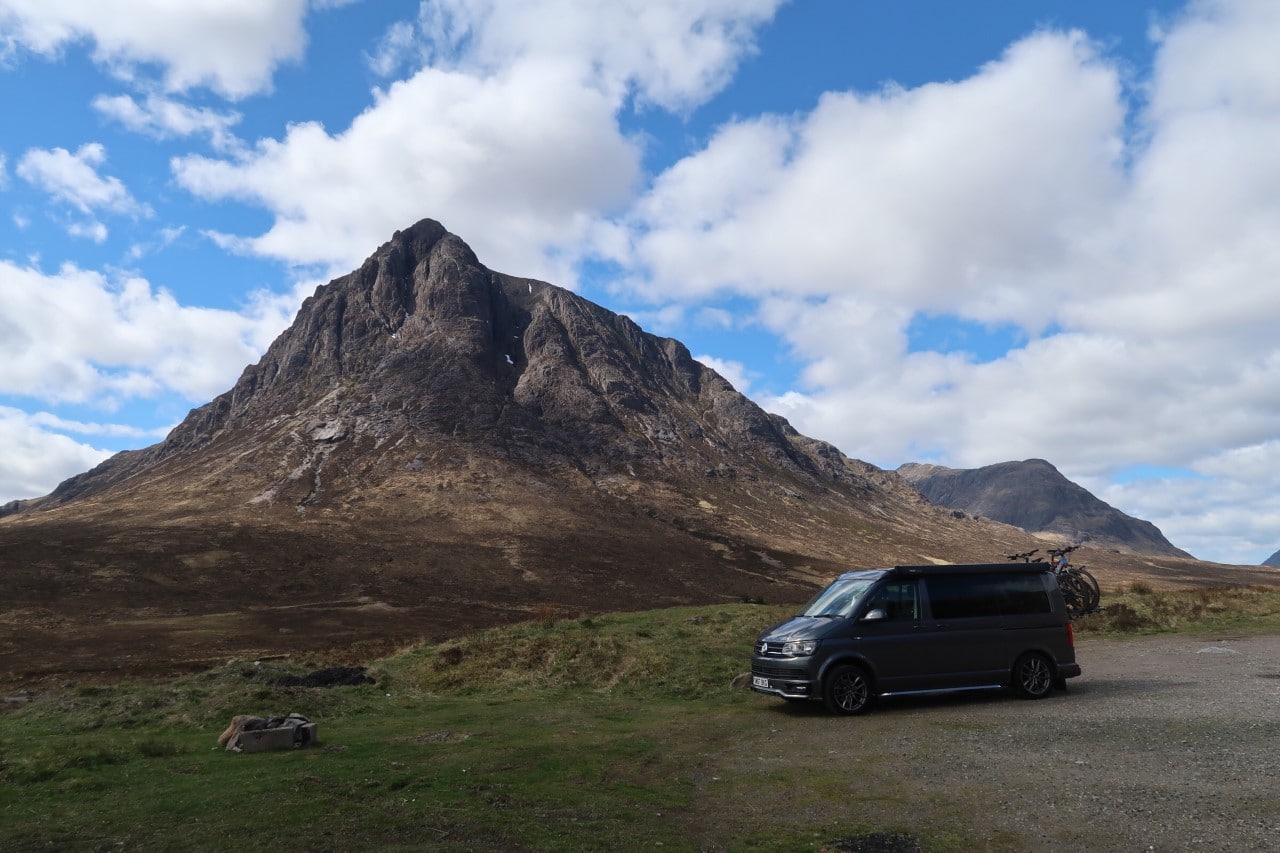 Campervan Features
I was amazed how many great gadgets the campervan had.  From the luxury black leather seats trimmed with rainbow threads, to the plentiful USB and plug sockets.  We had everything we needed for the trip!
At first I wasn't quite sure how we would manage to pack everything into the campervan, but I soon found that there was more than enough space for all of our belongings.  Including keeping a cupboard secret from Chris with birthday presents and (a slightly squashed!) cake inside!
The back seats fold down into a bed, but below the bed is plenty of storage room.  This is where you can also find the hose to fill up the water tank, the electric cable, windshield covers and other small items for the campervan.  I also put a lot of outdoor clothing, blankets (which we never used!) and beach bags under there too.  A separate cupboard was used for keeping all our clothing in, another for shoes and sleeping bags fit snugly behind the seats until bedtime.
We originally kept the kids body boards, spades and buckets behind the seats too, but after a few days they were left in the main seating area whilst driving and under the campervan when we stopped.  There is also a roll up table and two folding chairs behind the seats.
Foodwise there is a small fridge with an ice compartment, and two cupboards below the sink area that could contain a significant amount of food.  Of course you can buy plenty at shops along the way, but we needed to have enough from the start as our two never seem to tire of being hungry!
Above the fridge are two gas hobs under a glass lid and a sink with fold down tap.  You can check how much water and vehicle battery is left by using the buttons on the little console beside the sink.  This is particularly good if you are wild camping and need to use the vehicle battery (but not wanting to run it completely down and risk being stranded!) rather than hooking up to electric.  There shouldn't be too much of an issue with battery life when wild camping as the van also has a solar panel on top of the upper sleeping compartment, allowing you to be fairly self sufficient for a few days wild camping.
The front seats swivel round and a table can be found in the sliding door panel.  The shelf above the cooking area is perfect for books, gadgets and any little finds.  Plus a small moveable light, which also has USB sockets, can give enough light for reading without turning on all the campervans lights in the middle of the night.
The highlight for the kids was the pop-up top for the upper sleeping area.  It is wider than the bed below as it is almost the entire width of the campervan, although it's definitely cooler up there.  We had the heating on at around 17 degrees throughout each night, which kept us overly warm downstairs, but the boys were significantly cooler above.  They didn't seem to notice though, their sleeping bags were perfectly adequate.
Beside the fridge there is another cupboard for all the crockery and there really is everything you would need for a short trip.  the only thing we added was a measuring jug, if we cooked with packet items they need a certain amount of water and I wasn't going to guess with two rampaging hungry children.
Below the sink was also a toasting device, which was great for both toast and toasties and was certainly well used by us each day.  Gordon had also made sure we had all the essential items for cleaning dishes, a foldable basin, bin bags and a selection of biscuits and drinks to start us off!
On the back is a bike rack for up to 4 bikes, also handy for drying off wetsuits and towels!  We used our bikes a lot at the first campsite, but the second one wasn't so suitable for children to cycle due to the busy road.  But I'm still glad we had them for the first few days.
There is also an awning which you can wind out for shelter beside the campervan.  We used this at the campsites, but as it was so sunny and warm it was mostly for keeping the sun off whilst we ate!
Life On The Move
When the pop-up top is secured back down and seats are all back in upright positions we were ready to start travelling.  Each day we would drive off somewhere new, taking all our belongings with us.
At the beach our eldest would change into his shorty wetsuit within the comfort of the van and run down to the beach to try out his body board.  This was his first outing with the body board and I was impressed out how well he got on with it, despite the water still being quite chilly!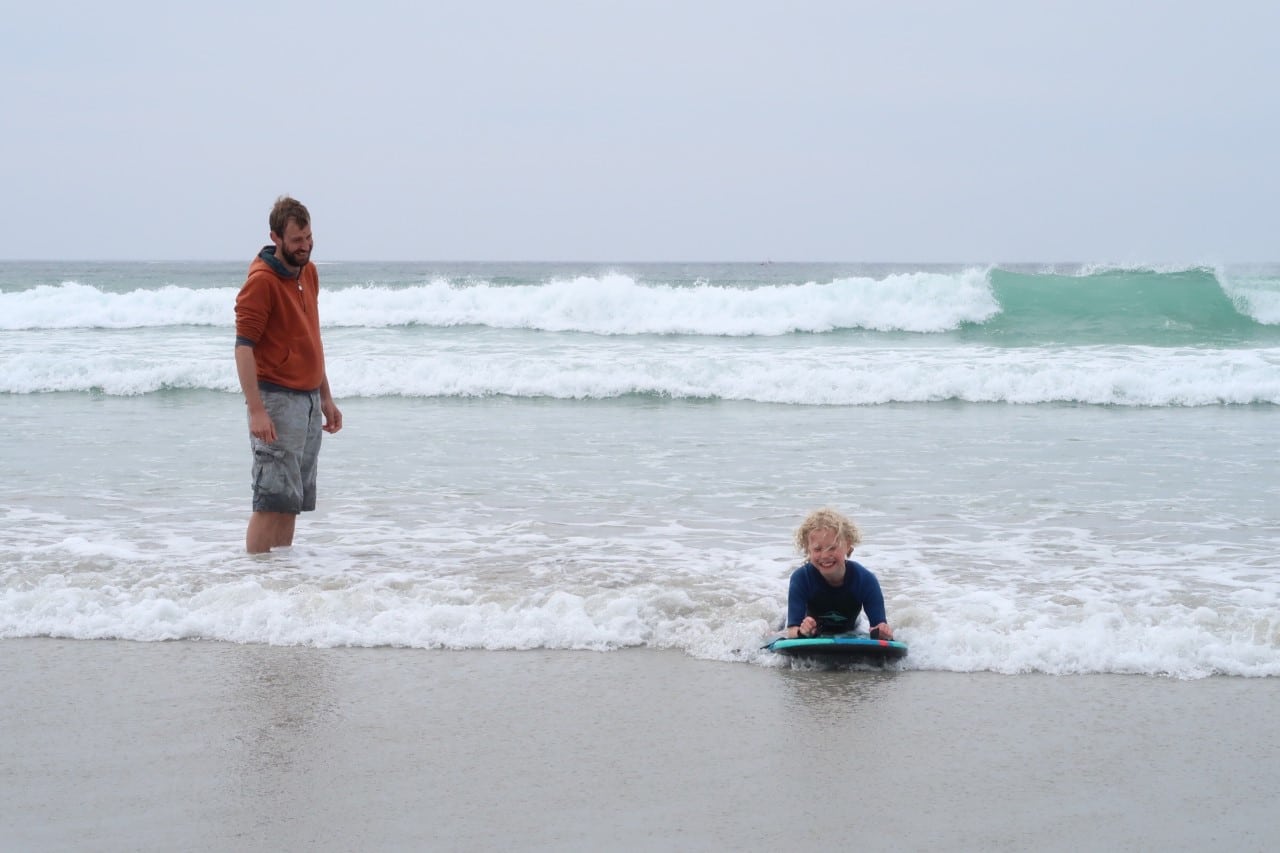 When parking by Hebridean beaches you can find a variety of areas that have been specially set aside for parking on.  Do watch out that you don't pull over onto the colourful machair grassland in the summer.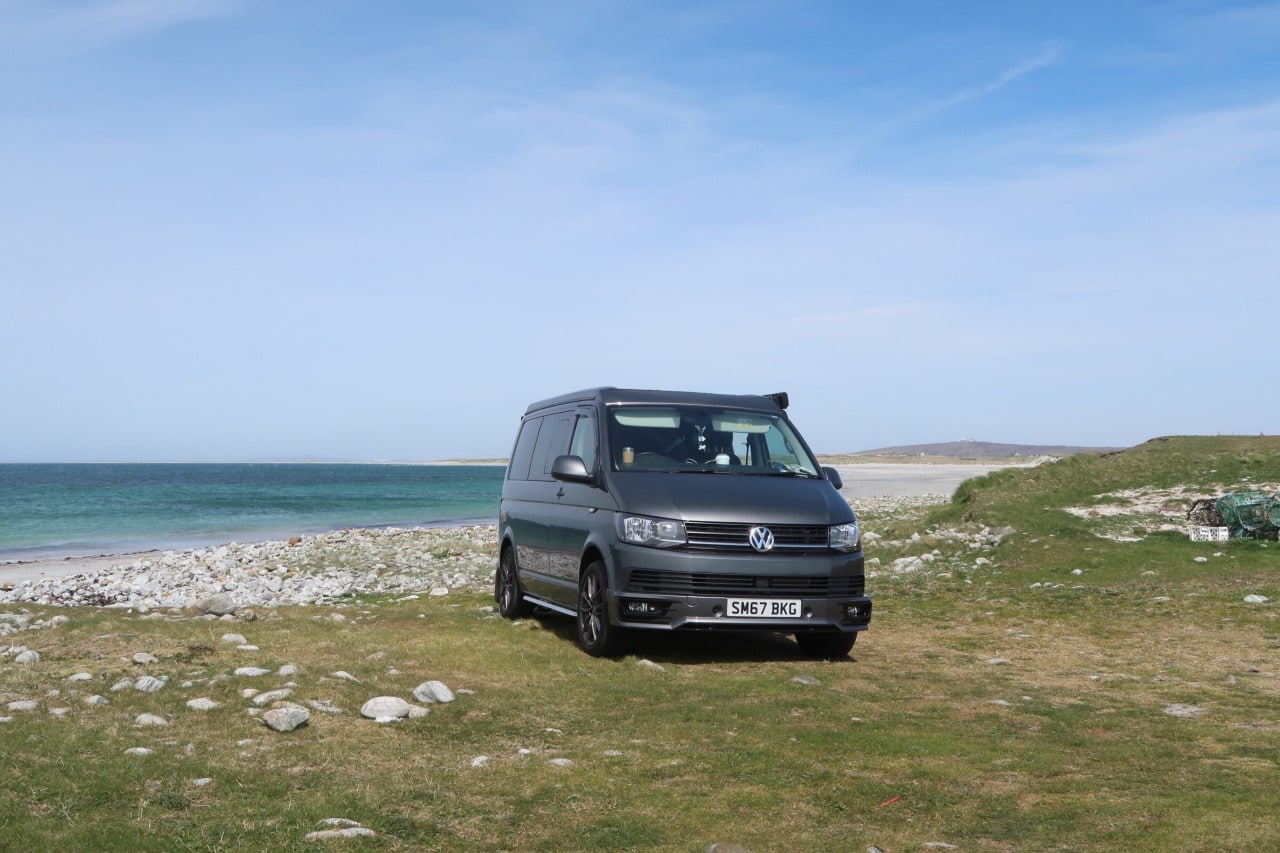 We set-up the van beside a different beach each day, giving the children access to food and shelter.  Or a place to hide when littlest was feeling tired and wanting to shelter from his brother or the wind!  Knowing that we could easily cook a warm lunch for the kids or find more snacks in the cupboard, before getting back out to play was a winner for the boys.  We even had an overly large birthday cake for my husband, which meant many cake stops to finish it all, much to our chocolate loving youngest's delight.
Whilst travelling through the Outer Hebrides we had to catch 3 ferries, each one meaning an early morning departure.  I have a tendency to arrive early for everything, plus you need to be at the ferry before check-in closes.  So we are usually there an hour before we actually board.  Usually when we have just the car it can be boring and difficult for the kids to wait in the ferry queues (they're old hands at Scottish ferry travel now!), but with the camper they were easily entertained by playing board games and eating toast and other food whilst we waited.
It certainly makes it a lot easier when you can take everything with you in the camper.  It just takes a little organisation to find the best place to put belongings.  We changed our organisational system after the first couple of days, placing jackets under the bed with easy access through the doors below the seats, games behind the seats so they can easily find them and snacks having a cupboard all to themselves!
Campsites Or Wild Camping?
We stayed at two campsites and wild camped for one night on the way home.  With the camper you can easily have all the usual luxuries except from toilets. But with a little organisation and a trowel (!) you can be sorted wherever you are.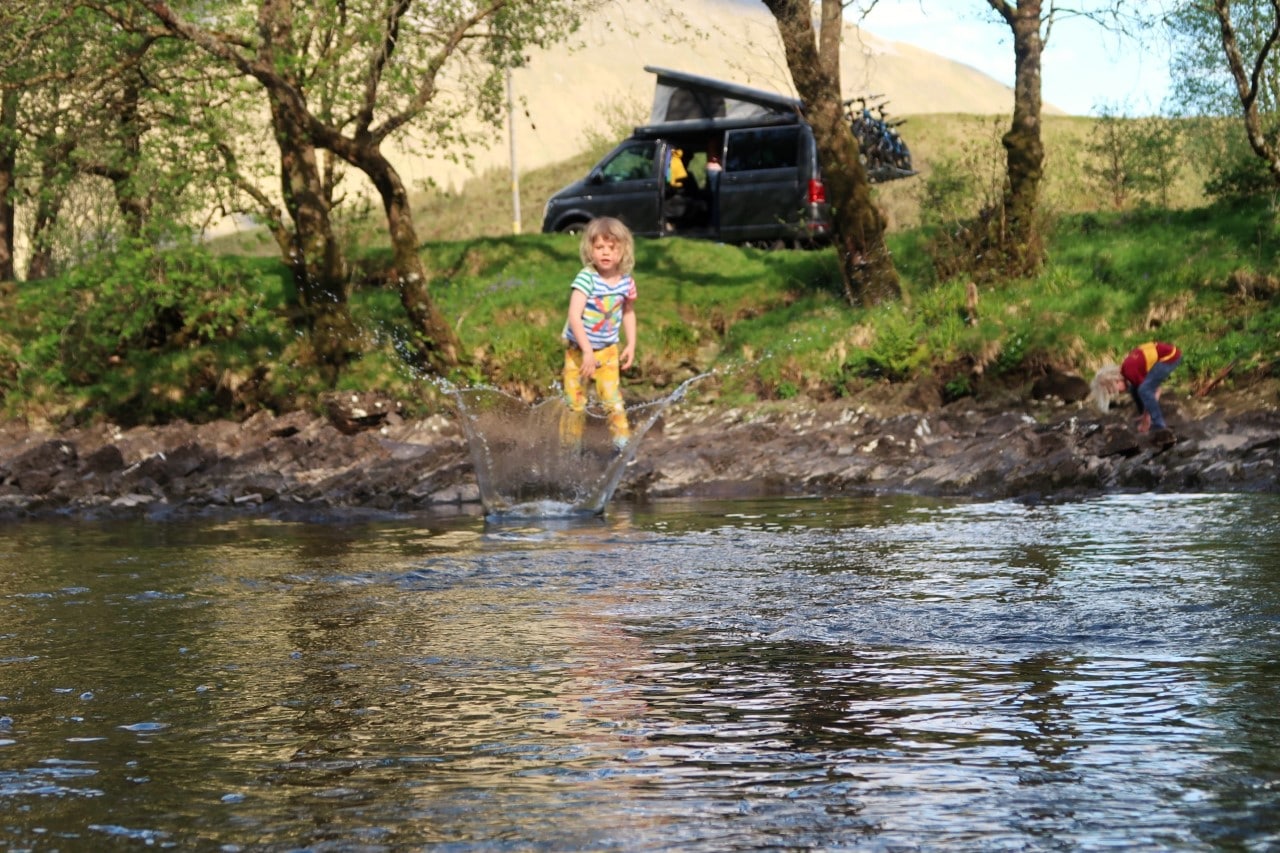 With wild camping you can choose anywhere to camp, including many beautiful locations without anyone else around.  We had the perfect peaceful spot to camp in Glen Orchy and a fantastic river for the children to play in.
There's also a higher chance of seeing wildife when you are camping in the wild, from otters to badgers and seals!  There are plenty of fantastic wildlife watching spots to around Scotland, but keep your eye out for the 'no overnight parking' signs.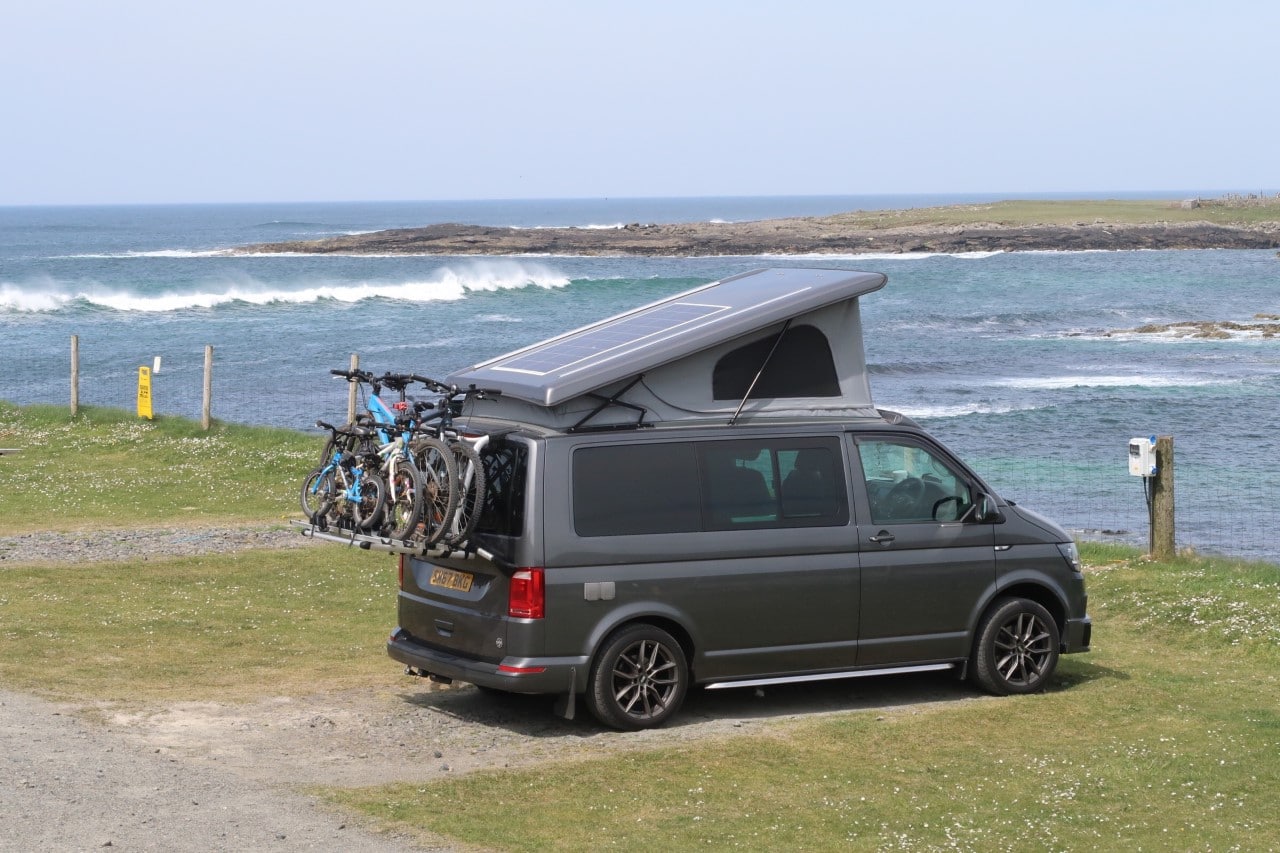 On a campsite you have the luxury of toilets, showers, electric hook-up and drinking water.  Often free WiFi will be available too.  For most campsites you can book in advance, which makes life a lot easier when you just want to know that you have somewhere to pull up and park in.  Plus with children toilets can be rather handy!
The downside is that it is clearly more expensive, around £20 per night for the campsites in the Outer Hebrides.  You will also have plenty of neighbours, who could be lovely, but could also be exceptionally annoying.
There are definitely pro's and con's to both types of camping in the campervan, but I think it's nice to have a little bit of a mix if possible.  We would love to try more wild camping next time, now we have the hang of how it all works.  But we still like using campsites for ease of use with young children.
Verdict
Our campervan road trip through the Outer Hebrides was awesome, with stunning pale sands and clear turquoise water.  We brought our home everywhere we went, just like a tortoise, which made life easier with the children.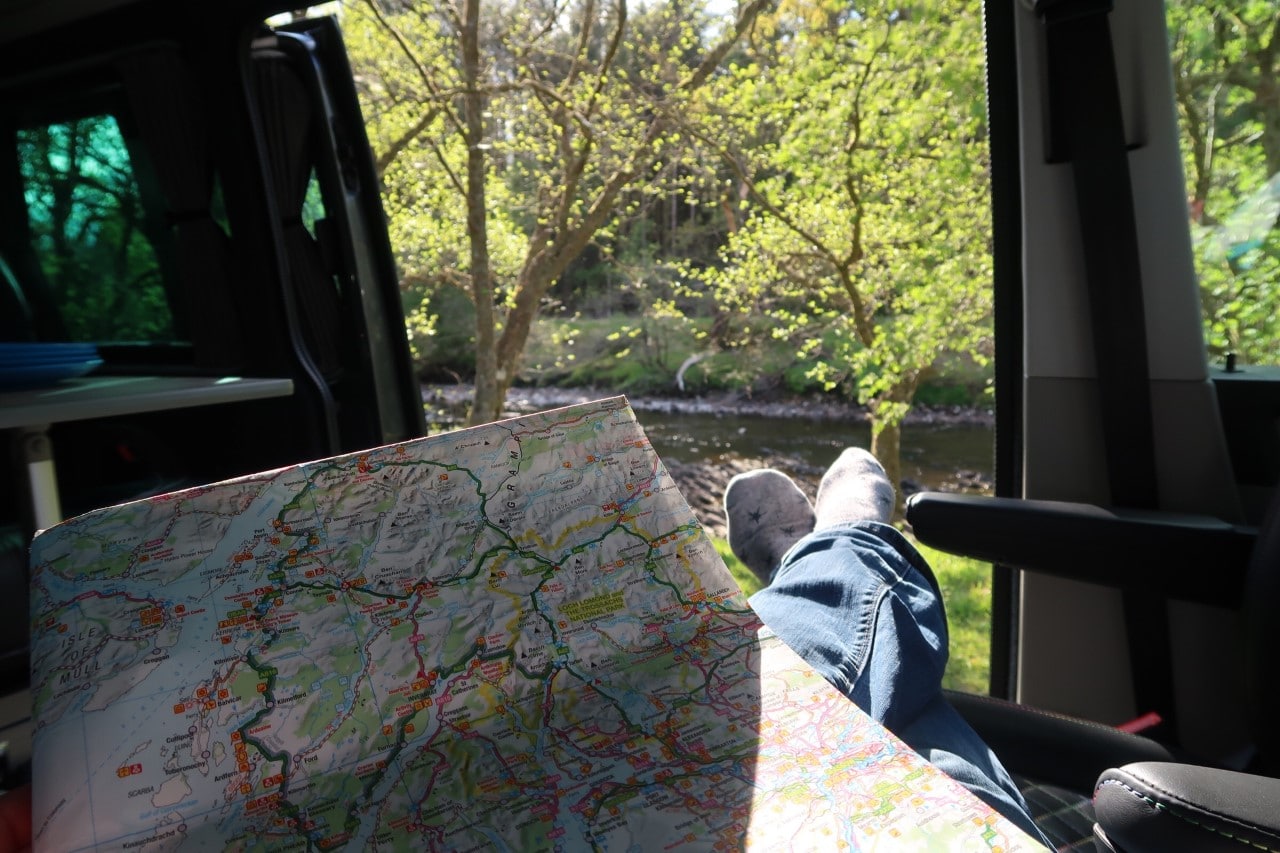 Coast 2 Country Campers had thought of everything, we had plenty of storage and all the implements we needed for cooking.  We were even started off with some mini bottles of alcohol, biscuits, water and Iron Bru.  A road map of Scotland is provided, which I had fun annotating with our adventures.
The only downside for me was that we only had a week in the camper.  I would love to use the camper again, only next time we would go for 2 weeks and either cover more ground, or have longer at each campsite.  It really did make a fantastic family holiday!
Pin For Later