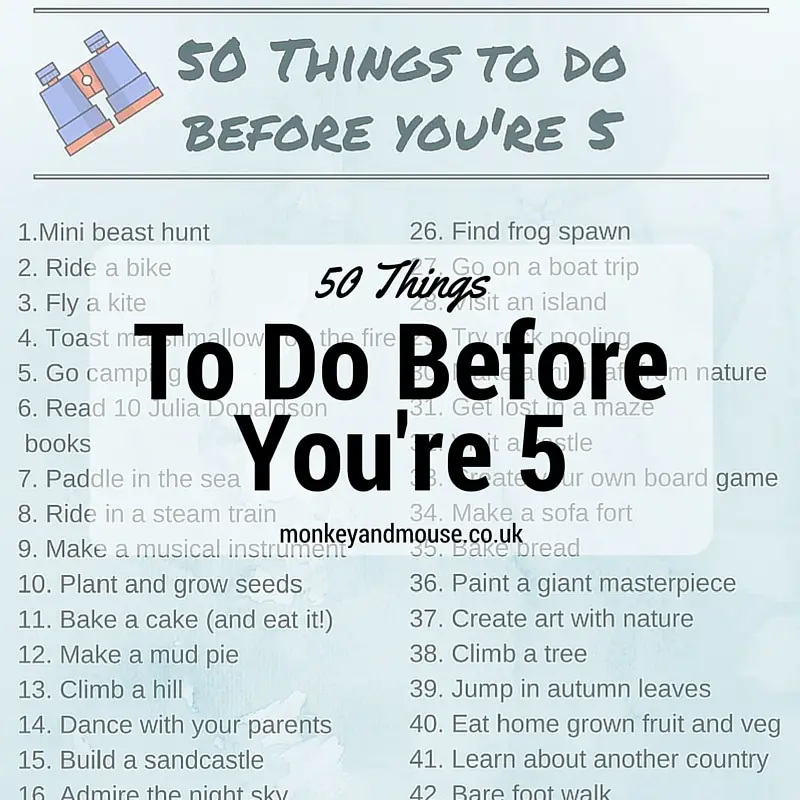 It's not long until my eldest hits the grand old age of 5 and I have been looking back on all the things he's managed to do in the early years of his life and what else I hope we'll manage to do in the next few months.
There are so many different attractions to see around the UK, but I wanted to focus on the things young children can do ANYWHERE in the UK or even around the world, simply adjusting the activity to suit your country/climate (visit an indoor snow experience or change to sand!).
Without any further ado here is our list (downloadable PDF available at the bottom of the blogpost):
Discover minibeasts on a bug hunt
Ride a bike (either with or without pedals)
Fly a kite
Toast marshmallows on a campfire
Go camping
Read at least 10 of Julia Donaldson's books
Paddle in the sea
Ride in a steam train
Make a musical instrument
Plant and grow seeds
Bake a cake
Make a mud pie
Climb to the summit of a hill
Dance with your parents (includes silly dancing in the kitchen!)
Build a sandcastle
Admire the night sky
Go pond dipping
Find a geocache
Forage for wild food
Dam a stream
Build a snowman
Sledge down a hill
Meet some friendly farm animals
Make a bird feeder
Create a mini garden
Find frog spawn
Go on a boat trip
Visit an island (this can even be in a loch/lake)
Try rock pooling
Make a mini raft from twigs and leaves
Get lost in a maze
Visit a castle
Create your own board game
Make a sofa fort
Bake bread
Paint a giant masterpiece
Create art with nature
Climb a tree
Jump into a big pile of crunchy autumn leaves
Eat your own home grown fruit and vegetables
Learn about another country
Take off your socks and go for a bare foot walk
Watch caterpillars turn into butterflies
Ride a flying fox (zip-line)
Explore a cave
Make a wormery
Feed the ducks (check out these guidelines for what to feed ducks)
Visit a museum or two
Paint with your feet
Invent a game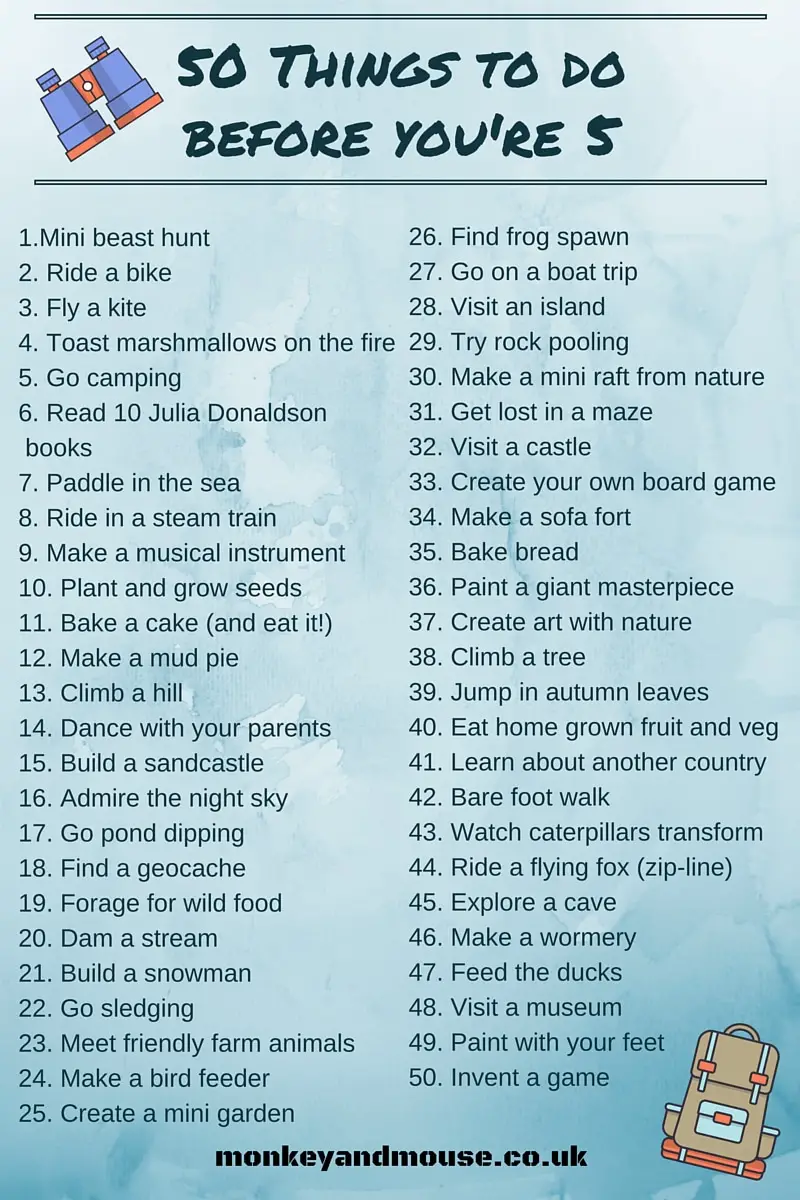 Click here to download the PDF of 50 things to do before you're 5.
What else would be on your list?
J x