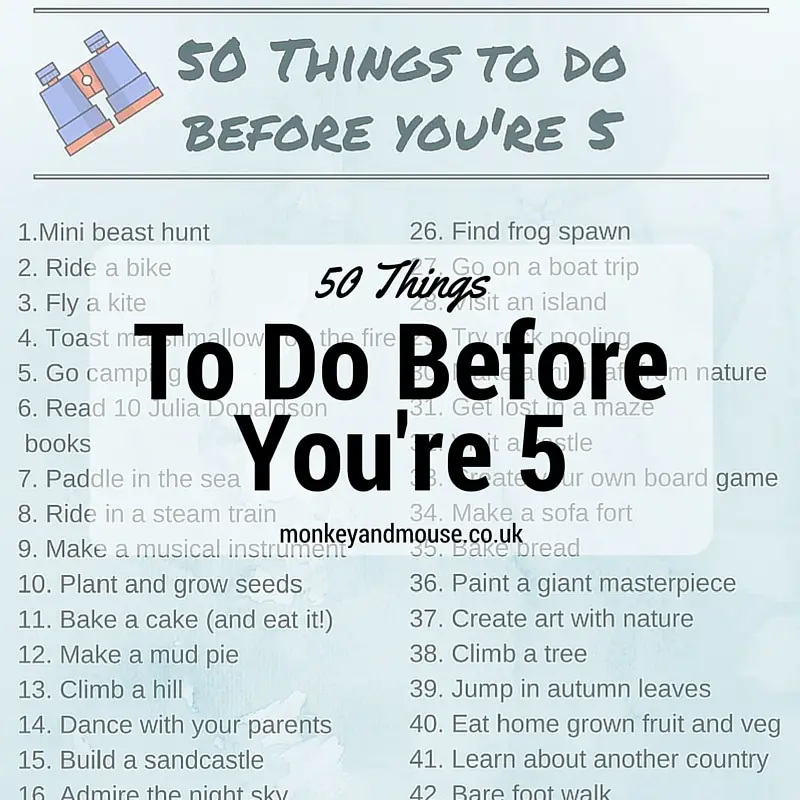 The age of 5 seems like a big milestone, probably because children enter education after this and our view of what they can do changes. I have been looking back on all the things the children managed to do in their early years and created our own list of 50 things to do before you're 5.
If you are looking for ideas for older children, we now have this list of 100 adventure challenges for children. Or you may be interested in earning challenge badges such as this list here.
50 Things To Do Before You're 5
There are so many different attractions to see around the UK, but I wanted to focus on the things young children can do ANYWHERE in the UK or even around the world, simply adjusting the activity to suit your country/climate (visit an indoor snow experience or change to sand!).
Without any further ado here is our list of 50 things to do before you're 5 (downloadable PDF available at the bottom of the blogpost)
Before You're 5
Discover minibeasts on a bug hunt
Ride a bike (either with or without pedals)
Fly a kite
Toast marshmallows on a campfire
Go camping
Read at least 10 of Julia Donaldson's books
Paddle in the sea
Ride in a steam train
Make a musical instrument
Plant and grow seeds
Bake a cake
Make a mud pie
Climb to the summit of a hill
Dance with your parents (includes silly dancing in the kitchen!)
Build a sandcastle
Admire the night sky
Go pond dipping
Find a geocache
Forage for wild food
Dam a stream
Build a snowman
Sledge down a hill
Meet some friendly farm animals
Make a bird feeder
Create a mini garden
Find frog spawn
Go on a boat trip
Visit an island (this can even be in a loch/lake)
Try rock pooling
Make a mini raft from twigs and leaves
Get lost in a maze
Visit a castle
Create your own board game
Make a sofa fort
Bake bread
Paint a giant masterpiece
Create art with nature
Climb a tree
Jump into a big pile of crunchy autumn leaves
Eat your own home grown fruit and vegetables
Learn about another country
Take off your socks and go for a bare foot walk
Watch caterpillars turn into butterflies
Ride a flying fox (zip-line)
Explore a cave
Make a wormery
Feed the ducks (check out these guidelines for what to feed ducks)
Visit a museum or two
Paint with your feet
Invent a game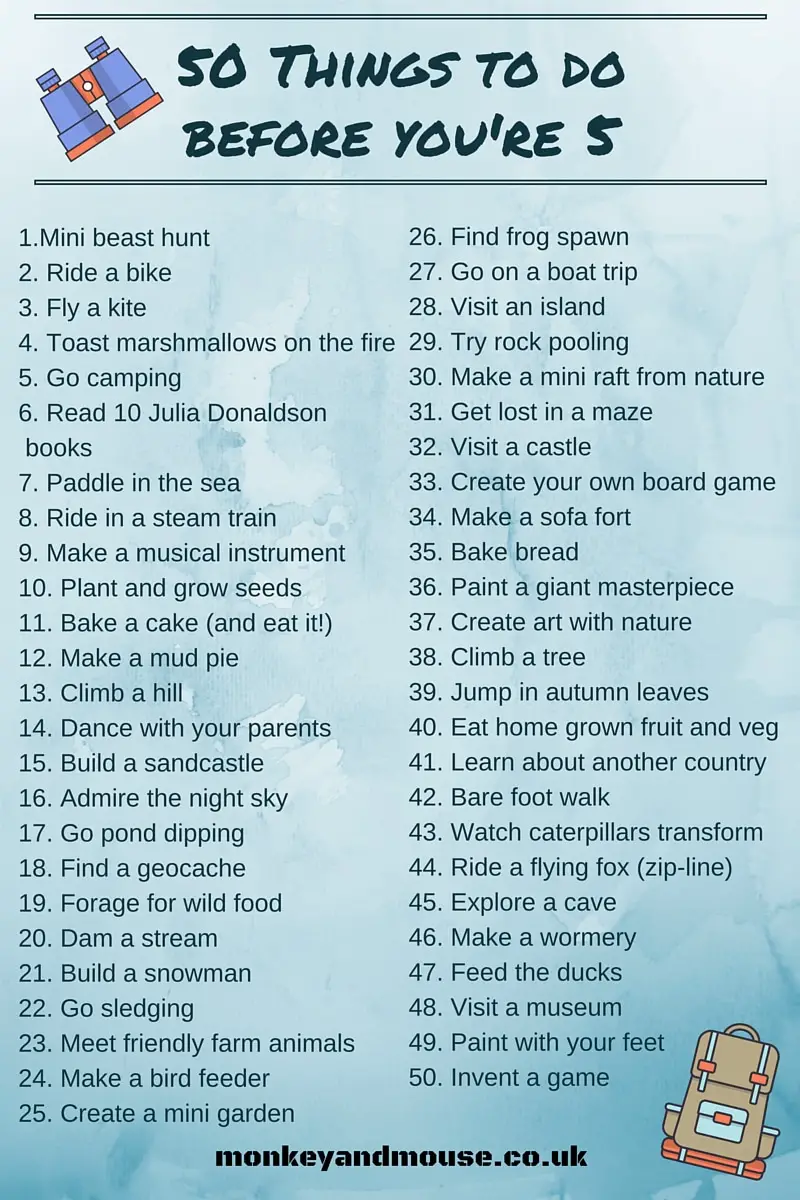 Click here to download the PDF of 50 things to do before you're 5.
What else would be on your list?
Pin For Later