This is probably a tad late considering bucket lists are usually begun at the start of January.  But then it may be better to have started the year and know what are you are looking for in the next 11 months instead?
I thought it would be fun to start this as a tag, so I will tag 8 bloggers at the bottom of this post who would like to create their own 2019 bucket list and we can see what everyone else is planning to do.  Which may well change my plans if I see any ideas for great adventures!!
I'm basing this bucket list around 3 major areas of life and trying to think up at least two things I want to add to each.  The 3 areas are Adventures (which includes travel and days out), Lifestyle (including health, food and creativity) and Career (mine will be blogging and influencer work).
Adventures
Visit a new Scottish island.  We visit a new island in the Scottish waters every year.  Last year our new island was Eigg, although we also spent time on Mull twice too!  This year I'm hoping to get across to the Uists, but I need to check ferry times first!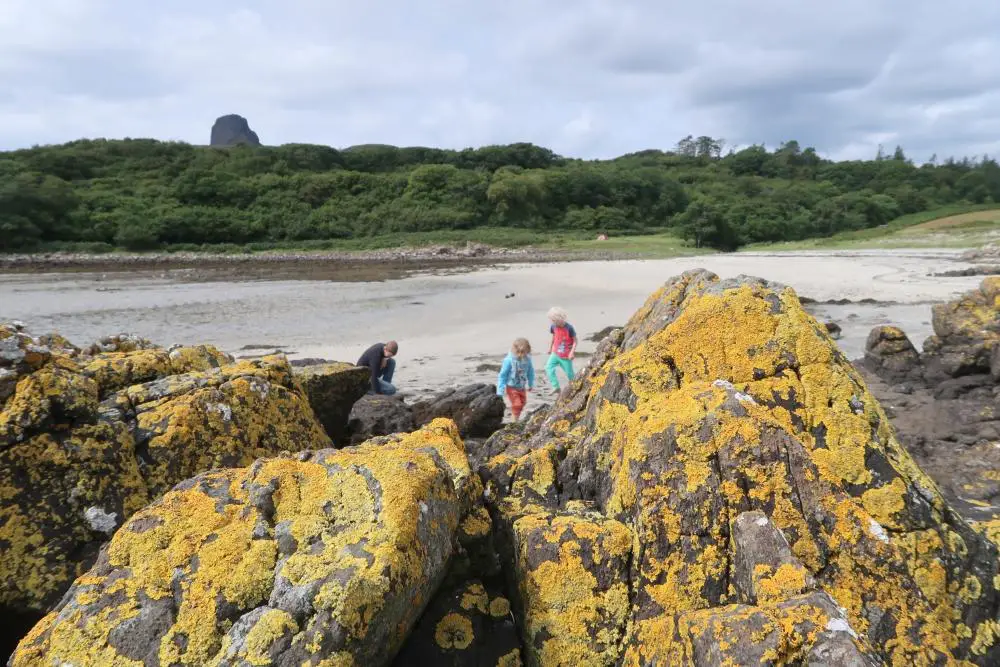 Take the family on a trip outside Europe.  This is a big one for us as it costs more to travel further away from Europe, but I really want to take the family further afield this year.
Visit 3 new castles.  We love castles, but we always seem to visit the same ones.  I need to find some new castles for us to visit further afield.
Lifestyle
Eat less chocolate.  I definitely eat too much chocolate and cake, but I think I need to begin replacing with fruit.  Although there's no way I want to cut it out completely!!
Exercise more often.  Before we bought our second car I had to walk everywhere and with two kids to ferry around that could be a considerable amount of exercise.  Now we have the car we meet people further afield and it's always easier to drive (plus it's less expensive!) and there is no way we could my car up completely.  However I could get more organised and walk to the nearby meet-ups rather than drive at the last minute.  I'm also going to try and work out how to get exercise whilst looking after the kids each day.
Paint and draw every week.  I'm worried I've forgotten how to paint and draw now.  I used to love it when I was younger, but now I rarely manage.  I want to improve my skills again, particularly to record places we visit on our travels.
Read more books.  As mentioned in a previous post, I rarely read books nowadays and I want to change this.  So I am DEFINITELY going to start reading more books in 2019.
Career
Get a great ambassadorship.  I love blogging and 'influencer' work (not my favourite word, but stuck for what else to call it!).  I really enjoy having such diverse collaborations over the years.  However, it's been a little while since I've been an ambassador, so maybe this year it will be achieved again?
Increase my income from previous years.  This is always my goal, I'm unsure how achievable this will be due to various factors (looking at you Brexit!).  But I'm still hopeful it can be increased again.
Increase my blog views by 50%.  My blog views need a little help to increase again, I think I need to get my head around SEO and Pinterest, then apply this to a lot of my older posts that could do well too.  This will certainly be a challenge, but I'm going to do my best!
I'd love to see what items are on your bucket list, so I'm tagging these eight bloggers to share their own list.
Hannah at Hibaby Blog
Natalie at Plutonium Sox
Lauren at Dilan and Me
Louise at Pink Pear Bear
Laura at Waffle Mama
Jenni at Chilling With Lucas
Alice at Living With a Jude
Erica at The Incidental Parent