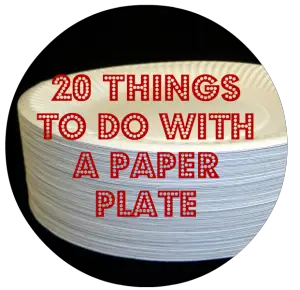 We're off on our first family holiday abroad this year, I can't wait!  The only thing I'm not so sure we'll cope with are the many hours hanging around airports.  We have to be at Glasgow airport for 2 hours before our flight leaves, then we have a couple of hours changeover at Amsterdam before we get to our final destination and then of course similar times on the way home too.
To combat toddler/preschooler boredom I'm going to make several busy bags with simple contents that can be used in a variety of ways.
First up the simple paper plate (or small stack of), some washi tape, safety scissors (blunt nosed to also take on the plane), lollipop sticks and crayons.
Without further ado; 20 Things to do with the humble paper plate (to be updated with photos later!):
1. Make masks (cut with blunt scissors and decorate with crayons)
2.  Noughts and crosses (tape a 'board' onto the floor and draw several nought and crosses on plates to play)
3. Cut the middle out of the plate and make 'porthole' window for role play, you could pretend to be on a ship or an airplane if still in the airport.  My 3 year old loves this kind of game!
4. Draw your favourite food on the plate.
5. Cut out shapes for food and use another paper plate for the frying pan (love the food combinations that my eldest makes, toothpaste being the common denominator?!).
6. Make and decorate a hat (cut a slit into the centre of a plate and then overlap and tape)
7. Make puppets (fold plate in half, decorate outside as animal and inside as the mouth)
8. Make flowers (either full size plates or cut out small ones, sticks taped on for stems and decorate)
9. Make a bag (cut plate in half, tape two halves together and food a length of tape sticky sides together to make a handle and attach to bag)
10. Decorate a plate and then cut into random pieces to make a jigsaw.
11. Rocking bird (colour the plate, fold in half, cut out a beak and tape on)
12. UFO (decorate to bottom sides of plates and stick together with tape)
 13. Hoopla (cut the centre out of several plates and then use an arm as the pole to get the hoops over – play away from others!!)
14. Write a number, letter or shape on several plates, tape to floor and then use a rolled up pair of socks to throw onto the plates – can specify which number/letter/shape to throw it onto.
15.  Paper plate snake (cut a spiral from outside to the centre and colour it in)
16. Rainbow (cut plate in half, colour in rainbow with crayons and either use another paper plate for clouds or use tape if white)
17. Aquarium (cut centre out of one plate and cut out fish, weeds etc, colour in and stick to top of other plate and tape the two plates right sides together so fish can be seen through the other hoop)
18. Cookie Monster (cut a mouth out of the middle of the plate, decorate the rest of the plate as a monster.  Cut out and decorate several 'cookies' and feed monster through the mouth with suitable sound effects!)
19. Butterfly (cut paper plate in half, decorate both halves and tape to a lollipop stick)
20.  Hockey (only to use in an area where there are no other people around!  Tape a plate to a lollipop stick (bat) and scrunch up a ball of paper plate, each player has a bat and needs to try and get the ball into their teams 'goal'.  adults have to move on knees and kids any way they wish)
Have you any tips for keeping small ones occupied at airports?
J x