I still remember preparing for my eldest's arrival, I had taken a few weeks off before he was due so I could make cloth nappies, finish the quilt I was making him and decorate his nursery.  I was so organised and prepared back then, loved my sewing machine and used it every day to make things for the baby!  I feel sorry for my second as his quilt still isn't finished 4 years later…
One of the things I chose to buy for my first born were Cheeky Wipes, they are cloth washable wipes that you can use instead of the disposable wipes.  As I had already decided to use cloth nappies, cloth wipes seemed like a no brainer to me.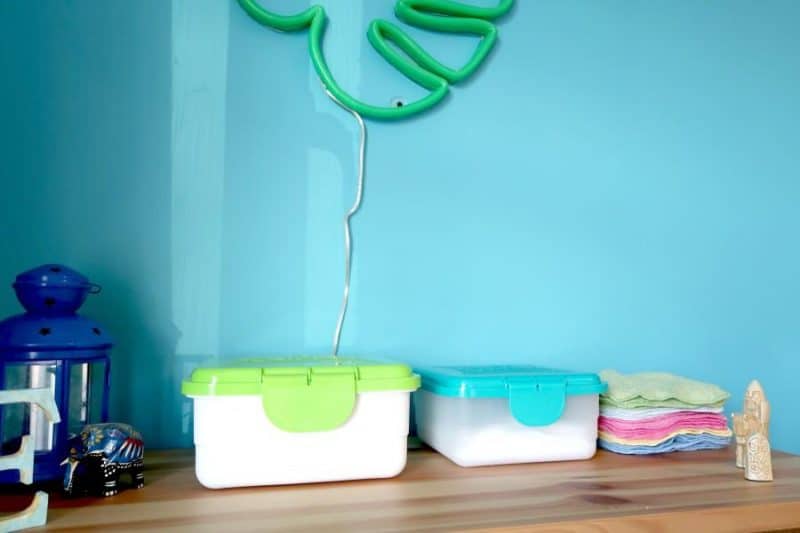 Why Use Washable Wipes?
So why would a sensible person choose to wipe a baby's poo covered bottom with wipes that go in the washing machine?  It's simple really, they are much more gentle on little bottoms, without all the harsh chemicals that standard wipes have.   Having tried out disposable wipes when we've been on holiday, I remember how frustrating they were.  What would have taken one wipe with my Cheeky Wipes, took 3-4 disposable wipes to clean!  I can't believe how ineffective disposable wipes could be.  Washable wipes certainly have a lot more traction and it makes the whole nappy changing business a lot quicker.  They are also more than a match for disposable wipes in cleaning sticky fingers and mouths, I'm pretty sure there are a lot of those at the moment with all the chocolate Easter eggs around!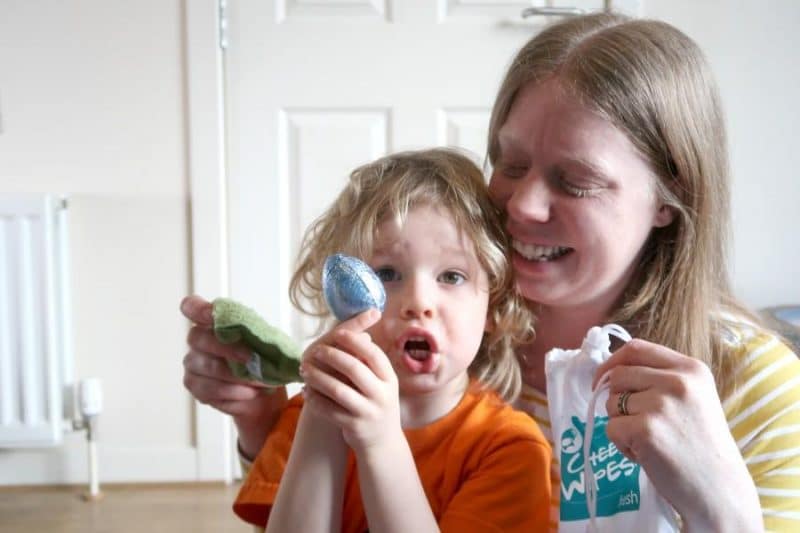 They're environmentally friendly.  Instead of leaving piles of dirty wipes in landfills for hundreds of years, we can use use one reusable cloth wipe.  Single use items including wipes, straws and cotton buds are causing a huge build up in waste and destroying the environment.  So why wouldn't we want to change away from these items to things that can be reused again and again?
And if that isn't enough reason, washable wipes save you money. Using washable wipes can save you between £250-£500 over the first 2 years of your baby's life!  That's pretty worthwhile right there!
But How Do You Clean The Wipes?
When you buy the Cheeky Wipes Washable Wipes Kit you receive a fresh wipe box, mucky wipe box, essential oils, drawstring net bag, wet bag and mucky wipe wet bag.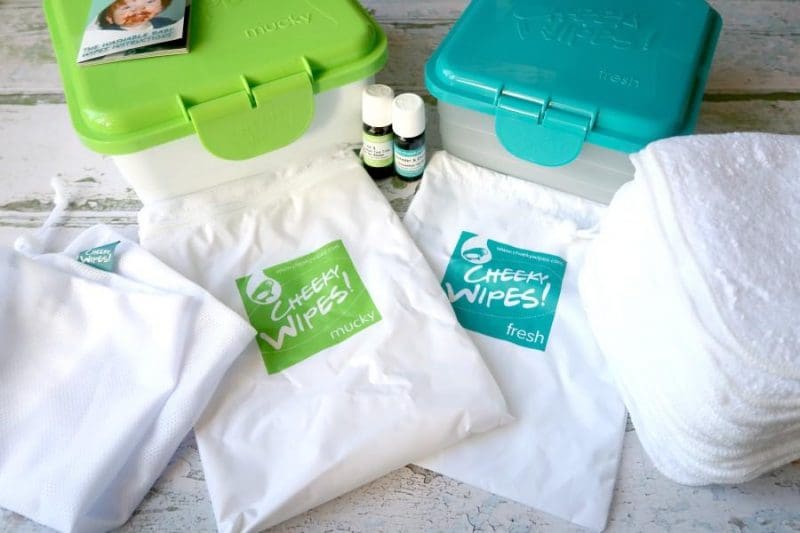 At home you can use the two boxes, the fresh wipes (turquoise box) is filled part way with water and a few drops of the essential oil (Lavender and chamomile in my kit).  Place the clean wipes in the box and squash a little to soak up the water and become 'wet wipes'.  Close the lid ready to use when needed.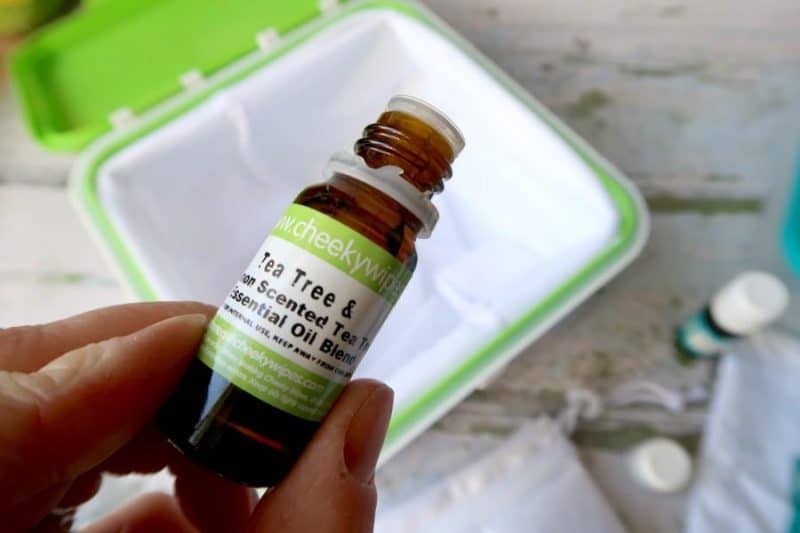 In the green mucky wipe box, fill again part way with water and a few drops of the essential oil, Tea Tree and Lemon, and add the large net bag using the handy hooks.  Close the box ready for the next dirty nappy.  When you have used the wipes to clean your sweet baby's bottom place the dirty wipes in the mucky box, when full take the mesh bag out, draw the string and throw in the wash.  I used to put mine in with cloth nappies, but you can just put them in a normal wash too.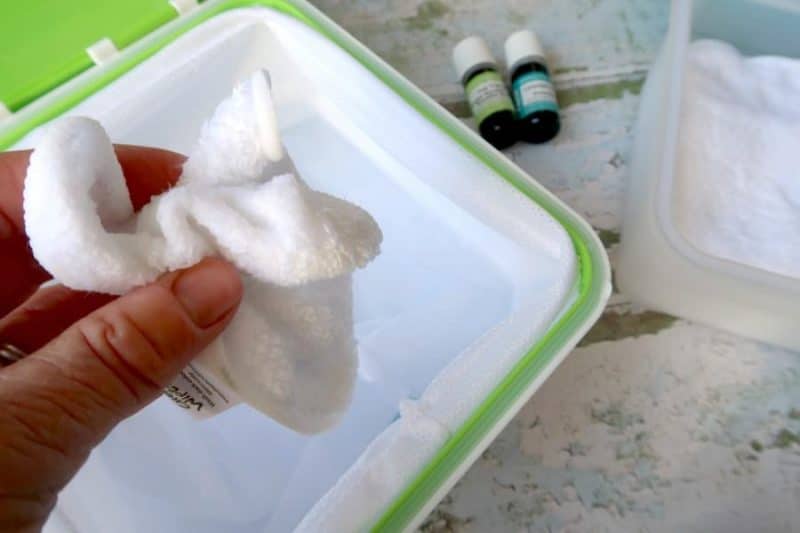 Once the wipes come out the washing machine you can either dry them or just put them straight back in the fresh box ready to use again!
Away from home you can use the fresh wipes bag to hold the clean wipes and the mucky wipes bag to put in the dirty wipes.  When you get home unzip the mesh bag from the mucky wipe bag and throw it in the washing machine.
It's so, so easy and makes life a lot easier and it's a lot better for both the environment and your purse.  We also used Cheeky Wipes for wiping faces and fingers, even after they were out of nappies I bought more wipes just to use for cleaning sticky fingers when we're out!  They really are a great product, I've been using them for over 6 years now and I am here to shout about how fab they are.  Check out our video below to see everything in action.

Other Reusable Products
Cheeky Wipes may have started with washable wipes, but they also now have reusable make-up remover kits, cloth sanitary towel kits and even cloth alternative to toilet paper.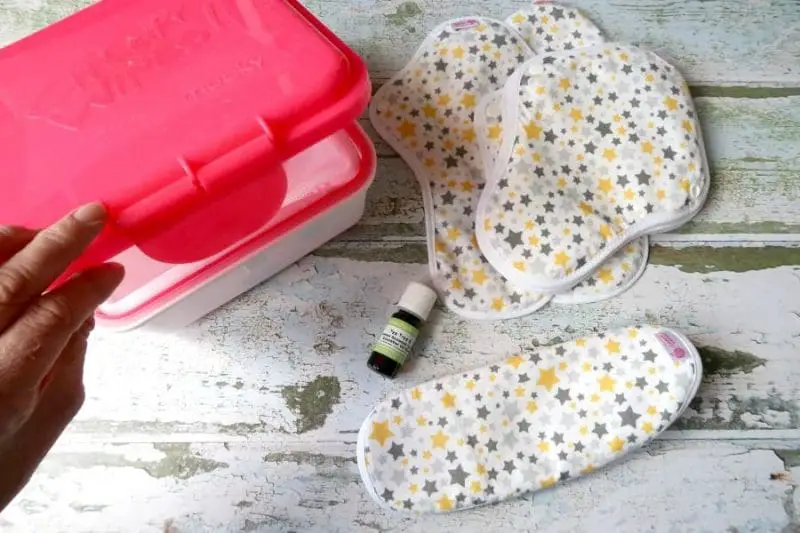 I have been meaning to try cloth sanitary pads for a long time, but never got round to it.  So I was pleased when Cheeky Wipes sent me a kit to try as well.  I love that it's the same easy method as with the wipes, a mucky wipe container (pink this time!), with net bag, which you can fill with water and a few drops of essential oils then place used pads in the box.  Once full place the net bag in the washing machine to clean as normal.
I haven't had the chance to use them yet, but it all looks very straightforward and easy to attach the pads.
Competition
You can win your own Cheeky Wipes kit by simply filling in the Gleam form below.
Cheeky Wipes

* This post is in collaboration with Cheeky Wipes, however all opinions are my own.