We love being outdoors, but sometimes we have a busy day of various home education groups or other activities planned.  So it's great to be able to let the kids out in the back garden to play for an hour without having to worry about going anywhere.
We have a load of garden toys that often get played with too roughly and can break, but the kids always loved their little climbing frame and slide.  Now they have out grown the toddler climbing frame we needed something else that would be great to encourage outdoor play and keep them happy in our small garden.
Fortunately Shedstore got in touch and gave us a choice of their kids playhouses.  As my two like to climb I thought it would be perfect to choose a raised house with steps and it was definitely a great choice!
Play-Plus Charlie Tower Playhouse
Construction
The playhouse arrived during the week and on the first day off my husband had he started putting it together.  He may have got *slightly* annoyed by the kids asking 'when will it be finished', but several hours later the house was constructed.
There were a few bits that he found difficult.  Partly because a few screws snapped and we managed to have a couple of pieces the wrong way round and needed to be taken apart and screwed back together again.  But when finished the playhouse feels rather sturdy and I'm sure it will withstand our children's play.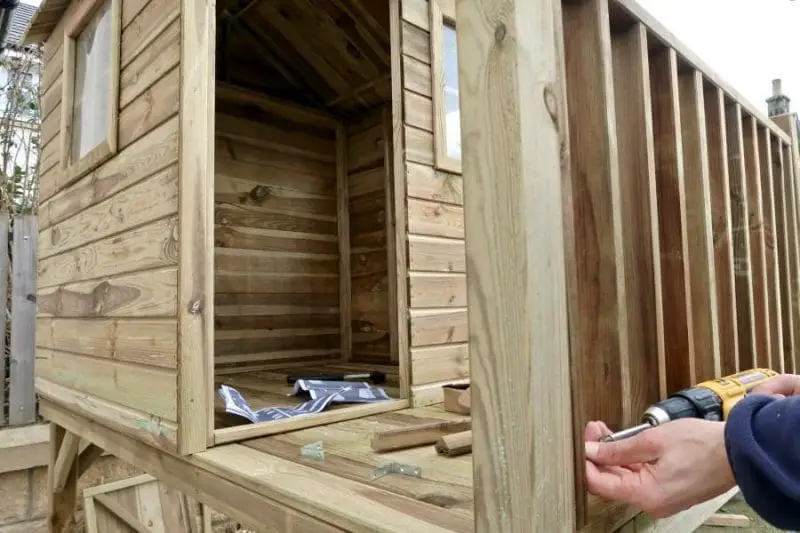 To keep the house in place we have secured it into the ground with post spikes.  They looked rather hefty and I was unsure if they would go into our garden soil, particularly as it's a fairly new build and the ground is likely to be filled with rubble and other rubbish.  But with a little work they were bashed into the ground and keep the playhouse safely in the ground.
Completed Structure
With the playhouse completed both our boys were very excited to start playing in the house and started creating some new games to play.  They have fantastic imaginations and are quick to get playing wherever we are!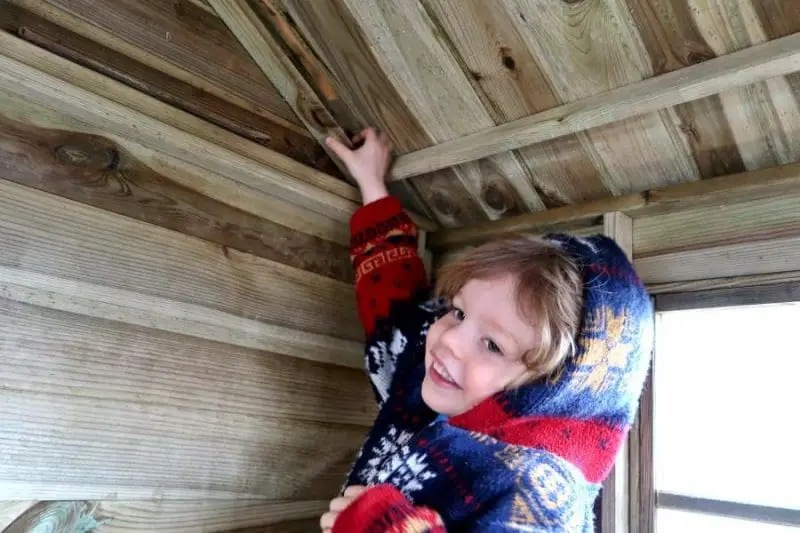 I'm slightly concerned about the windows, as littlest has a tendency to bang them to get his brother's attention.  It's going to take a little repetition to remind him not to bang the plastic windows in case he breaks them!
The fence at the front isn't too high to worry about little ones climbing up a little, but also gives them a little element of risk and somewhere to drop things off! The three steps up to the platform are easy for the children to navigate and would be no problem for a toddler.
We could have left the playhouse as it was, the wood has been pressure treated already.  However I like a little colour and chose to paint the playhouse a bright lime green, with white and grey highlights to the fence and support sections.
It looks great and will be perfect to keep up the summery feel, even on wet days!
Play Time
The children weren't too pleased to have to wait for another day to play, whilst I was painting.  However, it was well worth it and they certainly seem pleased with their newly decorated playhouse.
Eldest wasn't interested in getting his photo taken, so we mostly have photos of the 4 year old who currently adores getting his photo taken.  They do say never work with children, with photography this may be because no matter what prompting they will probably not do as you ask and you're going to get some hilarious faces.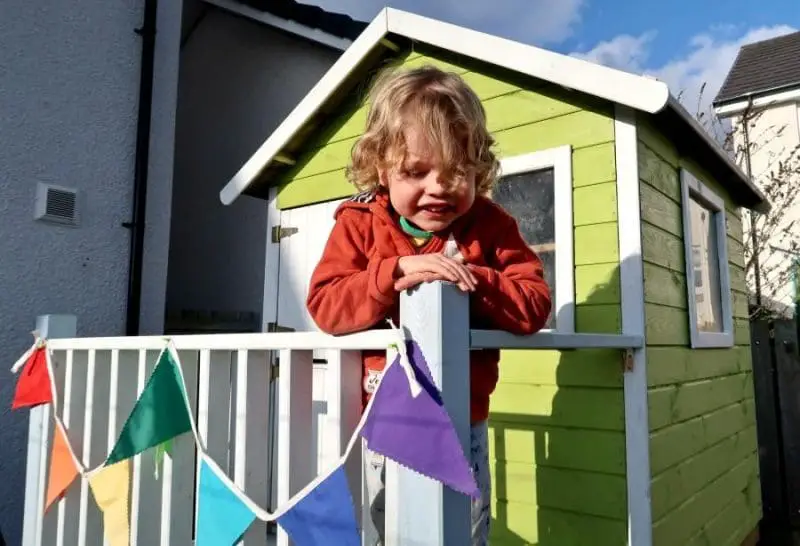 * Disclaimer.  I was sent this playhouse for the purpose of this post, however all opinions are my own.