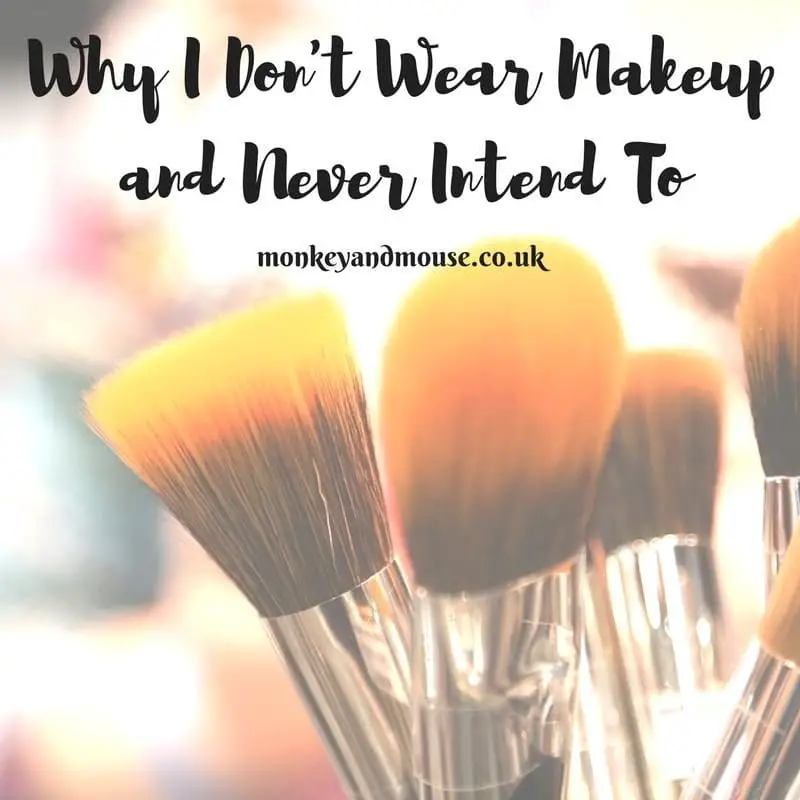 As the title of this article says, I don't wear makeup and never intend to.  I know that the majority of women wear makeup on what appears to be a daily basis and this is no reflection on those who wear it.  Just an explanation of why I choose not to.
Why Not
As a child I was described as a tomboy, I was never one to wear dresses and hated pink (those views have relaxed, *slightly*).  My preference was for comfy jogging bottoms and one of my prized clothing items was a colour changing t-shirt (so trendy, I know!).  That's not to say I never wore dresses, there is certainly photographic evidence, but I much preferred things I could run, climb and cycle in.
Being a bit of a tomboy I wasn't really exposed to makeup until I was around 15.  I allowed some friends to put makeup on me when I was sleeping over at another friends house.  It wasn't the best example of makeup, but I hated the feeling of it.  To me makeup felt like a mask and I didn't want to be hiding behind it.
I think I wore makeup another handful of times in my life.  I could probably count the number of times on one hand.  Mainly when friends begged to put makeup on for a night out and a good friend put on some basic makeup for my wedding day.  Each time I felt a bit weird, it still felt like a mask and as if it wasn't really me.  Well, with the exception of the wedding day, I think I must have sweated it off as it was so hot that day!
Although I haven't had any adverse reactions to makeup, possibly because I never wear it, there is the chance I could be allergic to the ingredients.  As I have eczema and am allergic to Parabens I have to be careful what I put on my skin.
What About Eyebags?
I think as a parent this is one of the biggest makeup worries.  We're often so tired and makeup can hide those huge eyebags.  It probably could make me look a little more awake, but the yawning would probably give it away anyhow.
I also don't think I would ever have time to worry about putting on makeup, it's hard enough getting my own breakfast and brushing my hair in the morning! Ha ha!
Will I Ever Choose To Wear It
Maybe one day in the future when I have a lot of time on my hands I might choose to test it out again.  But for now I am happy the way I am.  I have confidence in myself and I really don't see any need for me to wear it.  Plus I'm lazy and can't even consider how much time it would take to put it on or to actually learn what to do with it all!
Do you wear makeup often?