It might be unseasonably warm in the South of the UK, but up here in Scotland it's the usual cold October.  We've been getting use out of the winter jackets and hats already, the boys have already started asking when it will snow!  They are not that impressed when I tell them it probably won't be until next year.
We are all sorted for the snow already with the kids new outdoor wear.  Muddy Puddles have sent the boys winter jackets, gloves and snow boots each.  Littlest also chose a yellow balaclava just like his brothers blue one from last year.  I had intended for his brother to bring his hat with him when we were away for the weekend, but it wasn't anywhere to be found!  I think it might be hiding wherever I put the snowsuits…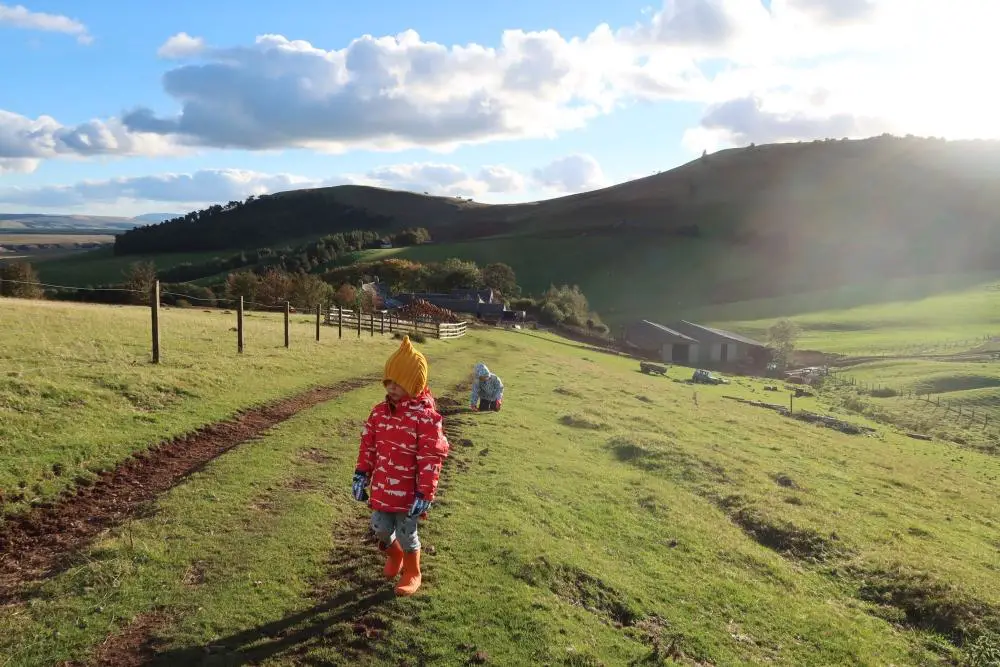 When we were at Eastside Cottages in the Pentland Hills earlier this month we went for a rather blustery walk up to the top of the nearby hills.  It was a little chilly at the top so the kids were glad of the gloves and hat to keep them warm.
In actual winter we will have more layers on, the usual snow layers go a bit like this: Thermal base layer, thin fleece top, thick fleece top, winter jacket and ski trousers, hat, gloves, thick socks and snow boots.  Often when we're sledging or walking then this can get too warm the thick fleece gets taken off, so a bag to put in excess clothing is useful too.
The boys are yet to try out their snow boots as it's still too warm to wear them (they're VERY cosy), but they fit well and they love the colours.  Plus you can loosen them easily to make them easier to slip on, makes life a lot less stressful.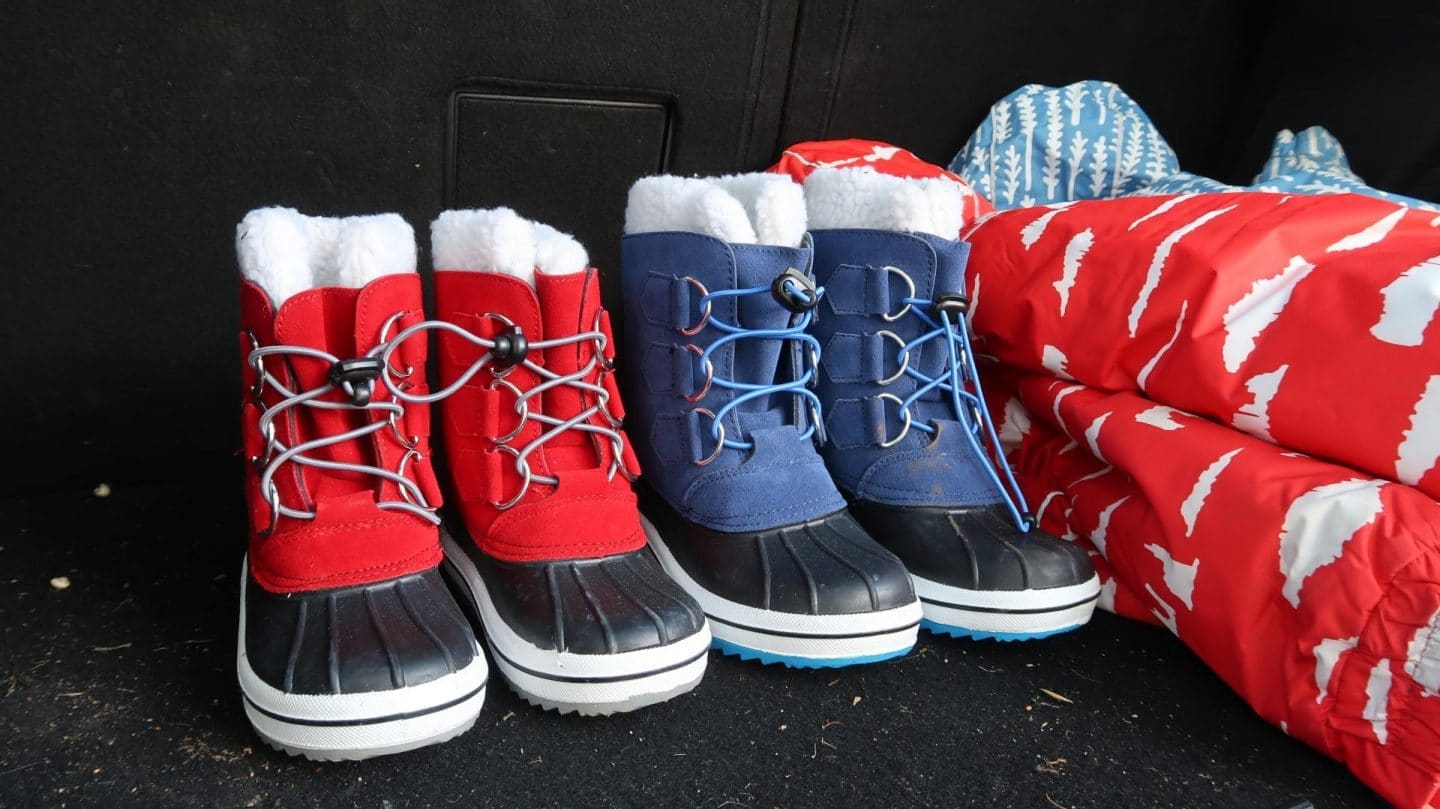 I chose to get the kids matching gloves in the opposite pattern to their jackets as I thought it would look fun.  My husband disagrees and thinks they should match, but I like this better and the kids don't mind.  Littlest has mittens as he still takes a while to find the correct place for fingers in gloves, so it makes getting ready a little quicker and simpler for him.
Their jackets are Blizzard jackets from Muddy Puddles, the same as we had last year, but a different design.  Last years were perfect and well used, but just getting a bit small for my two.  The jacket is still water and windproof, has a double storm flap, lycra thumb holes (littlest squealed with delight when he saw this was included again!) and fleece lining with removable hood.  But it also has a zip off snow gaiter, ski pass pocket on the sleeve and great new bright designs.  We used last years for skiing in the snow up at Glenshee and they were perfect, so we will certainly be using these ones for skiing too.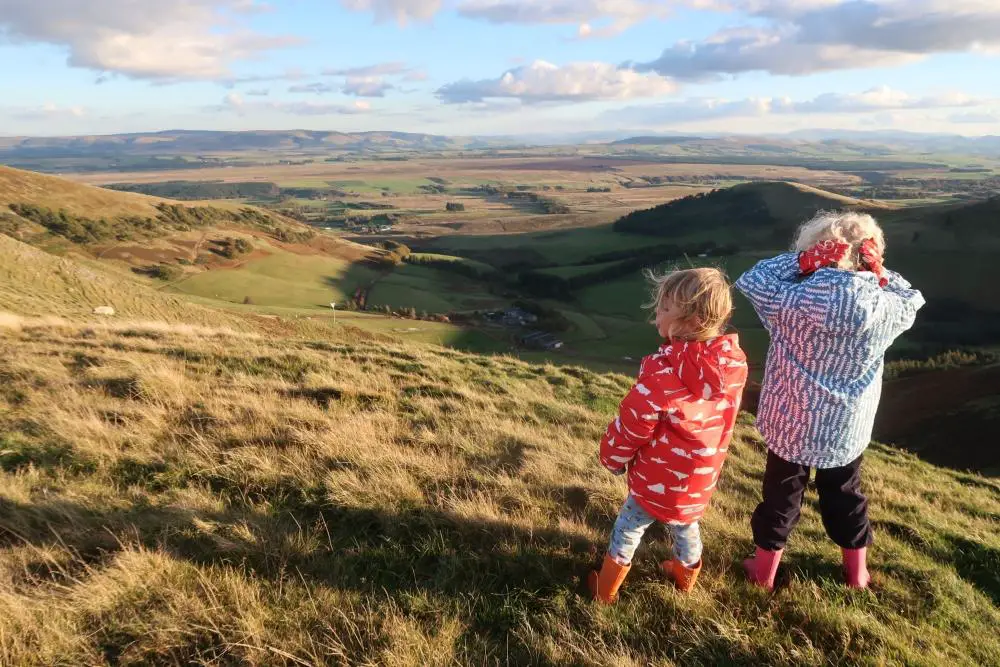 Now I just need to find that blue balaclava eldest had last year, any ideas where it's hiding?  And the huge snow suits which shouldn't really be this hard to find?!
* We were sent these items for the purpose of this post, however all opinions are our own.