We have recently been sent a copy of 'What Does A Princess Really Look Like' written by Mark Loewen and illustrated by Ed Pokoj.  The story is about a little girl called Chloe, who decided to create a picture of the perfect princess.
Princesses come in many shapes and forms and Chloe is determined that her princess will have the best of everything.  On each page she decides on something new for her princess to have.
Starting with the face and hair, she wants to make her princess pretty, but quickly Chloe decides that princesses aren't just about looking pretty.  They need to be clever, strong and good listeners too.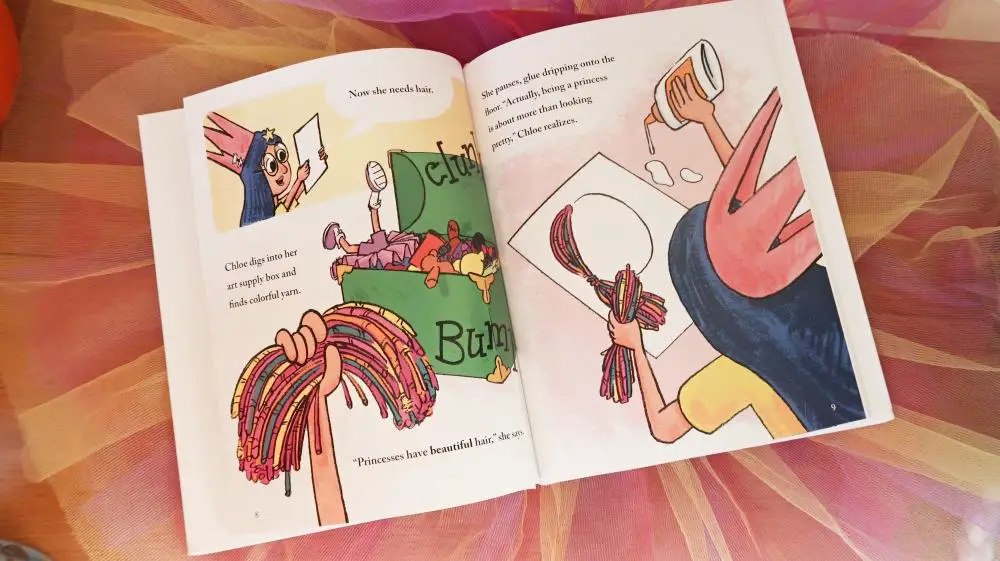 When she makes a little mistake Chloe is upset, but her fathers soon help her understand that it's not a mistake at all, instead it's another great part of her collage.
This book brilliantly shows children that all females should be respected for their amazing attributes and a princess is so much more than simply being pretty.  Everyone has qualities that don't show on the surface, but they are the most important things!
I also think that it's great to bring in LGBTQ+ families by Chloe having 2 dads.  It's not a hugely important part of the story, but that's why it's great.  It's good to have LGBTQ+ parents quietly in the background of stories just the same as other children's stories that have a mum and dad in the background.  There's no reason why this shouldn't happen more often!
We have very few books that don't have a mother and father, so it was great to reinforce the idea that families can come in different variations and you can be with whoever you love.  Funnily enough my two boys didn't even question the 2 dads.
The illustrations are great, very cartoonish and bright they really get across the colourful and quirky personality of Chloe and how focused she is on creating her princess.
What Does A Princess Really Look Like is definitely one I would recommend to all children, girls AND boys.  It will not only help them understand that people have a variety of different qualities and we shouldn't just focus on looks.   It's also a great addition to any bookshelf to reinforce the value of families come in all different shapes and sizes.
I look forward to seeing more books from Mark and Ed on similar themes!  You can buy the book from Amazon UK here.
* This is a collaborative post, however all opinions on the book are my own.