We went to the local potato day a couple of weeks ago and now our potatoes are well and truly chitting, I decided this week to start sowing indoors for our veg patch.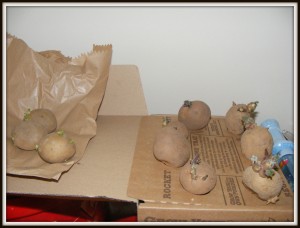 One of the first things we did to our garden when we moved in was build a raised vegetable plot at the back of our garden.  It's not huge, but it will allow us to grow a fair amount of veg each year, along with a few pots here and there.
I love growing things we can eat, peas are my favourite, they never make it inside, we eat them all outside in the garden (I now have competition with the kids who like them too, my husband prefers them cooked).  They taste so sweet and juicy when picked fresh from the plant. Delicious!
This is my plan for the veg garden this year (not in any way to scale!);
We have a 2 year old Rhubarb plant in the corner, it can get pretty large.  This will be the first year we get to eat it!
We will, of course, have peas along the fences.  This year I will try to plant them in succession, so we have fresh peas throughout the growing season.
Potatoes and beetroot were grown last year and worked fine with our soil.  We tried carrots, but they just didn't grow, so will try again this year with a short variety (as we have stony soil).
Cauliflower and Calabrese are a first, we'll see how we get on.  I've tried Sweetcorn several times, but the summer hasn't been long enough or warm enough to grow proper corn.  So this year we're trying a mini variety called 'mini pop' to try and finally have some home grown Sweetcorn.
Leeks always do well for us, although we haven't tried them in this garden yet, I just need to remember to earth up around the bases.
I've never successfully grown a pumpkin, but I thought I would give it a go.  It would be nice to eat and maybe it could be a Halloween pumpkin to carve.
Squash, courgettes and cucumber will be grown in pots and I've never had any problems with any of them, aside starting the seeds too late!  I don't normally buy squash to eat, but they are quite pretty, so I will try growing them anyway!
Salad leaves are great for sandwiches and salads so we will have a small area set aside for that.  Herbs will be grown beside our fruit plants.
We have several raspberry plants, a blackberry and blackcurrant and a small strawberry patch beside the back door.  O loves picking his own raspberries and strawberries, took a little teaching the first year to only pick the red ones!
We've got seeds growing on our windowsill, O helped to plant them.  So far we have peas and sweetcorn sprouting.  I'm also hoping to grow a few tomatoes and peppers indoors, but never had much luck with either, so will see how they grow!
Are you growing any fruit and veg this year?
J x