I always ask the kids what they would like before I decorate their rooms.  My eldest, at three years old, was adamant he wanted one wall blue and one wall pink, so that's what he got!  Now at six years old he is getting very interested in the wider world and other countries.  So his room is taking a turn towards travel themed.
Travel Theme Room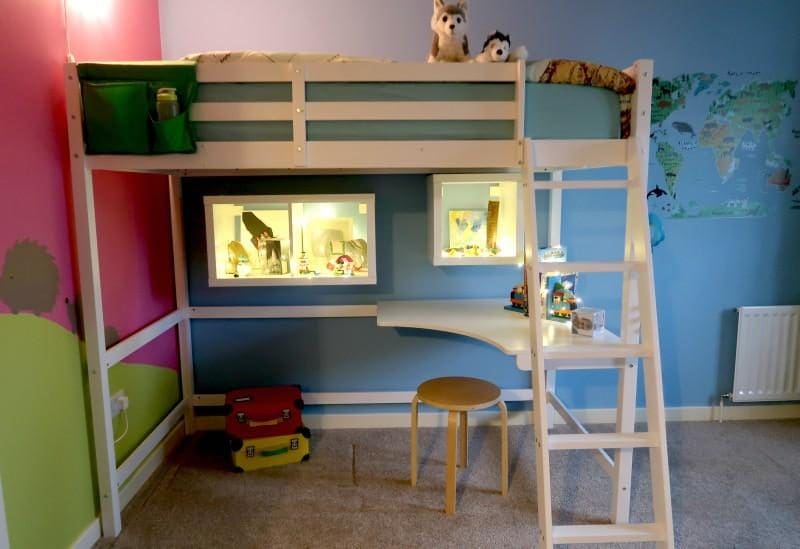 What I love about a travel theme is that almost anything goes, as there are clearly so many souvenirs and photos that he will want displayed.  I was originally going to paint a world map on the wall, but instead chose a world map sticker, which is so easy to apply!
Transport is always a big part of travel themes, so items featuring planes, hot air balloons, ships etc. are perfect.  I love these little clay landmarks he made, bonus points if you can recognise what they all are!!
His little brother chose Llama themed wall paper for his bedroom and when I asked my six year old what he would like he chose this fab print with a range of different travel items.  I have been told that his favourite is the camper van as he has an aim of a campervan holiday one day, which sounds good to me!
Luggage pieces are great for toy storage, as well as a great decorative piece.  These Ikea suitcases are great for kids as they velcro shut and can be easily wiped clean.  I think littlest might be getting a couple too!
High Sleeper Bed
Of course no children's bedroom is going to be complete without the bed.  Our eldest recently upgraded his bed to this high sleeper from Noa & Nani.  He loves climbing up to his bed and pretending he's the king of the castle, surveying the minions below! Ha ha!  Of course littlest will happily play on the bed when his brother is elsewhere too!
There's a little desk that will be perfect for drawing and writing, although I think we need to get a more comfortable chair first!  The bed was easy to put together, you can watch the short video below to see my lovely husband speedily constructing it, with a little help from our children.  We did have a slight hiccup with the slats we were sent being damp, but a new set was quickly sent out.
Of course new bedding was chosen, featuring a map design and he has his beloved huskies (one a souvenir from Lapland) on his bed too.  I think it would be nice to create some polaroid type photos featuring different places we have visited, then they can be strung up on the wall or stuck around his map with lines showing where they were taken.
What theme do your children's rooms have?  Did they choose it?
* The high sleeper cabin bed was sent for the purpose of this post, however all opinions and decor are our own.