We're outside every single day even in the colder weather.  The boys normally wear their wellies, which are great when we're puddle jumping.  However, they are not the best for cycling in the wet, eldest often complains when his feet slip off the peddles of his bike.  So we were pleased to receive these kids waterproof boots from Keen.
Why Not Wellies?
Wellies are great for those situations when the ground is wet and we want to jump in puddles.  However, sometimes the children prefer something that has a good grip for climbing and cycling and bonus points for also being waterproof!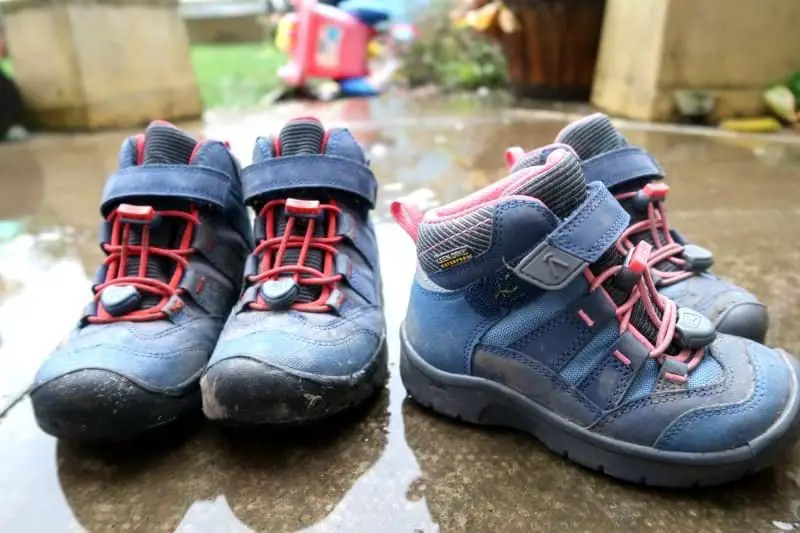 The boots also have ankle support, which is just what you need when you are walking a lot.  Wellies are great, but it's much easier to go over your ankle when you are walking in the countryside than when you where boots with a cushioned ankle support.
The Hikeport boots have no laces to tie, instead there are elastic bungee laces which hold the boot tight over the foot and a velcro strap around the ankle.  My two do need a little help getting their boots on as they haven't worked out how to get their foot in without squashing the collar of the shoe at the heel.
Little Adventurers
My two little adventurers wore their shoes whilst we were visiting Linlithgow Palace and they were perfect for exploring the building.  Especially when the stone steps can be a little slippy in other footwear.
Of course they also managed a bit of tree climbing too, which is when the shoes really can come into their own.  Waterproof to get through the boggy ground, but grippy on the mossy tree bark!
As you can see my boys chose slightly different versions of the Hikeport kids walking boot, littlest has the dress blues and coral colouring and eldest has dress blues and fiery red.  There are also olive/yellow and black/blue colourways too, each featuring the bright colour on the sole of the shoe.
* We received the shoes for the purpose of this post, however all opinions are our own.