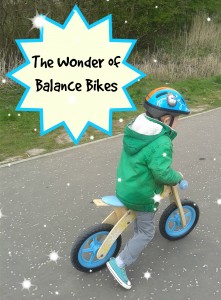 We were given O's first bike when on his second birthday, it's a lovely blue and natural wood balance bike.  Unfortunately we didn't realise that it would be too big for him until he was nearly 3 years old and then he was worried about it being too wobbly.  A couple of weeks ago he saw another child on their pedal bike, zooming up and down our street and immediately asked if he could go out on his own bike.  So of course I got his bike out and over the last couple of weeks he's become extremely good and is zooming way ahead of me!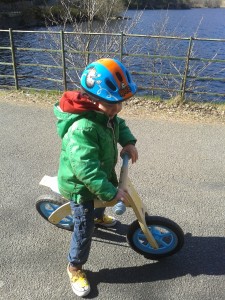 Balance bikes are simply bikes without the pedals, the child simply has to push along with their feet and once they are moving fast enough then they can lift their feet up and zoom along.
There are several good reasons to get your child a balance bike before a pedal bike:
1.  It gives them a chance to practice balancing.  Once they can balance then all they need is to be able to pedal and they can ride a pedal bike really quickly.  This eliminates the need for stabilisers entirely (if they have had a chance to practise pedalling on something else) or they only need stabilisers for a week or so as they practise to pedal.
2.  Longer walks are now much quicker as he zooms along on the bike!
3.  They can join in with other kids on bikes and scooters, there is a small path/hill near our house that a lot of the kids in our neighbourhood like to zoom up and down on their bikes and scooters.  Great for playing with friends!
4.  If you get the right sized bike (there are some that will fit 2 year old's easily, try your local bike shop or Halford's to test some) then they can get into 'cycling' from an early age and can start proper cycling much more quickly without all the fuss over taking off stabilisers.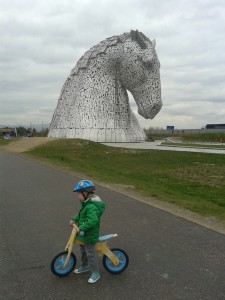 We'll be getting A a smaller balance bike for his 2nd birthday and I imagine he'll be chasing his brother around on his bike too, having lots of fun together!
Have you/will you get a balance bike for your child?
J x