If there's one thing my boys know how to do it's play hard, they are more often than not racing around, climbing trees, play apparatus, rocks and jumping off, rolling and running again.  This is why a lot of their clothes are worn rather quickly, with rips and tears in the knees, elbows and in seams. So we are always pleased to find clothes that are fit for purpose and actually make it easier for children to play.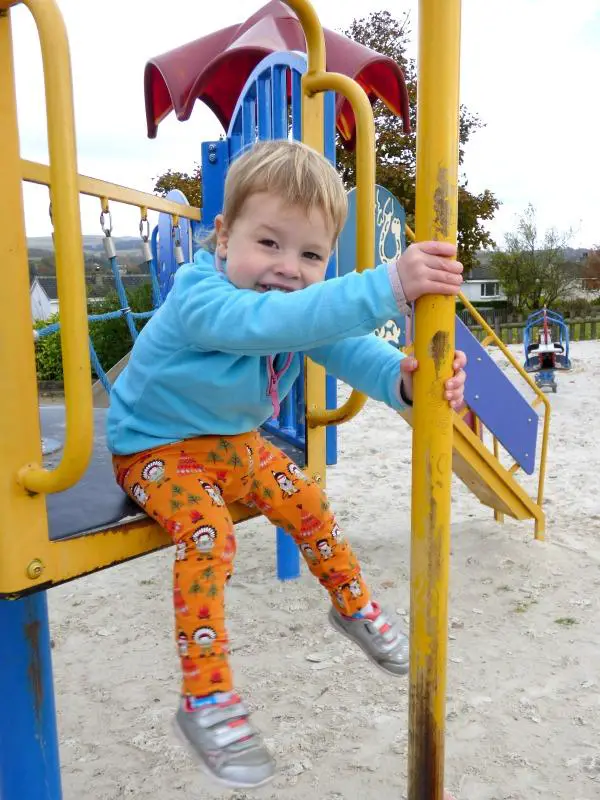 Well, Me&i are definitely one of those companies!  A Swedish clothing company for children and women, they stock a huge range of clothing, most of it unisex, in bright patterns and pictures that will appeal to both parent and child.
Aside the range of prints the fabric itself is gorgeously soft and strechy making it so easy and comfy to wear and the stretch means that kids can happily reach and stretch in their everyday play as they should.
Littlest was given these lovely Teepee and Native American print leggings, which he loved from the moment he saw them and are his go-to leggings now.  He is so happy with them for comfort and can easily chase after his brother and climb over fences (yes my two year old is now a dab hand at climbing the fence at the park!) or whatever else he chooses.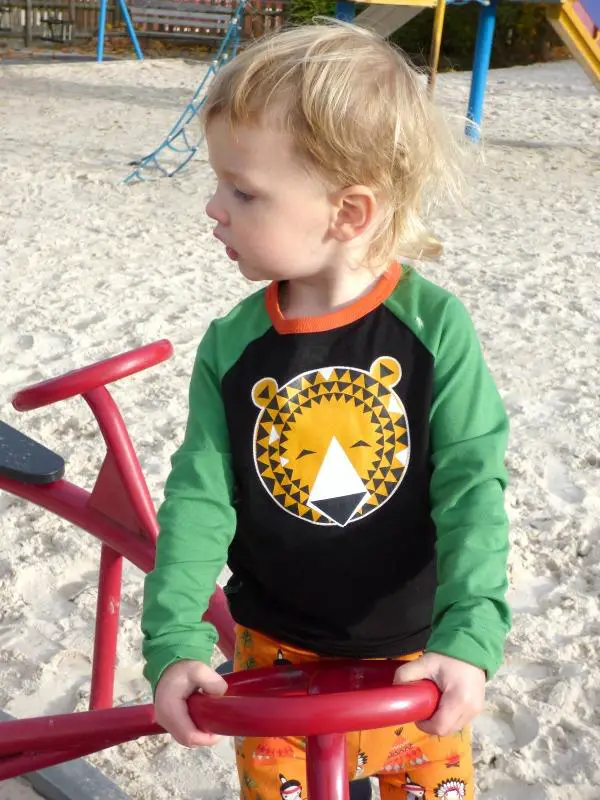 He also loves his lion top, which is one of his favourite animals, and is made of the same soft fabric that stretches to fit and makes play easy.  The clothing from Me&i are not only great to look at but have no harmful irritants in the fabric and the baby clothes are made of organic cotton.  The clothes are also ethically made in Europe with a great emphasis on the welfare of the workers and their rights.
Mr O was also given a top in the same fabric as his brothers leggings and it's so cute to see the two of them racing around in the same prints and both enjoying their time together, chasing after imaginary beast, jumping on trains and putting out fires.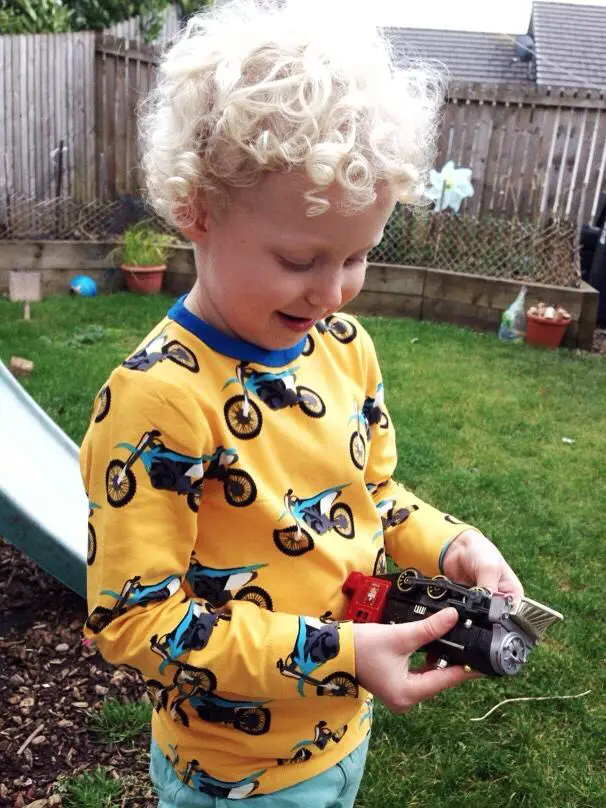 Although blue is Mr O's favourite colour, yellow is a close second and so he loves his new motorbike top in it's bright yellow and blue design.  It is again the perfect top for play and he would choose this top first before many others.
Our 2 year old was also given as set of 3 pairs of socks to wear, which also have cute designs that match some of the prints in the range.  He particularly loves the ant pair and has refused to take them off at night as he loves wearing them so much.

Neither of boys think of colours as specifically for boys or girls, we have alwasy given them the option of whichever clothes they would like, our 5 year old tends to go for things that are blue out of his preference for that colour, but his little brother is just as likely to go for pink colours and he was very happy to see the cat top with the pink and brown cats sat in neat little rows.  He definitely looks rather cute in it and has now requested cat leggings too!
We would definitely be happy to recommend Me&i for the comfort and style of their clothing as well as the ethical standards that they uphold at the factories the clothes are manufactured in.
Me&i also have sales consultant vacancies across the country where for £100 you can be part of the team and host small gatherings and parties gaining a 20% commission on anything you sell.  This is a fab way to earn money around your family and meet new people.  You also receive all the training you need ready to start!  A great way for anyone trying to earn more cash, find out more here.
J x
* We received the clothing for the purpose of this post, however all opinions are our own.