It's not long until the month of August is over and with it, summer.  September is the beginning of the autumn and also a busy season of birthdays and events for us.  But whilst there is still some summer left we are celebrating our favourite things about the summer and a little competition to enjoy the final few days.
Why Do We Love Summer?
Summer is always the season that people seem to look forward to most.  The sun, sea and sand are definitely winners, but that's not the only reason why we love summer.  I asked a few other bloggers what they loved about summer and these are their responses.
Louise has a great point, in summer you need 'less clothing! No armfuls of hats, gloves etc (Well, usually!).' I have to say that I completely agree with this, it's great being able to walk out with just the clothing you are wearing and a few snacks!
Neelika tells us that the summer allows her to 'Have time to spend with the children in a relaxed, creative and spontaneous way. The rest of the year is taken up by ferrying them from one extracurricular activity to the next. A constant stream of "hurry up" all day too. The summer allows me to be a "fun mum" and a less stressed mum, which the kids love.' This is so true as a parent, it's great to not have that pressure and just enjoy life together.
'Being able to dry the washing outside on the line!'  Ha ha, yes Beth, that is true, although I am normally so busy I forget until it's a wet day and need to use the dryer!
Of course we can't forget one of the best things about summer, as Amy explains.  'The lighter evenings! It means more hours in the day to be out and about!'
Our Favourite Summer Activities
Summer is the time to be outside and do everything that you ever wanted.  From hot air balloon rides to visiting the beach, it's the perfect season to enjoy the world.
Cat, Rachael and Karen all agree that picnics are the perfect part of a British summer, having the time to relax together at the beach, in the countryside or on a National Trust property.  We personally love to take a picnic to the football field and let the kids play in the long jump sand pit and kick a ball around!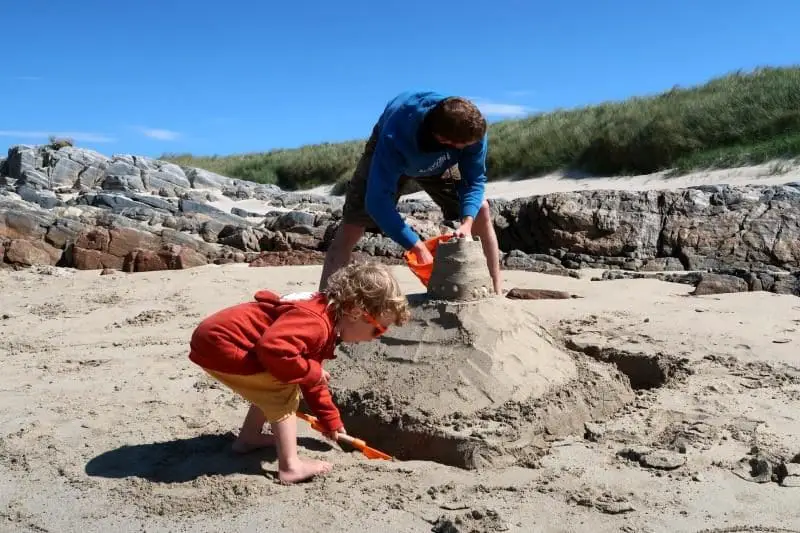 Jaki's family's 'Favourite activities are spontaneous trips to the seaside when you wake up and find it's a sunny day. Picnics are great fun too, packing the car up and seeing where the road takes us. This is of course, when it's a typical 'warm' summer….!'
Well, when you visit the beach you really need to round off the day with fish and chips, so that of course had to be on our list of favourite summer activities.  Irina and Nyomi both agree and active beach days finished off with fish and chips (or a fish supper up here in Scotland!) is THE best summer activity.
Competition
To celebrate the last few days of summer and the start of autumnal fun I am giving away a bundle of summer gifts. They will be great for enjoying the last of sun, particularly as I am giving away a Solar Powered Machines Kit from Keycraft and Usborne's Bird Identification Cards.
To win simply fill in the form below.
Summer Days Competition