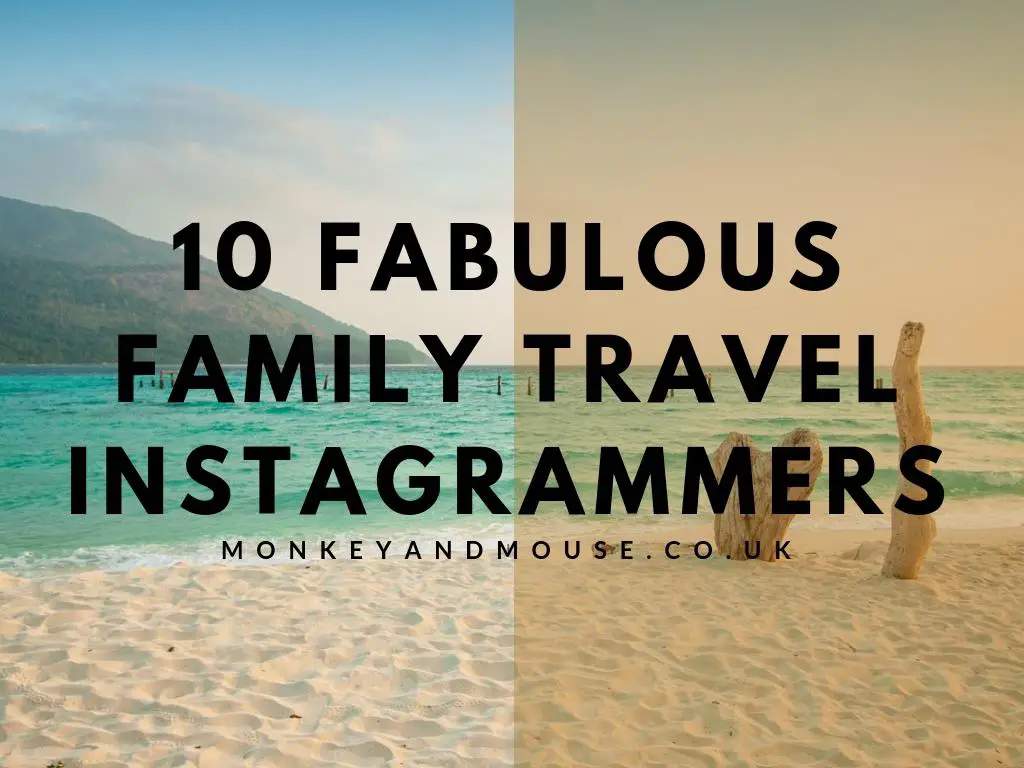 I am a HUGE fan of Instagram and love looking at all the beautiful photos.  Although some of my favourite accounts to follow are travel bloggers.  Ok, I might constantly add more and more destinations to my must-visit list, but it's great to see so much inspiration around our beautiful world.
Being a family travel blogger myself I do enjoy seeing people taking their kids travelling to new destinations.  It's true that young kids may not remember their travels very well, but they will definitely have some great memories and feel like world citizens.  And we NEED more of those world citizens .
Soooo, here are ten fabulous family travel bloggers to follow on Instagram (in know particular order!).  You can also head over to my own travel orientated Instagram account here.
Mummy Travels

Beaches worldwide are a favourite but Cathy and her daughter love to chase blue skies around the world. From cities to countryside to coast, her feed is full of bright colours and travel inspiration.
Globetotting

Katja, her three children (3, 8 and 11) and her Instagram-shy husband have recently returned to the UK after nearly 12 years living abroad (Australia, India and Mexico). She's just as likely to share trips from far-flung lands as she is days out in London and is a firm believer that you can – and should! – take your kids everywhere.
Flying With A Baby

Cathy loves to show her followers that you can still travel with kids and have amazing adventures together.  You'll definitely find lots of inspiration on her feed.
Mini Travellers

Karen shares her adventures on the grid which range from days out in the uk, to camping, to 5 * luxury villas to African family travel.
Travel Loving Family

Lisa's Instagram grid is full of travel inspiration for families with young children from camping and music festivals to self drive boating holidays and luxury family cruises.
Picture Taker Memory Maker

Chloe is passionate about showing her three girls (11, 10 and 8) the world and loves documenting their adventures on camera as they travel as a family – the chaos, the calm and all the moments in between.
One Tiny Leap

Check out Maria's feed for a does of stunning photography. Adventuring all around the world, you can follow Maria and her family on her beautiful travels.
Mum On The Brink

Monika's account shares their crazy adventures sailing, campervanning and days out, as well as showing how living with less helps them travel more.
Have Kids Can Travel

Laura and her photographer husband document their family adventures across the UK & Europe. With their 3 teens and an almost-teen, you'll find plenty of outdoor action, big skies and as many mountains as they can walk up.
Charly Dove

Charly shares her overseas travels and UK adventures with her 7 year old daughter and husband. Always with a camera in hand, her feed focuses on places and people with discovery, exploration and adventure at the heart.