I love crafting and have enjoyed turning my hand to a variety of different crafts over the years.  I even have a cupboard spilling with craft items of both mine and the boys!  However, I don't always have the time to go through the items and find everything I need to make little projects, so I was excited to try out Surprise Box Club, a craft subscription box that has everything you need to make 2 small projects.
Crafting is fantastic for de-stressing and relaxation.  The projects in the Surprise Box Club aren't too difficult, so there will be nothing to slow you down!  Each box contains an exclusive jewellery kit and a vintage craft kit.  There are also jewellery pliers each month, so you can build up your collection to have all the types of pliers you will need.  In month three is a charm bracelet kit, which you will then receive a new charm each month thereafter.
I loved opening the box to unwrap the contents and find the little bags containing the kits.  I started of with the jewellery kit and reading the instructions included.  This is the great bit, Triinu, who creates the boxes, includes very detailed written and photographic step-by-step guides to create the projects, or you can follow along with her detailed video clips.
The jewellery kit in my box was for a two strand crimp bracelet.  It was so easy to follow using the instructions included and in next to no time I had the first end completed and was designing my first strand of beads.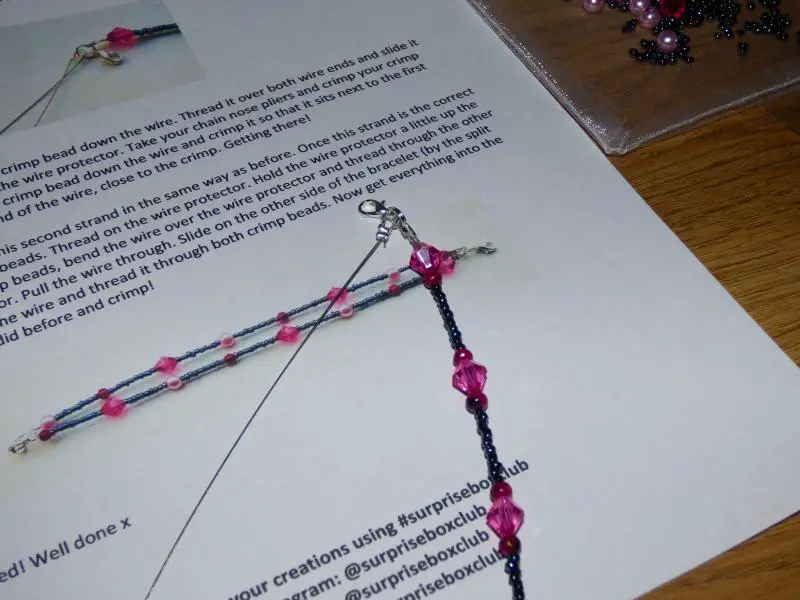 Once the first strand was completed I could add the second and designed that one too.  This is where I decided to deviate from the beads included, I knew I had some similar beads somewhere, so I found some blue ones to make it a little different to the picture included.  This is where you can get creative, you can follow the techniques in the guide to create your bracelet, but the actual design of the bracelet and placement of the beads is up to you.
The second kit in my box was for this delightful tassel garland.  This is all about paper crafting and cutting, again very easy, but very effective.
I'm pretty pleased how both projects worked out and this is definitely a great subscription box if you like to craft and what an easy option rather than sourcing all the bits and pieces yourself.  I highly recommend this for a gift for any crafting friends or family.
Pin for later:
If you would like to win this beautiful bespoke glass pendant necklace hung on a leather thong, specially made by Triinu herself, then fill in the form below.