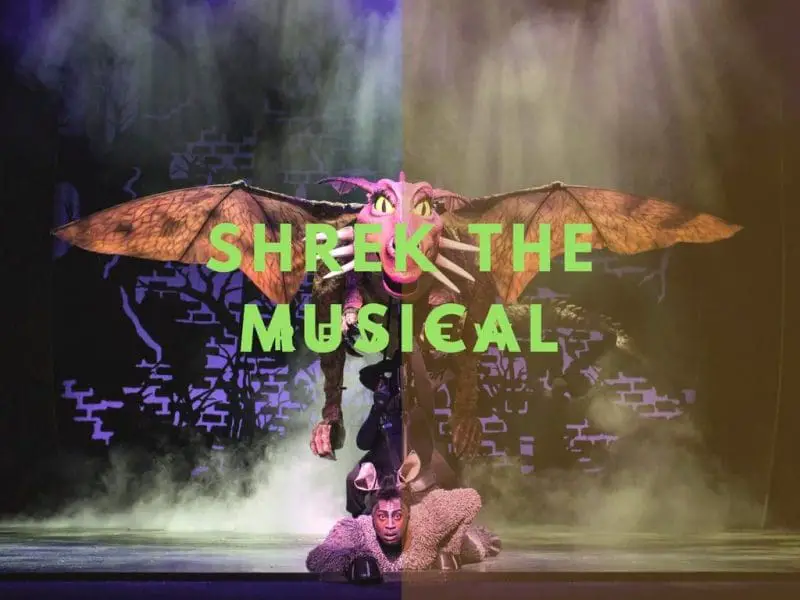 Walking along the freezing streets of Edinburgh the children were awed by all the lights and magic at the Christmas market.  It was fitting to continue the evening a little further down the road at Edinburgh's Playhouse Theatre to watch the amazing Shrek the musical.
Shrek The Musical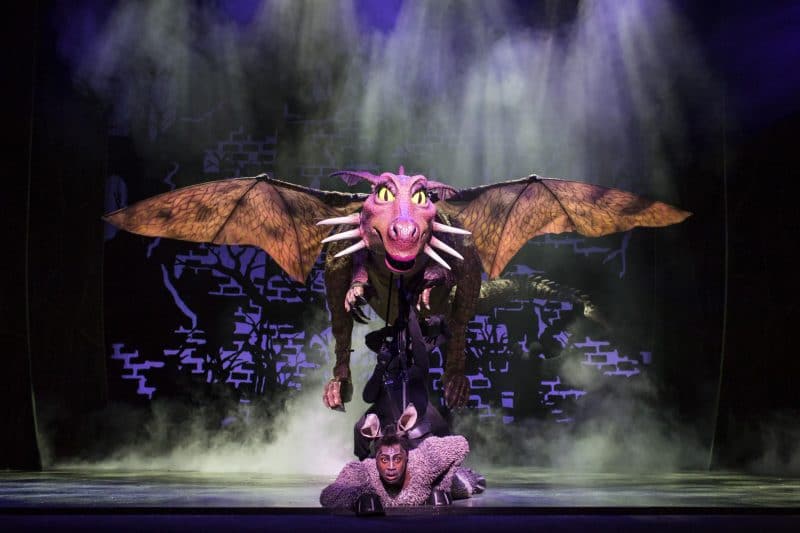 There is nothing like a good musical to keep the children entranced.  Shrek is such an adventure, as well as hilarious, my eldest was particularly amused by the farting scene.  What 6 year old wouldn't laugh at a competition to burp and fart?! Ha ha!
If you don't know the story (where have you been?!) it's a fairytale world where an ogre is sent off on a quest to save a princess locked in her tower so he can get his swamp back.  A talking donkey joins him as a hilarious side kick as they rescue the princess and take her back to marry Lord Farquaad.  Unfortunately for Lord Farquaad his wedding is cut short when Princess Fiona and Shrek realise they love one another and there's a happy ending for the unlikely fairytale couple.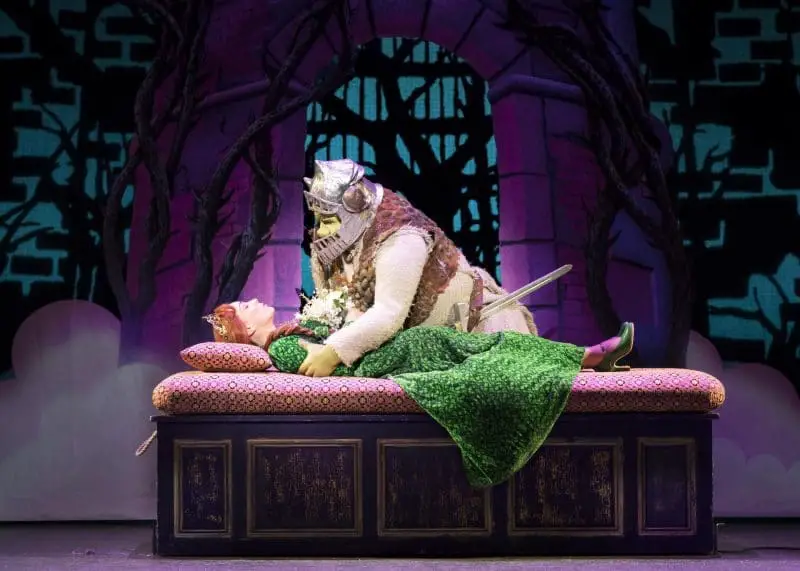 The cast of the show were all fantastic.  Steffan Harri was a very convincing Shrek, who really got everyone believing they were in a fairytale land.  Aberdeen born Laura Main who plays Princess Fiona played an amazing part and we still can't work out how she managed to change so quickly into Princess Fiona the ogre!  Of course another important character of Shrek is the donkey and Marcus Ayton was brilliant, he really had me thinking he was a speaking donkey (well almost!)!  Finally Lord Farquaad was played by Samuel Holmes who had us in stitches as showed off his skills.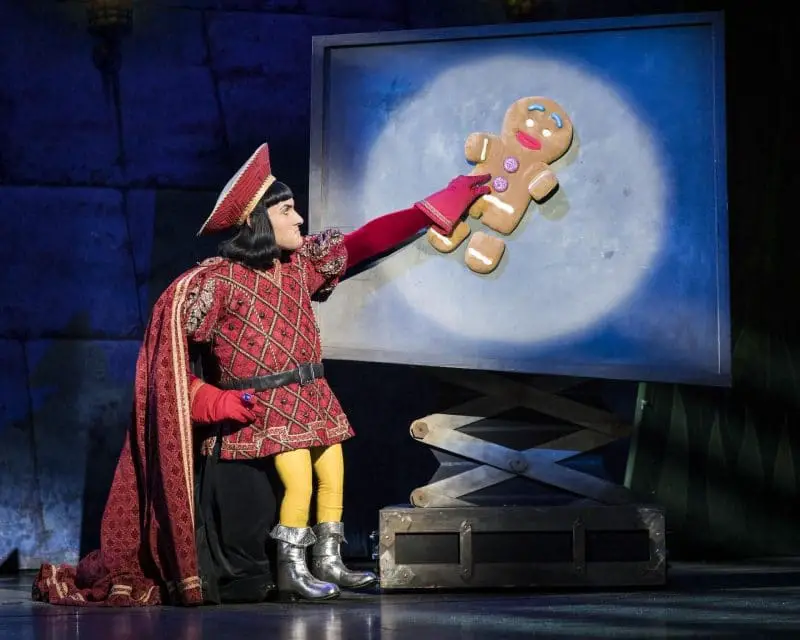 The show was 2 hours long, not including an interval.  I wasn't quite sure if this would be a good idea for my tired children, but they actually sat still and watched the entire show without fidgeting and talking through it.  That really is the highest praise in my eyes!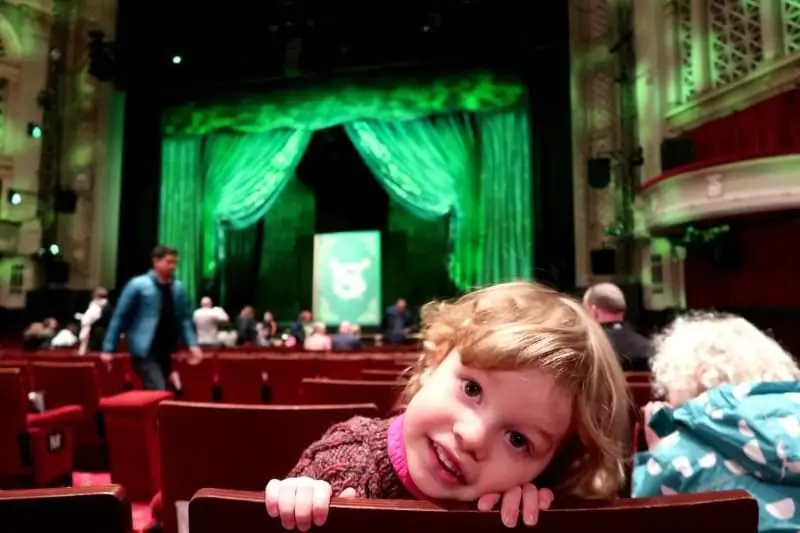 Shrek is at The Playhouse in Edinburgh until 7th January and then heads off on a tour of the rest of the UK.  Next the show will travel to Manchester, Sunderland, Birmingham, Aberdeen, Northampton, Sheffield, Cardiff, Stoke, Blackpool, Woking, Liverpool, Canterbury, Milton Keynes, Bristol, Llandudno and Leeds, plus newly added venues in Norwich, Nottingham, Belfast, Dublin, Plymouth and Southampton.
The Playhouse Tips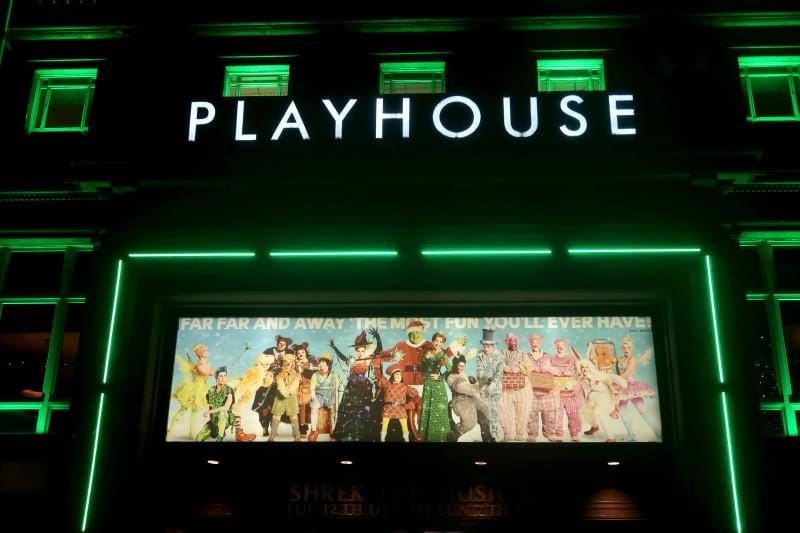 This was the first time I have been at The Playhouse in Edinburgh with the kids and there are a few tips I have put together for anyone else taking their kids there.
Order Food From Your Seat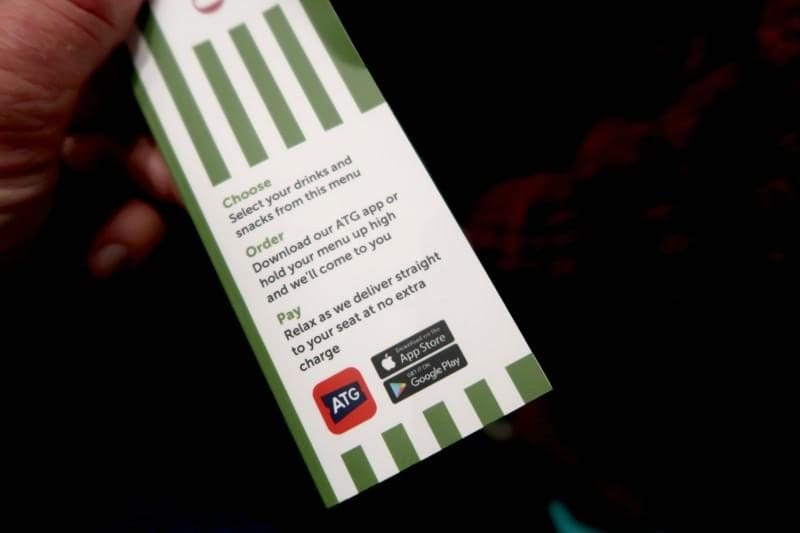 In front of each of the chairs is a little menu detailing the refreshments available.  But instead of queuing up for food and drinks you can actually download the app and order from your seat.  I saw someone else getting their order delivered just as the interval began, so it's a great idea if you don't want to queue with kids!
Take a Booster Seat
We weren't that far back from the stage, but far enough for it to be difficult for the kids to see over adults heads.  We piled jackets on the seats, but the kids spent most the time on our knees so they could actually see.  It would have been a lot easier to have brought a couple of the blow up booster seats instead.
Bring a Few Pound Coins
There are binoculars for hire in front of each seat, you just need to put in a pound coin.  We didn't have any coins with us, but this would be a good idea for keeping any fidgety kids occupied or to get a closer look at the stage if you're further back.
Verdict
Our verdict on Shrek the Musical?  It was brilliant!  Hilarious family fun with lots of jokes that go over the kids heads and amazing acting by all involved.  We would definitely recommend going if you are looking for a great musical for anyone who loves Shrek.
* We were provided with tickets for the purpose of this review, however all opinions are our own.