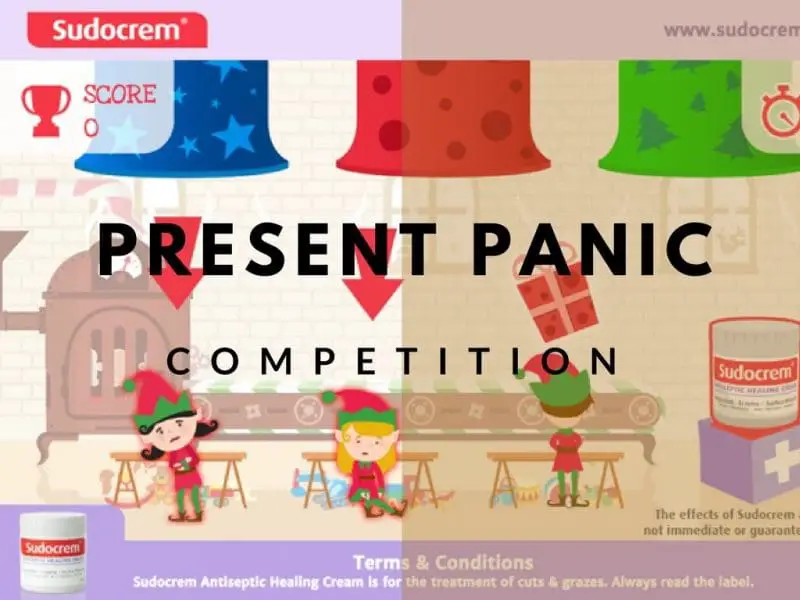 It's really not long to Christmas now, only another 9 days to go!  We're all getting very excited in our house, gingerbread house has been built, lights put up and Christmas cards sent.  The boys have written their letters to Santa and are excited to see what arrives on the big day.
However, Christmas is also about giving, so we are teaming up with Sudocrem to tell you about their new Present Panic game and also giveaway 3 Sudocrem goody bags too (scroll to the bottom of this post for our competition)!
Present Panic
Present Panic is an online instant win game where you can win an Amazon Fire Kindle, £20 Amazon vouchers and many more prizes.
To play Present Panic you simply need to go to Sudocrem's Facebook page or click this link, click on the Present Panic app and try to the beat the score of 25 to be entered into the instant win prize draw.  It's a daily entry competition and you may even win extra entries playing the game!
The game is simple, just drag the present to the correctly coloured chute, but don't forget to help any hurt elves with the tub of Sudocrem!  Sudocrem will get the elves back to work and making more presents within seconds.  I tried the game myself and unfortunately I'm not so good with it, my best score was a measly 22! Hopefully you can do better than that, let me know if you win anything!
The competition finishes at 11.59pm on December 31st, good luck!
Competition
You can also win one of three Sudocrem goody bags via Monkey and Mouse blog by filling in the form below.
Sudocrem Goody bag

Good luck!