As a family we've visited a whole range of places both in the UK and abroad, however my travel bug began at a much younger age.  Ever since I was a child I became obsessed with maps and atlases.  I could spend an extremely long time staring at all the exciting places I wanted to visit.
Lone Travel To Peru
Peru had been on my list of destinations for a long time. So when a short term work contract ended in my twenties I decided to go off to Peru for a couple of months.  I waved goodbye to my boyfriend of a year and a half and flew halfway across the world all on my own.  It was the first time I had travelled completely independently and I was such a mix of emotions.  Nervous to be flying by myself, excited that I was travelling somewhere new and a little upset to be leaving my boyfriend who I knew I would miss.
Arriving in Lima was rather overwhelming, but I took it all in my stride and soon struck up some conversations with other lone travellers.  I spent a week in the North near Trujillo visiting some amazing historical sites and sending time by the beach.  I also spent a fair amount of time each evening emailing my boyfriend who I realised that I missed more than I expected!
After Trujillo I took the bus back down to Lima and then further South along the Pan American Highway to Nazca.  Nazca is world famous for the Nazca Lines, which are particularly stunning when seen from above.  However, my particularly favourite memory from Nazca was my sandboarding adventure.
Sandboarding at Nazca
In Nazca I chose a small family owned hostel to stay at, Hostal Brabant.  The hostel was owned by a lovely Dutch-Peruvian couple who were very friendly and gave me great advice about where to eat and visit in Nazca.  They also organise several excursions themselves and I chose to go sandboarding with the Peruvian owner and a fellow traveller staying at the hostel.
We had a ride in the car up a long winding road in the middle of nowhere, into the hills.  The hills became more like rocky sand dunes and quite impressive from the bottom.  However, as everyone knows, walking along the dry sand on a beach is hard work.  So imagine just how difficult it is to walk uphill in sand!  Fortunately the hostel owner was a great guide and chose the easiest path to climb.  Admittedly I did need to stop a few times to catch a breath and drink some water, it was HOT!
I am not a snowboarder, so once we had finally reached the top of what appeared to simply be a massive sand dune we needed to practice.  Sandboarding is definitely a sport that needs practice! Our guide showed us that we needed to wax the bottom of the boards to make them glide over the sand, then strap your feet in and go!  And fall over… We may have fallen over a lot before we got the hang of it.  Actually the only way we seemed to stop is by racing down and falling over backwards with much hilarity!!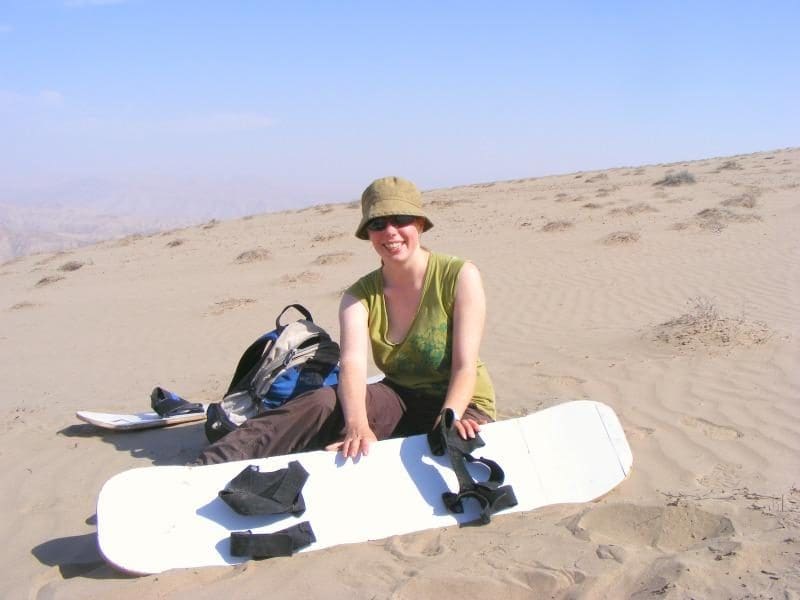 It was a long trek to the top of the hill so it was a long way boarding back down the sand.  I perfected the sort of position where you bend down with one hand brushing the sand to keep balance.  And then inevitably I would fall and roll.  We had such a great time and there were many, many laughs as we boarded and rolled down the hill.
Near the bottom the sun was going down, but fortunately our guide had brought a torch so we could clamber over the rocky base of the hill and back to the road to get the car back to Nazca.
Memories
This is one of those memories that makes me smile whenever I think back.  I may have been a 'lone' traveller, however I spent a lot of my time with others and it's great to know that it's easy to get along with people wherever you end up in the world.  It's also brilliant to realise just how many adventures are waiting out there.
If you were wondering how I managed to keep travelling when I missed my boyfriend back home, then I should probably tell you I didn't!  He was my first love (and only love!) as I managed another 2 weeks before I decided to head home and see him again.  That's love for you!  Now he's my husband and we have two gorgeous boys together.
I can't wait to take my little family to Peru one day so I can show them everything I loved about the country.  Plus I need to finish off my Peruvian adventures with the sights I missed after cutting the trip short.  Can you believe that I was in Peru and didn't actually get to Cusco or see Machu Pichu?!  Ridiculous!  I will be back Peru, I will be back.
Competition
British Airways Holidays has teamed up with HuffPost Travel to celebrate those amazing little moments that make your holiday unforgettable. Share your favourite holiday moment and you'll be entered into a draw to win a city break to Rome.
* This post was sponsored by British Airways Holidays.