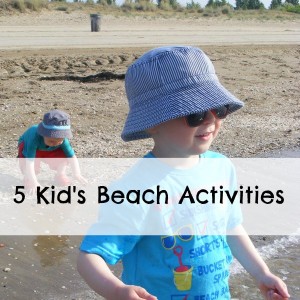 The boys love the beach, whether it's in Scotland or abroad.  But there are certain things at the beach that really keeps them occupied for a long time.  So here are there favourite beach activities:
1.  Digging a hole, the deeper the better and if you find water at the bottom bail it out with buckets and then pour more back in!
2.  Or stand in the hole and bury yourself, then get out and do it again, and again, and again and again…(you get the idea)
3.  Find crabs and chase them as they run back into the sea (watch your toes!)
4.  Get mummy and daddy to build a castle (or at least half build a castle) then demolish it, despite protests that they want to finish it this time.  This is a clear favourite and as A kept sitting on my half built creations, I built him a sofa instead…
5.  Run into the waves and then run away again, quick…. Or if you are scared of the water, like A, throw sand and shout at the waves!
I'm sure it's not just our boys that like to destroy everything we build, please tell me your kids are just as annoying at the beach?!
J x