The summer is finally upon us, admittedly the weather has currently become a little dismal, but it's still summer!  We arrived back from Spain on Wednesday and had an amazing time in the Spanish sun.  There were many memories made in the pool and on the beach, with a little sightseeing thrown in as well.
Proud Moments
I was particularly proud of my two boys in the pool.  Our littlest doesn't get to swim very often, but he was doing particularly well on holiday.  The last time we were at a pool he refused to jump in and disliked trying to swim.  But he's now leaping into my arms in the water, kicking and using his arms to propel himself through the water with the aid of his SwimFin and a little help from me.
His big brother has always been a reluctant swimmer and it was only with him watching his little brother leap in that he decided to try it too.  This is amazing for him considering his swimming instructor has been trying to get him to jump in for months and he stubbornly shakes his head at her!  He's also been practising his kicking using a float and becoming so much more confident in the water.  I really do think we will need to travel to warmer countries more often to swim all week! Ha ha!
Capturing the Memories
I used both my new Canon G7x camera and the IPhone 7 Plus that I have on loan from Three to capture our holiday moments.  I was so impressed with the IPhone's photo quality that I ordered an A4 photo book using only the photos taken on the Iphone 7 Plus.
The great thing about Photobox is that I could order online using my phone and easily upload and edit photo positioning.  It took me less than 45 minutes to create a photo book that I loved.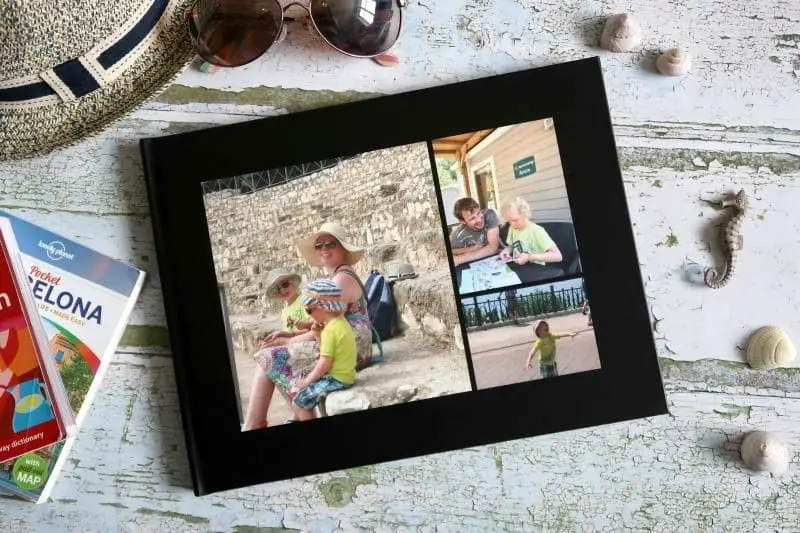 I don't know about you, but a lot of the time my photos are never printed off and remain locked in my computer.  But knowing how quick it is to create a photo book using Photobox means that our photos can quickly and easily be printed after our holiday.  It's also a much nicer way of sharing our favourite photos with family and friends, rather than staring at a finger-printed laptop screen!
Enjoying Our Holiday Images
Photobox gives you the ability to choose from so many options.  You can choose background colours, photo layouts, matt or gloss cover, text and sleeve packaging to name a few.  It's really easy to create a unique book of memories for your family.
We have been enjoying looking through our photos and the boys have been pointing out everything.  Our littlest particularly loves to tell us what he was doing in each photo, acting out scenes from Moana seem key to him!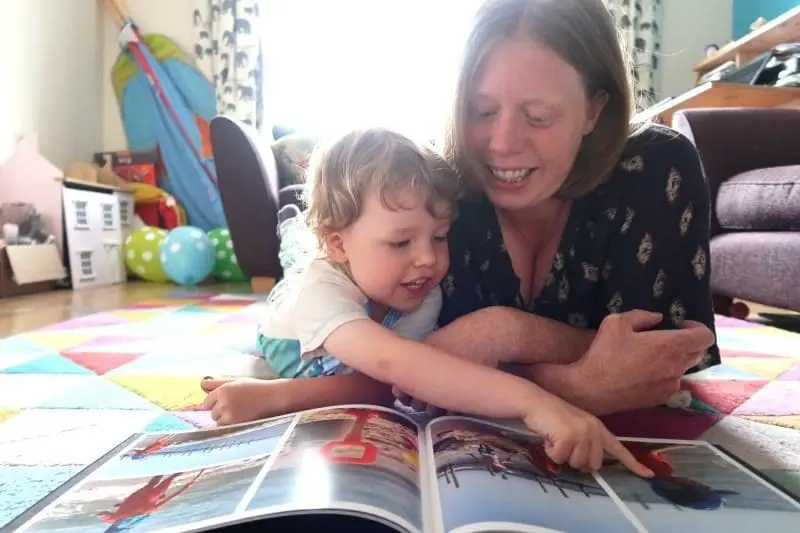 I can't wait to show our family our new photo book and let the boys tell them about all the fun they had.  There's nothing like a summer holiday to create happy family memories.
Photobox Competition
Photobox are running a fantastic competition to win a year's worth of your own photo books.  Plus the runner-up's can win Photobox goodies too.  If you want to be in it to win it,  click through here to enter!
* This is a collaborative post with Photobox.