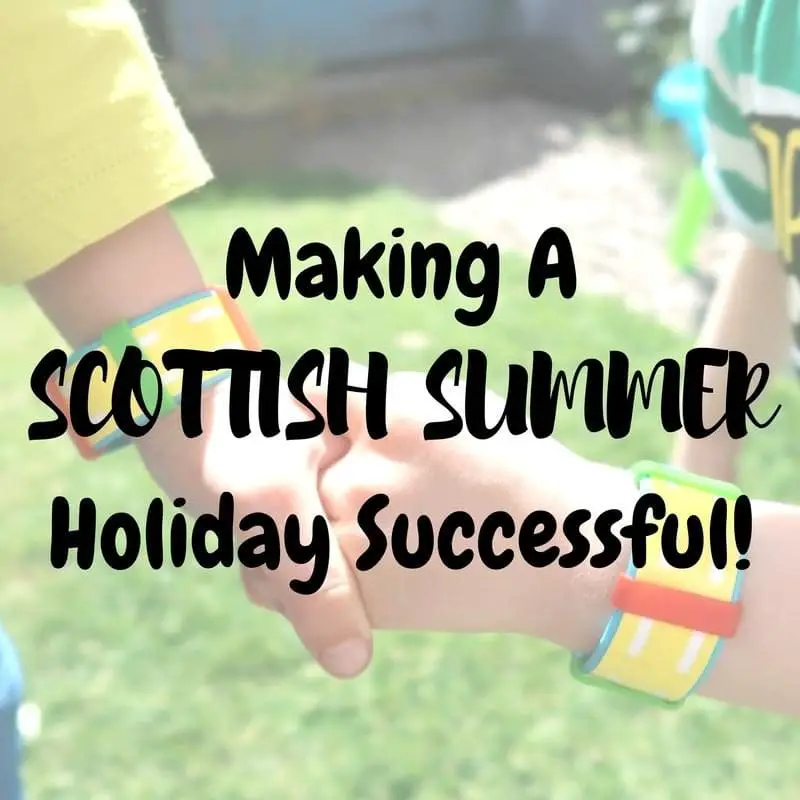 If you're planning a Scottish summer holiday then there are a few things you will definitely need to consider.  Here are 4 tips for spending time in the Scottish great outdoors during the summer.  Don't be put off by any of these, if you are prepared then you will have an amazing holiday!
Unpredictable Weather
I am sure some of you who read my Instagram captions might realise that I am a little obsessive about the weather.  You will probably find that weather talk is the usual ice breaker whenever you're holidaying in Scotland.  From shopkeepers to passers-by on a village road, the weather (good or bad) is likely to be the first topic of conversation.
The main reason for this obsessiveness is that our weather can be quite unpredictable.  Just because it's sunny with clear skies in the morning, it doesn't mean that there won't be rain in an hour or so.  Or vice versa, the photo below was taken in the morning when we visited Luskentyre Beach on Harris.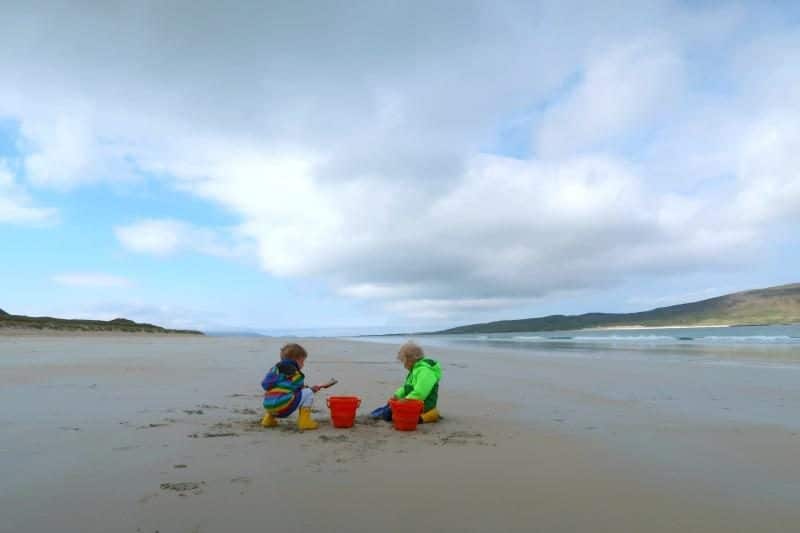 And by an hour later it was full sunshine and our eldest had completely stripped off to enjoy the sea!  So the main point of this is to always ensure that you have both rain jackets and hats/suncream with you.  You never know when the weather will change!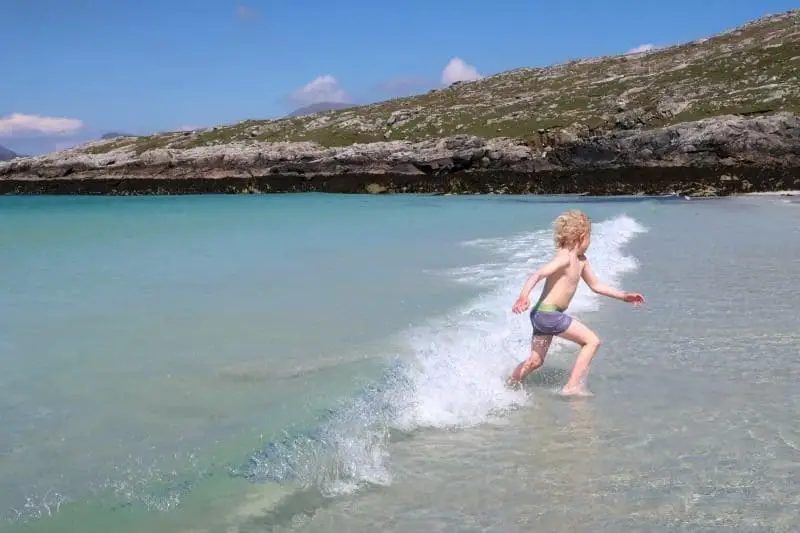 Midges
I assume that you have heard of midges and how vicious they can be?  If you are walking through woodlands in Scotland or somewhere that is sheltered from the wind then there is a good chance you will find midges.  Or rather they will find you!  The characteristic red dots on bare skin are a common occurrence when holidaying in Scotland.
However, you don't need to worry too much as there is plenty that you can do to avoid them.  One of the best things is to visit areas that are windy or at least breezy, this keeps the midges at bay quite well.  It's also one of the reasons we tend to visit the coastal areas of Scotland!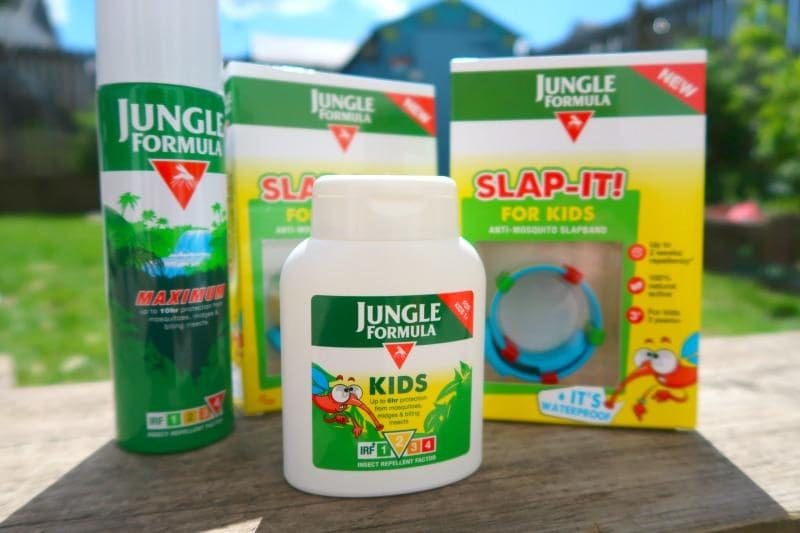 There are various repellents that can be used to stop the midges biting.  We have been testing out the Kids Jungle Formula products whilst on holiday this summer.
Each morning when we're on holiday the kids put on some of the Kids Jungle Formula lotion which gives up to 6 hours protection from midges and other biting insects.  It's easy to apply and as the boys didn't get bitten I assume that it worked well.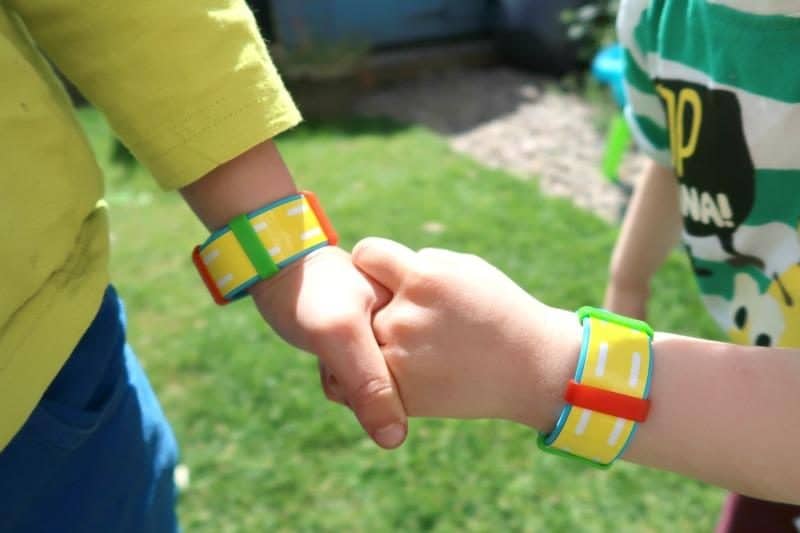 The other product that the kids used on Lewis were these cool looking slap bands.  The slap bands have an insert that is coated with the insect repellent and is waterproof too.  This is a great product for children with sensitive skins as there is no direct contact of the active ingredient with their skins.  Plus the boys love wearing them too!
Hopefully with this protection the boys won't need to have scores of itchy midge bites when we're on outdoor adventures.  They are also great protection from mosquitos when we are travelling further afield and I will be making sure that they are packed in our luggage for our trip to Spain at the end of this month.
Suncream
Saying I burn easily is an understatement.  I can burn when it's cloudy in Scotland, so suncream is always an essential item wherever we are in the country.  The children's skin is fortunately better than mine and they don't burn so easily.  However, I don't want them to have damaged skin, so we always put suncream on whenever it's a sunny summer's day.  Or if it's not sunny I make sure it's packed in the bag in case the sun appears later in the day.
Winter Hats and Gloves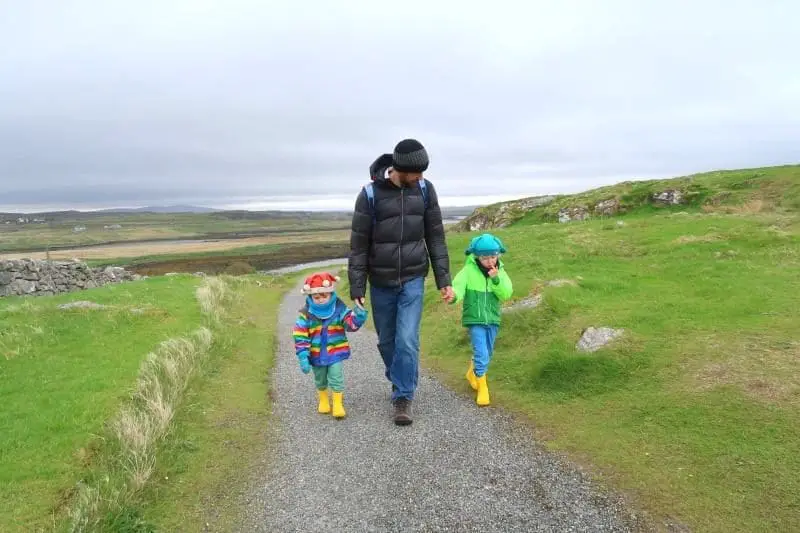 You might think that it's summer and you don't need warm winter accessories, but this is Scotland.  Realistically you will be fine without most the time, but where it's windy the temperature can be rather chilly.  So I always recommend keeping hats and gloves in the car so there not too far away when you need them.
* This is a collaborative post with Jungle Formula.