We recently had a fantastic day at Jupiter Artland, somewhere that a few months ago I hadn't even heard of.  When a friend mentioned that it looked good I thought we could have a look, not realising quite how amazing it would be.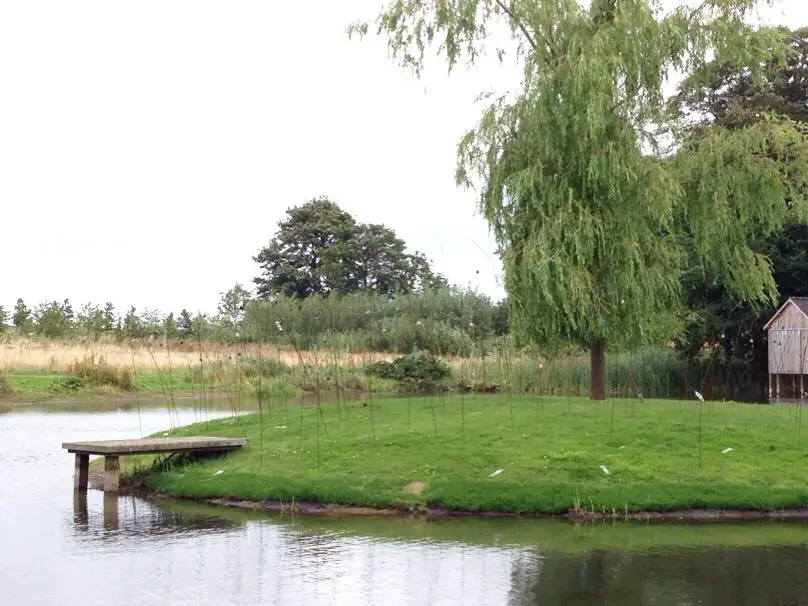 Jupiter Artland is an outdoor sculpture park in the grounds of Bonnington House, which is a privately owned house, just west of Edinburgh, close to Livingston.
When you first arrive at Jupiter Artland you drive along a wooded driveway which opens up into the life mounds, which are probably one of our favourite sculptures.  The landscape transformed into terraced hills and ponds with lots of little details representing the beginning of life.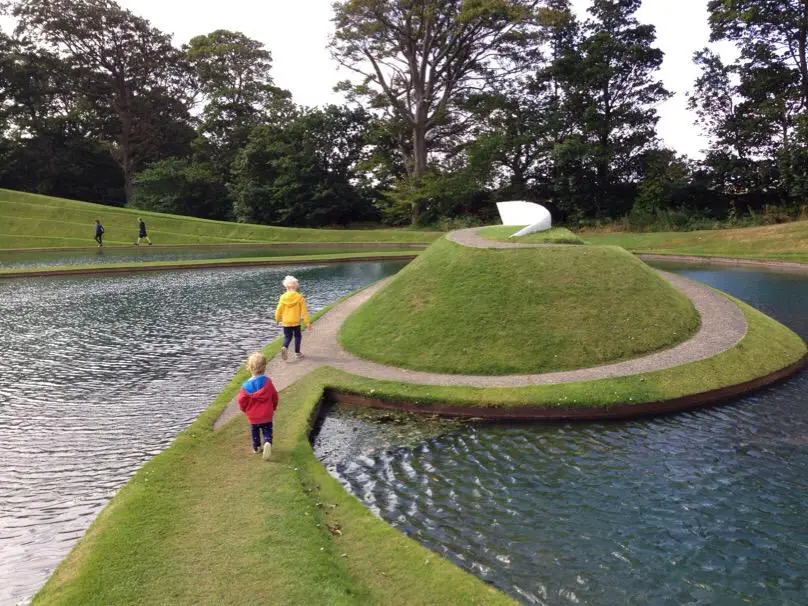 Continuing past the life mounds you drive by a signpost to Jupiter (pointing up to sky with the distance) and then arrive at the car park area.  The car park is a good size, but when we visited on a rather windy day it was still almost full!  There's another overflow car park back along the drive a little way.
Signs in the car parks remind you that no picnics are allowed, I'm not sure why that's the case.  Possibly to prevent littering?  Anyhow, we ate some of our food in the car before going to get our tickets.  There is a little cafe, which looked great, although it was very busy when we visited.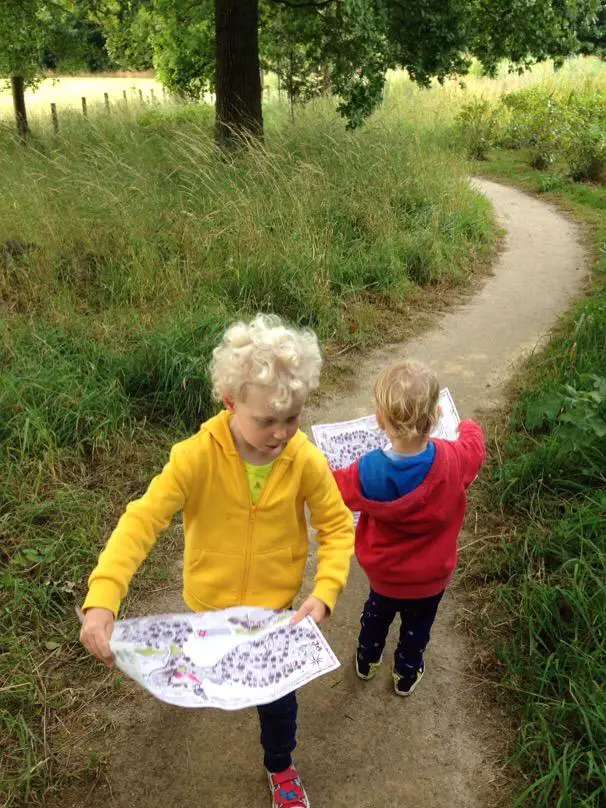 It's a short walk from the car park to the steadings where you buy your tickets and collect the map.  The majority of the park is suitable for push chairs, with wide flat paths.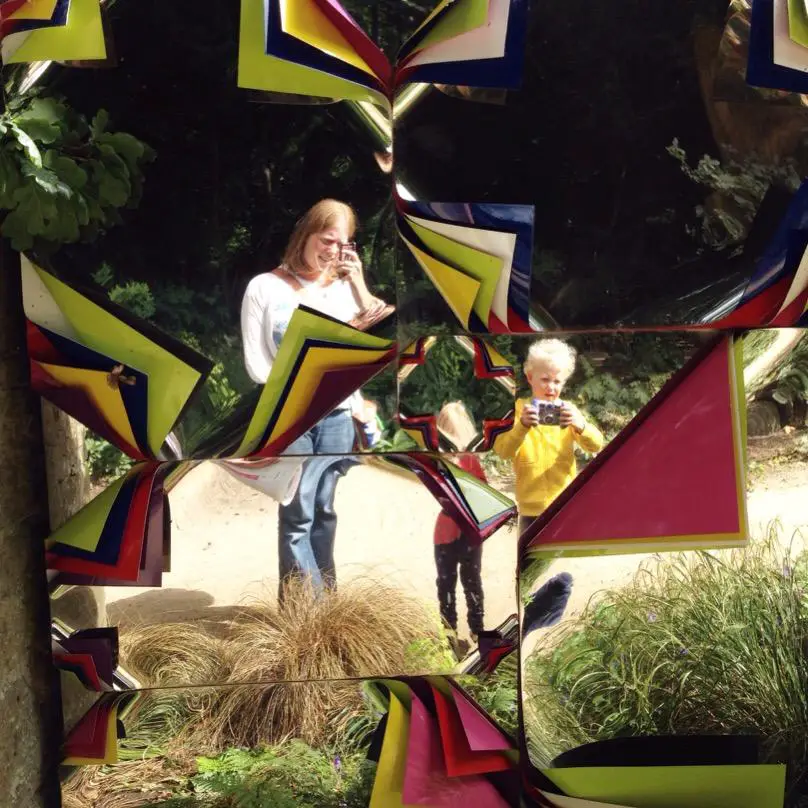 Once we had bought our tickets we headed out to look around.  We didn't even have to go along the path to find our first artwork, as the steading wall was a fantastic 'peeling' mirror!  This installation is called A Forest by Jim Lambie.
We followed the route suggested on our maps and went to visit the next installation, each one no more than a short walk from the next.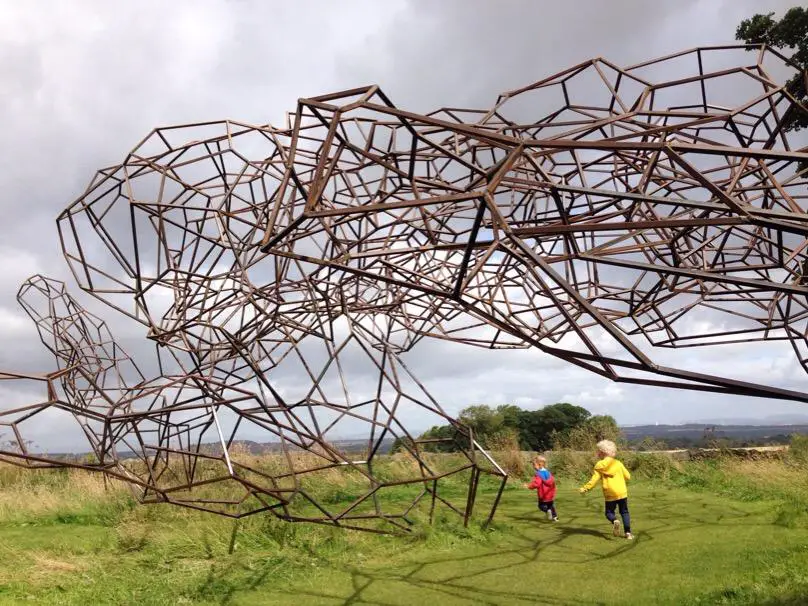 This metal work sculpture (Firmament) is huge and inspired by an old star map, it's created by Antony Gormley. We were interested in studying how the structure was made, welding metal balls to the poles.
The sculptures are designed to make you think and even though we didn't like them all it's interesting to discuss why some are instantly likeable (like the mounds) or a bit scary (such as the weeping girls).  I didn't take a photo of all the installations, but I was definitely freaked out a little by the weeping girls, they look similar to the girl in the ring and I'm not good with horror films! We quickly went past those sculptures!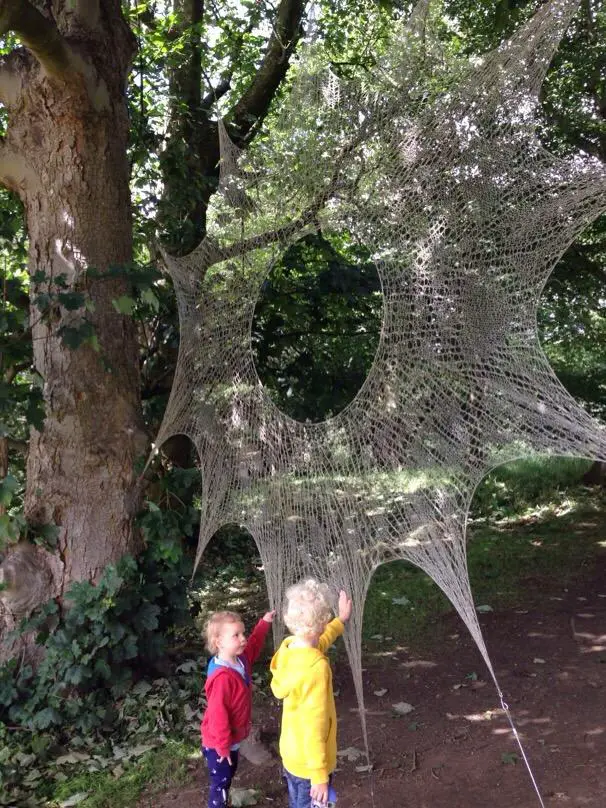 The boys had fun running around with some other children in a little temple and by a giant gun, but we soon left them behind when we moved on to a crocheted web like structure hung in the trees, Over Here by Shane Waltener.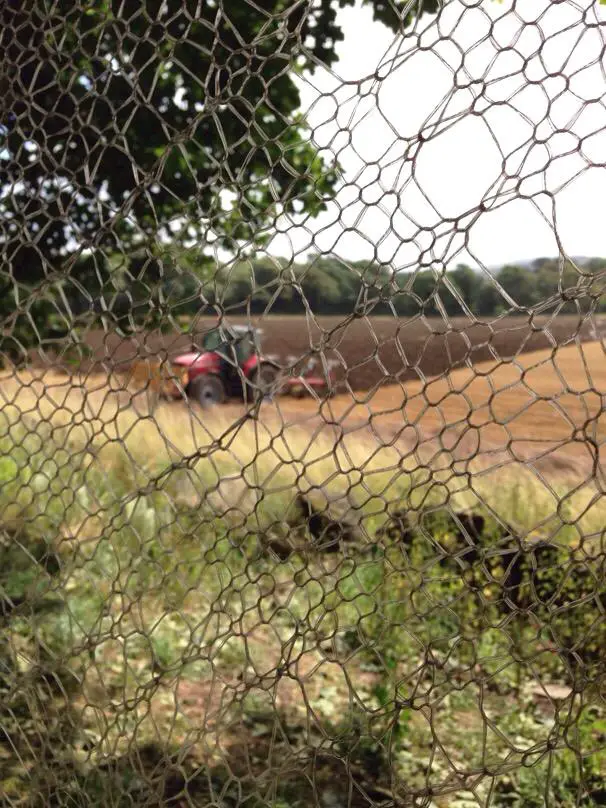 Mr O was keen to move quickly along the path to get to the mounds, which he had seen on the way in.  We were not disappointed when we emerged from the woods to a mound of terraced ground with water below.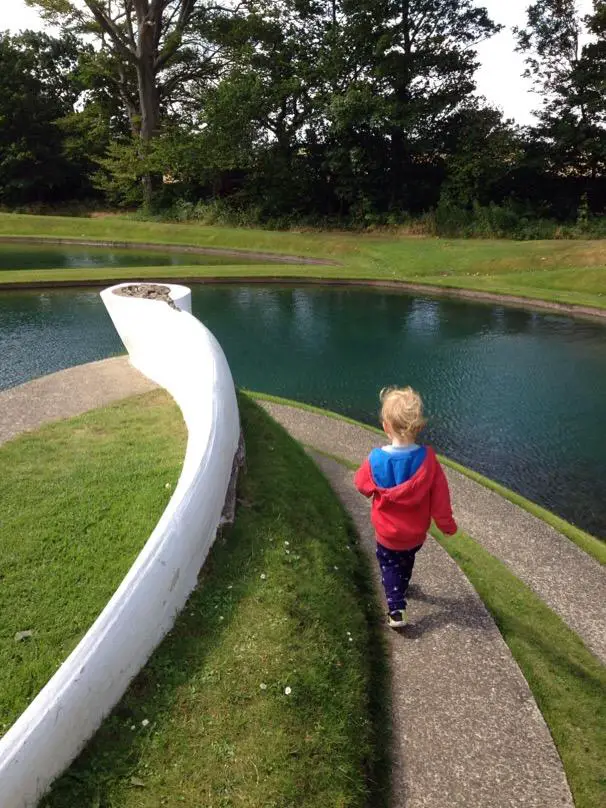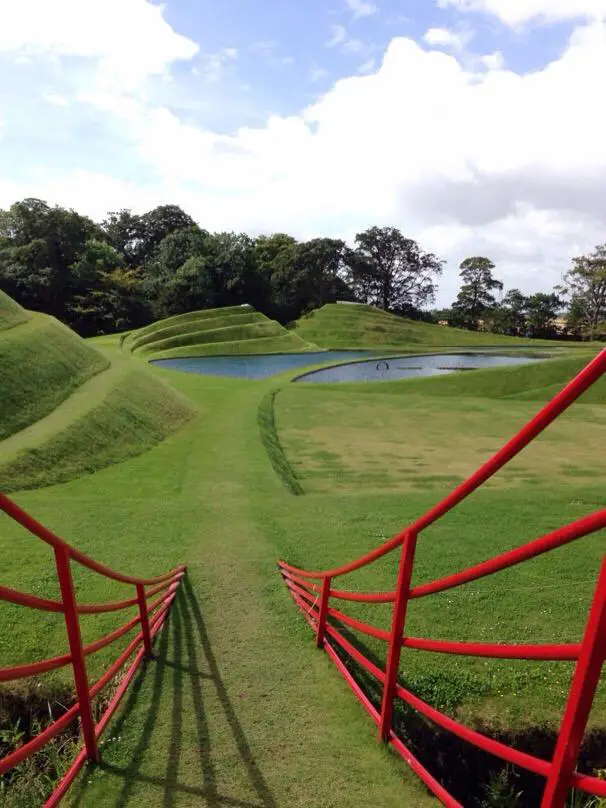 The life mounds were created by Charles Jencks and celebrate the cell as a basis of life.  The boys were intrigued by the mounds and loved racing through along the paths and playing beside the water.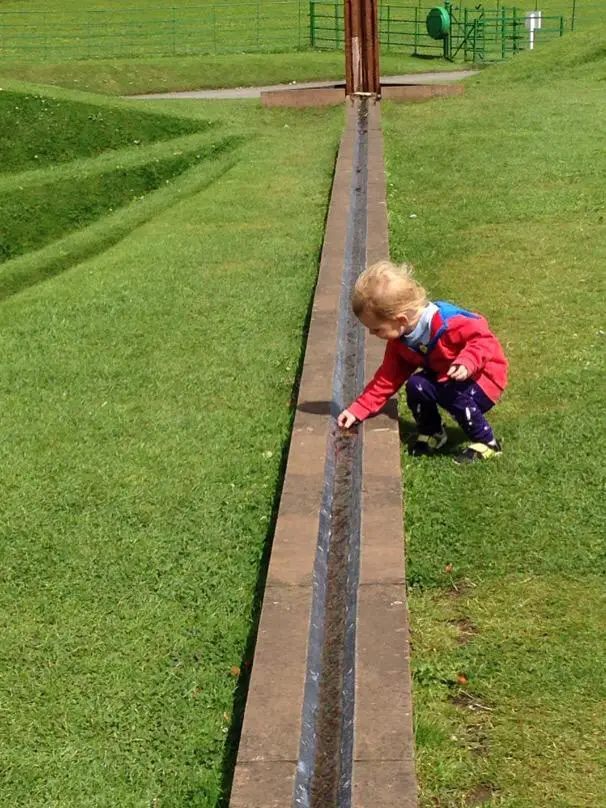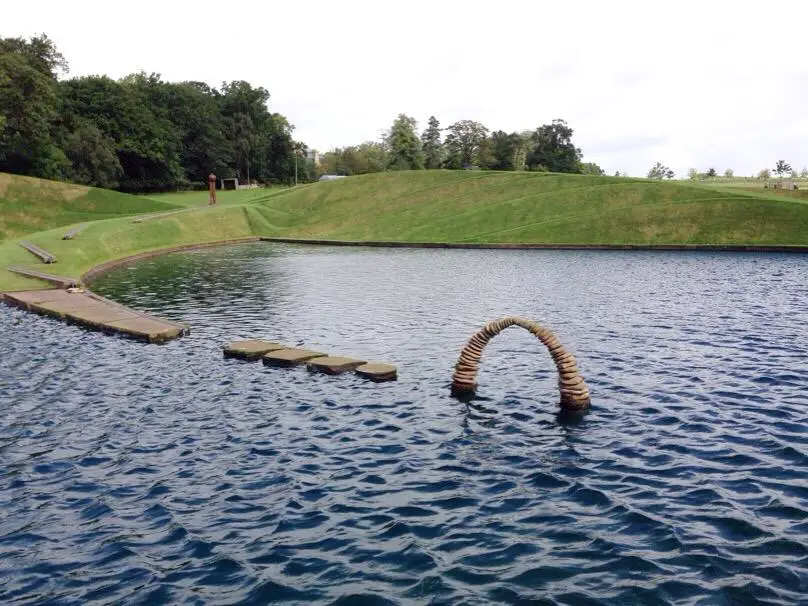 Beside the life mounds is a small pond with a little island containing the installation Animatas by Christian Boltanski, which are hundreds of Japanese bells attached to long stems creating a beautiful sound in the breeze.  These were too far away to get a good photo on my phone, but I think it may have been my favourite installation.
Across the duck pond is a little boat house that contains many bottles full of water, which I didn't think much of until I read the description on the map.  The water in the bottles is a collection of water from one hundred rivers around the British Isles.
Through the woodlands beside the pond are several other installations including a particularly impressive piece called The Light Pours Out of Me by Anya Gallaccio.  An underground room of amethyst is reached down steps by obsidian in it's natural state.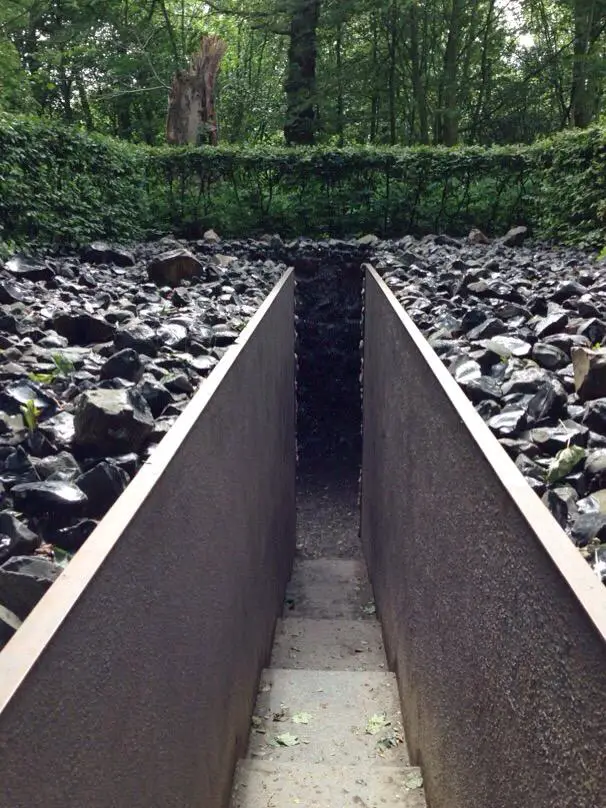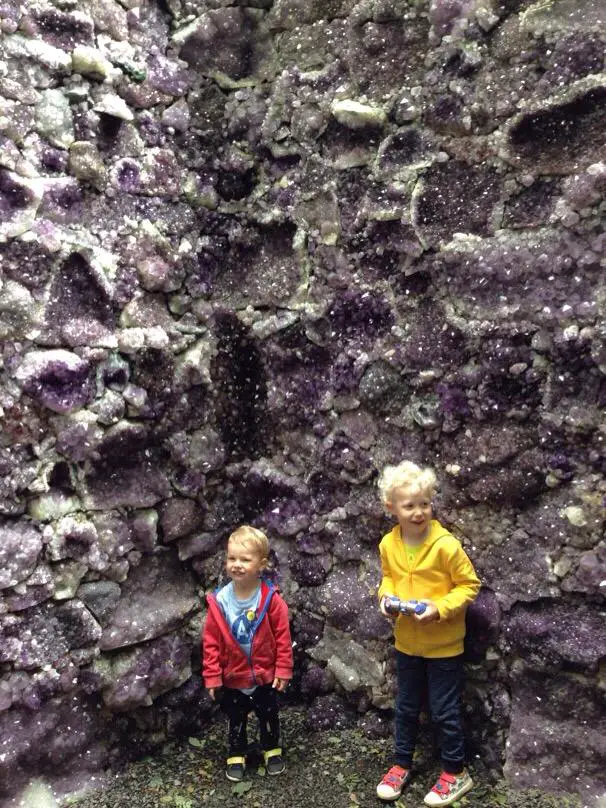 By this time Mr A was getting tired, so we headed back to the car to get the carrier for him so Mr O and I could explore a little more.  We missed a few installations, but found a rubber bomb created by Henry Castle and the Love Bomb by Marc Quinn, which is a 12 metre tall laser printed picture of orchids.  It reminds me of a triffid with it's huge height!
After getting littlest safely on my back we had a little look at the sculptures and art work around the steading area.  The roof of one of the steadings has been painted by an artist, who also has a display inside the attic room.  Mr O was not particularly impressed as part of the art work contained a painted shoe box and painted sticks, which understandably is not as impressive as some of the other work.  I did try to talk to him about art being subjective and that not everyone likes everything, but that argument didn't seem to swat him much!
Another room contained a little eerie shadow puppet display that fascinated O, the shadows dancing on the back wall of the room kept him mesmerised for quite some time.
Our final visit was to the coppice room by Andy Goldsworthy at the edge of the steadings.  To get there you need to go through a little garden area and into an area of woodland.  The room is filled by lengths of coppiced wood that you can walk between into the dark building.  It gives a strange quality, a bit like the wardrobe in Narnia as they push past the coats.  I couldn't get far into the room as I was too wide with a sleeping toddler on me back, but I've promised O that we will go in there again next time and find the back wall (we may even bring a torch to find our way back out!).
I highly recommend visiting here if you're in the area and I still can't believe that I didn't know about it until recently.  The grounds are open from May to September, so just over another month if you want to visit this year!
Do you have a sculpture park near you?  Have you visited Jupiter Artland?
J x