Isn't it weird how time passes? Sometimes it feels like just the other day that my eldest was born and other moments it feels like a lifetime ago.   However looking through family photos I don't have huge amounts of me in the photo with both our boys.  I have lots with one or the other boys, but I just don't seem to have taken as many with both my children.  I think this is something that we need to improve on this year and remember that everyone should be in the photo, together.
'Then' Photo
Matalan has asked us to recreate a photo of our family.  I took a while choosing a photo that had both boys in the frame.  I think it was only last year when I made a concentrated effort to be in the picture more often.  However, for this post I wanted to choose a photo taken when littlest was still a baby.
This is a photo from the Glasgow 2014 Commonwealth Games, when we went to watch the road cycling one rainy afternoon.  At Glasgow Green there were lots of things for the kids to get involved in, including this fun group of people who set up a 'winner' photo opportunity.  Look at how short our oldests hair was then!!
I love the happiness captured in this photo and the quizzical look on our eldests face as he has no idea what is going on!
The 'Now' Photo
For the now photo we are wearing Matalan clothing and used similar props (the bottle is meant to look like the celebratory champagne bottle, not that I have been drinking!).  We did unfortunately have to do without the extra happy gold people for our recreation.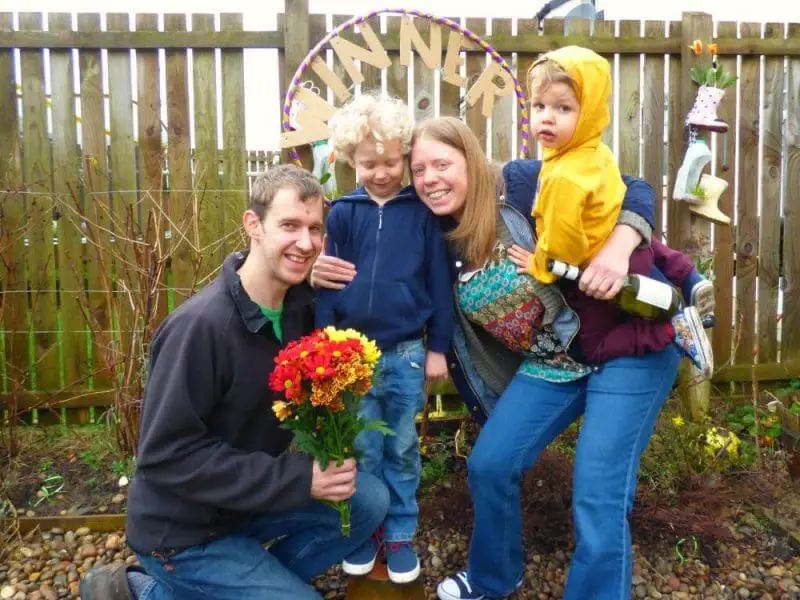 It's lovely to see how much the kids have grown and the fact our eldest still doesn't appear to look at the camera properly.  He did say after the photo was taken that he thought it would be funny for him to look at the flowers and not the camera.  Five year olds huh?!
Mother's Day
I can see myself as a mother back then and know how hard it could be parenting a toddler who wanted all my attention and a baby that thought the same.  That was a time when my youngest was worn constantly and we were out the majority of each day for my own sanity.
Things have changed and now the boys can get on well, although of course they still fight a lot too.  Normally the fighting is now led by the littlest, but I suppose that is just the age thing.  I wonder what they will be like in another couple of years?
As I'm sure we all know Mother's Day is just around the corner and it's lovely to celebrate motherhood with the kids.  Our 5 year old is sort of at the stage of understanding what it's all about and I will be intrigued to see if he wants to help make a card or choose a gift this year.
Fortunately I don't have to worry too much about a gift as Matalan let me choose my own Mother's Day gift from their collection.  I personally chose a new dressing gown as my old one is one that I bought many years before the kids were born!  Now I can keep cosy when I'm downstairs early with the boys.
Mother's day in the UK is on the 26th March and you can head over here to look for more lovely gifts for your mum.