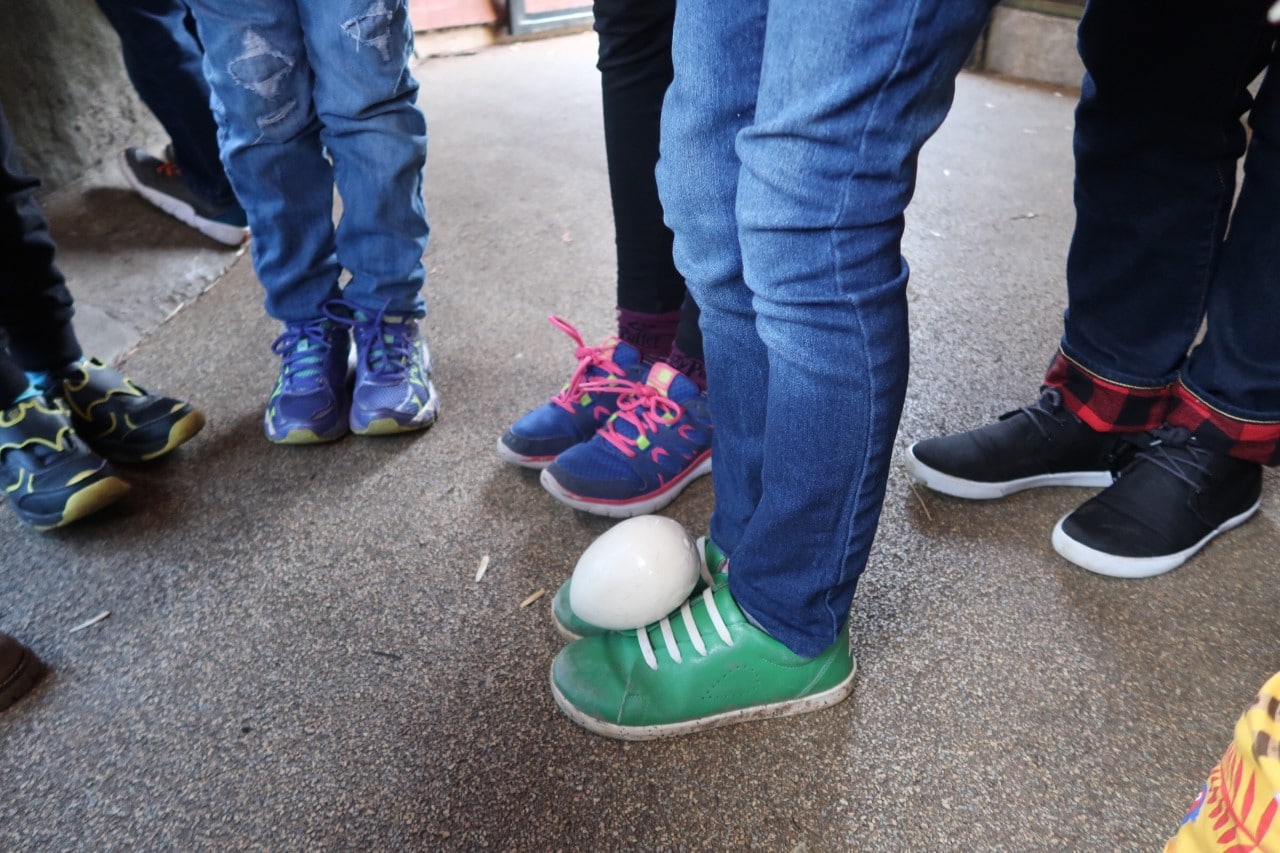 I know, I know, we're well into April and I'm only just posting this now!  I've just been incredibly busy with work and with the kids this month!  It's been rather crazy around here.  As per usual we've been out and about and there's been a lot of great learning going on for the kids!
So here's what my kids have been learning about in March 2019.
Home Education
Science
Top topic of the month has been volcanoes!!  Which is hardly surprising since we visited Mt Teide on Tenerife, one of Europe's dormant volcanoes.  Everywhere we went on Tenerife there were signs of volcanic activity.  We spotted the volcanic rock on pavements and black sand beaches and even building built using volcanic rock.  The children soon learnt to spot the bubbly looking rocks that were unmistakably volcanic.  Whilst on Tenerife we also visited the Museum of Natural History to explore the volcano section, which had plenty of new information for the children about how volcanoes are formed and specifically how the Canary Island chain was formed by volcanic activity.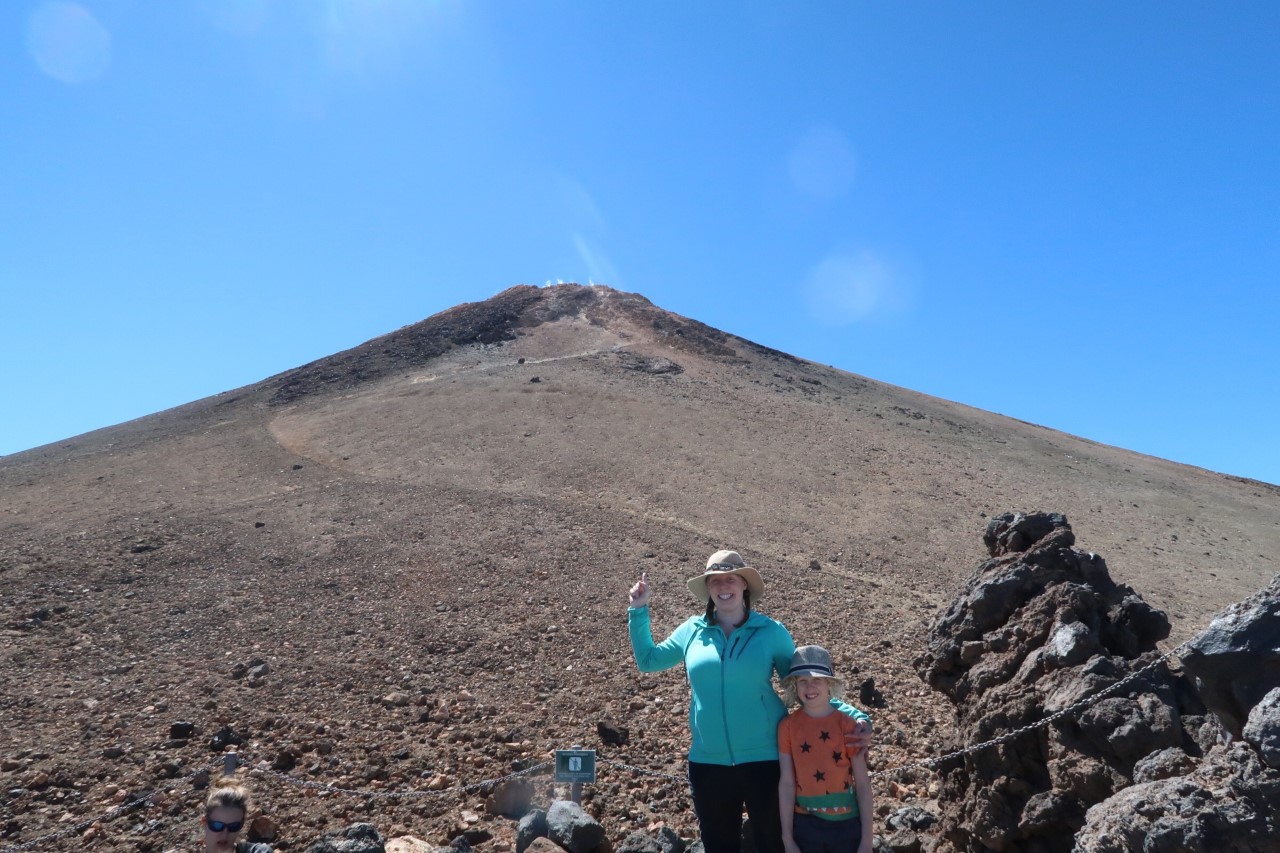 Volcano learning didn't stop there though, we've also had a great podcast from Wow in The World this month about the young island in the Pacific ocean that was also formed by an underwater volcano.  With all the volcano chat this month the kids are pretty good with understanding the different parts of a volcano and how the molten rock creates different rock formations.  They also watched a short film that helped them realise that the ancient people who lived on Tenerife thought of the volcano as a god.
Aside volcanoes, the Wow in The World podcast also discussed why zebra have stripes and how bees use the Fibonacci sequence.  Whenever we go in the car the kids always ask for different podcasts.  Our eldest's favourite podcast is Wow in The World, but our youngest has discovered a new podcast called Science Adventure Stories For Kids with an Australian green tree frog called Simon narrating.  Simon is a mindful frog and has taught the boys about Echidna, Elephants, dung beetles, rusticles on the Titanic, bio luminescent fish, kangaroos, camels and koalas!  It's a great show for any animal loving children, although there hasn't been any new shows since February this year.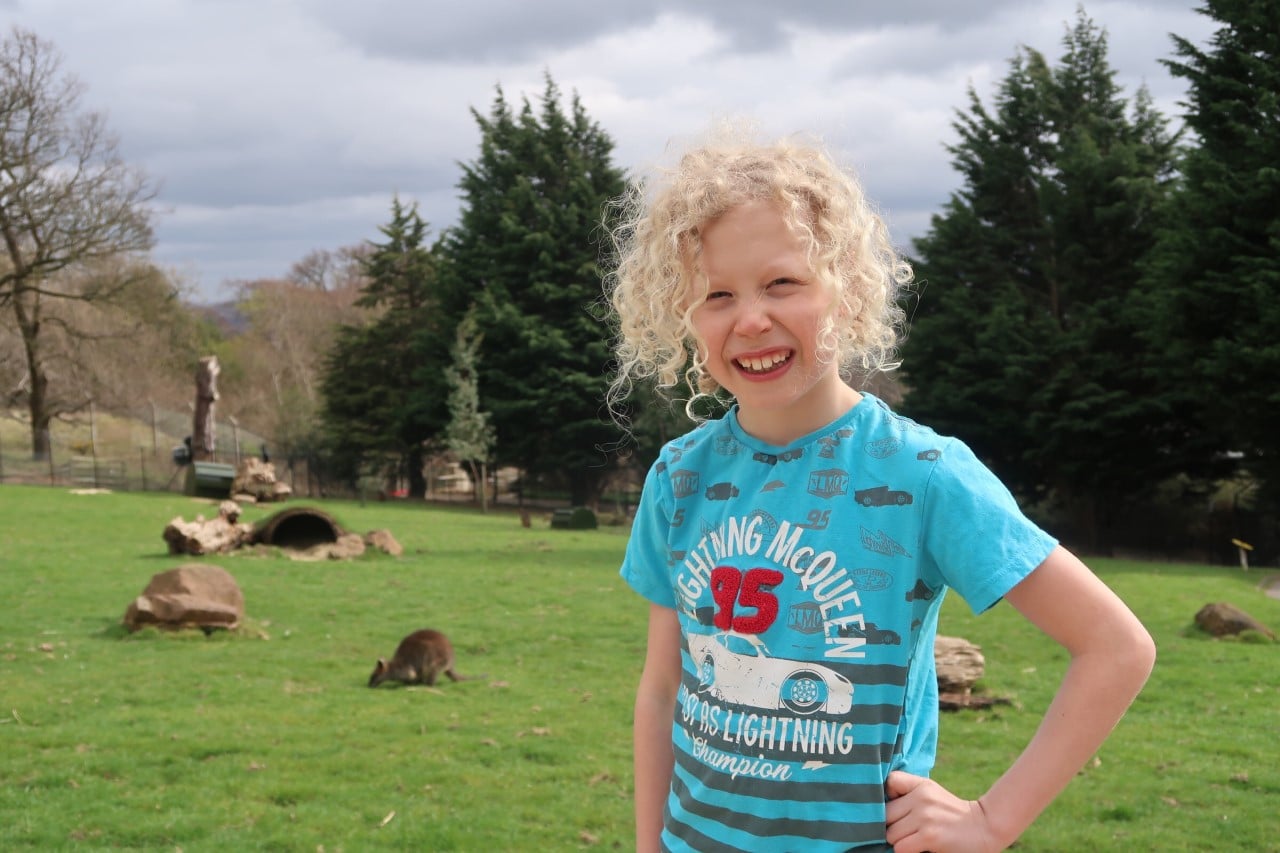 During a home education group visit to Edinburgh zoo the children learnt all about the 2 pandas, even watching the female panda (Sweetie) wandering around and eating.  A first for us, as we've never seen the pandas move before!  Littlest has now developed a love of pandas and has named his panda carry-on suitcase Sweetie too!  The zoo tour was great, with the children seeing panda skulls, trying to balance a penguin egg on their feet and learning about the rhino.  We also spent time exploring ourselves, with visits to the lion, wallaby and koala enclosures.
On one of our rare quieter days we chose to walk down to Bracklinn Falls in Callander to play by the river there.  It was a beautiful day for a picnic and throwing rocks in the river.  However, our 7 year old had other ideas and used a large boulder as an anvil and a large rock as a hammer to break open smaller rocks.  He investigated the contents of each rock and found a selection of rock types, including quartz, slate, sandstone and possibly fool's gold.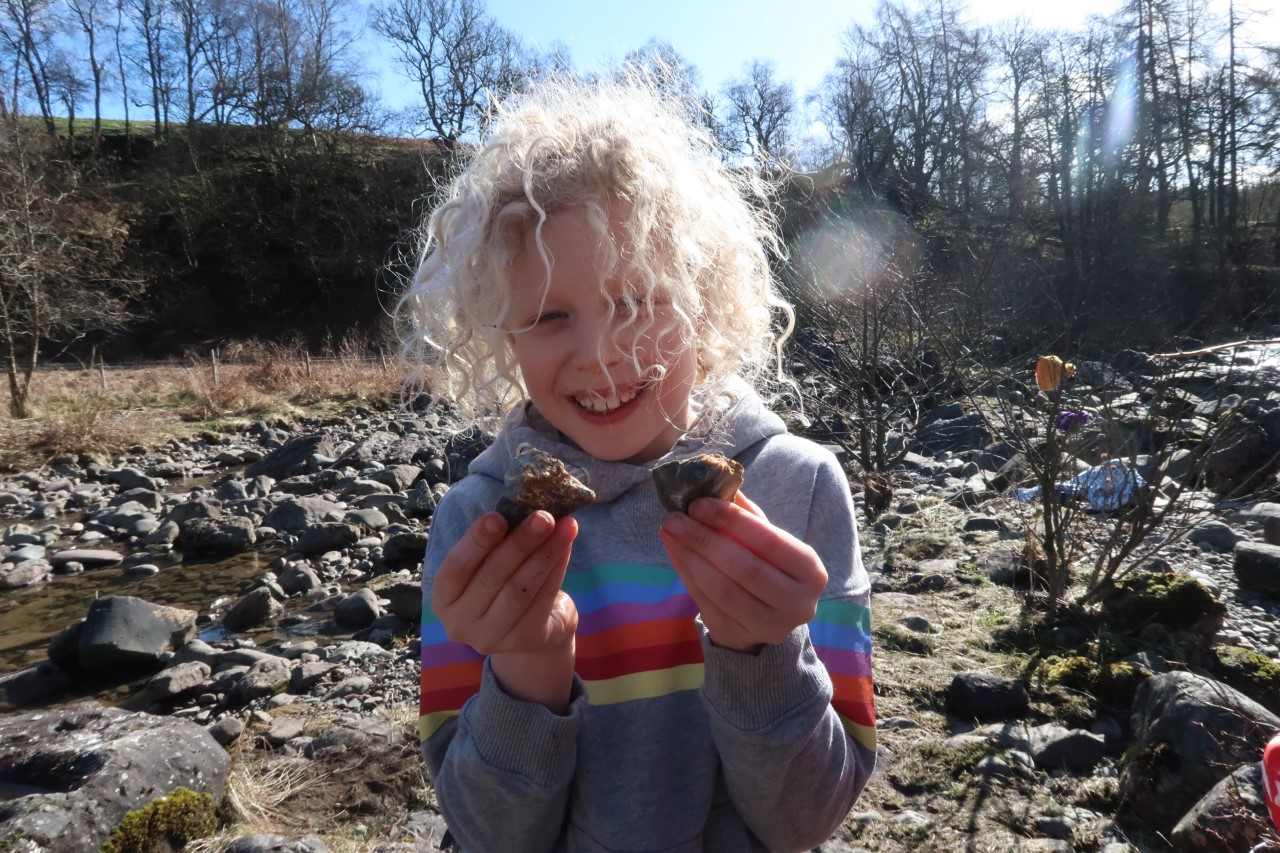 We've investigated how we can make rockets fly using the gas bubbles in sterident tablets mixed with rockets.  Trying to add various numbers of tablets and seeing how this affected how far the rockets flew across the grass.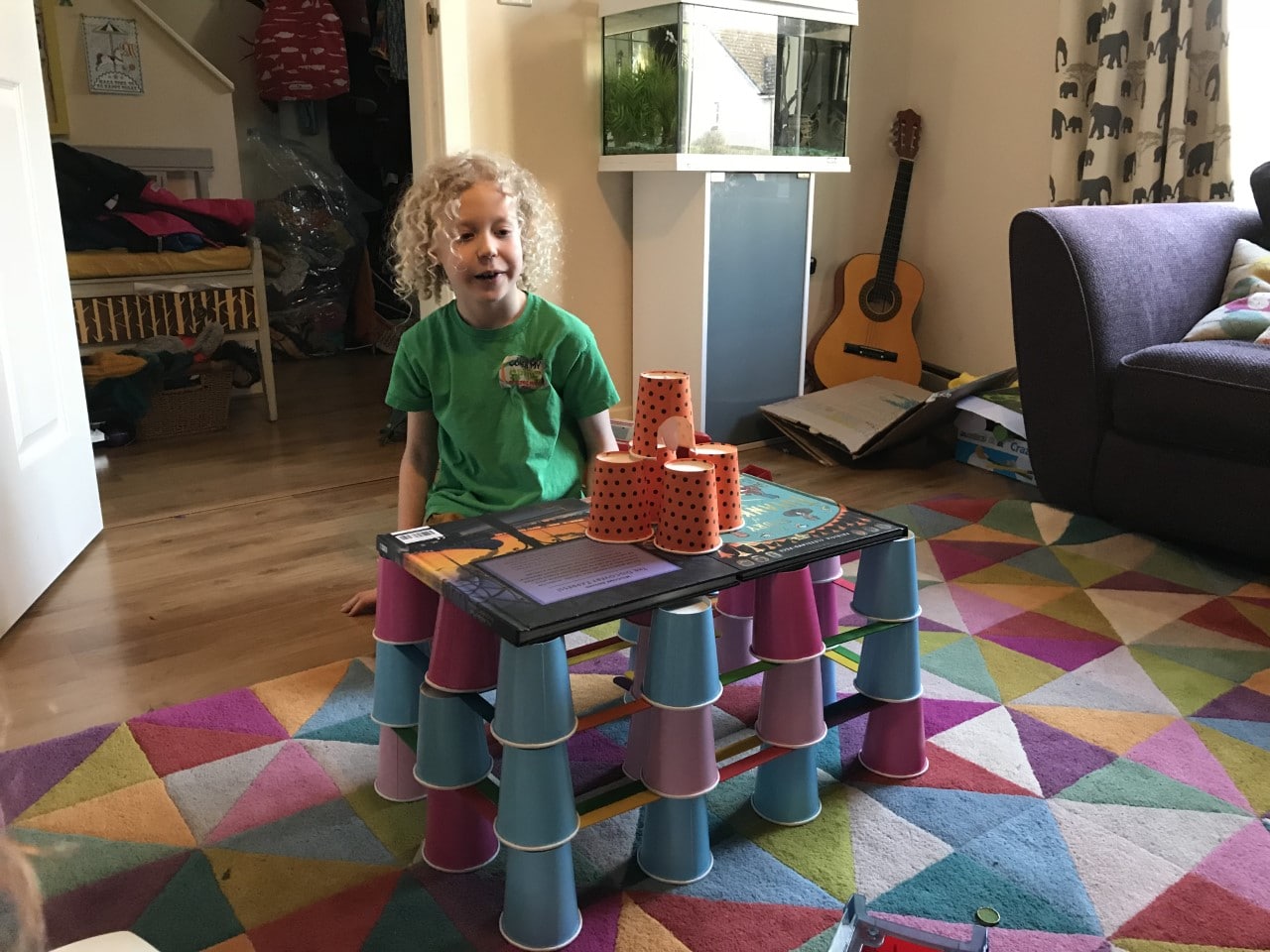 We still have the cups and lolly sticks that we used last month (or was it even January?!) and they've continued to be well used by both my children.  They've built palaces, castles and towers with them, getting more intricate by turning a cup and spoon into a bell tower.  I would never have thought cups and lolly sticks would be such a fun engineering tool for children!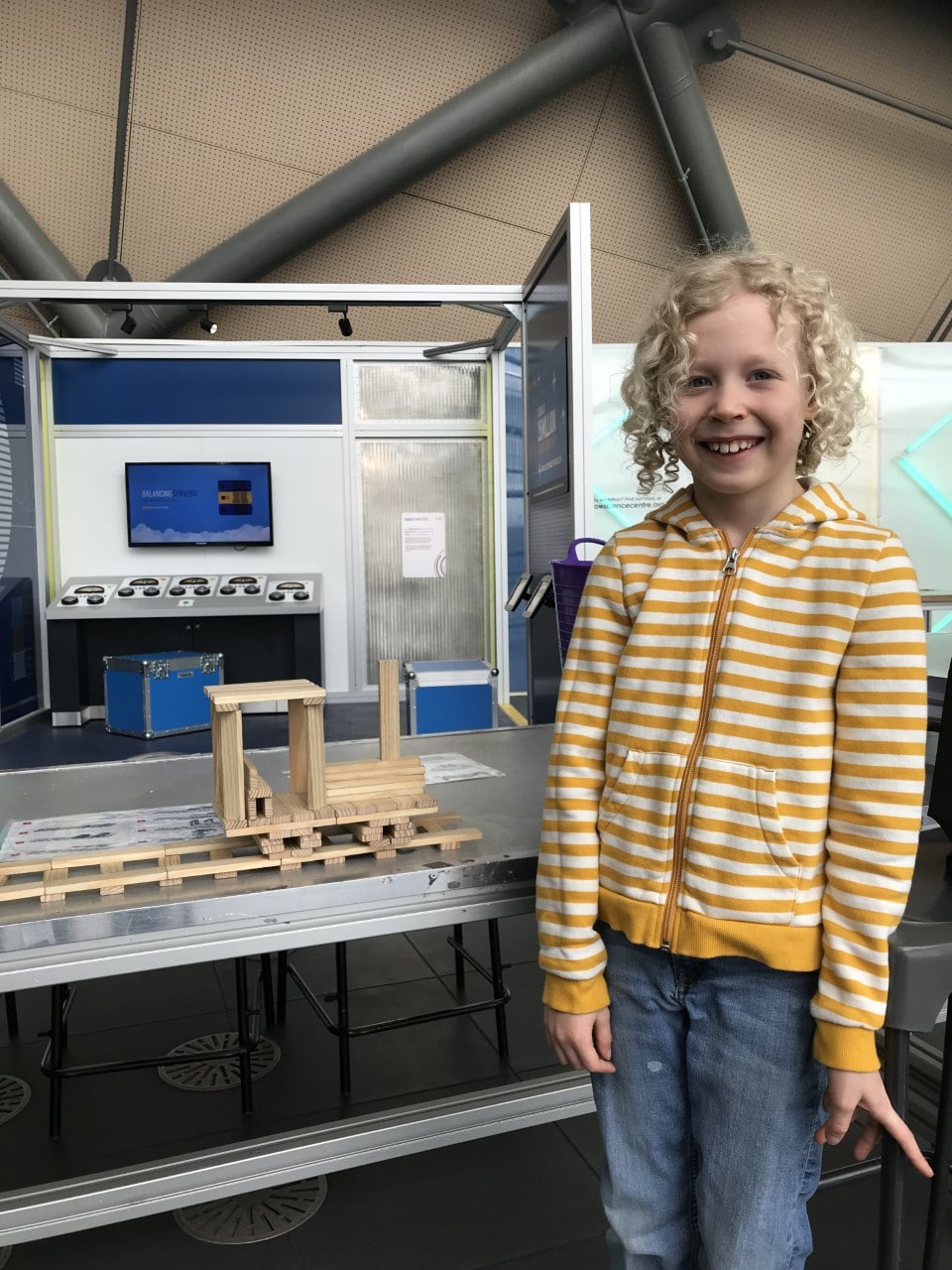 At the science centre my eldest also had great fun building a train and a house using wooden blocks.  I seriously think he will be an engineer when he's older, building is his thing!   He's spent a huge amount of time building Lego again this month, so it's certainly a passion of his.
The science centre also gave us another chance to explore various other exhibits, including the energy area and the body works section.  My youngest was fascinated by the difference between a smokers lung and a normal lung.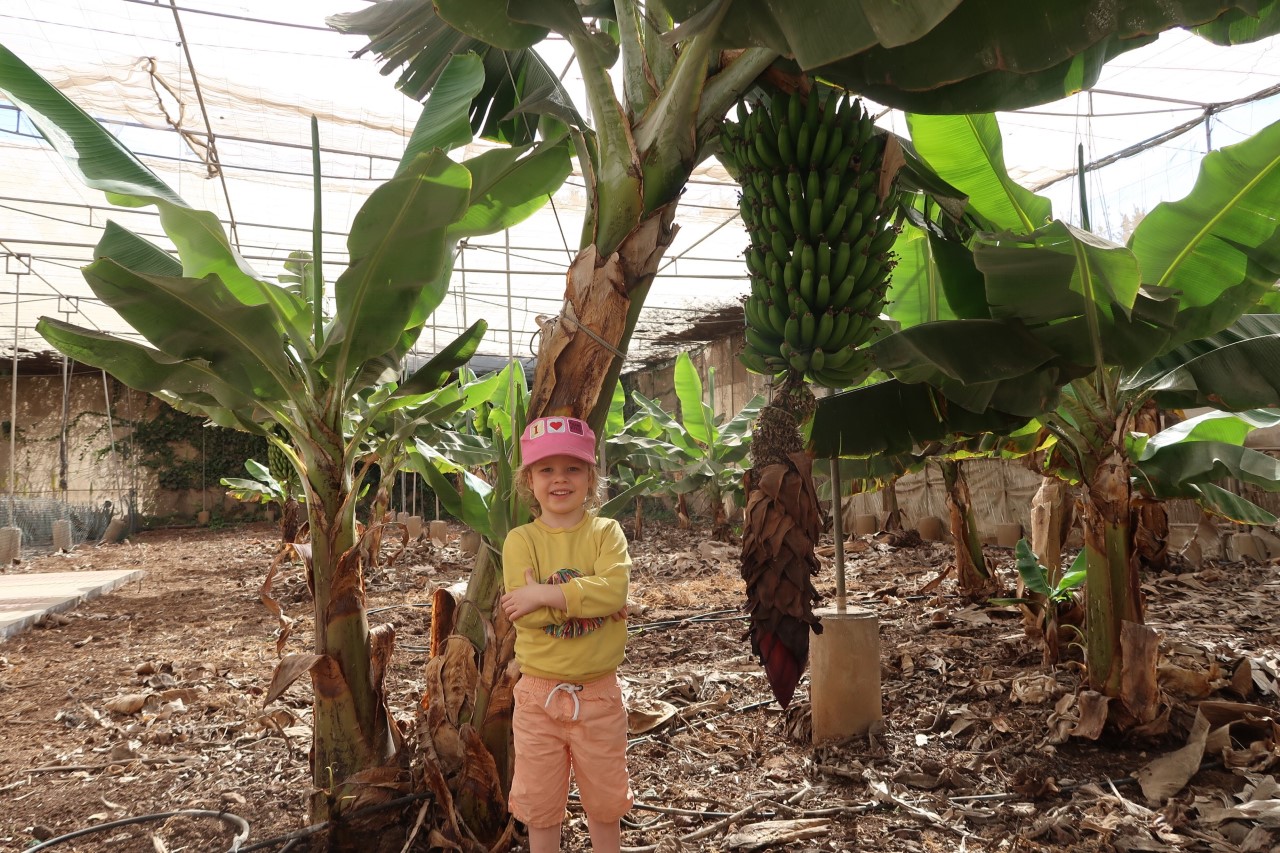 Whilst we were on Tenerife the children learnt the life cycle of banana plants and how they grow out there.  Surprisingly very few are exported to the UK, however it was still interesting to see them growing.
Another issue on Tenerife is the lack of fresh water, so we learnt about how the people on the island have desalination plants to get salt out of the sea water so it can be used for watering crops or in the taps of houses.  It's definitely not for drinking (although I didn't realise that when we arrived and had several glasses of water before I found out!!).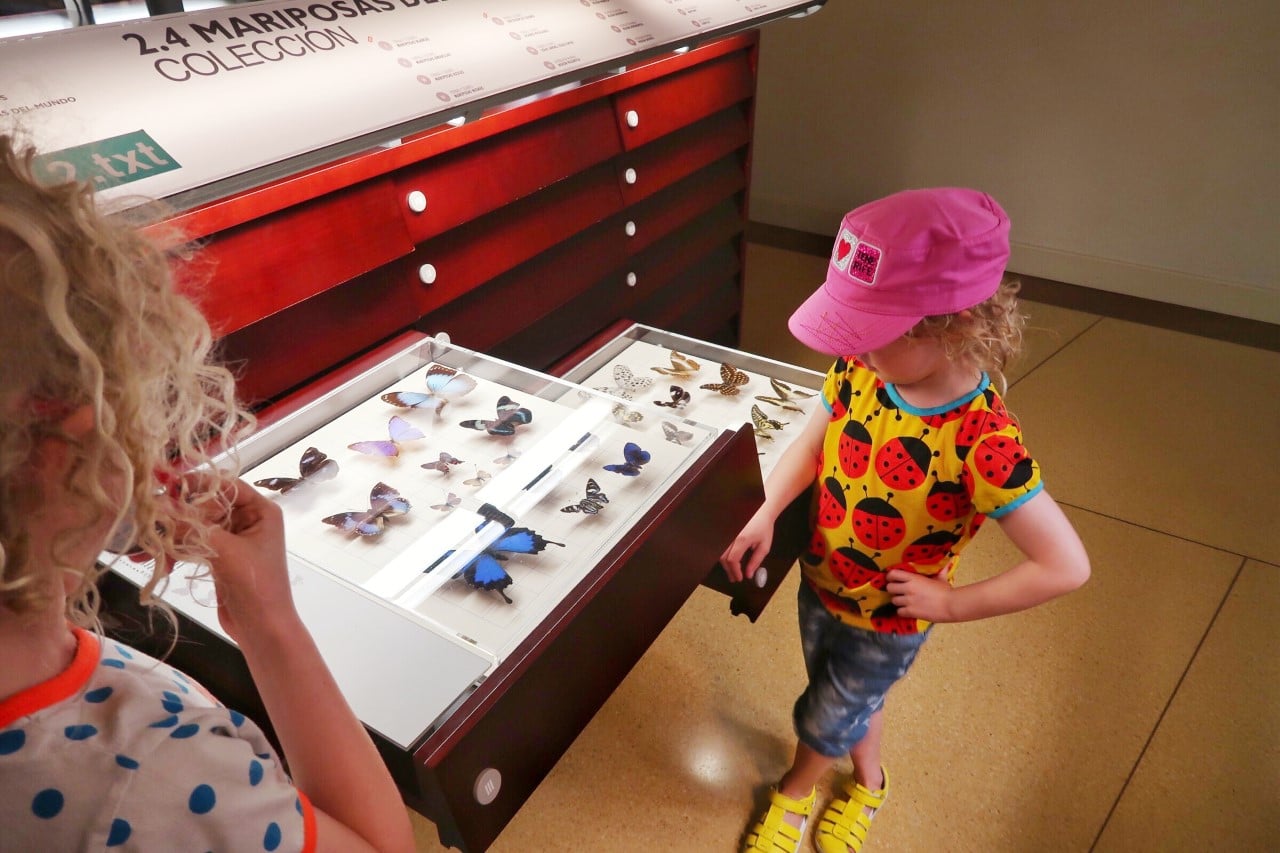 Finally, the boys are working on an Octopus Pawprint badge, learning about the Octopus, making aquariums and planning to visit a real one soon.
Unstructured Play
Of course the children had a lot of fun with unstructured play as always.  They happily go off to play in the woodlands or parks with their friends and I can sit back and chat to my friends whilst they have fun.  They can problem solve, work together and make up new games all by themselves.
We were out in rain and sun, but the kids don't mind too much as long as they're dressed for the weather!  When it's cold we've had a fire going, which he kids like to help with and cook various items on.
Reading and Writing
My 7 year old is happy to write when I help him with spelling, although he isn't very confident and is quite slow.  So writing tends to be short sentences or single words as he's not the most patient when things take too long
However he did manage to write a card for his friends birthday, which was very legible and a postcard to his penpal, which was legible, even though rather short.  I'm hoping he finds his confidence soon, as he really has all the abilities he needs to read and write.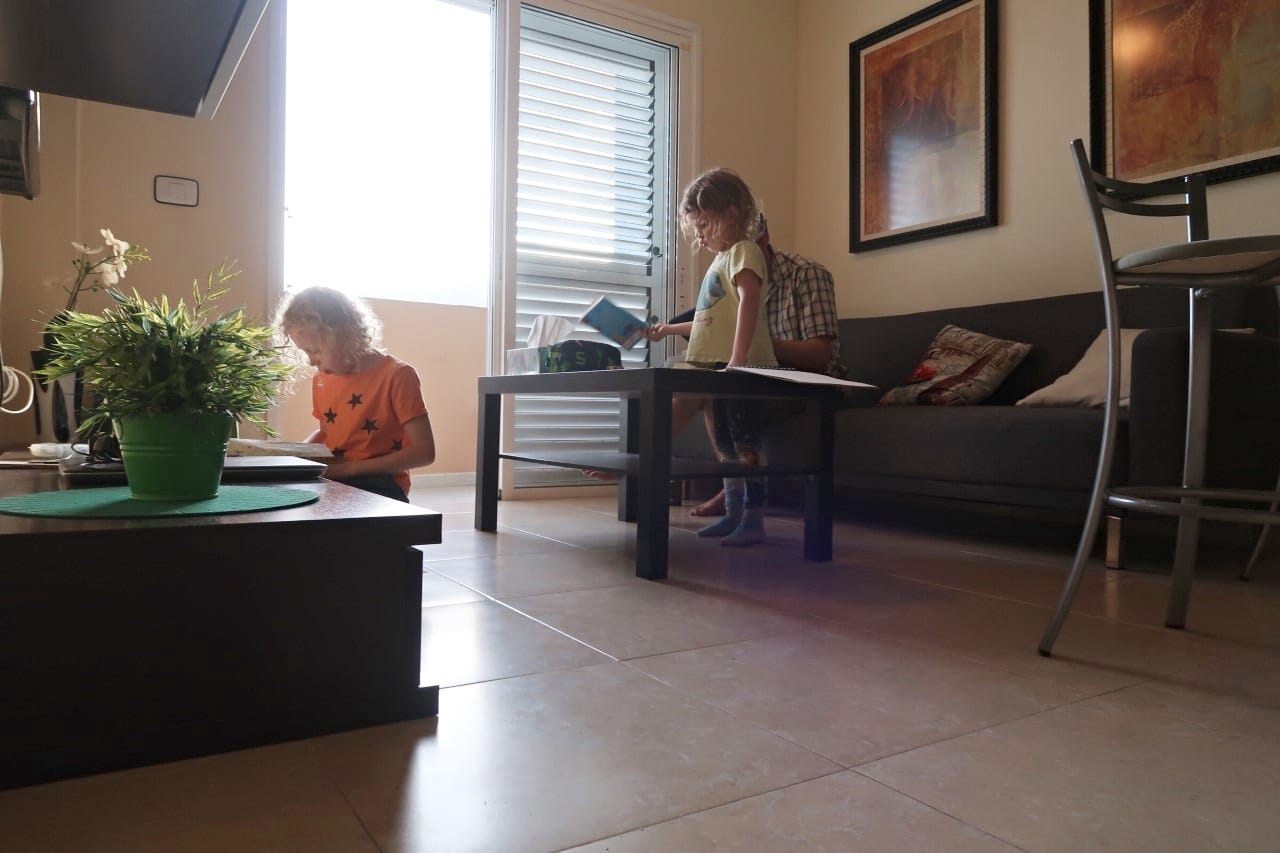 We've also been making scrapbooks from when we're on holiday and so both have created pages for each day in Tenerife, with our 7 year old writing various comments and words throughout.
As usual we have been reading plenty of books and pointing out words every so often to help the kids practice their reading skills.
Mathematics
Maths was learnt this month through measuring out quantities of ingredients for baking, whilst they made biscuits for their Octopus badges.  Playing Monopoly together and counting out money, littlest also loves counting his real money in his money box!
Lego has also played a huge part in this month, which involves a lot of counting and addition through building new items, both from scratch or using instructions.
Exercise
The kids rarely stop moving, so this isn't really a comprehensive section of exercise.  These are just the more obvious types of moving around, not including jumping on the sofa and chasing each other through the house with makeshift swords and wands!
Aside all that normal play at home they have also been attending their usual swimming lessons, playing on the beach, playing at parks and in forests and swimming in pools on holiday.
Other classes include multi-sports, drama and also ballet/tap dancing for the five year old.
History
Tenerife was incredibly interesting and the boys learnt a lot about the history of the island, from how it was formed out of a volcano complex to the lives of the original inhabitants of the island, the Guanche.
Whilst visiting the Natural History museum in Santa Cruz the children (and us!) learnt about the Guanche and how they used to live.  We read and watched videos about how they made items such as pots, furs and awls.  Looking at various artefacts that have been discovered in archaeological digs on Tenerife.
Geography
Simply heading over to Tenerife has helped the children work on their geography.  Ffinding out where the islands were located off the shores of Morocco and Western Sahara, easily pinpointing the distinctive shape of Tenerife. We spent a lot of time talking about the geology and geography of Tenerife at the Natural History museum in Santa Cruz, which had a lot of fantastic information for the kids.
They have also enjoyed using Google Maps again to zoom into airports and choose a plane to then zoom right out and fly to a random country.  All they do seem to have particular favourites to land in, currently these are Iceland, Madagascar and Paris in France!
Both children still have a healthy interest in the world and learning more about where we live and further afield, I love our random discussions that we have on these topics!
Music and Art
As mentioned previously my children aren't really that art or crafty, much to my annoyance!  I've always been an avid crafter, but that's not my two's passion.  However both the children attempted some pictures for their friends birthday cards, eldest painted a blue macaw and littlest painted a panther.  They have also chosen to draw pictures in their scrapbooks, including a volcano (my 5 year old made sure to include all the magma chambers and vents on his diagram!) and buildings we had visited.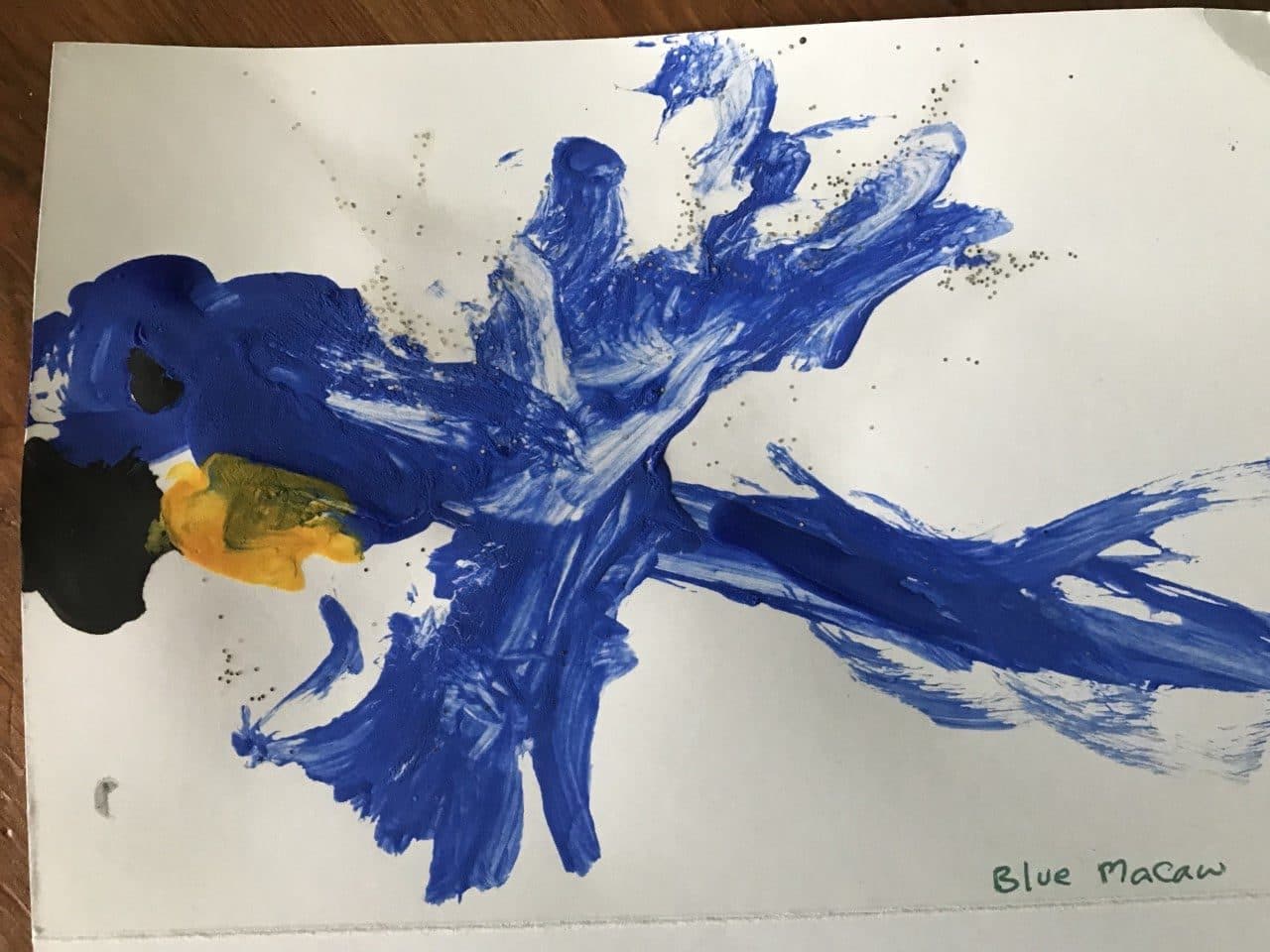 Although our 5 year old wasn't so sure about drawing things, he does love his music and dancing.  SO he spends a lot of time singing and dancing to music or making 'shows'.
Our 7 year old on the other hand has understood how to play the keyboard better than I ever could and has been playing various tunes on there.  We do need to progress beyond the handful he already knows off by heart, but at least he's enjoying it!
Pin For Later