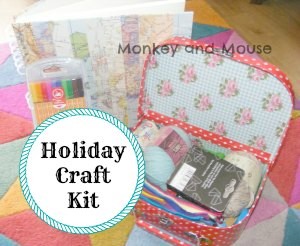 We're off on holiday soon and I won't have much access to the internet, so my evenings will not be filled with blogging, instead I had to find something else that I could do whilst we were living in a tent.  Fortunately it's a big tent with Eurocamp, and we can sit outside in the warm evenings and actually chat rather than being stuck on computers and tablets!
I like to keep busy though, so I have a put a few things together for me to do when the boys are (finally!) asleep.
First of all I bought this beautiful map scrapbook, some photo corners, washi tape and pens so I can make a scrapbook/diary whilst away (I will probably add to it when we're at home, but at least I'll have the basics done!).  I always mean to make scrapbooks later, but it never happens and I lose all the tickets, leaflets etc.  So this time I'm taking it with me to do each night!
I'm also taking this little box with some wool, crochet hooks and patterns, felt, scissors, needles and thread.  I intend to make a few crochet and felt gifts for family and friends for Christmas (I know I'm getting in there early!!).  I don't do much crafting at the moment as my blogging seems to have taken over, but I do love crochet and sewing, it's very relaxing and it gives me a head start on the Christmas gift making.
Of course I will also take a plain notebook and pen with me for writing down ideas for blog posts too!
Do you like to take crafts with you on holiday?
J x