O's birthday is coming up in the next few months and we are planning a small birthday party for him.  He has asked for a space themed party this year and so we are planning a variety of space activities and food.
I'm loving this cake…
And of course we need a rocket!
 But before any of that can be organised we will need to send out the party invites.  When I was contacted by StressFreePrint to review their service I jumped at the chance, it always takes me ages to manually make invites as I can never find quite what I want to buy.  One of their design team created this fab invitation layout based on my suggestions and I love it.  O hasn't seen them yet, as I know there will be 'is it my birthday soon?' questions every day until the party, but I know he will love them when he eventually gets one in his hands!
Once the design was finalised and proof checked the invitations were sent by courier, arriving within 24 hours!  Excellent service.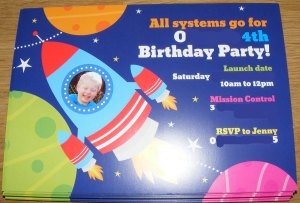 The invitations themselves are great quality, thick card, clear artwork and very professional looking.
The box even arrives with a leaflet telling you who packed it!
All in all StressFreePrint are a lovely, helpful company with a quick turnaround, definitely a good place to go for any printing requirements.
Now I have to plan the rest of the party!
J x
Disclaimer:  I received the invitations in return for this honest review, all opinions are  my own.