Disclosure:  This is a paid post.
Hello Fresh Recipes
We've got into a bit of a rut with our meals recently, so I've been trying out some of the Hello Fresh recipes.  The Hello Fresh website has a whole range of recipes available.  With plenty of options from Thai to Lebanese for inspiration.  The great thing about the recipes is that you can modify them to your own tastes or replacing items with those you already have in your store cupboard.
I have my eye on a tasty looking Asian jewelled rice dish and salmon teriyaki skewers with sesame wedges.  But for this post I wanted a quick meal that even my 8 year old would enjoy.  So I chose to make a quick filling dish of refried bean and halloumi tacos.
Refried Bean and Halloumi Tacos
I'm not very good with spicy food, as many of my friends will tell you!  I have plenty of stories from my travels around the world trying to work out what spice or 'pepper' is in other languages.  Often I find delicious meals that taste good on the first bite until the spice hits and I'm left coughing and eyes streaming!  This has never put me off eating new foods abroad, I'm just a little more careful about what I choose.
Fortunately with cooking at home you can modify the food to your own taste and even cater to different tastes in one dish.  The refried bean and halloumi taco recipe from Hello Fresh includes chipotle paste.  Chipotle taste is very spicy and not something I would be able to cope with, so I chose to omit this from my version of the tacos.  If my husband was eating this with us I would probably separate part of the refried beans to add the chipotle paste to his half, he enjoys spicy food a lot more than me!
Despite the lack of chipotle paste, these tacos were absolutely delicious and very filling.  I added a little paprika to give it a small kick and the lime mayonnaise is a refreshing taste alongside the refried beans.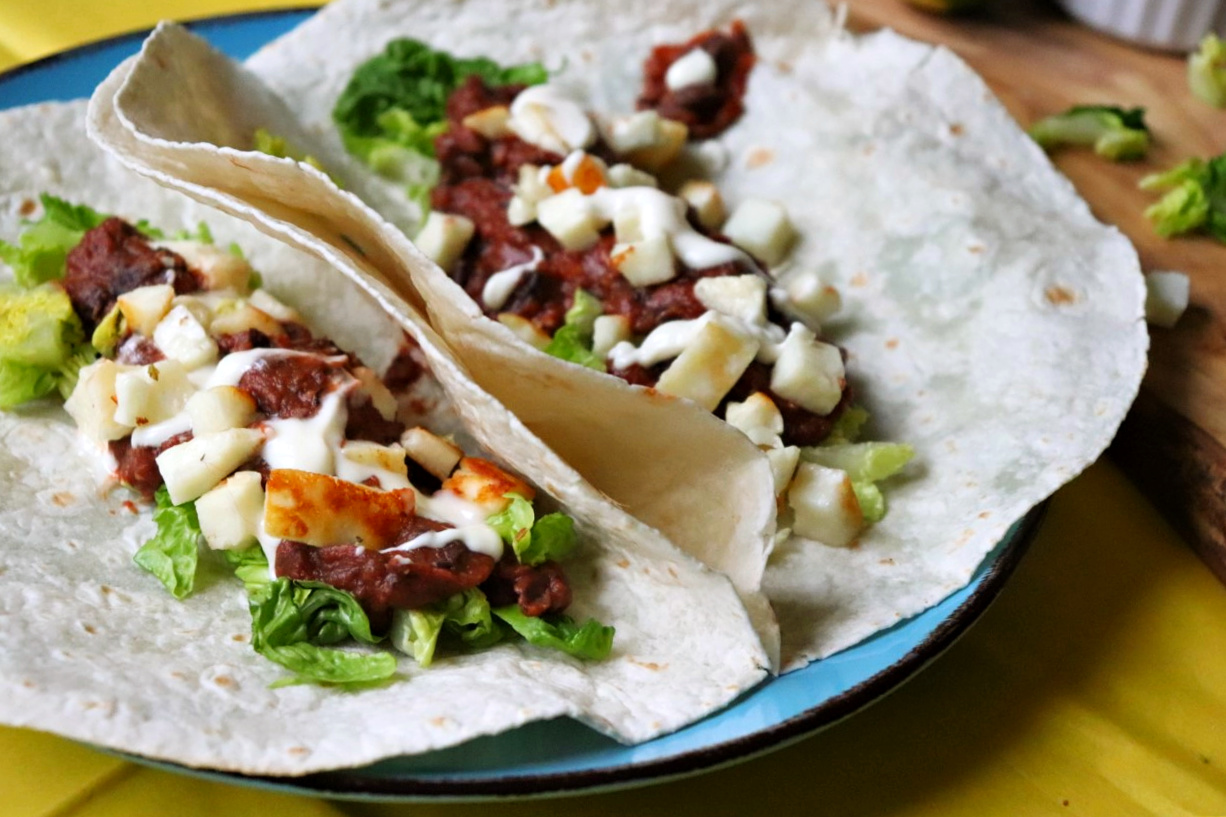 Ingredients
This simple Hello Fresh recipe doesn't have many ingredients and all are straightforward products that you can find in the local supermarket.  The best tortillas for this are flour tortillas, preferably of the mini variety. You can make them yourself or buy from a shop, either would be fine as long as they are heated through before serving.
The only halloumi I could find had other herbs through it, but this just added to the meals taste.  Tomato paste and mayonnaise are likely to be in your store cupboard already and fresh baby gem lettuce, lime and garlic can easily be found in your local grocers.
That's it, that's all you need, aside a little oil and water of course.  Simple ingredients for a quick and tasty meal!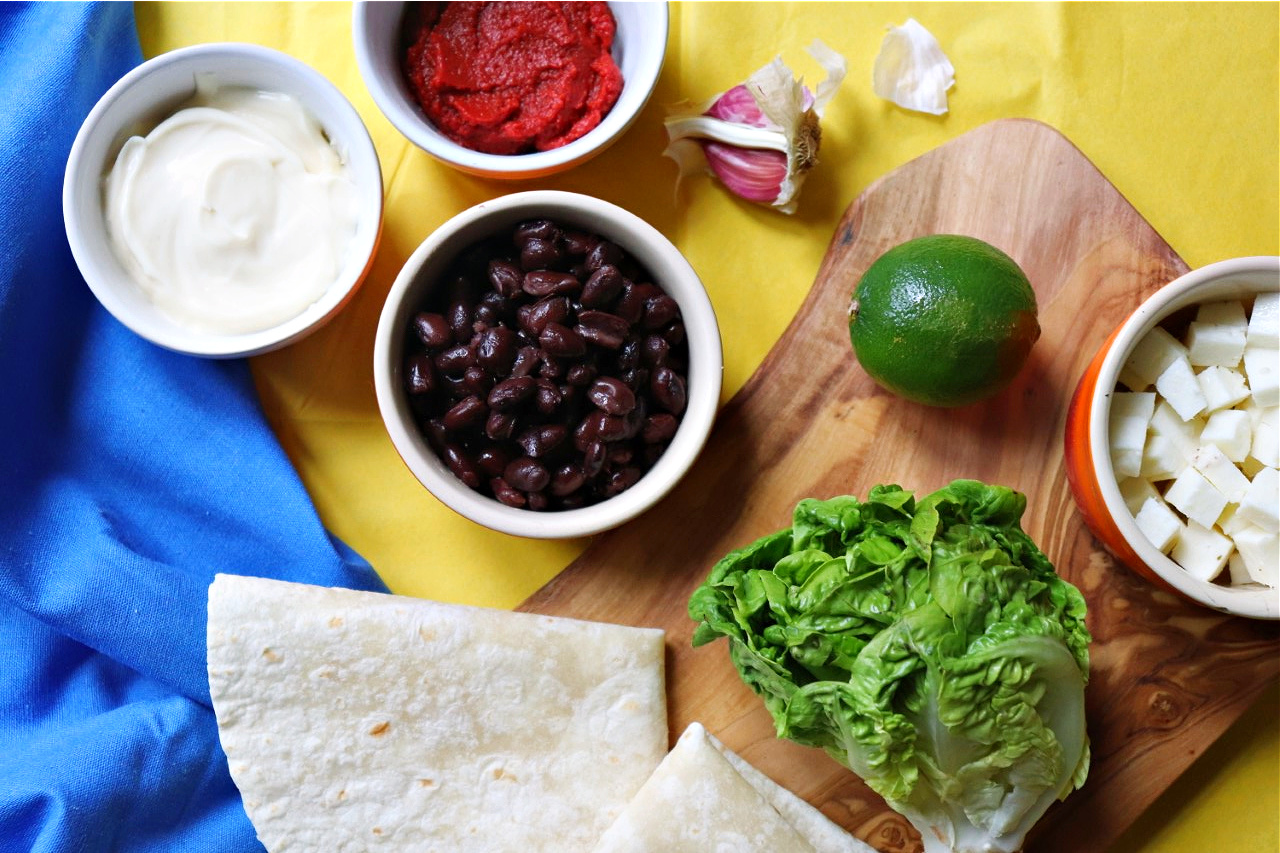 Method
As I mentioned above I went through the Hello Fresh recipes for a quick and easy option.  This really doesn't take long too and can be even quicker if you have someone to distract the kids whilst you prepare the food!
Heat a little oil in a pan and simmer the garlic and tomato paste for a minute.  Whilst it's simmering cut the lime in half and mash the black beans with a fork, don't completely mash the beans as they are much tastier with a little texture.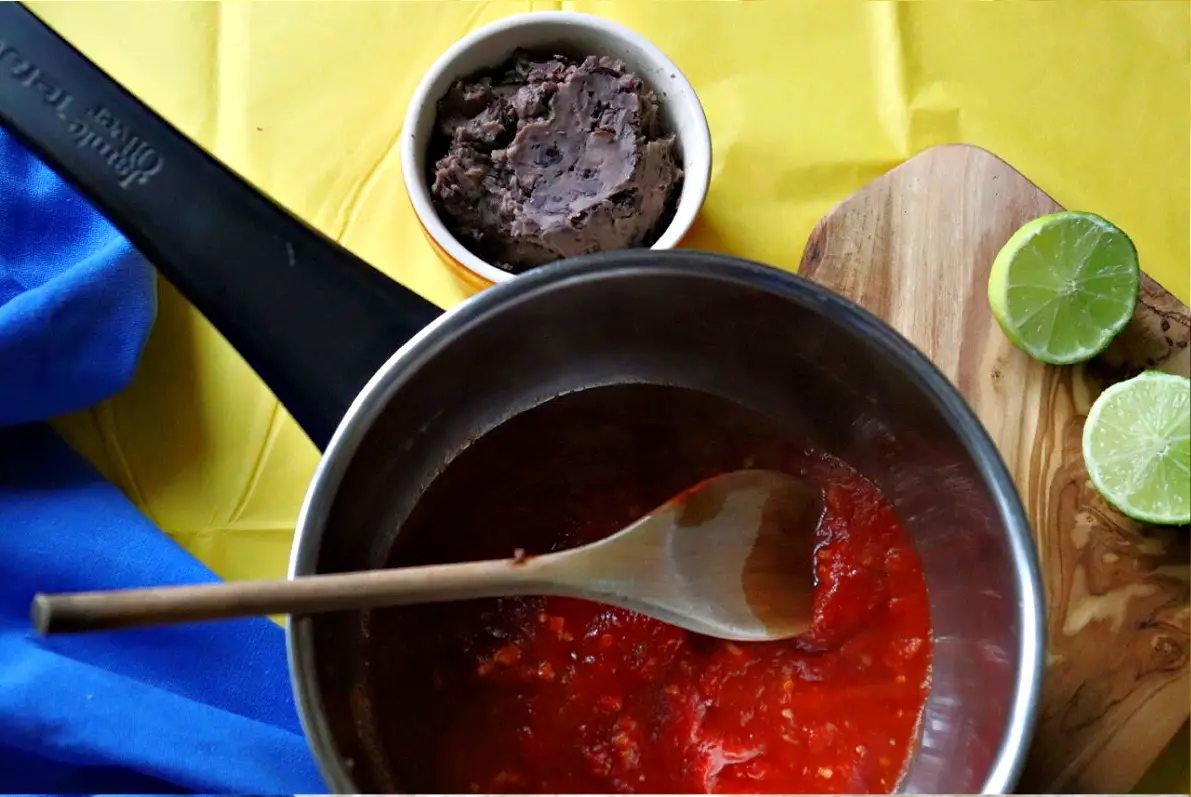 Add the crushed beans to the tomato mixture along with chipotle paste, if you're using it.  If not add a little paprika, plus salt and pepper for taste.  Allow the beans to cook for a few minutes before you add water and let it thicken.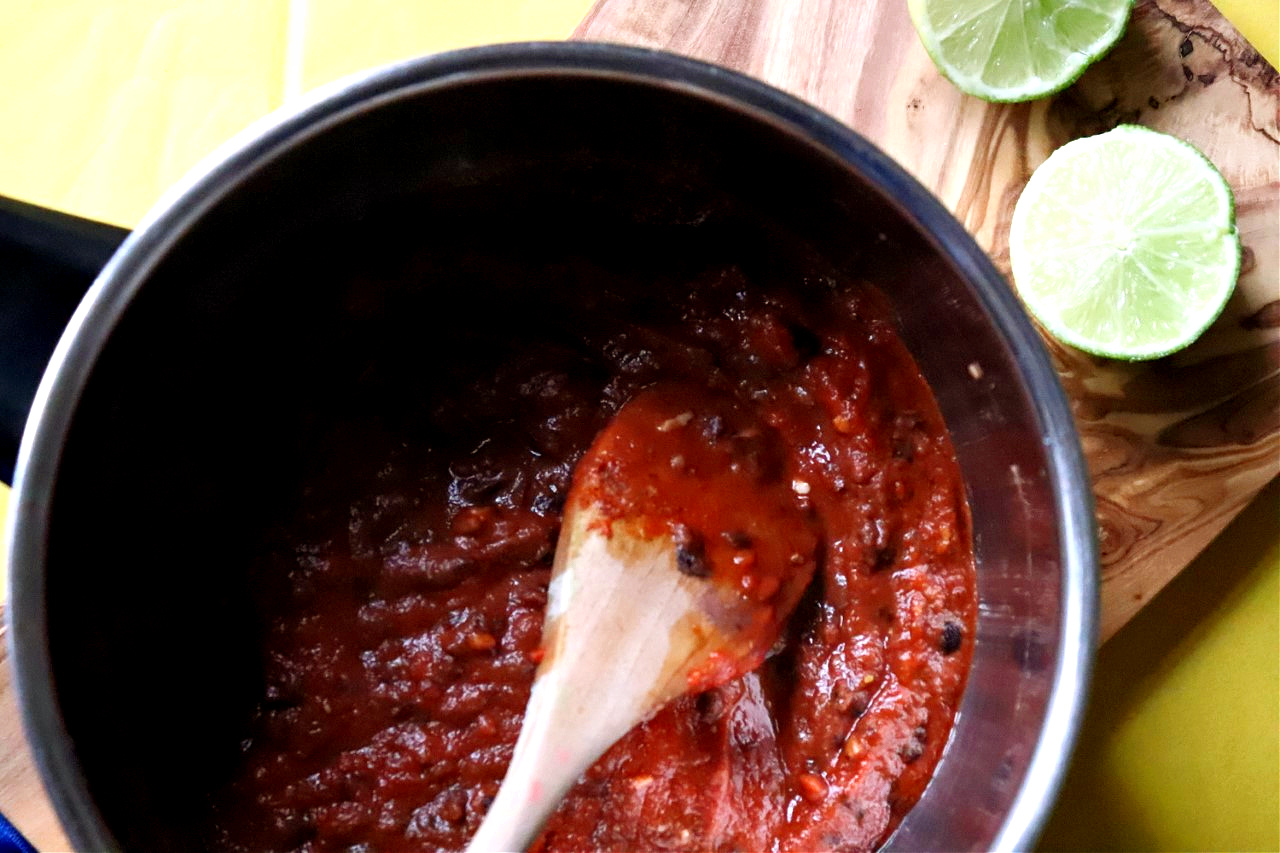 Fry the chopped halloumi until golden, you will find it loses that 'squeaky' texture that many dislike.  Once cooked it's so much tastier and won't squeak at all (or at least I didn't notice anyway!).  Whilst the halloumi is frying chop the baby gem lettuce and squeeze half the lime into the mayo (divide the mayo in half and add chipotle paste to half if you're using).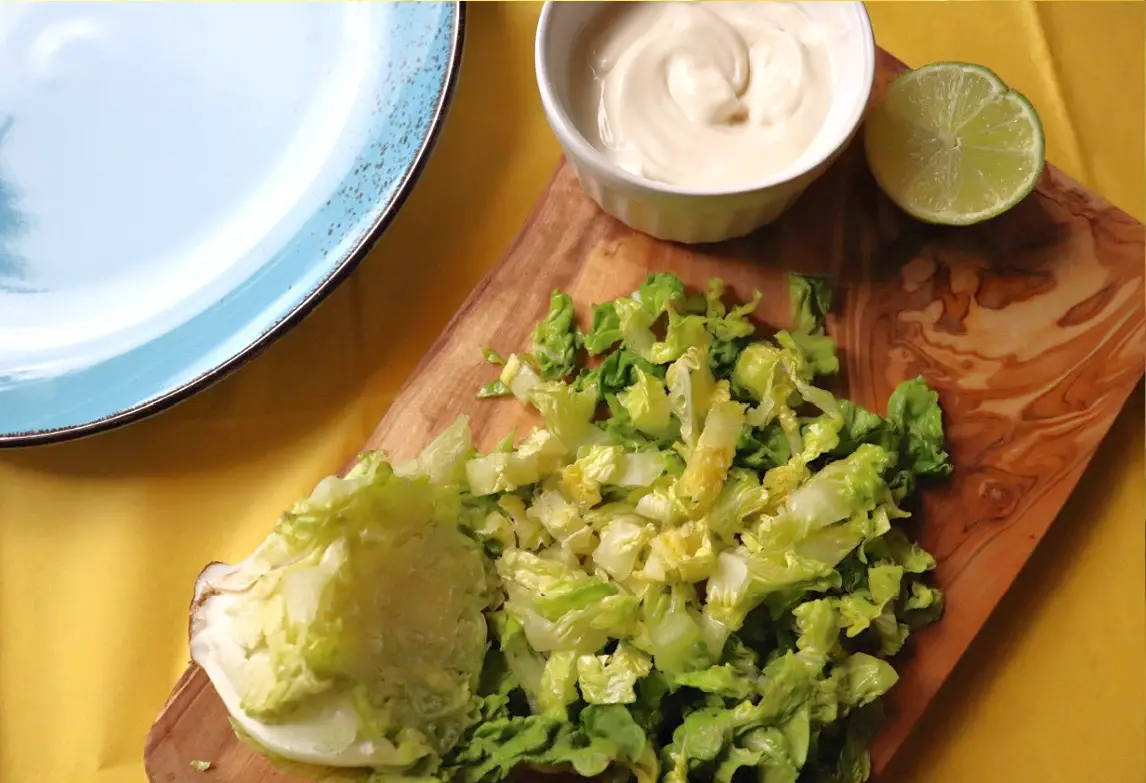 Pop the flour tortillas into the oven to cook through and then lay out onto plates to fill with lettuce, refried beans and halloumi.  Drizzle the refreshing limey mayonnaise on top and enjoy.
Refried Bean and Halloumi Taco Recipe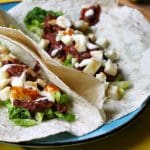 Print Recipe
Refried Bean and Halloumi Tacos
Quick and easy family friendly vegetarian recipe
Equipment
bowl

cutting board

fork

knife

zester

saucepan

frying pan

garlic crusher
Ingredients
1

tin

black beans

1

lime

3

cloves

garlic

3

tbsp

tomato puree

200

g

halloumi

chopped into 1cm chunks

4

tbsp

mayonnaise

1

baby gem lettuce

1

tbsp

chipotle paste

(optional)

8

mini flour tortillas

1/2

tsp

paprika

150

ml

water
Instructions
Preheat oven to 180 degrees Celsius. Drain and rinse black beans in a colander, then mash with a fork until 2 thirds are mashed.

Peel and crush the garlic cloves and half the lime.

Heat a drizzle of oil in a saucepan and add the crushed garlic and tomato puree. Stir and cook for 1 minute, then pour in the water and crushed beans. Cook for 5-6 minutes.

If you want spicy beans add half the chipotle paste, omit or reduce amount if you prefer a less spicy taste. Season well with salt and pepper, add paprika if you are not using chipotle paste. Simmer for 2-3 minutes until thickened.

Heat a drizzle of oil in a frying pan, add the halloumi and fry until golden, around 6-7 minutes. Add the other half of the chipotle paste (if using) to half the mayo. Squeeze half the lime into the other half of the mayonnaise.

Pop the tacos in the oven until heated through. Chop the baby gem lettuce.

Lay the taco on a plate, add chipotle mayo to the base if using. Then sprinkle the baby gem lettuce on top, spoon the bean mix on next and then sprinkle with cooked halloumi and drizzle the limey mayo on top. Enjoy!
Notes
I didn't use the chipotle paste as I'm not great with really spicy food and I was also sharing the meal with my 8 year old son.  The recipe still has plenty of taste with a small amount of paprika to replace the chipotle.  The limey mayo also gives the taco a deliciously refreshing taste.
More Ideas To Try!
Pin Hello Fresh Recipes