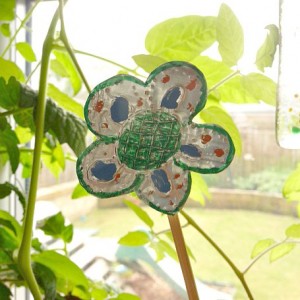 This weekend we made these cute plant markers to decorate our indoor tomato plants.  They would also be great to make plant specific markers to place at the head of vegetable garden rows or for decorating a fairy garden.
They are very simple to make and O had fun making several different markers.
First you will need:
– Foil container, like those that chinese take-aways often come in.
– Hard tipped pen or pencil.
– Coloured permanent markers.
– Scissors.
– Skewers.
– Super glue or similar.
1.  Take the foil dish and cut off and area large enough to make your desired shape.  We made flowers, a bird and a butterfly.  If the foil isn't flat you can roll it out with a rolling pin.
2.  Draw in pen the desired shape and cut it out.
3.  Draw patterns on the foil (on the wrong side) with the hard tipped pen/pencil, so you can see the impression on the opposite side.
4.  Turn it over and colour in using the permanent markers.
5.  Glue a skewer to the back and place in the soil.
Ta-da!
Soon you'll have a whole collection of plant markers (and a reason to have a Chinese take-away!).
Enjoy!
J x