+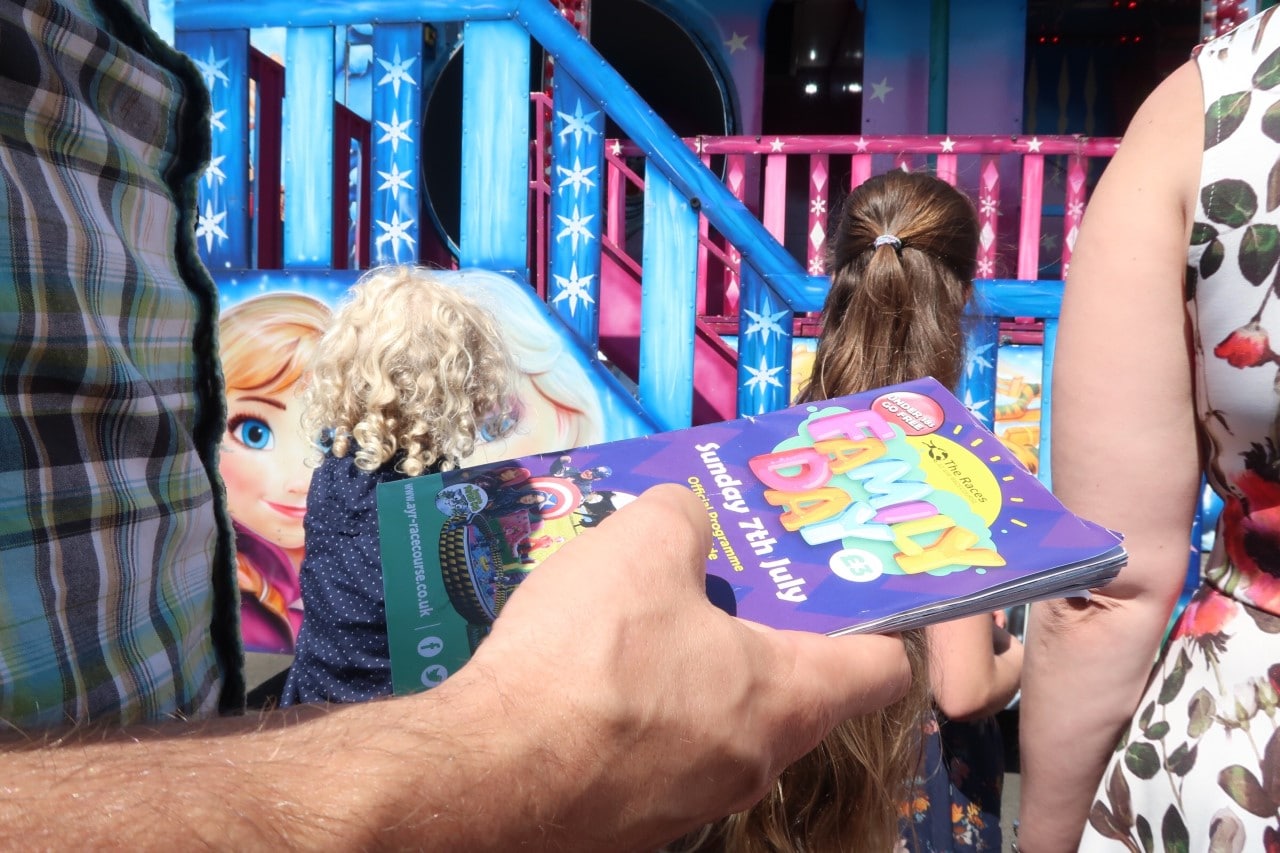 Disclosure: I have been compensated for this post
Days out with kids can be very expensive, so it's great when we find somewhere that has free kids entry.  Great British Racing has over 50 family days up and down the country this summer, with free entry for under 18's.  Not only do the kids get free entry, but there's also a huge range of entertainment for the kids, all free!  I don't know about you, but free entry and free kids entertainment is clearly a good deal!
We headed to Ayr racecourse in July to check out the entertainment available for the kids.
Entertainment
Mascot Marquee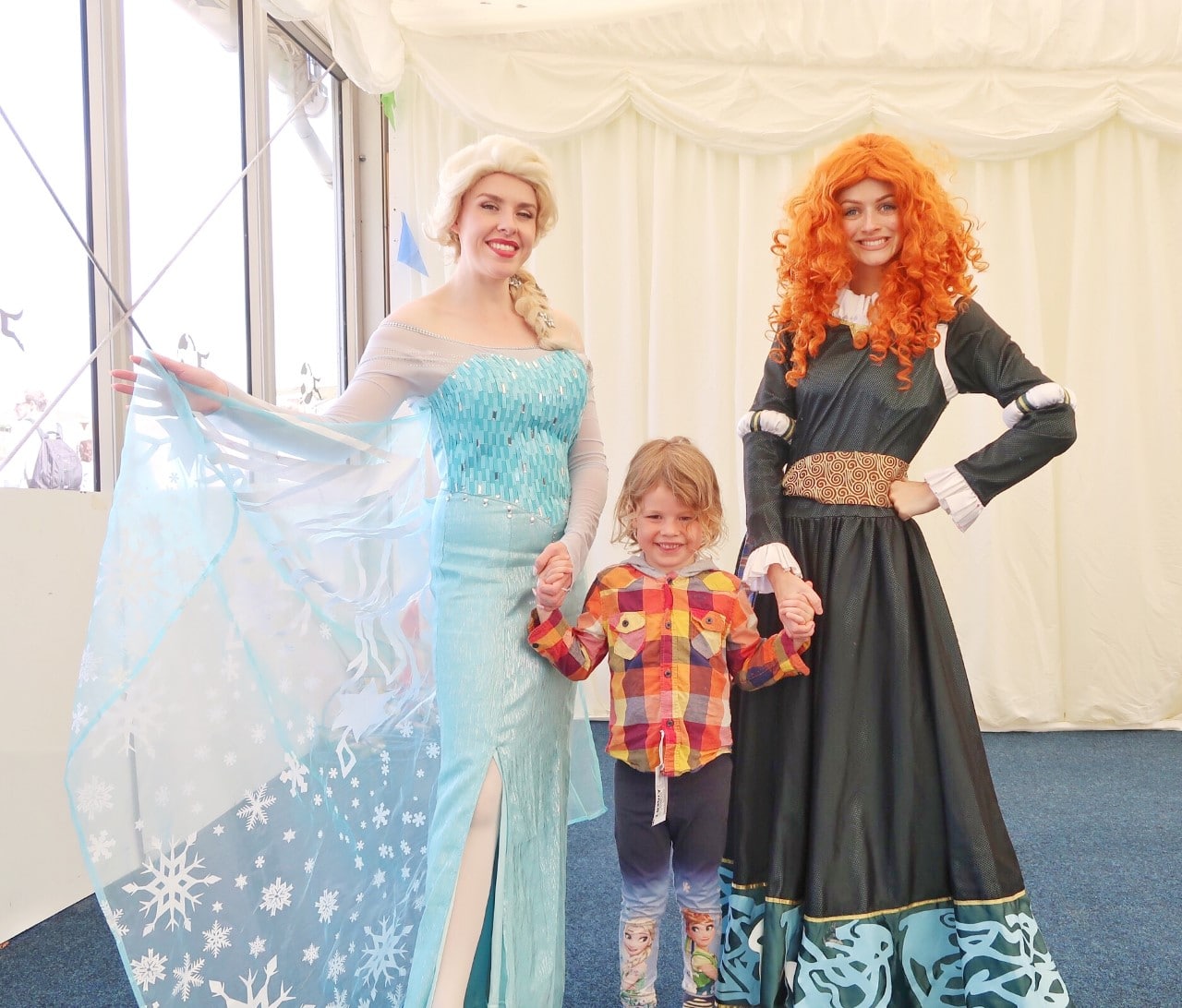 The mascot marquee was one of our first stops and where the 5 year old got to meet one of his heroines, Elsa.  He also met Merida from Brave for the first time, who was lovely, although I still don't think we'll be watching Brave anytime soon.  He's not the happiest with 'scary' films!
Inside this tent the children also had a great time trying out the 'velcro wall', I'm not sure what else to call it!! But I'm sure you can imagine what I mean, with a wall of velcro and children throwing themselves onto it in special suits with velcro strips.  They had great fun with this and enjoyed seeing how high they could throw themselves on!
The 7 year old also tried the bucking bronco machine, although it clearly wasn't easy and he slipped off after spinning round a few times.  I'm not actually sure if adults were allowed on, maybe we should have tried it too?!
At the end of this marquee there was also a 'Mystery Tent', which looks like a normal tent, but apparently had an escape room activity.  As the task takes 20 minutes to complete and there were always others waiting outside we never managed to try the mystery tent itself.  Perhaps it would be a good idea try a ticket system, so we would know what time to come back at?
Creative Marquee
The creative marquee was very busy as this was where all the craft activities were located.  Naturally the kids spotted the Lego wall first and sat down to make their own creations.  Our 7 year old will sit down and work on his Lego models for hours, so he happily found bits and pieces whilst his little brother waited for daddy to build something for him…
Once the 5 year old got bored of Lego we headed over to see the crafting table.  A few craft materials, stickers and glue and ta da, a superhero spoon was born.  He was quite pleased with this creation, as you can see!
There were plenty of dress-up items on the other side of the room and littlest continued the superhero theme and dressed up as a red superhero to get his photo taken in the giant frame.  We came back later to pick up the photo that was taken, which wasn't professional quality, but wee one was very pleased with it.
Through the other side of the room were several face painting stands with a large queue of children.  Although the queue was quite long there seemed to be enough face painters for the wait to be fairly short.  Neither of my two felt like getting their face painted, but there were plenty of other kids wandering around with great designs.
Fairground Rides
The children's favourite part of the family day was definitely the fairground rides outdoors.  Normally at fairs and gala days we have to pay extortionate prices to go on the rides, so they were ecstatic that they could go on all the rides they wanted as many times as they pleased.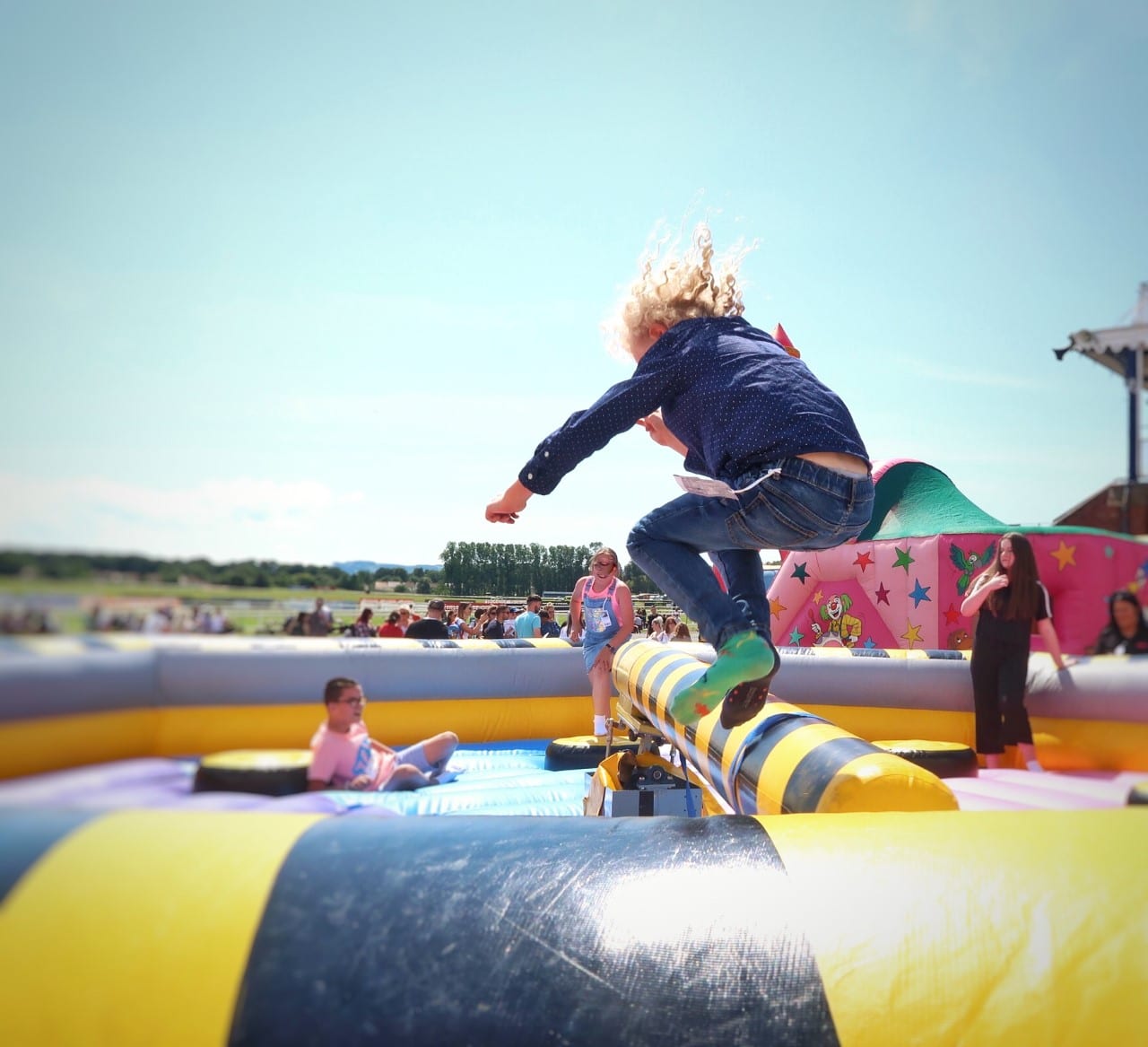 There was a short 5-10 minute wait time for most of the rides, but not too long when we were there all afternoon.  Eldest loved the spinning arm inflatable that you need to jump over as it passes by.  Whereas littlest preferred the tea cups and the Frozen decorated shake house.
In a separate courtyard there was also a small bouncy castle with slide, which had a much shorter queue than the ones in the main concourse.  When we arrived there were a few too many children on together, but the attendant was stricter with the number of children later on.
Animal Handling
Beside the inflatable slide in the courtyard area there was a mini zoo.  A variety of small animals were there to be seen and handled, with a couple of people to talk to the children about the animals.
Our two were too busy on the rides to look closely at them, but there appeared to be giant land snails, a snake, cockroaches, spiders and some other small animals.
Facilities
There were plenty of toilets throughout the racecourse and we never had to queue for any of them, despite it being very busy.  They were very clean and well looked after too.
For lunch there were plenty of stalls to choose from, including burger stalls and an ice cream van (with a very large queue because of the hot day!).  There was also a children lunch box deal available in the creative marquee, where the children could get a sandwich, drink and a few other items for around £3.50.
Racing
Mascot Race
At Ayr racecourse family day there was a special mascot race, I'm not sure this is the same at other family racedays, but it was certainly amusing for the kids.  Especially when they fell over at the finish line!
It was a nice way to introduce how the racing would work, although our two thought the mascots should have been on horses too.  I'm not sure that's particularly practical though!
Horse Racing
There were 7 races throughout the afternoon.  Although there were so many I think we only actually saw a couple of the races!  The kids were too busy with all the entertainment.
It was amazing to see how quick the horses thundered past, the only horse events the boys had previously seen were horse jumps at the local agricultural show.
They both also had a shot on the model horse that they could use to practice racing whilst standing, just like the real jockeys.  Eldest was old enough to use his weight to bounce it himself and get a real feel for what it would be like to race a horse!
Verdict
All in all we had a great day out and I love that under 18's get in free at Great British Racing's courses throughout the year.  However, after such an amazing family day, I don't think they would want to go unless there was lots of exciting entertainment again!!
We had no issues with the day itself, although there was a bit of an issue with the parking.  After speaking to staff at Ayr racecourse this should be sorted for next time, with an attendant on-hand to make sure that cars are parked properly.
The kids are excited to go again, so we'll be looking for another family day to attend later this summer!