Last Friday we set off on our own adventure.  Admittedly it didn't go quite to plan and we ended up stuck in traffic in heavy rain.  But we didn't let that stop us, oh no no no, we ran like mad through Glasgow's streets to reach the UK Theatre School in time.  It may have looked a bit comical to any onlookers, but we did it, we got there just in time for one very special Disney workshop.  And then the adventure began!
Passport To Adventure
The new Disney on Ice show this year is 'Passport To Adventure', where you travel through all of Disney's favourite stories.  From Africa to meet Simba, to the underwater world with Ariel and then Peter Pan flying over London, off to Arrendelle with Anna and Elsa.  It really will be an amazing adventure for everyone!  The Disney on Ice crew will be starting their shows in the UK in the autumn and it's going to be fantastic!
Before the show starts we were lucky enough to be invited by several of the Disney on Ice dancers to take part in special workshop.
Passport To Adventure Workshop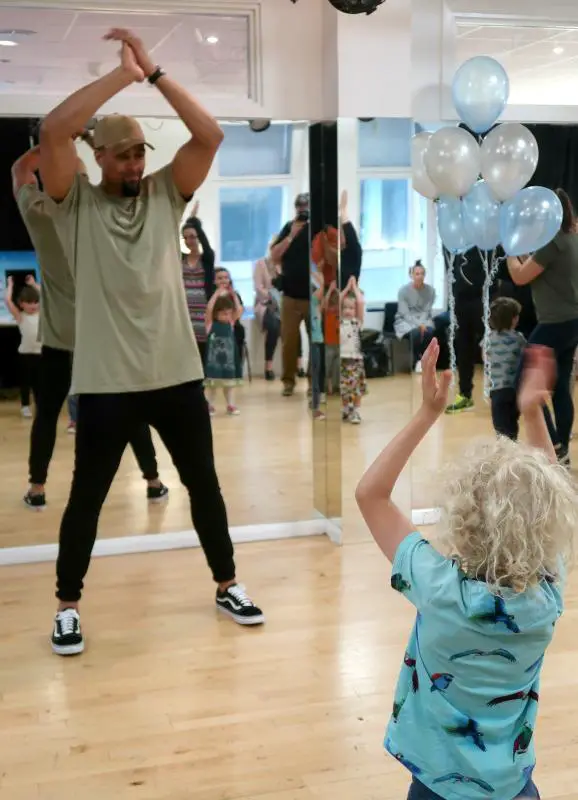 The workshop was at the UK Theatre School in Glasgow and although we only just made it on time, the event was worth the mad dash for.
We started with an introduction to all the dancers and who they normally played on Disney On Ice and of course the special guest, Ashley Banjo from Diversity.  Ashley led a game of Peter Says as an icebreaker for the families involved.  I have to admit I need to practice my listening skills as I kept getting it wrong!!
Everyone was then split into two smaller groups to work on our own little shows.  Our group had a jungle theme and spent time choosing animals and a story to follow.  It was very basic, but perfect for the younger children in our group who had a fantastic time choosing their animal character and dressing up as them.
Our final task was to put on the show to the other half of the group.  It went well and our eldest even had a starring role as a parrot, which he loved.
Clearly they both had a ball as they couldn't stop talking about it the following day!
Passports
Throughout the event the boys each had a paper passport that they received stamps from Ashley.  They had stamp for everything from the warm up to performing the story.
You could easily make your own passport on the computer, then get your children and their friends to make up their own story with stickers for passport stamps.  This would be a fab activity for a birthday party or any group of children.
Do your children like Disney On Ice?   Are you going to Passports To Adventure?
* We were invited along to the workshop for the purpose of this blog post