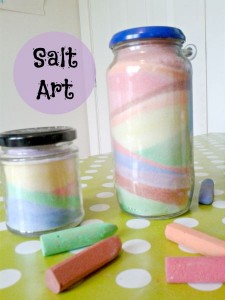 Yesterday it was raining yet again, come on summer, please come up to Scotland for more than a few hours?!
Anyway, after an earlier walk I needed something quiet'ish to keep O occupied while the toddler napped.
Well this definitely kept him quiet and happy for over an hour, with minimal help from me.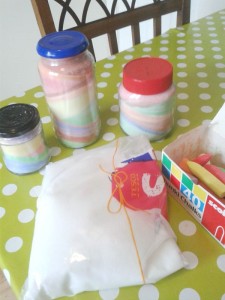 All you need is:
– Salt (big bag of cheap salt)
– Chalk (variety of colours)
– Jars (clean off the labels of any you were about to recycle)
– Piece of white paper
First off lay down the white paper and pour some salt on top.
Second, rub the chalk over the salt until it's the strength of colour you would like.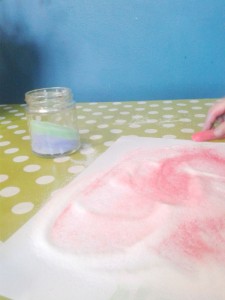 Third pour into the jar.
Fourth, repeat until the jar is full of stripy colours!
Ta-da!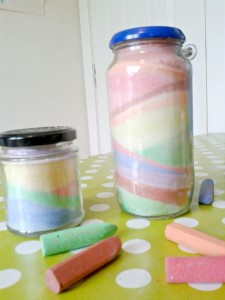 For older kids (even O at almost 4 understood the concept a bit) you can make the layers represent landscapes.  For example a seascape could have yellow beach at the base, blue sea, green grass, yellow, orange and red sunset.  Check out this cool video I found of an expert at work (although this is of sand!)
Let me know if you give it a go!
J x