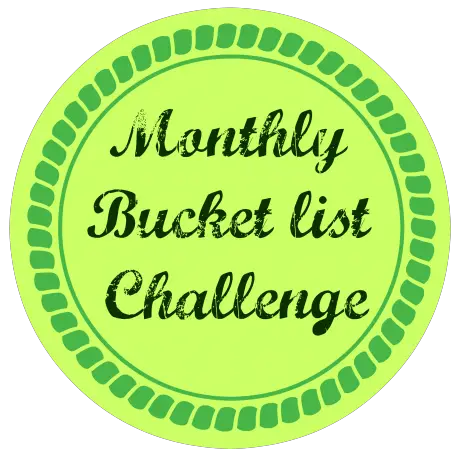 I'm joining in with Beth over at Twinderelmo again to set my monthly goals through a bucket list.
This is October's bucket list (I missed November!):
1. Sort out those pallets, pull them apart (or rather bug OH until he pulls them apart, hope you're reading this btw!). Half done, one is apart, but the weather has been awful so still one to go and sanding to do.
2. GO SWIMMING TOGETHER!  At least twice.  Yes, we have been swimming twice!
3. Have some 'me' time with my friends (another cheating one as this is planned already, yay!).  Done! 🙂
4. Tidy the blog up, I need to move a few things around.  Part done, been quite busy in the run-up to Christmas.
5. Try and increase my Pinterest followers, any tips on this is appreciated, it's proving a hard nut to crack in blogging.  Yes, almost 900 now. 🙂 Thanks for the advice Stevie. x
6. Have another morning/afternoon out with O, some mummy and son time.  We had a lovely morning in the woods together last weekend. Not managed this, always had A with us.
7. Include more crafts/activities aimed at A (21 months) rather than O.  Yes, he's had fun painting, gluing and most importantly to him, glittering, he loves glitter!
So for December's bucket list:
1. Complete all my posts for the 12 Days of Parenting blog hop and Competition.  I chose  to write 8 posts for this, which, in hindsight, was a bit silly! Eeek!
2. Finish organising the blog, is there a widget that sorts post into different pages by keyword?  That would make life easier!
3. Make homemade Christmas tree decorations with the boys.
4. Take a little blogging break between Christmas and New Year, more time with family instead! 🙂
5. Tidy/put away all the summer outdoor clothes and kids summer clothes that they no longer fit.
6.  Ebay some of the hardly worn jackets.
7. Try out some new meals as dinner is getting quite boring again!
8.  Have a fantastic Christmas with my little family.  It's so much better when you see Christmas through the eyes of little kids.
Have a great month!
J x