We had an amazing time in Iceland, there was so much to see and do, but of course some things were more exciting for the kids than others.  These are there favourite attractions, in no particular order.
Perlan Museum – Reykjavik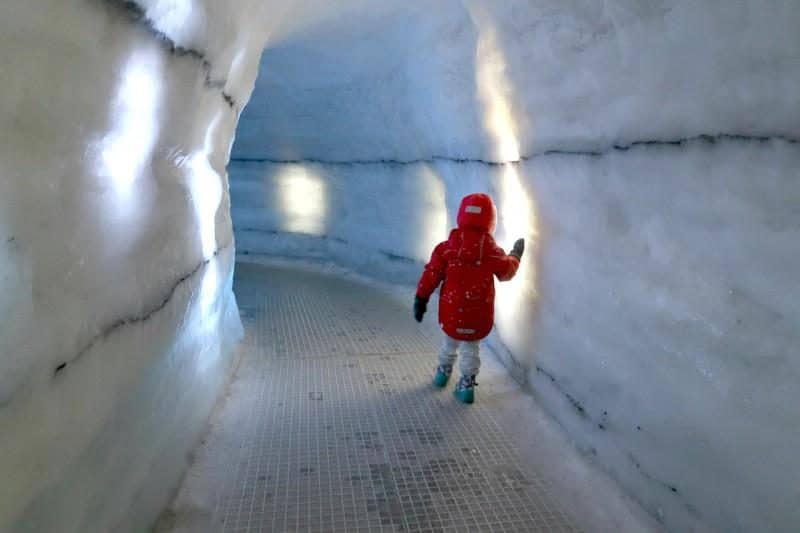 Reykjavik is one of  best European cities to visit with kids, there are plenty of family friendly places to visit, including the Perlan museum.  As part of the entrance fee you are given a guided tour of their man-made ice cave, which is -10 degrees celsius and a really interesting experience.  There are several parts of the glacier cave where you can go through tunnels, which of course the kids loved, especially when there are little holes to peek at the glacier 'mice'.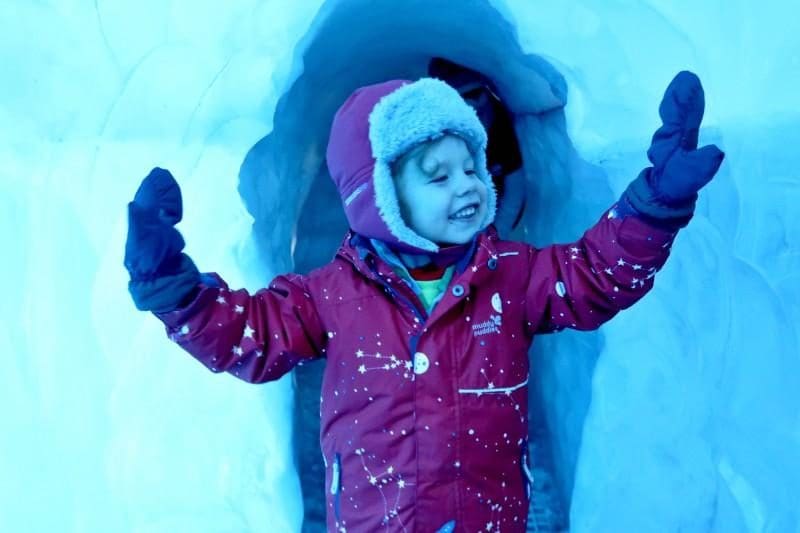 After your tour around the glacier you enter the museum itself and can try out lots of interactive features.  Fantastic for both kids and adults.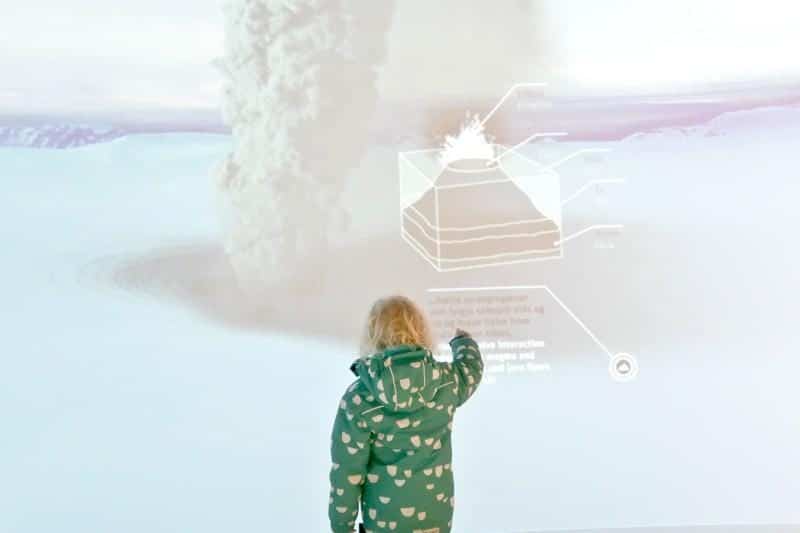 Whales Of Iceland – Reykjavik
Another museum we loved visiting was the whale museum in Reykjavik.  It would be a great place to visit before you head off on a whale watching trip, or on your return as we did.  You are given headsets each to listen to the audio tour, which the boys enjoyed and could easily skip forwards whenever they wanted to move on.
Once you have finished listening to the audio tour younger children may enjoy playing on the Orca play structure. We stayed for an extra 40 minutes or so to let the boys play on the Orca and have something to eat at the cafe.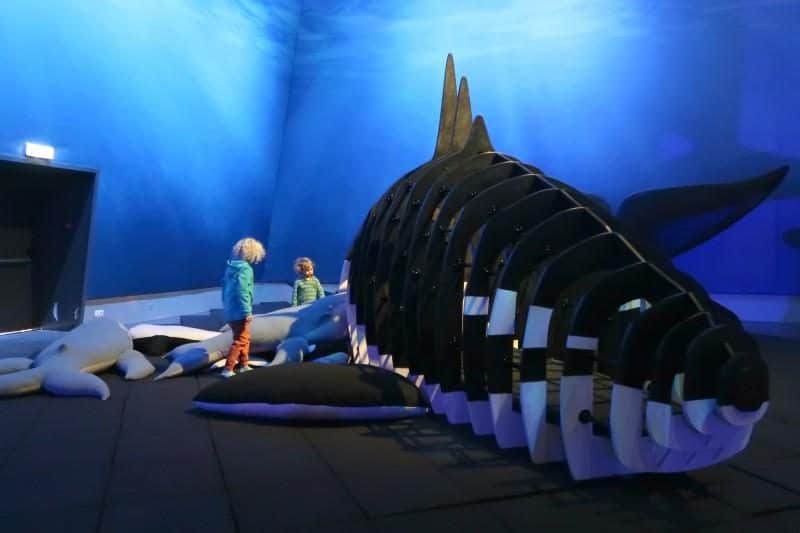 Secret Lagoon – Fludir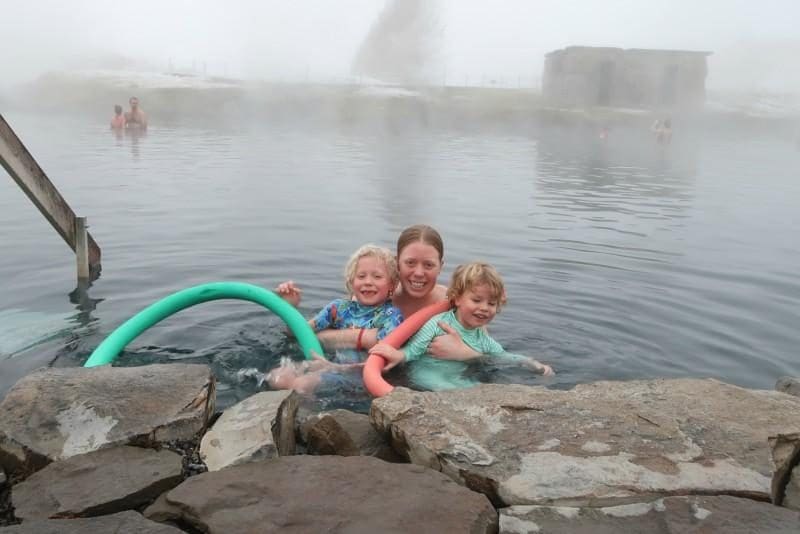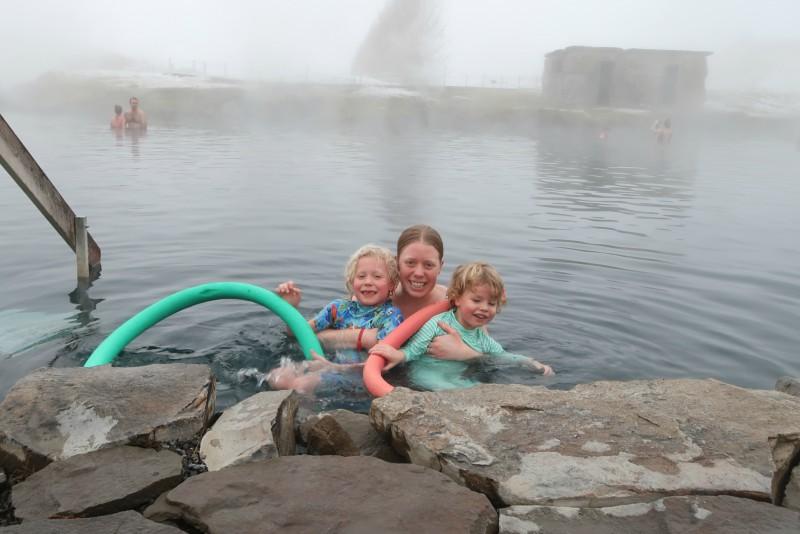 My eldest announced that this was his favourite part of the trip.  He loves swimming and being in water, so an outdoor hot pool was right up his street.  You wouldn't have guessed it when they first went in though!  It was snowing and you have to walk across the concrete outdoor ground to get to the pool and by then the hot pool feels almost burning.  We had the children sit on the steps and come down one step at a time every couple of minutes until they were used to the temperature.  They loved it and were happy to go in and out to cool down every so often.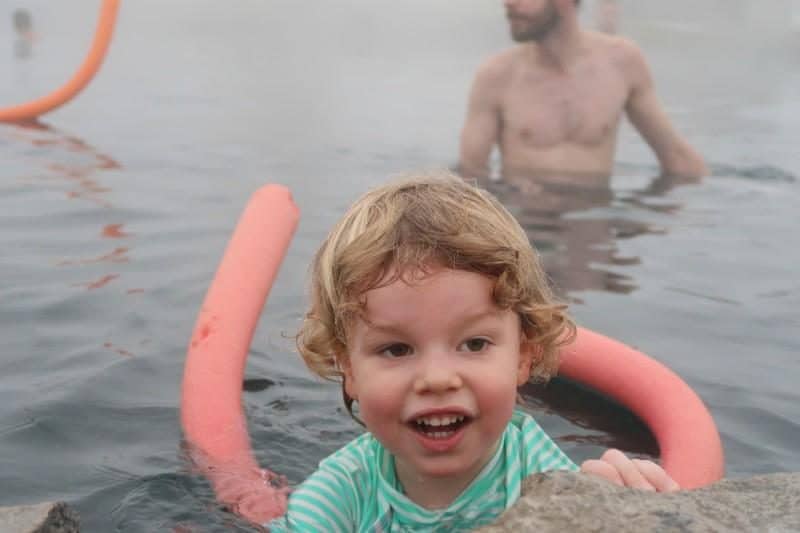 The Secret Lagoon at Fludir is not far off the Golden Circle route, so it was easy to incorporate it in the same day.  You do need to book as everyone is given a time slot and keeps the lagoon fairly quiet and relaxing.  Towels can be rented, there are flotation devices for the children in the same room you leave your shoes (we only noticed them on the way out unfortunately).  Pool noodles are also available at the pool side and the floor of the lagoon is made of stones and gravel for a more natural effect. Be warned that some areas of the lagoon are hotter than others, the children stayed in the 'coolest' part by the steps.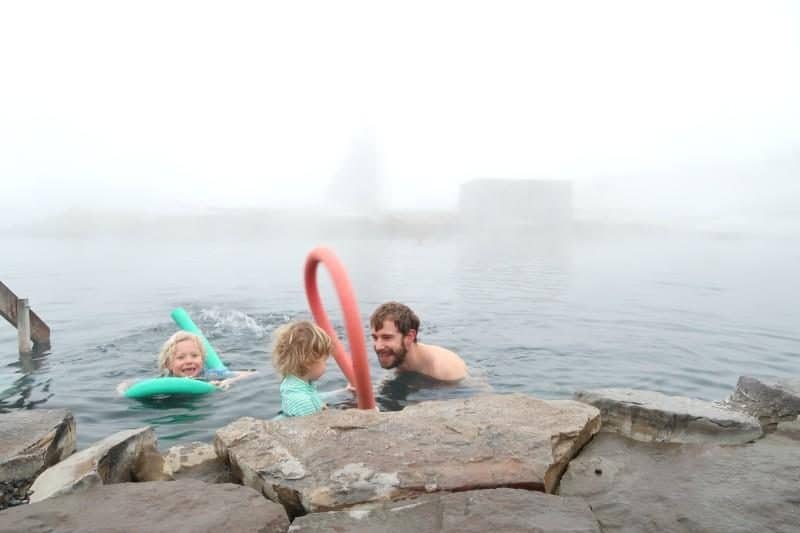 Whale Watching – Reykjavik
I've already written about our whale watching experience over here, with lots of information about Reykjavik Sailors.  Whale watching was probably more fun for our 6 year old, but it's a long time out on the boat and can get boring if no whales are seen.  So I definitely suggest bringing some activity books and stories to keep them happy in between searching the waves for whales.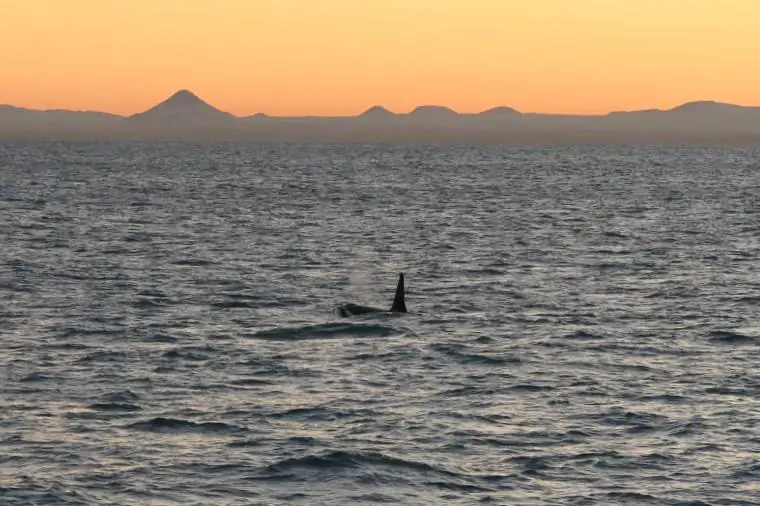 Once we saw an Orca my eldest was thrilled and became very animated for the rest of the journey as we travelled back to Reykjavik.  Before we saw the whale our kids were asleep downstairs, but hopefully you will be luckier than us and see more wildlife at the start of the trip.
Geysers – Golden Circle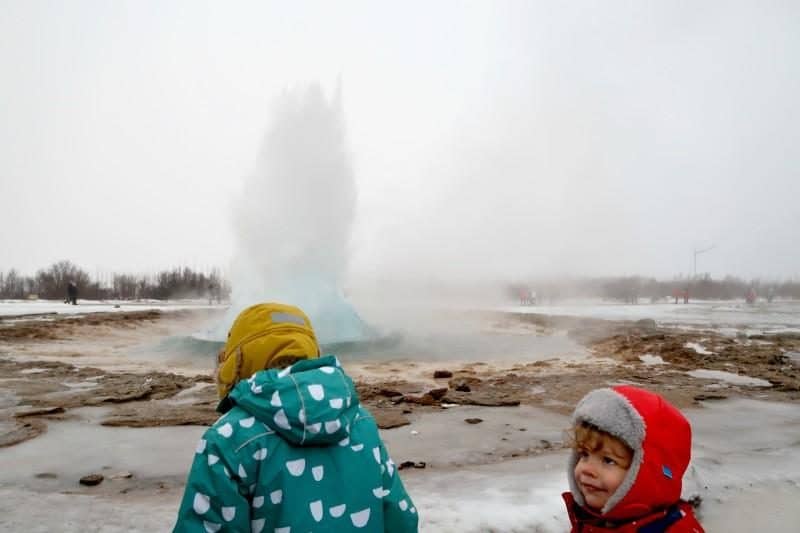 The Stokkur geyser at the Geysir on the Golden Circle route doesn't fail to get gasps and awe.  Every 8-10 minutes or so it erupts and it can be pretty spectacular.  Some eruptions are larger than others, but the best place to see them is on the opposite side of the geyser from the main walkway.
When you are watching you will see the water in the geyser starting to bubble a little and then the water level starts to dip a little before a huge bulge of blue water bursts up into steam.  It's fun predicting it and the kids loved watching the eruptions!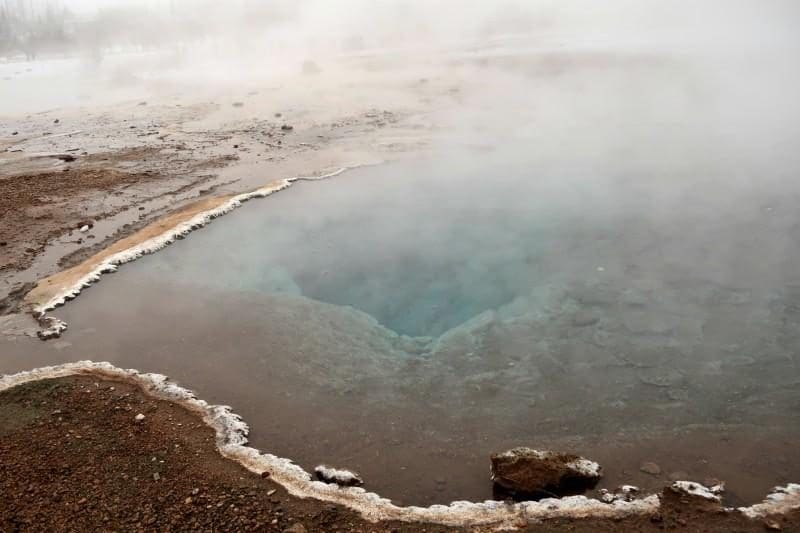 If you are visiting in winter wear grips on your shoes as it's fairly slippy and icy.  If there's one thing I wish we had brought it would have been grips for shoes!
Into The Glacier – Langjokull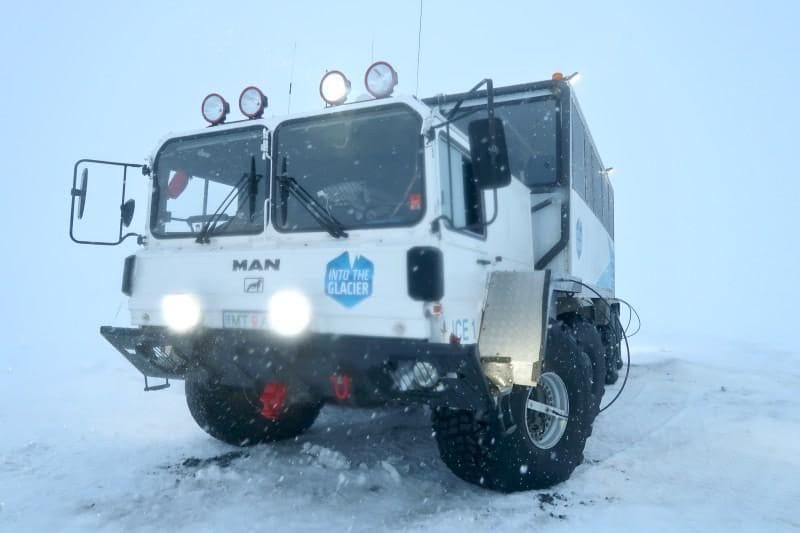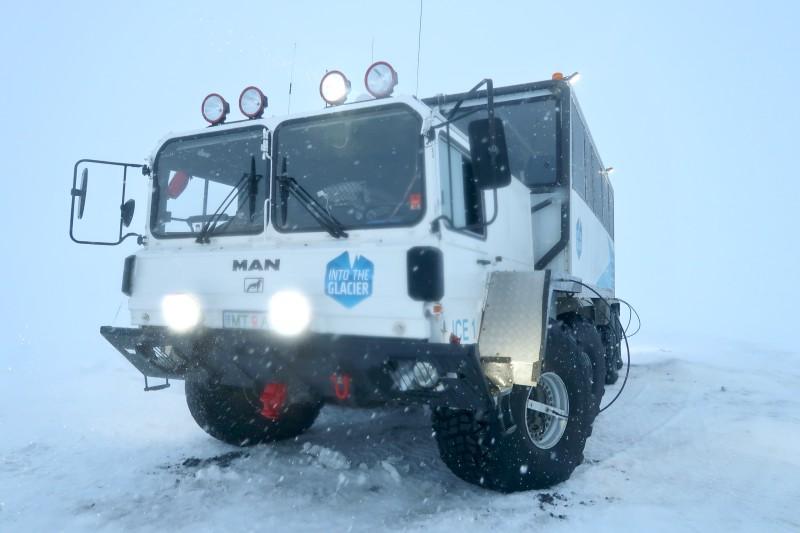 This was one of my favourite experiences, but the kids loved it too.  A ride on a huge all terrain vehicle over the Langjokull glacier and then actually going inside the glacier too.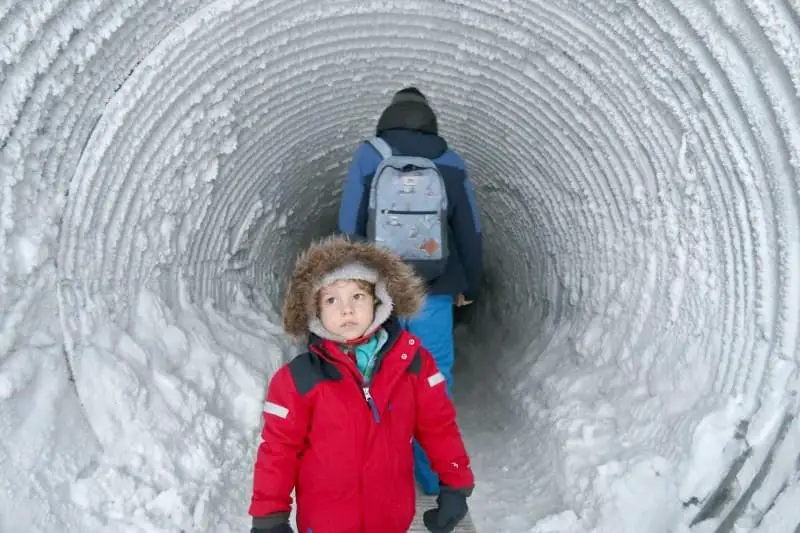 I have written all about our Iceland glacier experience over here, with lots of tips and advice for visiting with kids.  It's not actually that cold inside the glacier, but we were freezing on the glaciers surface with wind whipping snow past us!