The Best Glamping And Campsites In Scotland
So what constitutes these particular campsites as the best in Scotland? Well, some of the below sites we've visited ourselves and absolutely loved!  Others are due to their location or the glamping accommodation provided.  Have a read below and let me know which site stands out to you as a favourite to visit.
Invercaimbe Campsite, near Arisaig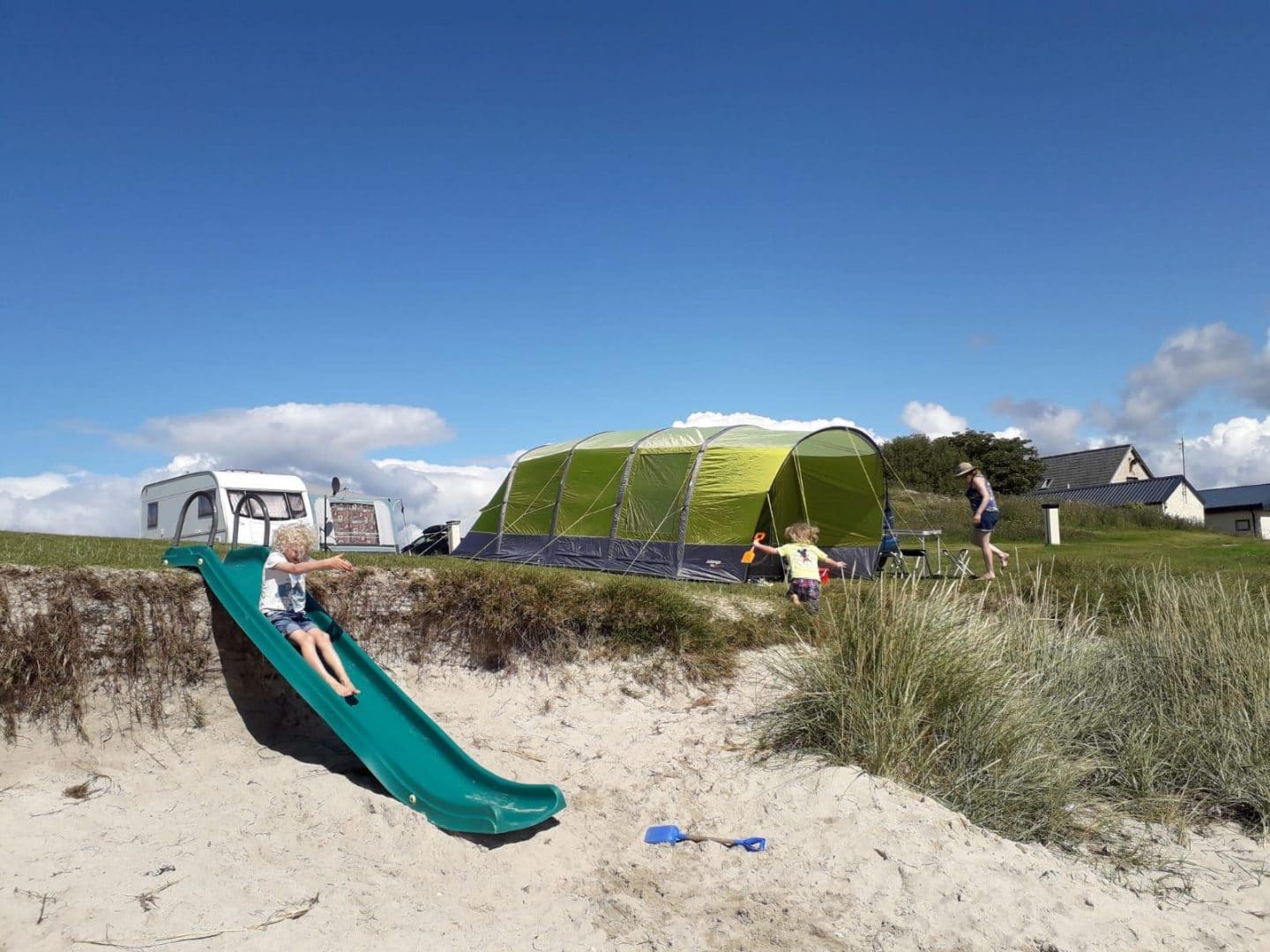 Invercaimbe campsite is an absolute favourite campsite of ours and we've visited several times over the last few years.  Right by the beach you can enjoy a small and friendly campsite.  The owners are very helpful and we've had no problem booking in a tent (they can squeeze them in easier than motorhomes).
From Invercaimbe you can easily visit Mallaig or take the boat from Arisaig to Eigg and Muck.  It's also very common to see whales and dolphins on the crossing to Eigg, we saw at least 2 Minke whales and lots of dolphins on the way there and back!  Our best trip for seeing whales and dolphins in Scotland!
Harvest Moon Holidays, near North Berwick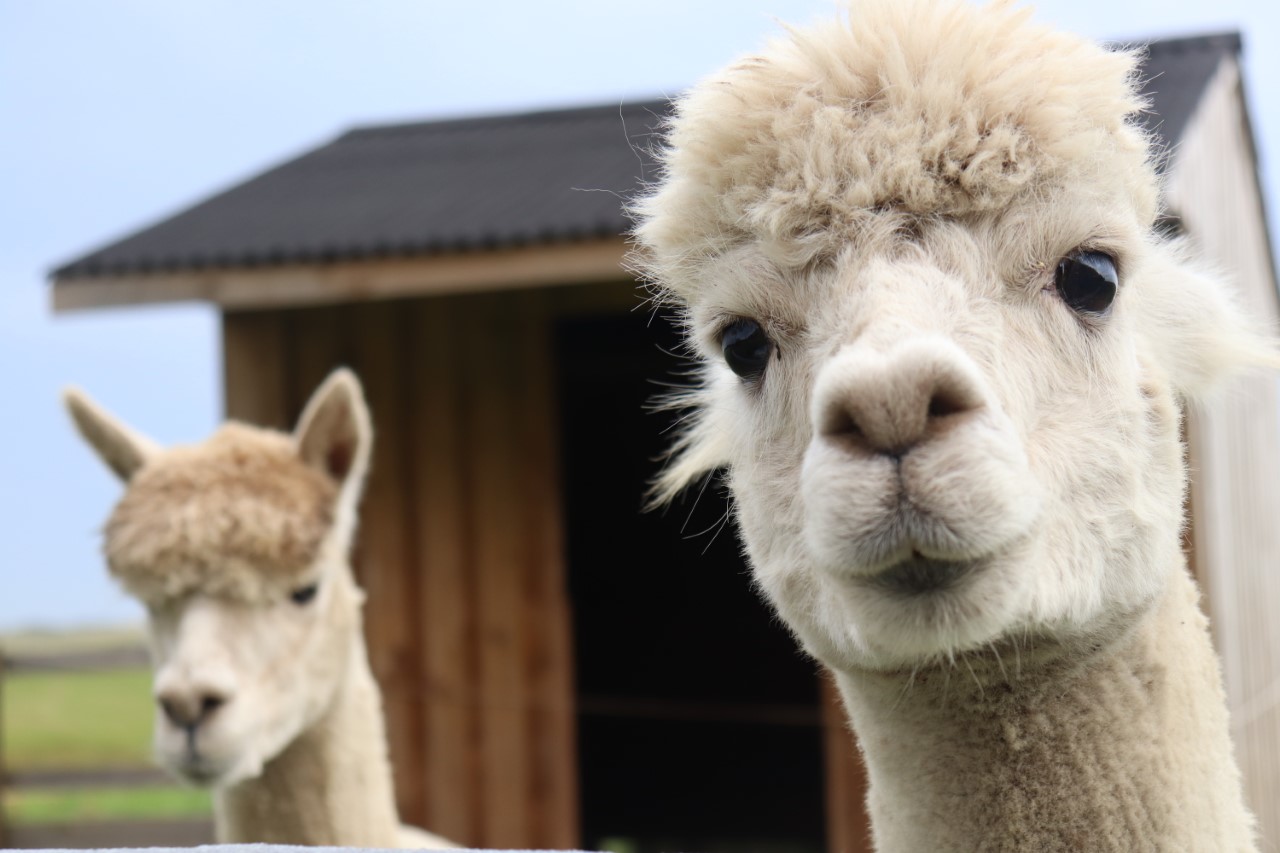 Harvest Moon Holidays glamping site near North Berwick is a great place to stay. We stayed for my son's 9th birthday in the treehouses and had an amazing time!  This is the perfect glamping holiday, with your own bathroom and kitchen in a fantastic looking treehouse structure!
It's beside the sea, so you can visit it every day during your stay. Chickens live on the site and you can help feed them and the llamas in the field next door.  We especially loved the cheeky llamas!
You can spend the days walking along the beach, rock pooling, swimming and walking in the local woodlands.  It's the perfect place to get away from it all on the East coast of Scotland.
Balranald Campsite, North Uist
We visited the beautiful Balranald campsite on North Uist in 2019 and had a fantastic time.  We were staying in a rented campervan on the site and had a spot not too far from the entrance.  Just across the dune from the entrance is the most amazing beach with stunning white sands and turquoise sea.  Certainly one of the most beautiful beaches in Scotland!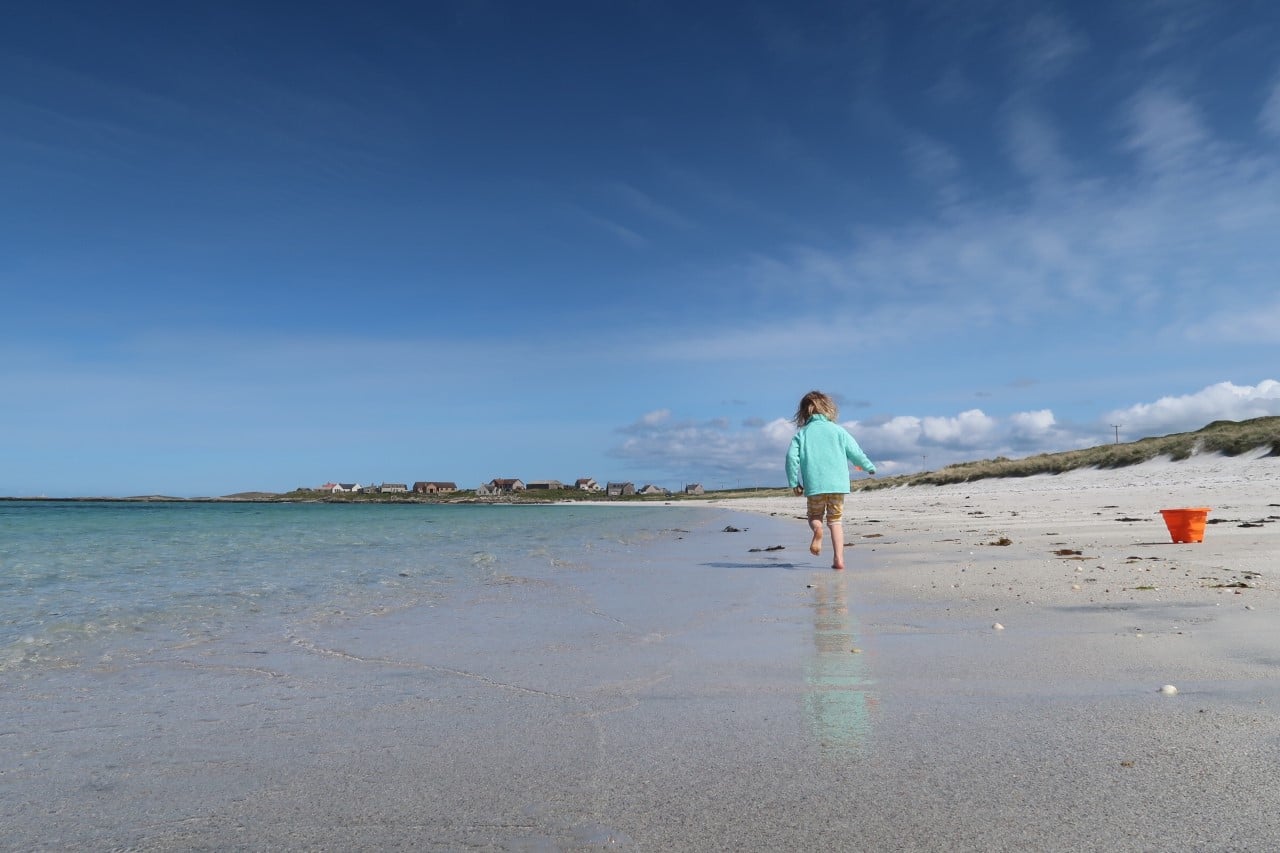 We spent a lot of time at the beach during our stay as well as cycling along the back roads.  There's also a brilliant RSPB reserve that you can cycle or walk along to.  With a lot of breeding birds during spring and early summer, including my favourite – the Lapwing.
Little Abodes Glamping, near Lochinver
In the North West of Scotland near Lochinver you will find a great glamping getaway at Little Abodes.  They are in a great location for visiting this remote part of Scotland, with it's rugged landscape and beautiful beaches.  Each glamping pod has it's own shower and toilet room as well as a small kitchenette (with a microwave, no oven or hob).  Perfect to feel like camping, but having some home comforts too.
Bring your bikes to cycle nearby or walk along the beautiful paths in the mountains.
Dunvegan Camping Pods
You can head over to Skye and visit the beautiful island whilst staying at Dunvegan Camping Pods.  These are small pods with bed, sofa and  also feature a small kitchenette with microwave, fridge and stove top, plus a toilet and shower.  It's impressive what they've managed to squeeze in and at a great price too!
Plus the camping pods are not too far from Dunvegan castle and gardens, plus the beautiful coral beach.  The rest of Skye has a lot to offer too, so definitely somewhere you could spend a week in!
Wheems Organic Farm Orkney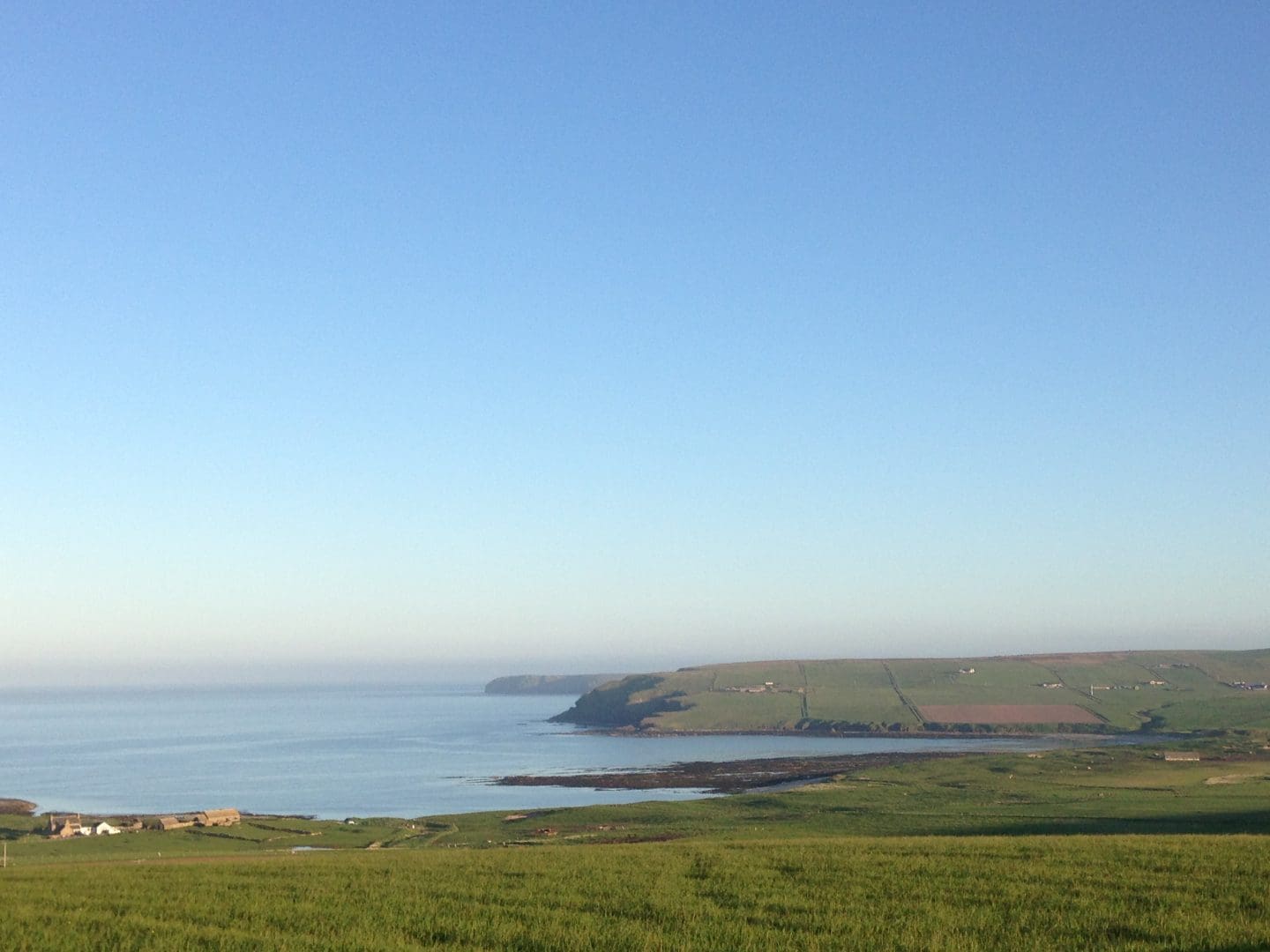 We headed to Orkney for a friends wedding in 2016 and found it one of the best holidays we've had.  We camped at Wheems Organic Farm on South Ronaldsay and visited some fantastic ancient sites and played on some brilliant beaches.  The people are all very friendly and it's a fantastic place to stay.
At Wheems there are several pods, bell tents and a yurt if you would prefer not to take a tent or campervan, all can use the communal facilities of toilets, showers and covered dining area.  It's changed a little since we've visited, but looking at the reviews online it's just as spectacular as ever.  The photo above is the view from our tent across to the sea, only a 5 minute walk to the beach!
Macbeth's Hillock, Near Forres
The North East of Scotland has plenty of fantastic places to visit, including castles, forests, beaches and distilleries!  Macbeth's Hillock is a luxury camping site with 5 glamping pods.  Each pod has it's own shower room, kitchenette, table and beds.  Each pod can sleep 4 with a double bed and a sofa bed that has a pull out bed beneath.  You can also make use of the fire pit outside!
Before glamping this was a farm and it still continues to be a small holding. So you will also have the opportunity to see some of the farm animals too.
Fidden Farm Campsite, South West Mull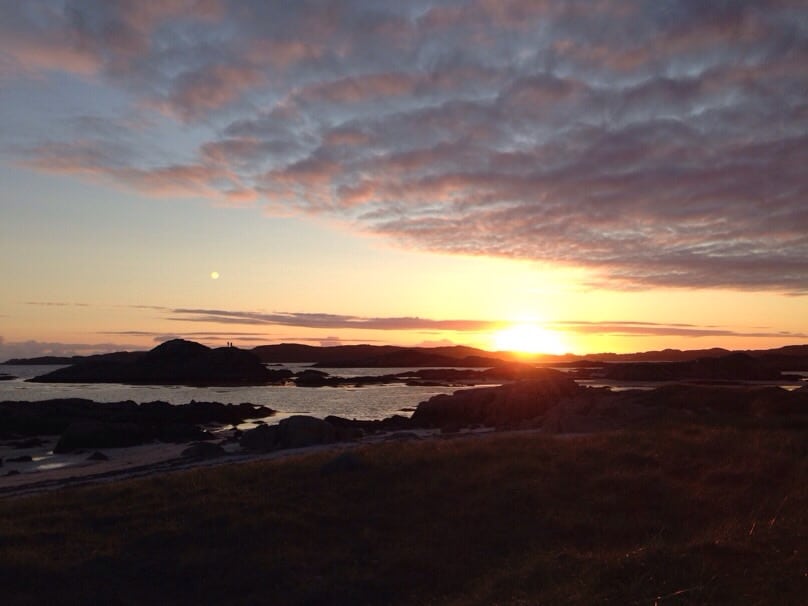 Next is another campsite that we have loved, Fidden campsite on the Isle of Mull.  We went there several years ago and despite it raining the first day it was still stunning.  The rain clouds stayed around the mountains behind for most the weekend and we had a beautiful time camping.  Fidden Farm is beside the beach, so you can enjoy playing on the rocks and sand with the kids, or cycle along to Fionnphort along the quite one track road.  Fionnphort has great seafood and is where you can get the ferry across to Iona or a boat across to Staffa.
Craskie Estate, near Cannich
Craskie Estate has another glamping site, this time a small site with only 4 wooden glamping pods with a view over Loch Craskie.  There are two family pods, a double and a twin pod, each containing a microwave, single gas stove, BBQ and kitchen equipment (as well as beds!).  There are shared toilets and showers on site.
You can get supplies from the nearest shop in Cannich and even get a takeaway pizza!  This is the perfect glamping site for those wanting to explore the Inverness area.
Badrallach Campsite, Little Loch Broom
Badrallach campsite is a small site with only 12 pitches and located on the beautiful shores of Little Loch Broom.  It's mostly set up for tents and campervans who share the toilet and shower facilities.
This is a fairly basic site, but set within a stunning area of Scotland.  From here you can walk, cycle or even head down to the loch side for water sports.  There's plenty of wildlife to spot or just sit and admire the view.  A great campsite for all ages.
Pin Best Campsites in Scotland For Later