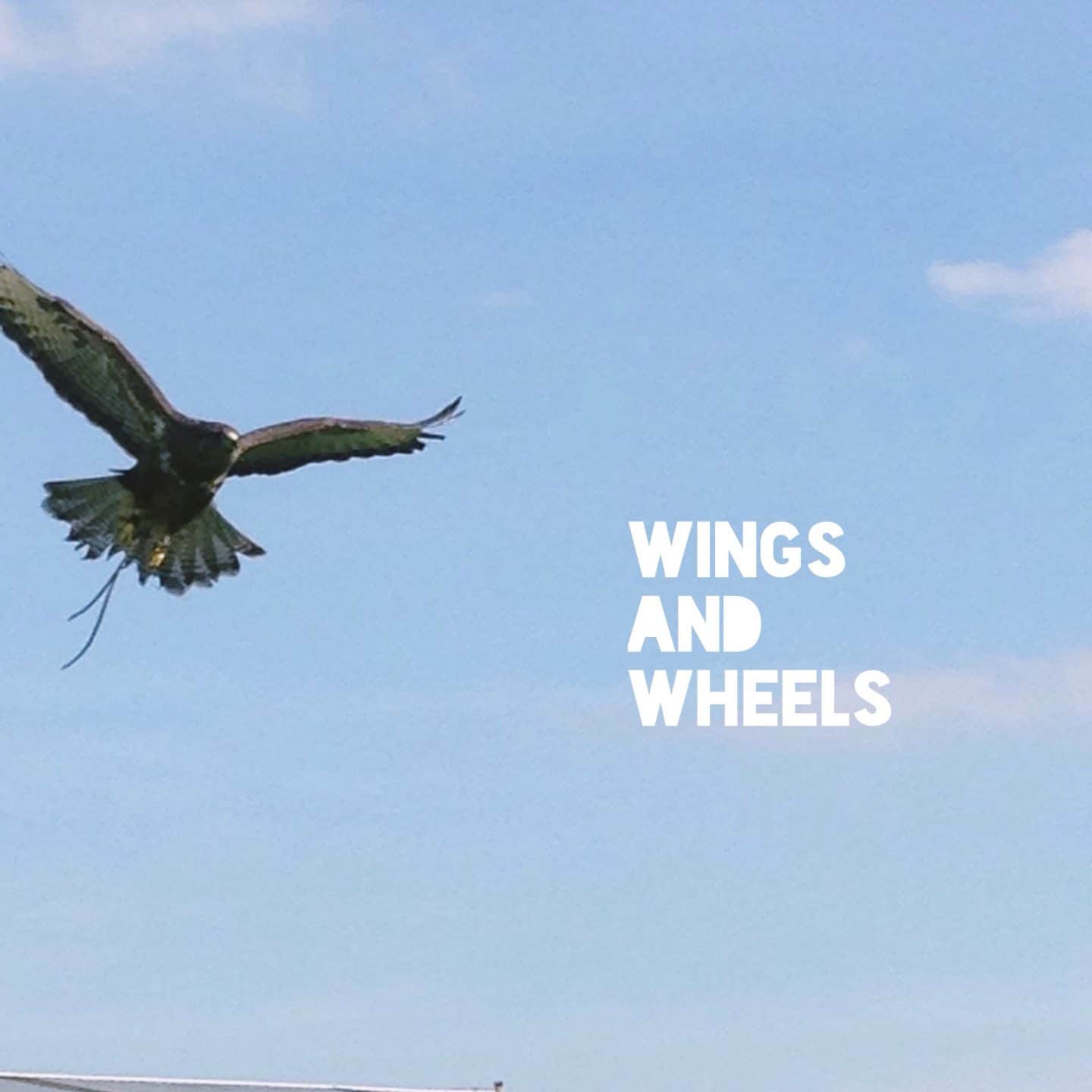 Last Sunday was a gorgeous day and I decided that we needed to get out somewhere.  I had noticed that The Scottish National Museum of Flight at East Fortune (near Haddington, Edinburgh) had a special event planned called Wing's and Wheels.  It promised to be a fun filled day out including quad bike and mountain bike stunts, a falconry display, diggers to try out, segways and a mountain bike track among other things.
We headed off, although Chris was a little grumpy as I had told him it was at Edinburgh when it was actually the other side, so it took us an hour and a quarter to get there.  However, he did admit afterward it was worth the drive!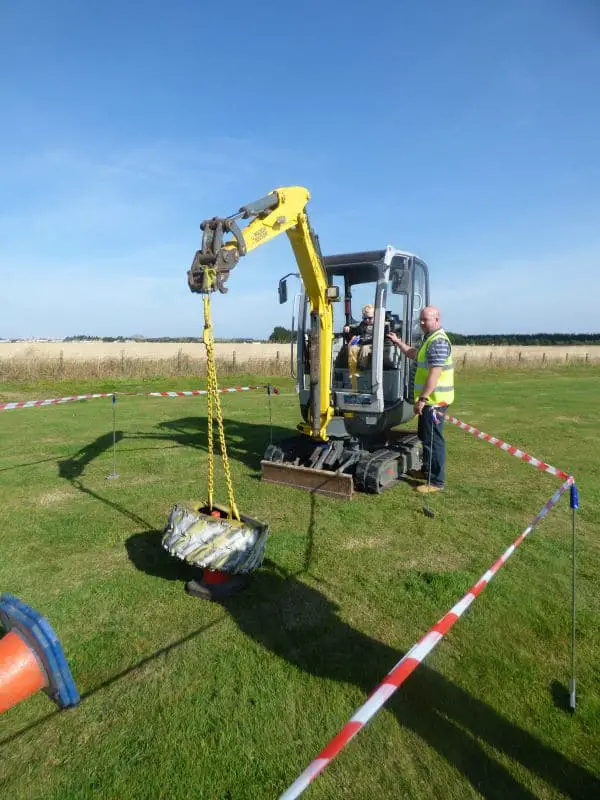 As soon as we arrived through the gate we spotted the mini diggers and queued up to wait our turn for the boys to sit in the digger.  The aim was to lift the arm of the digger up and put the tyre hanging down over a small cone. A was only allowed in for a few moments for a photo as he was too little to control it.  We did ask if he could sit on daddy's knee and daddy could drive, but we were told no (much to daddy's disappointment).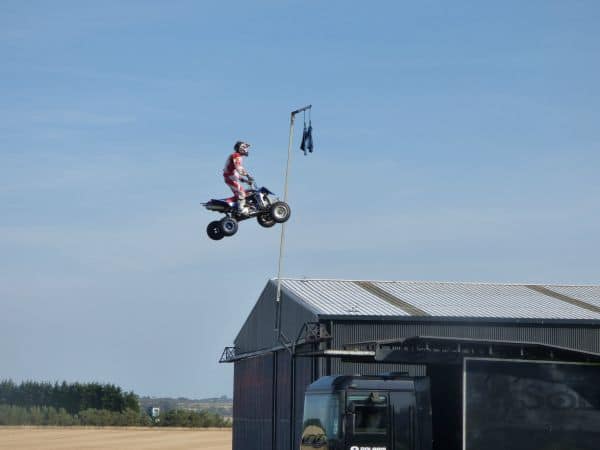 Next we lifted the boys onto our shoulders to watch the stunt show, both motorbike and quad bike stunts.  I love racing around on quad bikes (I don't get the chance nowadays) and would loved to have had a go at some of the tricks and jump!  It looked very cool.
By the time the stunts were over it was lunch time so we settled down for a picnic while waiting to see the falconry show.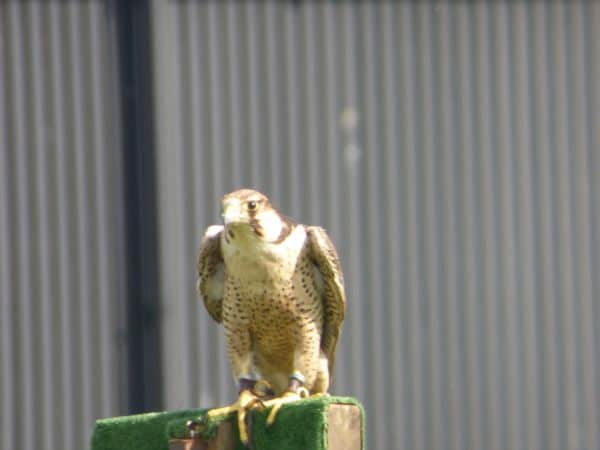 The falconry show was a little amusing as the first bird, a falcon, went quite far away and we spent the first 20 minutes or so looking at specks in the sky trying to work out which bird (it was being harassed by Buzzards) it was.  After about half hour it swooped down from a different direction to the one we were all looking in.
We then watched a buzzard fly through a woman's legs (you can just about see the wings in the photo below) and an African eagle flying free around the main arena.
After the shows we went for an explore of what else was on offer.  There are several planes that are part of the normal exhibits that the boys walking through and looking around.  We didn't manage to get into the concord shed, but maybe we can visit that another time.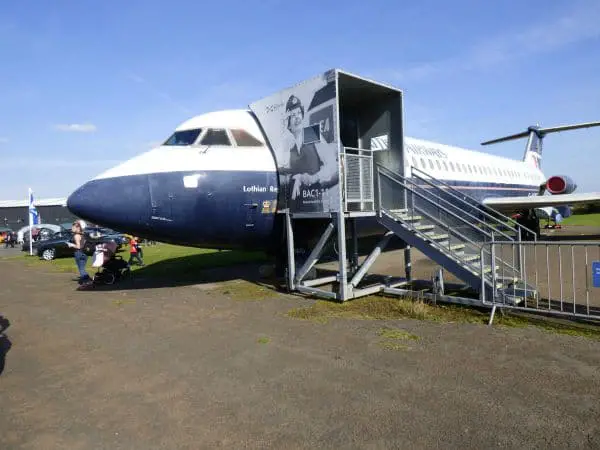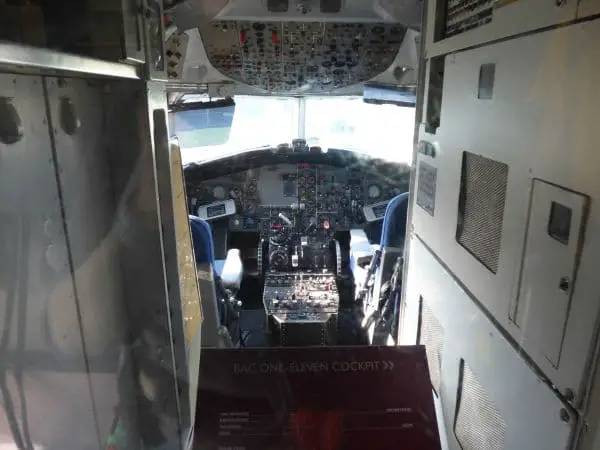 Around another section of the site we found a Segway track, which I tried out while the boys explored another plane (no photos as I was on my own).
Beside the segways was a mountain bike area with a pump track, so O waited fairly patiently for his turn and then whizzed round on a balance bike.  He seemed to quite enjoy himself there.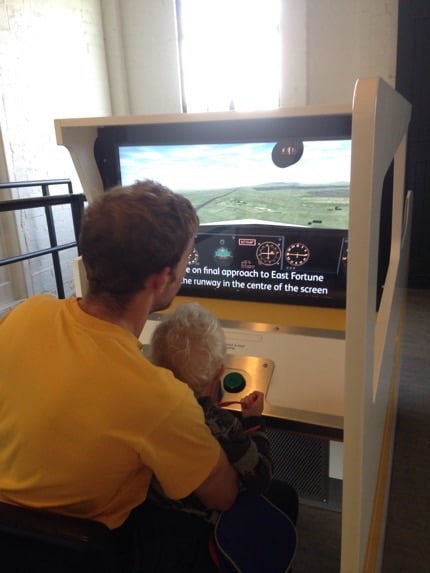 The Fantastic Flight building (a permanent exhibit) was another highlight and we spent the final hour or so of the afternoon in there.  There are many different interactive exhibits inside that help to show children (and adults) how various forms of flying machines work.  Of course O, like most children, likes to press buttons and pull levers so he had a fantastic time in there.  Our favourite part was using two wheels (like on a boat) to steer an airship in to land at East Fortune, it was a great chance to show O how to steer just a little bit, although we did take over a bit as neither of the boys quite understood it and we didn't want to crash!  There was a smaller version further round in the building to land a small plane.
Once we had left the building people were packing up to go home so we headed off too.  A great afternoon and would definitely consider going back again next year if it's on again.  If you're local I recommend you keep an eye on the National Museum of Flights website as they often have events like this.
Do your kids like to visit 'museums' too?
J x