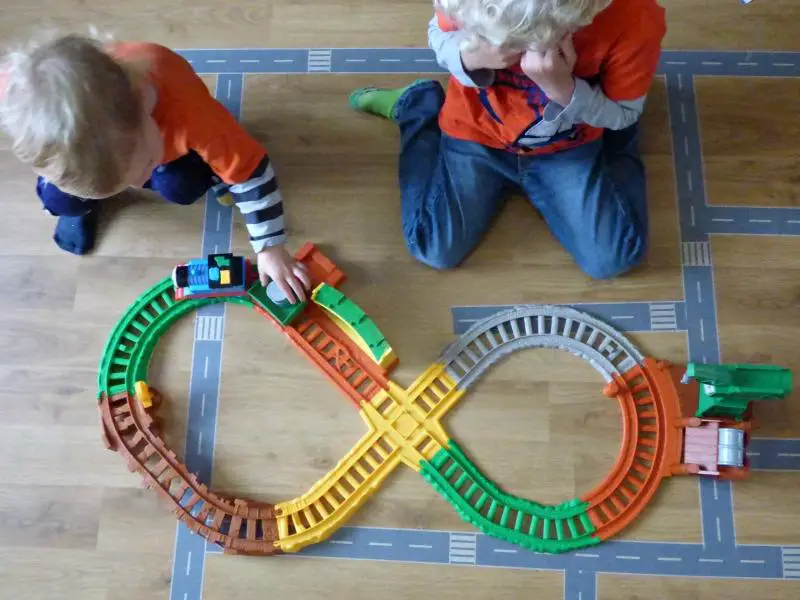 Ever since Mr O was a toddler he has loved Thomas the Tank Engine and although he no longer watches it on television, he does love reading Thomas & Friends books and visiting place with trains, from model to real steam trains.  His little brother loves Thomas too, but not quite with the same fascination, he tends to like the noisy trains and crashing his toy ones!
We were offered to review the Thomas & Friends My First All Around Sodor toy train set with our two boys.  The age range suggests 18 month+, so I wasn't sure if it would be a bit young for my two, at 2 and almost 5.  However, I shouldn't have worried as they both love it and even one of our neighbours who's 6 enjoyed playing with it for a good 40 minutes.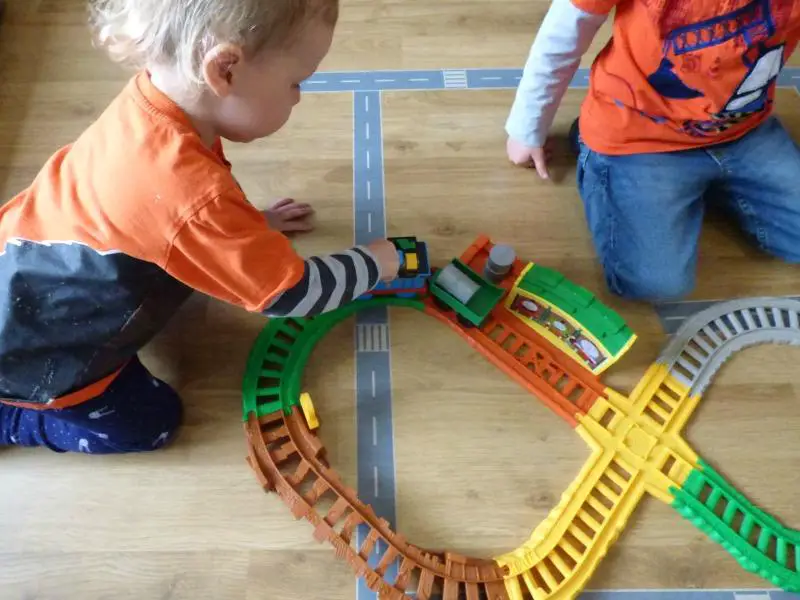 The track is a figure of eight shape and easy to slot together, but doesn't come apart too easily, which is good when you have a child who likes to dance around the track occasionally kicking it by accident.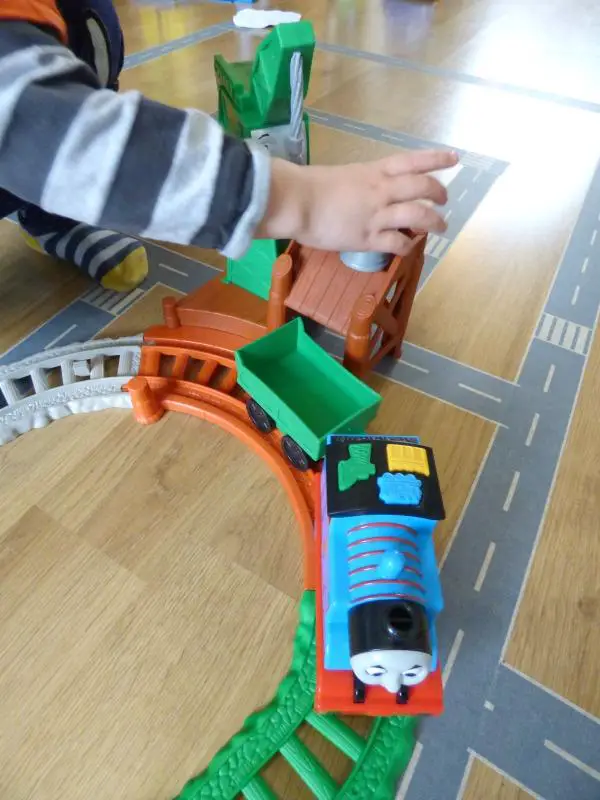 There is a station, Cranky (who turns from side to side), battery powered Thomas and two barrels to go in a truck behind Thomas.  Cranky's hook doesn't move, which is a shame, but you can turn him from side to side to knock a barrel of the ledge into Thomas's truck.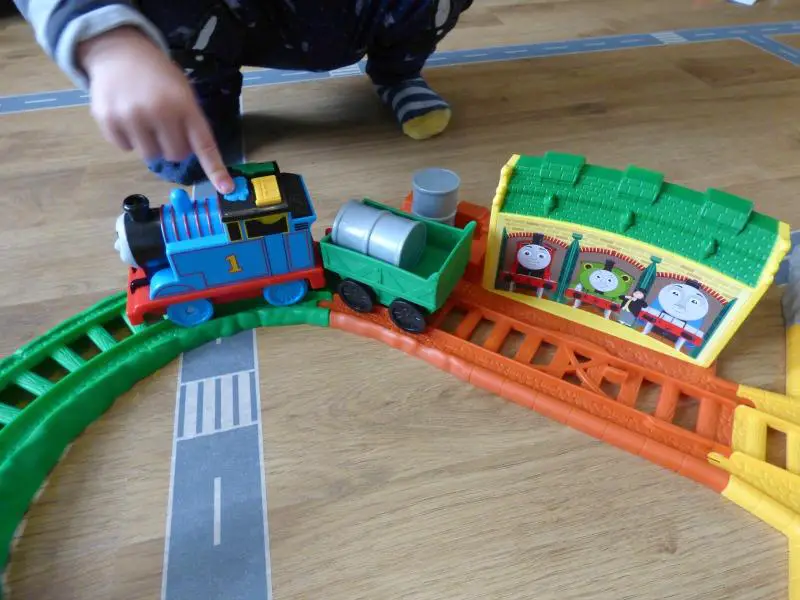 The three buttons on Thomas tell him where to go.  To the station, where he will stop with the truck beside the platform to unload it; to Cranky where he stops beside the platform for the barrel to roll in; and a button that send him on a continuous loop around the track and over the 'shake, shake bridge'.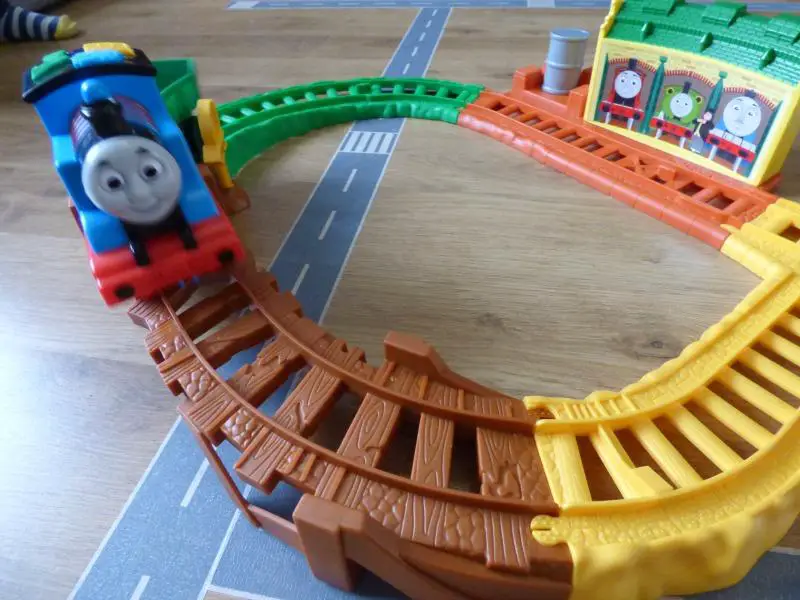 Thomas also has several phrases to say at the different stops, which aren't too annoying, so you won't be too bothered when your child starts repeating them!
Our boys loved sending him round the track and watching him stop at the station and Cranky.  But then they needed to change the play by adding other things to his truck or putting 'obstacles' in his way so that Thomas would be stopped in his tracks or knocked off the rails.  Crashing is a big thing in our house!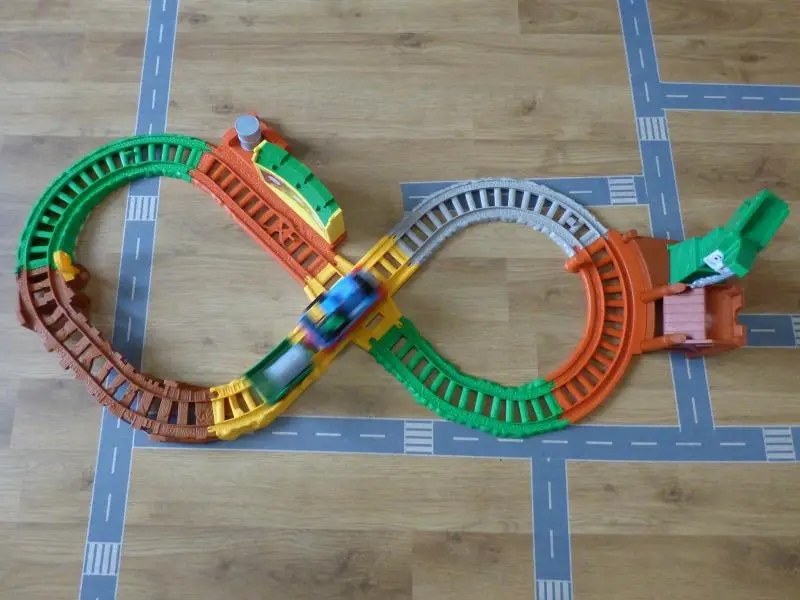 This is a great little toy train set and I would probably give it an age range from 18 month – 5 years, although at 5 years it will depend on how much the child likes trains and how good their imagination is.  I would definitely recommend this as a great gift for a train mad preschooler for their birthday of Christmas, I'm sure they would be thrilled!
J x
* I received this toy for the purpose of this post, however all opinions are mine and my boys.