I've been planning a gallery wall on our stairs wall for a little while.  We have a variety of items I would like to hang, but I wasn't sure where to put them, without the walls looking too crowded.
We can't afford the paint (or find the time!) to decorate our stairs and halls, so a gallery wall is a perfect way to brighten up the space.
When Snapfish asked me to review their new slim canvas prints I jumped at the chance.  They would be perfect to create my gallery wall.
It took me a while to decide which photos to get printed onto canvas, but eventually I chose these 4 from our recent Italian holiday (read more about it here).  The main canvas is of myself and the boys in the sea near our campsite, an 8×8 of O buried in the sand with the biggest grin, an 8×8 of A peeking through a climbing frame and an 8×8 of the colourful houses on the island of Burano.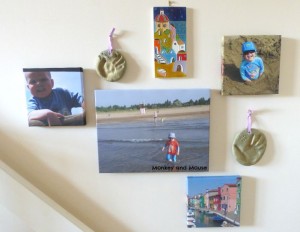 I love how they look together on the wall and I also added the salt dough handprints the boys made last Christmas and a ceramic Italian scene to our wall decor.  I have plans to add more, but this is a great start.
The slim canvasses are great quality, the photos look amazing and I love how they look on our wall.
Snapfish slim canvasses have a variety of size choices, 8×8 being the smallest, but it's actually still a good size for our photos.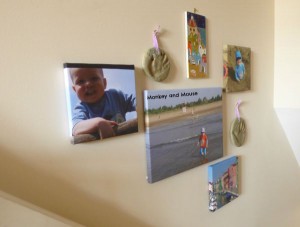 Our boys love it too and keep pointing out the photos as we pass them on the stairs, great for remembering their first holiday abroad.
Have you got a gallery wall too?
J x
Disclaimer: I was given a voucher code to create the slim canvasses, however all opinions are my own.