We tend to read more during the cooler months, simply because it's nice to cosy up together on the sofa with a good book (or 5!).  It's most definitely autumn now and we were pleased to have a new book to read on the particularly wet and windy day yesterday.  Twinkl's Ronald The Rhino book was pretty cool in other ways too!
Ronald The Rhino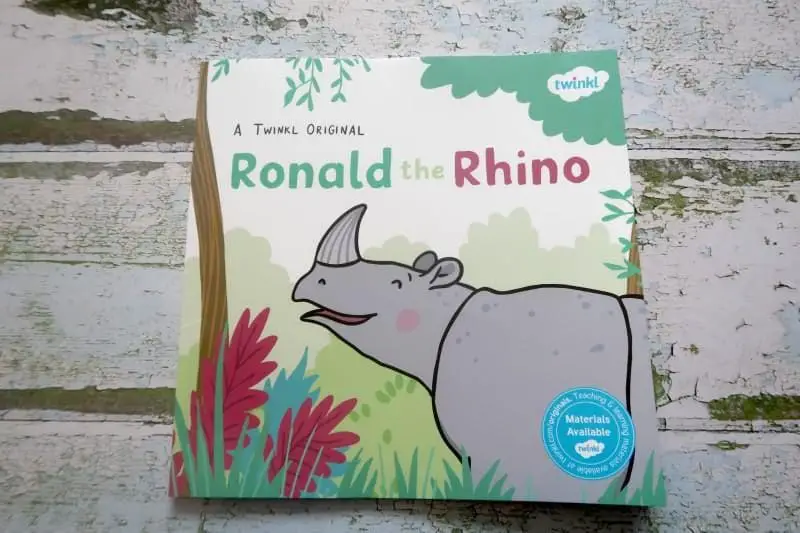 Ronald The Rhino is a book produced by Twinkl with some pretty cool pages that allow it to become 3D using the Twinkl AR App.  The story is well written and sweet, with Ronald sad that he doesn't have spots like leopard or able to slither like snake.  Fortunately he has good friends and they show him just how brilliant Ronald is.
The story involves lots of rhyming lines, which in our house makes for an easy to read and easy to listen to book!  But what the boys loved most of all is that three pages of the book can be turned into 3D using the Twinkl AR App.
When you see a page with the little AR box then you simply switch the app on your phone or tablet and point it at the book.  Then out pops Ronald and his friends!
Even us adults were amazed at how good it was, you can even turn the book around and look at the back or the 'picture' and see all around Ronald.  I can see this being a great type of book for those children who are reluctant readers, they will be very happy to play around with technology whilst practising their reading skills.
Twinkl Worksheets
Of course, with each book available you can print out a HUGE stack of related sheets.  I searched for Ronald The Rhino on the Twinkl website and couldn't believe the number of different printables that were listed. There are maths, English, geography and art printables for all stages that will read the book.
My youngest, who is only 3, can happily colour in pictures, practice pencil control and talk about the story using the discussion cards.  Whilst my 6 year old can test out symmetry, addition and subtraction colour by numbers, find rhyming words and recreate the story line with cards, amongst other things.
I'm sure you can find something that all children will be interested in and for most ages too.
Verdict
I will be checking out some of the other Twinkl book titles, as this was such a hit with the kids. I love how the book integrates technology and traditional reading books, plus all the extra worksheets that are available is fantastic!
* We were sent the book to review as part of a collaboration with Twinkl