As our eldest still seems to be keen on waking up rather early.  So we decided that instead of moving his little brother into the same room, we would turn the 'playroom' into his bedroom.  Littlest has been in our bed since he was born, we have loved co-sleeping, but now he's getting bigger it seemed like the right time to get him his own bed to use when he chooses to.
Storage In A Small Kids Room
Littlest's bedroom is the smallest room in the house, so the bed takes up half the room and there is just enough space for a small bookshelf and toys on the opposite wall. The bed does seem a bit of a waste of space when it's not providing storage, so we have opted for a midsleeper cabin bed.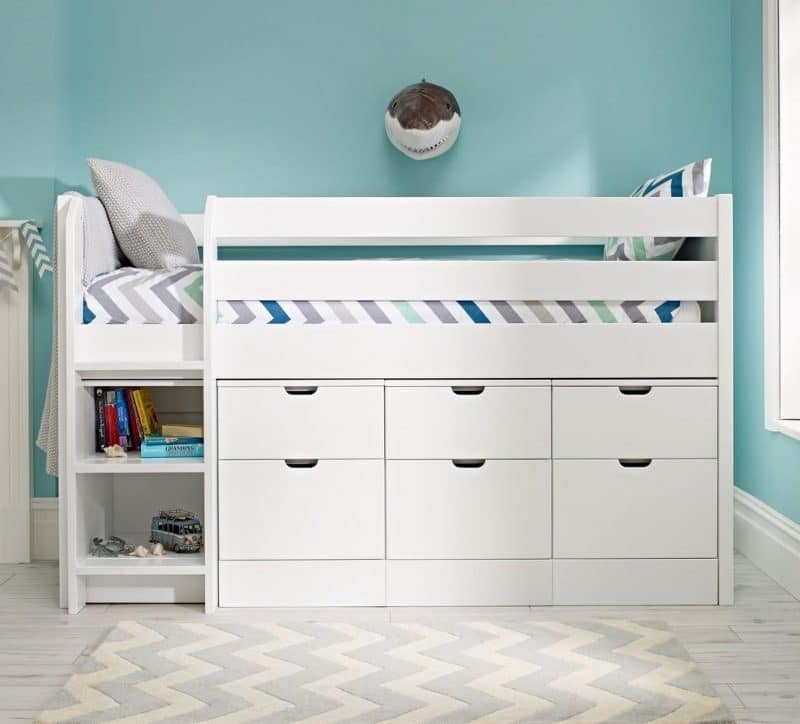 This cabin bed from Ollie & Leila is perfect for small rooms.   There are six drawers  to hide away clothing and clutter and even shelves built into the stairs!  My two love playing on the higher beds, they are fantastic for encouraging their imaginations (not that they need any encouragement!).  Sometimes the bed is a tree house and other days it turns into a ferry or pirate ship!  It's fantastic to watch them play so happily in their rooms.
I personally love that everything is tucked away in the drawers, too many shelves means that everything needs to be put away neatly as they are on display.  But with drawers we can randomly throw things back in the drawers and not worry about mess too much!
All of little ones toys are now put away under his bed and a few shelves.  We haven't quite finished his walls yet, but they will have a variety of small shelves for displaying his important souvenirs and decorative items.  The only issue now is when he gets presents for Christmas!
Where Do You Put All The New Toys?
Before Christmas we will be asking the children to put in all the toys that they no longer use into bags for the charity shop.  Hopefully this will instill in them a sense of giving whilst making room for a few new toys from family and Santa.  Eldest is receiving more Lego and they have a great new Thomas set amongst other things, so we really need to create more room!
I have begun to decline buying any toys that are 'big' unless it's something they really want and have asked about before.  There's nothing more annoying than a toy that takes up a good deal of room and only gets used as a 'shelf' rather than played with!!
So keep it simple and make way for all the toys!
If you are looking for a great cabin bed, head over to Ollie &  Leila to find some great options!
* This is a sponsored post, however all opinions are my own.