As I mentioned in my bucket list this month I've been trying to plan a blog routine that actually works.  So instead of doing a little bit of this or a bit of that each day I have set targets of which tasks need to be done.  It sounds a little daunting, but has actually lightened the load. For example on Sunday I know I only have to schedule tweets for the week and write one lifestyle post.
If you've gotten this far in my post then you're probably wondering how my routine works, but I'm going to do one better and help you set out your own routine before giving you mine as an example.
1.Write down all your tasks you need to do in a week, with any deadlines that you have (for example linkies you run or link up with).
2. Make a plan of the week, or if you are a stationeryholic like me use a cute A3 planner from Paperchase 😉 and put the different deadlines you have for each day.  For example the days your own linky is and the linkies that you regularly link up to.
3. Next choose the best day to keep clear, you need at least one day with little to no blogging so you can concentrate on family and your own self. I chose Saturday as I normally only link up to one linky and sometimes we're away over night.
4. Make it manageable, understand how much time you are likely to have and not how much time you want to spend blogging.  For me it's normally an hour throughout the day and 2-3 hours in the evening.
5. Fill in all your tasks onto each day and test it out. Give it a couple of weeks to tweak it and get the right balance.
6. Dont worry if it goes awry and you don't get the day's work completed, real life gets in the way and that's fine!
So here are a few of my days planned out, so you can get an idea of what I'm talking about: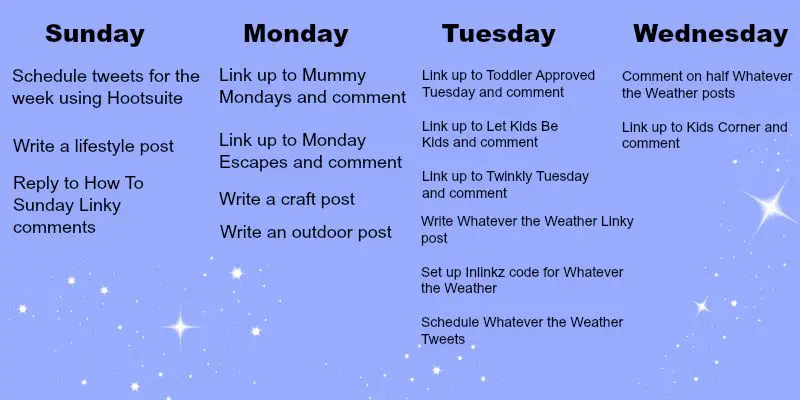 As you can see on Sunday I have three main tasks, the first to schedule tweets for the week, next to write a lifestyle post (to link up to mummy Monday's linky the following day) and finally to visit posts and comment on my How To Sunday linky.  Monday is linking up to two more linkies (if I have posts suitable) and then a craft post for Toddler Approved Tuesday and Let Kids be Kids linkies and an outdoor post for my own Whatever the Weather linky.  Tuesday is by far my busiest day, with 3 linkies and commenting and then setting up tweets and the Whatever the Weather linky, but normally I can get a little done during the day when smallest naps and O is busy playing.  On Wednesday I had originally decided to comment on all the posts linked up to Whatever the Weather linky, but as we have around 50 at the moment, it's too many for one day, so I have split it into half and finish commenting on Thursday (unless my day/evening is interrupted!).
Well that's a snapshot of how I plan my blog routine, what is yours like?  Do you plan your blog routine or is it adhoc?
J x