AD [Sponsored]
It's one of the first questions we are asked as new parents, 'do they sleep well?'.  But it's also the most ridiculous question to ask, of course babies sleep like, well babies! And that generally is not a good night sleep as a baby needs to wake up frequently to feed throughout the night and they want to be near their mother for reassurance that they're safe*.  It wasn't long ago that your baby was safe inside the womb and it takes a while for them to get used to being apart from their mother.
What Is Normal?
So what is normal sleep for a baby?  Waking several times throughout the night is completely normal.  Many people will talk about babies 'sleeping though', however for young babies sleeping through an entire night is not usual.  You may be lucky and have a baby who likes to sleep for 8 hours, or you may be with the majority of us and have a baby that wakes 4 or more times throughout the night.  Of course babies need to wake up to feed during the night, their stomachs are small and can't hold much milk.
So don't worry when your baby isn't sleeping through the night, most babies don't!  However there are a few little things you can do to help make the bedtime routine a little easier on your little one.
Our Sleep Routine
Getting baby to sleep can sometimes seem a bit overwhelming, but you just need to find a routine that works for you both.  We would always begin our bedtime routine around 6.30pm and try a quiet bath together.  This was fine when our babies were very small, however as soon as they could pull themselves up to standing in the bath they would spend most time splashing and jumping around getting excited rather than calming down for bed!  So after this happened we switched bath time to a morning activity!
Our next step was to sit in the bedroom with just a bedside light on and read quietly to our little one whilst giving him lots of cuddles and kisses.  My favourite stories to read at the stage were the Julia Donaldson books as they are interesting for adults to read and the rhyming can be said in a gentle sing-song voice which little ones can enjoy.  My personal favourite is always The Snail and The Whale, it's just such a lovely story for little and big kids alike!
After the story I would quietly sing Scottish children's songs to my baby.  Ally Bally Bee and Three Craws were always my favourites, the kids still enjoy me singing them now, although of course we are much more exuberant in our singing when it's not bedtime!
Finally I would give kisses and continue to hum quietly holding my baby until he fell asleep.  Then use my ninja moves to very carefully put him down on the mattress without waking him.
Everyone's sleep routines are a bit different and some may use bath time and baby massage or white noise machines to help their little ones fall asleep.  You just need to test out different routine until you find the right one for you and your baby.  If you need some ideas to begin then check out the infographic below with great ideas of how to create a baby bedtime routine with Emma's Diary Baby Sleep Advice.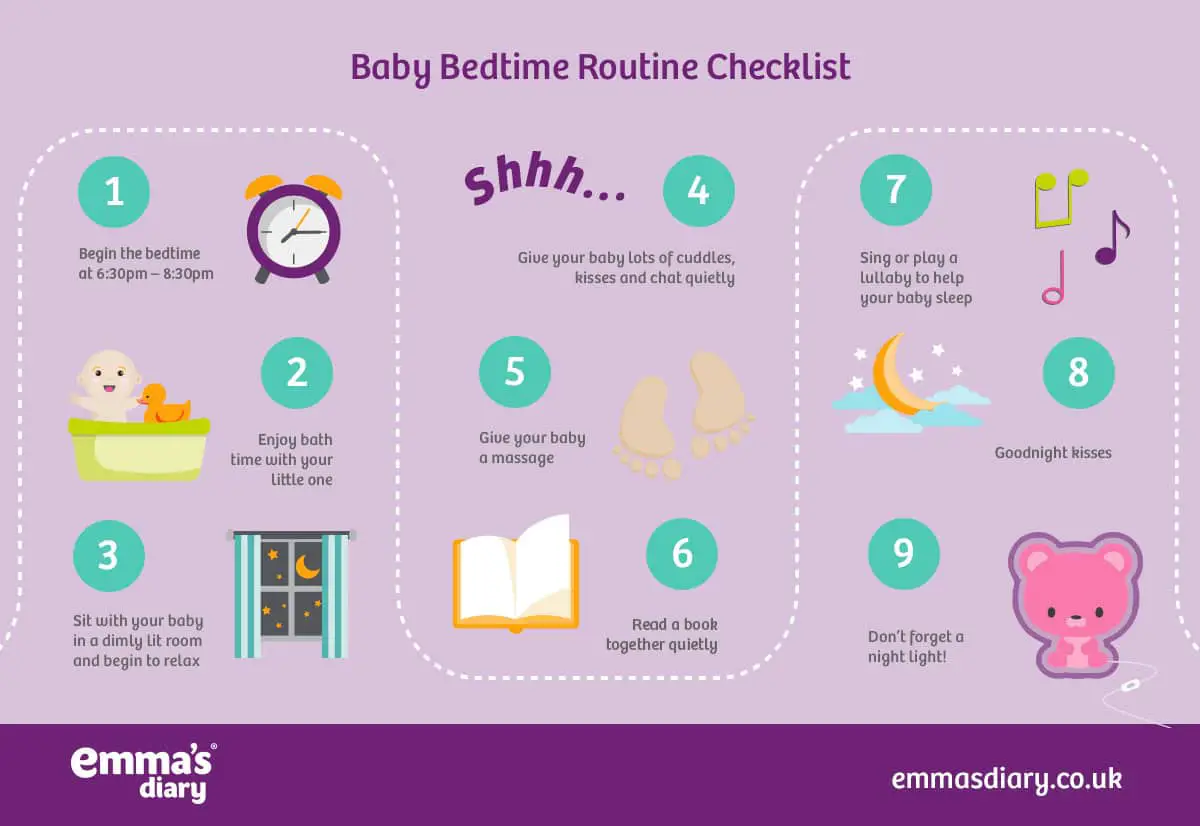 Things To Consider
Think about what you little one enjoys, do they like it when you massage their feet or is it just too ticklish?  Are baths relaxing or stimulating?  What kind of music seems to calm them, do you go for classical music or do they enjoy hearing you sing?
The main thing is to simply try different approaches until you find the right one for you and your child.  But don't be scared to change the routine as your child gets older and calming techniques change.  The only thing we still do now that our children are older is dimming the lights and reading a story together.
Just don't forget to simply enjoy spending time with your baby and relaxing together in the evening!
*Until your baby is six months old, the safest place for your baby to sleep is in their own cot, in the same room as you, whether it's during the night or at nap time in the day.